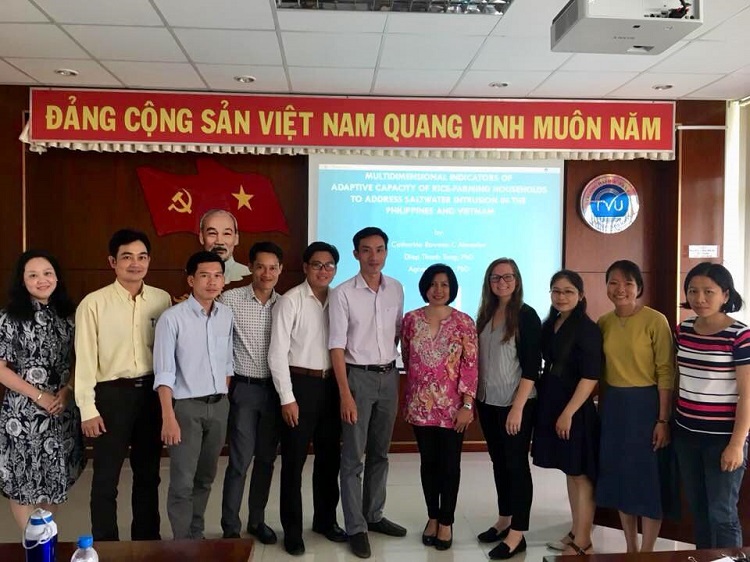 COLLABORATION. Xavier University - Ateneo de Cagayan and Tra Vinh University of Vietnam join forces to form research and exchange programs for their faculty and students. Supplied photo.
Guided by mutual interest in development through joint education and research, the Department of Economics and the Office of International Cooperation and Networking (OICN) of Xavier University - Ateneo de Cagayan signed a memorandum of understanding (MOU) with Tra Vinh University (TVU) of Vietnam.
Between the two universities, the MOU covers scientific research programs, exchange of faculty and staff, and joint undertakings of undergraduate and research students. The MOU is good for five years.
In late May, XU Economics assistant professor Dr Catherine Roween Almaden visited TVU and the Mekong Delta area to discuss the details of this engagement.

Almaden also gave a lecture to the faculty members of TVU's College of Economics and Law on various opportunities under the Asia-Pacific Network (APN) grant and other international funding agencies.

The meeting culminated with a discussion on the research project "Multidimensional Indicators of Adaptive Capacity of Rice Farming Households to Address Salt Water Intrusion in the Philippines and Vietnam."

This engagement forms part of the goals of Xavier Ateneo to fortify its research thrust and faculty instruction, particularly in the XU Economics department.∎