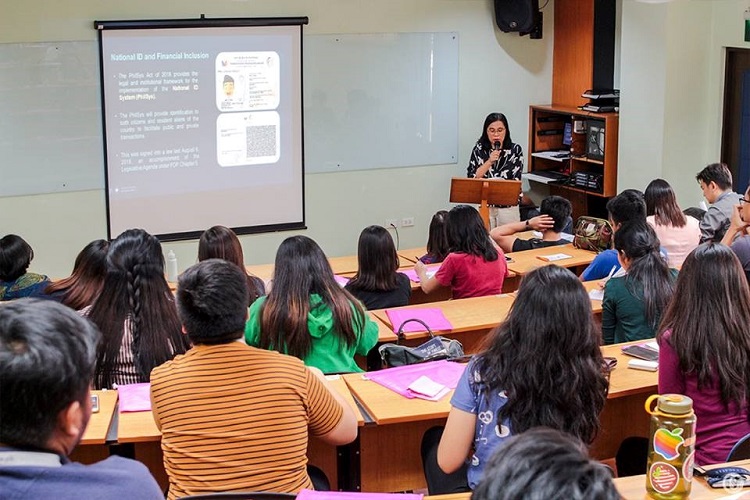 Report by Jennifer A Quidet and Shayne Mae C Tingcang
Photo courtesy of The Crusader Publication
Xavier Ateneo's Department of Economics, in partnership with the National Economic and Development Authority Region 10, facilitated a forum about the "National Identification for Greater Economic and Financial Inclusion" at the AVR2 of the SBM building on November 22.
Members of the Economics Department, together with participants from the School of Business Management and College of Engineering, joined the said event.
The forum featured speakers from the Philippine Statistics Agency - Region 10, Million Dollar Round Table Member, National Economic Development Authority - Region 10, and One Janus Business Enterprise.
The subjects discussed in the forum ranged from the Economic and Financial Literacy Act (RA 10922) and the Philippine ID System Act (RA 11055) to the Financial Literacy on Savings and Budgeting and Investing & Keys to Financial Success.
Leonila G Cajarte, OIC-assistant of regional director of NEDA - Region 10, shared on the Economic and Financial Literacy Act (RA 10922) which "mandated government agencies to observe every second week as economic and financial literacy week." The law aims to develop a national consciousness in our economic and financial decisions.
Cajarte also highlighted the "Ambisyon Natin 2040" which reflects the Filipino people's changing needs and life goals. She also presented the "Philippine ID System Act" and its pertinent details, benefits, functions, and process, among other features.
Kharen N Obsioma, assistant unit manager of Million Dollar Round Table Member, shared her ideas on investing, saying "Investment allows your money to grow gives you return and are ideal for meeting all your larger financial goals and investment also is one way to fight inflation."
Meanwhile, Dexter Erick A Demafeliz, bank officer from the Bangko Sentral ng Pilipinas - Cagayan de Oro, gave a discussion on saving and budgeting, provided tips on how to save money, and expounded his discussion on why we need to save and apply proper budgeting. "Good saving behavior requires discipline, discipline is learned through practice," he said.
For the last part of the event, Jensen C Jimenez , owner of One Janus Business Enterprise, shared his journey of financial success. He said: "We made our own circumstances, we made our own priorities, we made our own spending, we made our own saving, the choice is ours to make."
The forum ended with the giving of prizes to participants who tweeted and posted about the said forum using the hashtags "#EFLW 2018," "#EFLW2018NorMin," "#AmbisyonNatin2040," and "#XUEconomics," courtesy of NEDA.∎