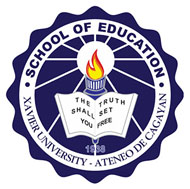 The School of Education of Xavier University-Ateneo de Cagayan will be organizing its third Family Day and annual PTA Assembly. This family day seeks to strengthen family ties among the members of the School of Education community. The activity also promotes the family as the basic unit of the society which nourishes the values and principles of the current generation.
As partners for this activity, Teachers' Guild is inviting the School of Education student body and their families to join the Family Day and the annual SOE-PTA Assembly on September 7, 2014, Sunday, at Xavier University Engineering Satellite Canteen. The family day will be a half day event, from 6:00 AM to 12:00PM, which will be filled with fun activities and amazing surprises. The SOE-PTA Assembly will immediately follow by 12:30 PM to 5:00 PM.
For lunch, you may choose to bring your own food or to avail a lunch meal ahead of time for only Php 50.00 per person. The lunch meal consists of a cup of rice and two viands.
For easy identification upon registration, the organizers will implement a color coding system. Please encourage your family to wear any shirt, blouse or dress that suits to the assigned color of your child's year level.
First Year: any shades of green
Second Year: any shades of yellow
Third Year: any shades of red
Fourth Year: any shades of blue
Should you and your family will come, please send back the confirmation slip with payments (if you wish to avail of the lunch meals) on or before September 5,2014, Friday, 5:00 PM at the Teachers' Guild office. I hope to see you and your family during this fun-filled event.