Published on Monday, 17 December 2012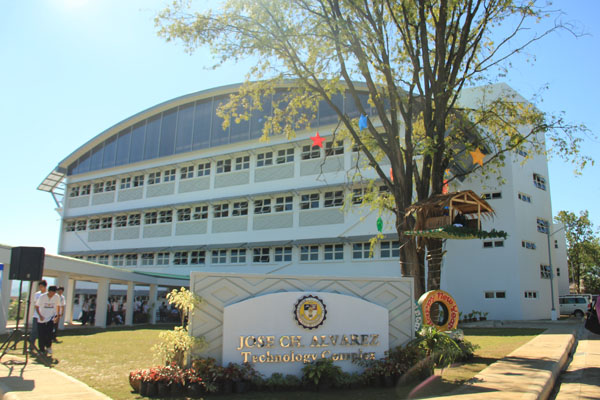 The Jose Chaves Alvarez Technology Complex, the new home of the Center for Integrated Technologies (CIT), has formally opened its doors to students.
The two-building complex built through the generosity of Jose Ch Alvarez, chairman of Asian Carmakers Association (ACC) and XU alumnus, is a modern campus with classrooms and laboratory facilities that ensure students' quality learning. The campus, with a rainwater catchment and good lighting design, is consistent with the Green Campus Agenda of the University.
XU President Fr Roberto Yap SJ conveyed during the blessing of the building on Dec 8 that the new JCA Technology Complex is part of the expansion plan of the University in Manresa.
"Xavier continues to grow from strength to strength," said Fr Yap. "With the resources and facilities of the JCA Technology Complex, we are ready to produce the best technicians."
Fr Yap also said that the new building is a conspicuous start to achieving the objectives of XU in relation to the new K-to-12 curriculum. He bared plans of the University to establish a senior high school with different specializations, one of them being vocational-technical.
"If we are to grow and industrialize as a country, we need very good technicians," the president said, underscoring the important role of voc-tech graduates to national development.
CIT currently has courses in Mechanical Technology, Computer Literacy, Technical and Livelihood Education, Industrial Electronics Technology and Mechanical Engineering Technology with various majors.
Alvarez, for his part, imparted some pearls of wisdom to the Center's more than 400 students. Speaking from experience, he told them, "Do not to be discouraged by the absence of money in your pocket. Learning can be acquired by going to school and working at the same time."
The chairman of ACC, the official distributor of BMW cars in the Philippines, further delighted the students with his offer for them to train with BMW. The Complex, in fact, has a BMW laboratory, and the car's dealership office is located right across the Complex.
"I hope the Complex will provide you the basic knowledge to upgrade yourself." he remarked. "We will continue to assist you."
Although Alvarez assured the students that success is highly achievable through hard work, he also reminded them of something much greater.
"You can aspire as much knowledge and wealth, but remember you are products of Xavier. What you should never forget is the power of prayer."


Hits: 7055