Published on Wednesday, 13 June 2012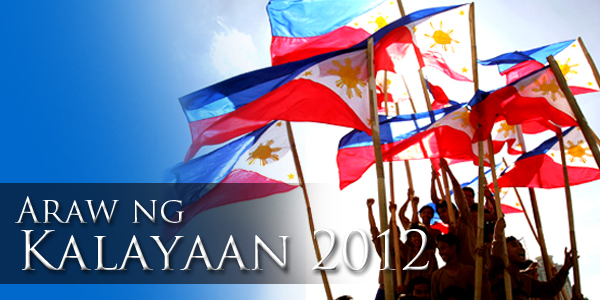 Speech of University President Fr Roberto C Yap SJ
during the 114th Philippine Independence Day Celebration
held at the Immaculate Conception Chapel, Xavier University


Mga kapuso, kapamilya, kapatid sa Xavier University, maganda at magpalayang umaga sa inyong lahat!  Tunay na nararapat na nagtitipon tayo upang ipagdiwang ang ika-sandaang labing-apat na Araw ng ating Kalayaan.  Dapat ipagpa-alab natin ang adhikaing maging malaya.  Dapat taas-noo nating panghawakan ang kinabukasan ng ating bansa.  Patuloy nating ipagtaguyod ang matuwid na daan ng kabutihan at katarungan.
Tila matataas ang ating mga hangarin bilang mga Pilipino.  Tila mahihirap ang ating mga hamon bilang isang bansa.  Paano natin harapin ang mga hamon ng ating kalayaan?  Paano natin gagampanan ang mga tungkulin ng ating independencia?
Maaaring makatulong ang mga bungang-isip ni Benedict Anderson.  Professor Benedict Anderson, a prominent political scientist and scholar of Philippine and ASEAN politics defines a nation as an "imagined community."  Imagined community.  A nation is a community imagined by a people who perceived themselves as part of that group.  Imagined community. Pamayanang likhang-isip. Katilingbang gi-handuraw.
Anderson argues that a nation "is imagined because the members of even the smallest nation will never know most of their fellow-members, meet them, or even hear of them, yet in the minds of each lives the image of their communion."  Members of an imagined community will never know each of the other members face to face. However, through their shared imagination, they recognize their common interests and identify themselves as part of the same nation.
You and I will never encounter face to face the more than 90 million Filipinos, yet we imagine that we share one community, one heritage, and one destiny.  Mula sa mga pinakaliblib na bulubundukin, hanggang sa pinakamalalayong isla, mga Bisaya tayo, Tagalog, Ilokano, Kapampangan, Maranao, Ilongo, Tausug, Chinoy at iba pa … subalit magkakasama tayong naglalakbay bilang mga kapwa-Pilipino.
Anderson tells us that we form our nation by sharing images of our communion.  Images of communion.  What are some of these images?  Ang bandilang Pilipino na ating sagisag.  Ang pambansang awit na ating himig.  Ang panatang makabayan na ating sumpa.  These and many other images of communion form us together as one nation, and meld us into one imagined community.
This morning, I propose that we consider three such images which have dominated our national consciousness these past few weeks: Renato Corona, Jessica Sanchez, and Manny Pacquiao.
Were we not one nation glued to our TV sets, our radios, our Internet streaming during
the last days of the impeachment trial of the Chief Justice?  Were we not one nation cheering and rooting for Jessica Sanchez to become the 2012 American Idol?  Di ba nagkaisa tayo bilang isang bansa para panoorin ang ating Pambansang Kamao noong linggo?            
Images of communion.  Symbols that shape us into our imagined community.  I would like to suggest that each of these three contemporary images convey to us some special meaning of our nationhood.
Chief Justice Renato Corona. Whether you agree with the judgment or not, may depend on whether you favor a constitutional command over a particular law; or whether you believe the judgment of impeachment needs to be based more on strict evidence properly acquired, than on politics.
The May 31st Editorial of the Inquirer said it well.  What can the nation "expect to result from the verdict of 'imperfect and fallible mortals' (as Enrile described the Senator-Judges) declaring the Chief Justice as having violated the Constitution and betrayed public trust? Perhaps the beginnings of public transparency and accountability, which a reform-minded administration has declared as a standard and which it is now obliged to consistently pursue? The pursuit will involve nothing less than a crusade that can reasonably be pinned on Senator Manuel Villar's simple formulation: 'The law applies equally to all, whether rich or poor, a member of the Supreme Court or an ordinary citizen.' A chief magistrate or a lowly court interpreter. It goes without saying that this national crusade requires, not cynicism, but a resurgence of hope, not hypocrisy, but strength of purpose." 
Jessica Sanchez. Very interesting that her mother is Filipina and her father is Mexican.  She was born of mixed nationalities and was raised by immigrant parents in a foreign
land.  Yet Jessica is certainly a great singer who has won many Filipino hearts.  Even if she did not become American Idol, she surely became the Filipino Idol for many of our youth.  Jessica Sanchez is a symbol of the reality that our imagined community is not limited to our geographical borders. Our imagined community is also shared by the millions of Filipinos who have ventured overseas to labor for a better life for their children.
Morag wala man tingali bisan usa dinhi karon nga walay asawa o bana, ginikanan, igsoon, ig-agaw, tiyo o tiya, higala o silingan, nga nanginabuhi karon sa laing nasud.  Pero bisan ug nagapuyo na sila sa langyaw nga lugar, dili gayod malimod nga nagapabilin nga Pilipino ang ilang kasingkasing.  Saan man sila naroroon, nararamdaman ng bawat Pilipino, kasama ating mga kababayan nakikipagsapalaran sa ibayong dagat ang diwa na maging malaya at makabayan.
Manny Pacquiao.  Tayo lang yata ang bansa sa buong mundo na merong Pambansang Kamao.  National Fists! Nasudnong Kumo! Through hard work and against all odds, Pacman has risen from being a lowly laborer in Gen San to becoming an international sports celebrity.  During the past seven years, we have followed his every fight.  Are not the streets deserted and the crime rate zero during the two hours when Manny is fighting for the honor of his country? Does not the nation stop and gather in town plazas and public squares when there is a Pacquiao fight?  Virtually the whole nation cheers when he climbs into the ring.  Did not the controversial split decision last Sunday stun and shock our nation?
Conrado De Quiros in his June 12th column wrote: "Pacquiao himself showed grace in his defeat, appearing in the post-game ring interview, though he could very well have snubbed it and the world would have understood, and saying wryly those were the rules of the game, the judges decided things, and that was their decision. He could have added such as their decision had anything to do with rules, such as their decision had anything to do with sanity. But he refrained from doing so, managing at least to snatch from that loss a moral victory of sorts. He may be gaining in his battles in life what he has been losing of late in his battles in the ring."
At bilang marangal na Pilipino, babangon muli sa Pacman sa kanyang kontrobersiyal na pagkatalo.  At siguradong aabangan natin ang rematch.  Manny has shown that he does not only have powerful fists but strength of character.  Pacman is truly a Filipino icon who can rally our nation.
Let me end by pondering once again the insights of Professor Anderson.  He wrote: A nation "is imagined as a community, because, regardless of the actual inequality and exploitation that may prevail in each, the nation is always conceived as a deep, horizontal comradeship. Ult
imately it is this fraternity that makes it possible, over the past two centuries, for so many millions of people, not so much to kill, as willingly to die for such limited imaginings."
A deep comradeship.  A solid fraternity.  A willingness to sacrifice for the common good.  Tunay na pakikipagkapwa. Malalim na pagmamalasakit.  Handang mag-alay ng sarili para sa kapakanan ng lahat.  Ito ang mga adhikain na magpapalaya sa atin.
Pagpalain ng Poong Maykapal ang Pilipino!  Mabuhay ang Pilipinas!





Hits: 4786