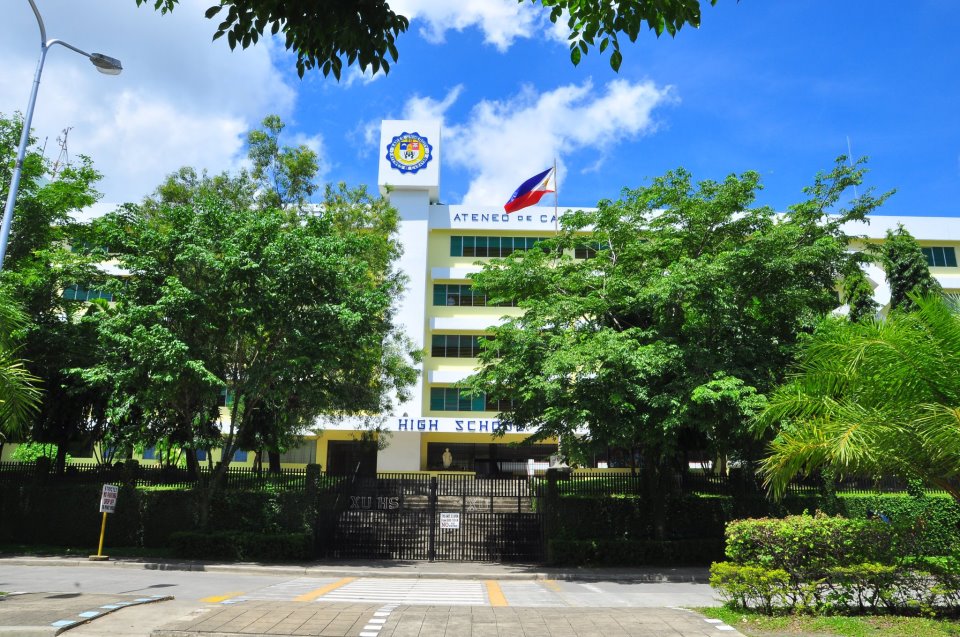 Xavier University - Ateneo de Cagayan Junior High School is pleased to announce that the following students listed below are scheduled for an interview after passing the entrance exam last December 9, 2017. You may claim the letter for your interview schedule from the Testing, Admission, and Scholarship Office of XUJHS campus along Masterson Avenue in Pueblo de Oro, Cagayan de Oro City.
On your scheduled date, kindly bring the following:
1. Completely and correctly filled-out STUDENT PROFILE FORM (blue form) with your recent picture and a clear sketch of the location of your house on the back of the page.
2. Photocopy of your Grade 6 report card with latest marks
3. Good Moral Character Certificate
4. One long brown envelope
This interview is the second phase of the school's admission process. Further instructions will be given after the interview.
Thank you for choosing Xavier Ateneo!
Pamela Q Pajente PhD
Principal
(Banner photo courtesy of the Facebook page of XUJHS.)
ABAS, SAMANTHA BEATRICE
ABITONA, WINLOVE E.
ACAPULCO, ROLYN T.
AGCOPRA, DIVINE GRACE S.
AGOYLO, CHRISTIAN N.
AGUIRRE, CHRISTINE JOY S.
ALANGO, ABDUL WAHID D.
ALBARECE, JAINA AYU B.
ALEMANIO, RAFAEL ANTHONY O.
ALMAZAN, THERESE C.
ALONZO, NATHALIE JEAN S.
AMBOR, SITTIE SHALIHA A.
AMEROL, HANNAH MHYKAELA E.
ANDALOC, JANNAH FE E.
ANDRADE, JOHN JOSHUA P.
ANINIPO, ANGEL GRACE C.
APARECE, AG SHUN CLARK A.
ARAGON, BERNICE LARA E.
ARELLANO, PRINCESS KYLE P.
AUXILIO, JOSHUA CHRISTIAN L.
AWITEN, UNISH VANN R.
AYCARDO, DEVON EZEKIL G.
AYUMAN, TREXIE JANE T.
AZURA, TIRZAH R.
BABIERA, HANNAH ALICIA L.
BACQUIAL, BEA JENN G.
BAHIAN, NASH R.
BAINO, DANIELLE NICOLE C.
BALABA, XYLEME FAYE
BALAGULAN, CHRISTINA CZAREN L.
BALATERO, KAREL E.
BALDAMOR, KURT IAN RAZL B.
BALHON, MARCO ANGELOU M.
BANDIVAS, JOHN PAUL I.
BANGOY, BRENNAN GEMS J.
BANJAO, SANDY VER A.
BARRERA, TIFFANY S.
BARRETTO, LAURA JEAN E.
BASCAO, VINCE HUGO JUSTIN C.
BAYLON, KARENSHANE MARIZ G.
BERONQUE, JIANNA THERESE A.
BESINGA, CRYZEL MAE N.
BITARA, ATHENA ORIEL P.
BONACHITA, CHARLES JUSTIN F.
BRON, MAYVELL M.
BULAWAN, SEAN EPHRAIM A.
CAASI, HEIRESS GRAZHIELLE D.
CABABASADA, KAMYLLE BLISS M.
CABANTAC, LOUIE JAY A.
CABILOGAN, MECHAILA GABRIELLE C.
CAGAS, REAN ROSE L.
CAINA, CRISELLA SAI SAARA E.
CALIO, HANZ JOEFREYSON M.
CALO, ERTHA CLAIRE R.
CAMACHO, GABRIELLE FIONA
CANAPIA, PRINCESS RASHIDA S.
CAÑETE, MATHIEU EDIAN S.
CANIOS, ELISHA KYLE C.
CAPINPUYAN, HELAENA MARIANNE M.
CARIQUITAN, KARL LOUISE F.
CAROLASAN, MIKA FRANCHEZKA A.
CARTAGENA, WILLARD DANIEL T.
CASIÑO, MIKE LORENZ S.
CASTRENCE, LORENZO III D.
CASTRODES, ERROL FLYNN CHESTER A.
CATALUNA, JORDS KEVIN M.
CATUBIG, JAYEN P.
CAYRON, BIANCA MONIQUE F.
CUARTEROS, KAITLYN F.
CUEVAS, MARY ZOE CHRISTY C.
CUTOB, NEIL IVAN J.
CUTOB, NOREEN IVY J.
DACLAG, GENOAH EAST G.
DADOLE, TRISHYA SOFIA MARIE B.
DAGUINOTAS, JEWEL ROSE S.
DANDAN, JOSE RAFAEL
DATU-DACULA, SITTIE CADIDIA R.
DATUMULOK, SITTIE WAJIDAH H.
DAYATA, ALENA JAIRAH V.
DELA TORRE, JEAN FLORENCE P.
DELERIO, GABRIEL O.
DEMECILLO, CARMIEL NJELAH R.
DESCALLAR, JANE CHRISTLY J.
DIOLANTO, JERTRUDE THEA MAE D.
DONCERAS, NICOLE JASMINE G.
DOSDOS, FLIETCHER B.
EBLAMO, KYLE O.
ECUACION, KELVY RAPHAEL A.
EDROTE, ZECHARIAH ROPHE
EDUAVE, MARY SIBYL N.
EMATA, JUDELL VENICE C.
ENAD, ERNEST DWYANE U.
ENRIQUEZ, JULLIENNE SICILY P.
ENTE, RICHARD JAMES
ESCOBIDO, ABIGAIL M.
ESPIRITU, KESLEY CASSIE T.
ESTRADA, SHARBEL KRISTEL V.
EUGENIO, ROYAL KANE B.
FABRIGAS, STEPHEN CAINE P.
FUENTES, ASHLEY A.
GABE, JOANNAH CELINE D.
GALAPIN, CHERRY FAYE L.
GALES, MARIZ S.
GALES, NINA ANTOINETTE O.
GALUNA, DANIEL CHRISTOPHER B.
GAPUZ, GREGORY J.
GARCIA, JONA FRENZHEN N.
GARCIA, PRESELLE BON ANDRIA P.
GEGATO, CHARMAINE LEILA, D.
GERALI, KENT MIKHAEL T.
GOLEZ, ANDREA JANE E.
GORGOD, ANGEL MAE E.
GUAZON, CEDRIC B.
GUEVARRA, CHRIS BIANCA M.
GULANG, WHYNNE MIGUEL R.
GUTIERREZ, CATHLYN ROSE G.
HADJI SALIC, ALYUSHRE M.
HADJIALI, PRINCESS AZMIN P.
HERRERA, KENT HOWELL J.
IBALE, VINCE NATHANIEL B.
IBUYAN, MIKKAELA THEA P.
ISRAEL, KURT NINO B.
JABINIAO, JERELOU MAI E.
JACUTIN, JANIAH YSABELLE O.
JANDUGAN, ROMEO JR. R.
JAVA, PAULEEN MICHAELA D.
JAVIEN, ERICHEL MAE S.
JUNTILLA, JIANNE Z.
KAHULUGAN, MARCO GABRIEL
KHO, ADEODATUS ZANTS O.
LABAROSA, GABRIEL L.
LABRADOR, DANIELLE LOIS P.
LAFABLE, PRECIOUS HANNAH A.
LAGOS, NEA RONI S.
LAMBAYAO, LIARRAH DANIYA E.
LEOPOLDO, ETHAN JAMES B.
LEZADA, NINA KEIRA NOELLE A.
LINOG, ANTHONYTTE CARL C.
LLEGARIA, LOUISE L.
LOMONDOT, MUAMAR U.
LONGNO, MICHELLE P.
LUNZAGA, KAREN KETH D.
MAAPE, CED ALLYXAH GEPTH C.
MABELIN, STEPHEN ANDREW B.
MABUNAY, MIGUEL PAOLO D.
MACAALIN, GHAZALEE G.
MACALBE, BASMA A.
MACAPONGGIS, FATMA HANIMA C.
MACASUSI, JOSEPH BENEDICT A.
MACOY, NATASHA LEYNA C.
MADROÑO, DIEGO EMIL D.
MAESTRADO, KAYE CARLYN S.
MAGANDIA, SOFIA M.
MAGBANUA, ASHLEY R.
MAGHINAY, ALTHEA MARIE V.
MAGUYON, KEN ALLEN U.
MANALAO, ABDUL JABBAR M.
MANGAYAN, KENT A.
MANGUBAT, JUNREY C.
MARMITO, MARITESS D.
MARSAMOLO, EDRIANE L.
MARTINEZ, JERHEN S.
MASBUD, ABDURAHMAN C.
MASIGAY, ABDANI A.
MENDOZA, MOIRA TERESSA ANGELICA L.
MOCORRO, ANGEL Q.
MOHAMAD, ALLYZA SHAMINA D.
MOLINO, XAMMERBELLE P.
MONER, MOHAMMAD HAMDANI S.
MONTE DE RAMOS, KZZYE FRANCYNE L.
MONTE, ALRAFFI S.
MONTILLA, ANTONIO FLAVIO JR. C.
MUÑEZ, ANYA ELIZA D.
MURILLO, ANDREA LUISA A.
NACAYTUNA, RHEA G.
NANOL, DANIELA VIVIEN G.
NANOL, ELI DEANDRE V.
NERI, GIAN PAOLO B.
NONO, WERTH SADHILL C.
NUEVAS, STANLEY A.
NUNEZA, DAVE J.
OCOT, ALEXANDRA DOROTHY C.
OCTAT, KATHLERY BIANCA P.
OGHAYON, MADELINE CLAIRE A.
OMAPAS, KELSEY DENISE R.
ONYOT, ZYKAH MAREYLLE R.
ORIO, ARIELLE ALYSSA G.
ORTIZA, YEDDAH KRISTINE R.
PACAÑA, ANGELICA N.
PACATAN, BRISBANE ZHINE B.
PACLAR, SHAMEKA PAIGE B.
PADUGANAN, LEIDI CARREL O.
PALERMO, TROY CARLOS ANTONIO V.
PANULAYA, ZSOFIA KEISHA NICOLE A.
PARALA, RALPH LORENZ T.
PASCUA, FAYE LOUISE B.
PASOL, ERIN ANGELA N.
PATRIANA, DERIS ALBERT C.
PELAEZ, KEIL T.
PELAYO, PRECIOUS JANE PEARL F.
PEÑANO, CLARICE B.
PENDANG, KLEANTH S.
PEREZ, CHYNN MYLES N.
PEREZ, REIGN E.
PIAGOLA, YVES FROYLAN
POLAOS, JOHANEZA ALI
PORTRIAS, MA. FATIMA E.
PUASAN, JARAE PAM P.
QUIETA, ELEXA LEIRRA D.
RADIAMODA, MOHAMMAD ALMARJAN A.
RADIAMODA, SITTIE NORHAINIE B.
RAFANAN, RUSSEL JUDE B.
RAMIREZ, CHRISTIAN ANGELO V.
RATABAN, JHOBAYRAH H.A.
RATILLA, SHANLY E.
RAZALO, ALEXIS ANEURYN U.
REAMBONANZA, KRIZEL D.
RECUERDO, SYZHNDY CLAIRE S.
REMENTIZO, JOSHUA S.
REQUERME, CJ ANTHONY L.
REYES, DANN MICHAELLA B.
REYES, RICCIANA MARGARITA S.
ROA, LORENZO Y.
ROJAS, MARIA OCEANA HELENA R.
RUBEN, ZEPHANIAH S.
SAAVEDRA, STANLEY KING
SABANPAN, MARY DONALEN A.
SABIDOR, ALTHEA MARIE T.
SABIDOR, HANNAH GWYNETH T.
SACULINGGAN, VAUGHN A.
SADICON, VINCE JOSEPH Z.
SAID, IRSHAAD T.
SALACOP, MOHAMMAD AMIR B.
SALENDRO, AHVIEL RHOI DHAN A.
SALIDO, LINDSAY ANNE A.
SALISE, PIERCE CYCZAR CIEL G.
SALOMON, EDRIAN T.
SALORIA, UNA JOELLE D.
SALVO, SARAH MAE O.
SAMBAAN, PRINCE KECY M.
SAN PEDRO, KAGE LANCE P.
SANCHEZ, JILLIAN M.
SANGARIOS, CHRISTLE LORRAINE P.
SARMIENTO, SHEBA KAE B.
SATUR, ALYSSA CRISTINE D.
SAYSON, KRISTINE JANE
SEKIZAWA, JASMINE B.
SERIOS, ALAN M.
SEROJALES, ANGELLOVERN D.
SIMBAJON, BEA MARIAE L.
SINGZON, LEANNAH DVONNE M.
SOLDIVILLO, EARLSHAN ANGEL A.
STA. ELENA, NICHOLE MARIE B.
SUMANDO, MARIA ROXEQUIEL P.
TACANDONG, RALPH GREGORY B.
TAGANAHAN, LOVELY CHARMANE R.
TAG-AT, EL RIA A.
TAGULAO, PRECIOUS KRISFAMAYE Z.
TAGUPA, IRA MAE ANGELA B.
TAKIANG, JASMINE PAULINE O.
TALAID, KYLE CASSANDRA E.
TAN, JARED ENRICO M.
TANCAWAN, MIL GERARD H.
TAPIA, MONICA FAITH A.
TAUCAN, SCHINLEIGH ANN D.
TAYURANG, KIRSTEN VENICE P.
TENORIO, FEONNA LOU B.
TIU, ALJEAN GWYNETH R.
TONGCO, JUNE MARIELLA B.
TORREGOSA, RHANZEL KENT A.
UBALDE, LIANA AURORA A.
UBANAN, AJ BENEDICT D.
UDANG, XANDER NOX A.
UMEL, CEPHAS BEN RAJ G.
UNABIA, GLENN MITCHELL V.
UY, SHUNREY R.
VALDEHUESA, ERIN GRACE E.
VERSOZA, SLOANE LJ L.
VILLACORA, JOLIE MARL T.
VILLAFLORES, MARY RODILY W.
VILLANUEVA, PHILIP NIÑO A.
VILLAZORDA, MARY ANTHONETTE B.
VISANDE, ZIACH O.
WONG, FEBIE MONIQUE M.
YAÑEZ, ACHILLES PAUL R.
YAÑEZ, JAMES BRYLLE L.
YEE, KARYLLE KATE C.
YOONG, ERIKA MARGARETH D.
YU, JOSH EMMANUEL M.