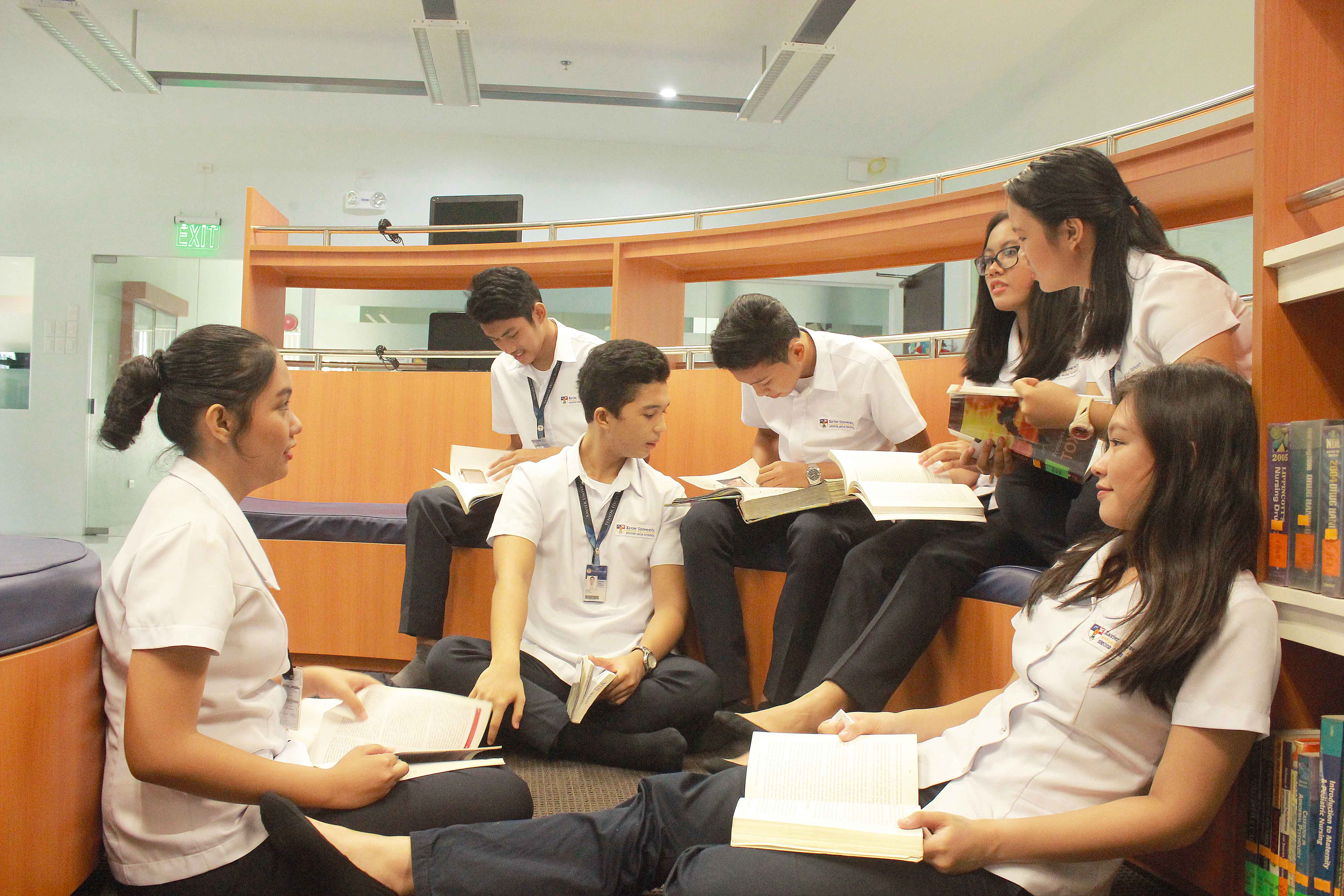 After receiving an overwhelming number of admission applications in January 2018, Xavier University - Ateneo de Cagayan is pleased to release the master list of Accepted Incoming Senior High School students for AY2018-2019.
The 469 junior high school completers of Xavier Ateneo were all offered automatic admission to its senior high.
In addition, 1,502 10th-graders from other schools passed the XU Senior High School Admission Test, administered in the cities of Cagayan de Oro (Xavier Ateneo Testing Center), Malaybalay (Bukidnon National High School), and Iligan (Iligan National High School), and in the municipality of Mambajao in Camiguin (Mambajao National High School).
Following its academic and admission standards, Xavier Ateneo has offered approximately 1,100 slots (based on ranking) initially to incoming senior high students. The primary crop will be composed of the automatically-admitted students from XUJHS (469 students) and passers from other schools (605 slots).
The selection was primarily based on their performance in the scholastic ability exam, a standardized test that measures the aptitude and readiness of the students for senior high, following the country's shift to a K+12 Basic Education.
Those who received admission offers must confirm their interest to enroll at Xavier Ateneo Senior High School for AY2018-2019 by paying the commitment fee of Php1,000.00, which will form part of their downpayment upon enrollment, at the XU Finance Office. Failure to confirm will result in forfeiture of their slot.
Full scholarships were also offered to the Top 100 Passers:
XUSHS President's Scholars - Top 10: Full Tuition, Full Matriculation, All Laboratory and School Fees, and Php5,000/year Book and Uniform Allowance
XUSHS Merit Scholars - Top 11-35: Full Tuition, Full Matriculation, and All Laboratory and School Fees
XUSHS Academic Scholars - Top 36-100: Full Tuition and Full Matriculation

To view your individual test scores, pop over to http://shsapply.xu.edu.ph/exam_results. Use your registration ID to open your account.
For your confirmation and inquiries, you may contact our Admissions and Aid Office through This email address is being protected from spambots. You need JavaScript enabled to view it. and/or (088) 853-9800 local 9835/ 9151/ 9152 / 9153. You may also visit their office at Rm 101, Lucas Hall, Xavier University - Ateneo de Cagayan, Corrales Avenue, Cagayan de Oro City.
* * * * *
Congratulations and Welcome to Xavier Ateneo Senior High School!
Xavier Ateneo Junior High School
(AUTOMATIC ADMISSION)
Passers from Non-Xavier Ateneo Junior High School
WAITLIST (Passers)

ABADILLA, RAJ BYRON P.

ABARQUEZ, JOEA CARMEL R.

ABAS, RUBEN L.

ABEJO, RHEILAN JOSH A.

ABELLA, KYLE VICTORIA V.

ABELLANOSA, HANZEN DRUE Y.

ABELLARE, ADA MAE C.

ABOGATAL, ISAAC MARTEL V.

ABRIAM, ALEXANDRA JEAN S.

ACERDANO, LUTHEA ANTONETTE E.

ACHARON, RAINE NEMANUELLE I.

ACHARON, RAINE NETHANIELLE I.

AGUIÑOT, KEITH PIERRI

AGUSAN, GWYNETH DANIELLE M.

ALAAN, JOHN HARVEY V.

ALAURO, RODNEY JACQUES

ALBARECE, SOPHIA FRANCINE S.

ALCOBER, MONINA MARCY S.

ALENTON, JOHN GAIOUS T.

ALLADO, MARIEJOY KAE C.

ALMIRANTE, CARL PATRICK H.

ALOMBRO, JOHN JAPHET M.

ALUYEN, ANGELIKA ALLOIE L.

ALVEAR, JUSTIN MAR O.

AMANTE, ALYANNA JEAN E.

AMARLES, LANCE KIRVY G.

AMORES, KRISTINE JULIANE T.

AMPARO, DANA ANGELOU A.

AMPO, THERESE MARIAN YSADORA D.

ANDOY, SUSIE ANGEL

ANGON, DOMINIQUE P.

ANOBAR, ERROLL ZANDRE N.

ANOOS, FEONA MARIE A.

ANTENORCRUZ, JAN KIM C.

APAG, HANNAH CATHERINE A.

APARECE, TWINKLE SHANE GLEAIN A.

APOR, ALLIYAH CLAIRE B.

ARBUTANTE, ASHLEY BLAISE J.

AREVALO, ARIANDA ANGELA R.

ARJONA, TROS J.

ARRIETA, KRISLY C.

ARROYO, WARREN T.

ASIO, CHARLES BRIAN O.

ASTILLO, ABIGAIL JOYCE C.

ASUERO, TRISTAN MIGUEL E.

ASUNCION, LUCAS MAXIMUS P.

ATUEL, JOSHUA L.

AVENDAÑO, MIKA A.

AWATIN, SEAN RAFAEL B.

BACAS, FREIDRICH PAUL T.

BACOLOD, MATHEW M.

BACULIO, TIM FLORENZ IAN C.

BADAL, JULIE ANNE B.

BAESA, ROBBIE LOUIS V.

BAGTASOS, LEAH ISHIREE R.

BAGUHIN, KIERWIN EMMANUEL P.

BAGUIO, STALIN JOSEPH G.

BAJAO, FIONA ANDREA B.

BALABA, JOHN PHILLIP JUBE D.

BALANDRA, MARIAM ELIZA G.

BALANDRA, SUNSHINE

BALDO, SIRE ALBERT C.

BALDON, LEMUEL B.

BALTAZAR, ESTEBAN MIGUEL C.

BALURAN, ALFONSO MATTHEW H.

BANAAG, ANGEL BERNADINE G.

BANGAMUARRACHCHIGE, NAVEEN V.

BAQUITA, PRINCESS MAE T.

BARCELONA, ANGELA CAMELLE E.

BARRIATOS, JOHN GLENN A.

BATOCTOY, EDGYLU D.

BAZAR, KIM ALYEN T.

BELONO, EARTHAEA SKYE L.

BERNABE, KIRSTEN GABRIELLE B.

BERRY, MICHAEL JAMES B.

BIOCO, LEANNE A.

BIONGAN, CHRISTLE ANDREA O.

BIWANG, PAMELA G.

BOISER, JULIANNE L.

BOLACITO, ANGEL YANNI MIKAELA S.

BOLLOZOS, VINCE GABRIEL F.

BOLORON, CYNNAN ANGELO G.

BOLOS, ANGELA FRANCHESCA M.

BONACHITA, JV KARLO L.

BONITA, NICOLE CHRISTY L.

BOYLES, GWYNETH ZOE A.

BRAGA, NICOLE SHEENA A.

BULLAN, FLORENCE C.

BUNTAS, ROCHELLE M.

BURAY, REY MATHEW T.

BUZON, BEA ALYSSA C.

CABABAT, MILES M.

CABANA, ERICA THEA V.

CABARABAN, MARC RHYS ALISTAIRE I.

CABELTES, CHARLES S.

CABRERA, CHRISTIANNE D.

CABRERA, JANNILYN S.

CABRERA, JOSE JOAQUIN D.

CAGULADA, TRISHA MIKAELA L.

CALUNGSUD, MARK EMILIO SAN O.

CAMANNONG, TJ CARLYLE A.

CAMOMOT, ANNA VICHILLE L.

CANETE, GABRIEL CHIMUEL L.

CANTULAR, RUBY JOY B.

CAPINIG, THOBIE JOSH A.

CAPISTRANO, MARC VINCENT RYAN P.

CAPUTAN, DAVID NOEL B.

CARBONILLA, CRISTIANE JOI B.

CARRETAS, SOPHIA CARL V.

CASAMAYOR, ANXIEL DHEAN C.

CASAMAYOR, QUIMBY KAYE C.

CASCON, AARON KYLE B.

CASTINO, IVO ANTHONY L.

CAYAS, HANNAH LYNN M.

CERVANTES, SAMUEL JACOB S.

CHACON, JAED MARION B.

CHAN, MARTINA CAROLINE M.

CHIBA, SHINJI J.

CHUA, KATRINA FAITH P.

CINCO, KAYLA EVITA A.

CLARIN, GRANT IMMANUEL C.

CONOL, GRANT CARLO C.

COROTAN, JUSTINE YUR N.

CORTEZ, ABBY MARLA B.

CULTURA, MARY MARGARET P.

DAANOY, MARY ANN M.

DACLAN, GWYNETH BELLREE B.

DAGATAN, PRINCESS JULIA S.

DAGBAY, EROS UZZIEL R.

DAGONDON, MARIUS MATTHEW P.

DAGUMBAL, LIEZL ALLOIZA B.

DALAGUIT, KIM IAN D.

DALEN, MAE KATHERINE J.

DANAO, DANIESHA ANNE

DAYAK, DYLAN JADE C.

DE LARA, MARIA VIOLETA B.

DE LOS REYES, KRIZTLE T.

DE PEDRO, ANNA PATRICIA M.

DE SAN MIGUEL, AARON DEO U.

DEGOMA, SHAKIRA J.

DELA CRUZ, JED MARION V.

DELA CRUZ, ROBERT JANOA A.

DEMATA, CARL RAYLAN E.

DENSING, DEREK C.

DENUYO, ZOE PETER YLOI P.

DEQUITO, REYNDALE MAIC A.

DIEZ, DANIEL GABRIEL V.

DIMAPORO, HARRAH U.

DIZON, JOAQUIN ANGELO R.

DIZON, RIYAH KRISTINA CASSANDRA L.

DOBLE, IVORY JANE V.

DUBLADO, DOMINIC JOAQUIN

DUEÑAS, ERNEST G.

DUMAAN, PATRICIA YSABEL A.

DUMANON, JOHN GREGG A.

DUMO, MELODY E.

DURANO, MATTHEW RAPHAEL S.

DY-CEZAR, CLINT ANTHONY D.

EDROLIN, ISABELLE TERYZ B.

EJEM, RENZO LUIZ M.

ELOT, KHAYLA ANDREE P.

ELOT, LANCE NATHANIEL B.

ENAD, SIMON DINO L.

ENRIQUEZ, JOSE CLARITO ANTONIO P.

ESCOBAR, JOSEPH MATTHEW D.

ESPIRITU, ANTONIO MIGUEL P.

ESTERADO, ALNAIR G.

ESTIPONA, DIRK AYWIN R.

ESTOCONING, ROBELLE L.

ESTOPIA, HANZ LUCAS P.

ESTRERA, JANE MARIE S.

EUFINADO, ALMARY LEIGH P.

EXCHAURE, KRYSTAL AUDREY T.

FABE, FRANCES FAYE B.

FAJARDO, ANDREA NICHOLE F.

FAJARDO, MARK LYNDOX B.

FERNANDEZ, ADRIANNE KATE C.

FERNANDEZ, TYRAZELLE GLIANE S.

FLORES, CHRISTINE C.

FUENTES, EDWARD DOMINIQUE A.

FUENTES, SELLICHA D.

FULLO, JUSTINE JOY C.

GACETA, JOEL C.

GAID, JOIE CAESAR JR. R.

GALARPE, SAMANTHA NICOLE ARIADNE P.

GALARRITA, ANGELA JOLIE B.

GALARRITA, FERDINAND GABRIEL G.

GALES, TRIXIE L.

GALLARDO, BEA THERESE M.

GAMAD, OWEN KENNETH N.

GAMOS, ROLETTE ANNAH MARNELLE B.

GARCIA, MARK JOSHUA C.

GARCIA, ORLAND PATRICK R.

GASATAN, JASMINE SOPHIA G.

GATCHALIAN, ANDREA NICOLE P.

GAWILAN, CHRISTINA LOU R.

GELANI, YUKARI AUBREY D.

GERSANA, ZENIA FELIZE N.

GO, MARY LEI ELIZABETH P.

GO, MICHAEL ANTHONY GABRIEL

GOLEZ, MICHAELA GRACE A.

GRAMATA, JED B.

GRAVADOR, GIA ALYSSA D.

GREGORIO, ANTONETTE CHIN E.

GUANZON, ADAM EMMANUEL B.

GUIBAO, RALPH JEHNISAN N.

GUILING, ABDUL NASSIF T.

GULAY, ERNEST JACOB D.

GULAY, VINCE RALPH C.

GURO, AMERAH SHAFA M.

GURO, NORHANADI A.

HALINA, PAULA EVTH B.

HAMOS, XIAVIR T.

HERMOSA, GELLIAN G.

HOMERES, CASEY ELISHA C.

HONCULADA, KARL FRANCIS O.

HONG, KATE ANGELA H.

HULAGNO, ROVIE P.

HUR, WON

IBARRA, JOHN WINDALE B.

ICONG, RIKKO GABRIEL Y.

INOVERO, NEICHE KAILAH M.

ISABELA, REZELYN U.

ISRAEL, PATRICIA B.

JAMERO, JARED NATHANIEL Y.

JAMOC, MATTHEW GABRIEL A.

JANGAO, GLEE MARC EMMANUEL J.

JAO-JAO, JAY ERICKSON D.

JIMENEZ, CHANTILLY KERSCHIENNE I.

JOLOYOHOY, GON P.

JOMUAD, HADDEJ RIAF C.

JOSON, FRANCES ANDREA R.

KENG, CHRISTINA L.

KHO, KIM ANDRE O.

KHU, WARREN JOY II P.

LABALAN, MARA VERA R.

LABASANO, KAYLA MAE C.

LABIAL, GAVIN RAFAEL J.

LABIANO, BENITO REY VINCENT C.

LABITAD, JOHN BRUCE G.

LACAR, CHIANA VIANE E.

LACDOWO, ARIEL P.

LADLAD, JILLIAN MAXINE T.

LAGBAS, NATASHA Z.

LAGRIA, JESTONI P.

LAGURA, REUSSIENE MARIE G.

LANGREO, MARICHELL ALIAH AMOR S.

LAPUT, LANCE WILLIAM B.

LASPIÑAS, PAULA ANGELA S.

LATRAS, STEPHANIE VIRGIL

LAZO, NIZZA JORJ C.

LEAFGREEN, MARY GRACE J.

LIM, JAMIE AIKEE A.

LIM, JERI AUBREY A.

LIM, JESS MICHAEL C.

LLAGAS, JOHN RHAPPAZ

LOGROÑO, BRYLLE JOSHUA B.

LOMONGO, CEGREY BREECH C.

LOQUINARIO, HANS HUMEN N.

LUCES, VICTOR KARL ANDRE E.

LUNA, ALFRED LORENZ M.

LUSTERIO, MELODY M.

MAAGAD, ASHLEY JUNE C.

MABAIT, SOFIA MAY C.

MABELIN, SHERELLE ANDREA B.

MACAPAYAG, ELLE ALEXANDRINE P.

MACAPONDAG, MC COLEEN E.

MACAUYAG, FATIMAH A.

MADLOS, MATTHEW JULOU M.

MADRIAL, CHRISTIAN ANDRE M.

MADROÑAL, GABRIEL REUBEN L.

MAESTRADO, RHAD LESTER C.

MAGALLANES, APOLLO P.

MAGALLON, RENE LOU L.

MAGARO, MAYDILOU O.

MAGHIRANG, PAULO E.

MAGLANGIT, ELLAH THERESE T.

MAINIT, DANA B.

MAINIT, ERVIN JAMES J.

MALERIADO, ANGEL BERRY M.

MALINES, GENECAH DANIELLE G.

MANEJA, VINCENT RAYGIE P.

MANGUBAT, RAY AARON M.

MANIQUIZ, TRISHA ISABEL C.

MANLAPIG, LEONIDA LUZ M.

MANUGAS, MANNY ANGELO R.

MAPA, ISHA NATHANIEL B.

MAQUILING, DANIEL R.

MAR, GEIA ADRIENNE A.

MARAVILLA, DIEGO JULIAN B.

MASBUD, ABDUL WAQIL P.

MAULION, PATRICIA ISABELLE B.

MERCADO, MARIA ISIS JHOANNE C.

MERCADO, MERCIEL MAE B.

MIANO, AMAELEA L.

MINGUEZ, FIONA BEATRICE B.

MIÑOZA, JON CLAIRE Z.

MIRAL, KARENHART G.

MIRANDA, FEVIMAR MAY M.

MISBAK, MUHIDDEN Y.

MOLINA, CASSEY L.

MONSANTO, THERESA RAE J.

MONTE, CRYSTAL ANGELA R.

MONTEJO, NICOL AUREL R.

MONTON, BONIFACIO C.

MORENO, EDMUND ZHEEN REGOR S.

MURRO, JEWEL ALEX V.

MUTYA, KYLE BRYAN B.

NACALABAN, JERAMEEL

NACARIO, BENJAMIN FRANKLIN V F.

NADUMA, ANGELO Y.

NAGAC, ABEMAEL JAHN D.

NAGAC, NATHAN EMMANUEL L.

NAGTALON, MARYENKA FELICE G.

NALANG, EUNICE LOIS P.

NANONG, NICOLE H.

NAPONE, GABRIEL ANGELO D.

NAVARRO, GERALDINE ANTHONETTE G.

NEMENZO, NEIL RHYAN A.

NERCUIT, CAMILLE JULIANNE R.

NILLES, KANA T.

NUSKA, FATMA RANIA M.

OBLEPIAS, JAVE LAUREN T.

OBSINA, ANGELA GIA M.

OCAMPO, MEJA COLEEN C.

OCERO, ALLEED JEMS A.

OLARITA, TRISHA GWYNE V.

OLIVAR, JEFFERSON AGUSTIN P.

OLVIDO, JOSE MIGUEL C.

OPECIO, HEINZ P.

ORTEGA, CHAYINNE S.

ORTIZ, YEVGENY NOELLE C.

PABELLAN, ANDRYAN R.

PACANA, ABIJAH MIGUEL C.

PACTO, SHAWN CHRIS A.

PADUGANAN, HILKIAH SALVADOR REY F.

PAGAPONG, PEACHY C.

PAHILAN, SAMANTHA NICOLE J.

PAILAGAO, YSABEL B.

PALASAN, REGGIE KEANNA S.

PALOMAR, NOEMIE MARIE T.

PAMPLONA, OASIA S.

PANDAY, ALYSHA KRISTIANA G.

PANONDIONGAN, MHELHARIE M.

PARAGUYA, BIAN PAUL A.

PARAISO, AUSTINE ANGELINE R.

PASCUAL, SERMAE ANGELINA G.

PEÑARANDA, CARLOS MIGUEL L.

PERALTA, ELIJAH LUIS V.

PEREZ, EVAN P.

PEREZ, KRYZL GABRIELLE A.

PIELAGO, KRISTINE CLAIR Z.

PINQUE, VENISSE MILDRED N.

PLATON, BEA G.

PLAZA, BRANDON DEO K.

POJAS, NICKY HALLYIEL L.

POLINO, RAPHAEL HANS S.

PON, GABRIELLE MARIE G.

PRETE, PRINCESS ELAH A.

QUIMPO, JOSHUA TIMOTHY S.

RABANES, FRANCIS ALFRED R.

RABUYO, VANESSA ALEXIS J.

RADIAGANDING, ROOSEVELT P.

RAFAL, JANNICA M.

RAJPUT, SHEENA NISHA KAUR C.

RAMIREZ, IVAN LLOYD G.

RAMOS, FRANZ LOWE

RAMOS, JUSTIN LANCELOT L.

RAVIDAS, NOEL II

REBOLOS, MONICA A.

RECAÑA, JULIANA ANN B.

REGIS, KAYE ANDREA S.

REJAS, MARIELLE A.

REPOLIDON, CARYLLE MAY M.

REQUERME, ANNE LORRAINE R.

REQUILME, NICOLE M.

REQUINTON, MARIANE N.

RETIZA, YRICKA NOUVELLE G.

RICAZA, ADRIAN LYLE A.

RODAS, KATRINA ABIGAIL C.

ROSALEJOS, JOHN HENRY J.

ROSALES, MIKHAILO C.

RUBIN, MARY ALTHEA A.

SABADUQUIA, ATWELL MICHAEL R.

SABANAL, HANNA BLANCA M.

SABAS, RICHEL DIANE P.

SABELITA, WINONA MEG T.

SACALA, KENNETH JOHN D.

SAJONIA, ALEXANDRA KYLLE R.

SAJONIA, MAXILLE GAY P.

SAJULGA, KIRL IVAN S.

SALADA, JAIRO RENZ E.

SALARZA, MARIA CASANDRA O.

SALAUM, JOAQUIN NIÑO F.

SALDUA, MARY LAWRENCE D.

SALE, PRINCE JOVIT S.

SALIGAN, GEF C.

SALOMSOM, EDMOND JR. A.

SALVALEON, STEPHANIE REJEAN P.

SALVANA, RALPH RUSKIN A.

SAMBAAN, ALAN ROY II R.

SAMONTE, VENJ JACOB F.

SAMSON, CHARITY

SAN JOSE, CHRISTIANNE MIKAELA F.

SANO, MARIE JO RHEA A.

SANTIAGO, MARRON CLYDE C.

SANTOS, ALESSANDRA LOUISE C.

SAPIO, BEA COSETTE MARIE T.

SEROHIJOS, JANE VALERIE B.

SEVILLANO, ANGELO L.

SILMONET, PAUL DANIEL L.

SING, DANICA KERSTIEN T.

SOBREJUANITE, ROMEO ANGELOU R.

SORIANO, JAN RAFAEL A.

SOTARIDONA, ZAIRA JOY U.

SUMALPONG, SZARINA R.

SUMILANG, SHANE FRANZ F.

SUPERABLE, JORIZ Q.

SUSUSCO, JOSIE MARE S.

SY, SOFIA ALLYSON V.

TABAN, BHEATRICE

TABAQUIN, MA. LOUISSE NICOLE A.

TABILIRAN, JERI MARIE P.

TAGUPA, HANNAH ERICA G.

TALADUA, MARIAH JANE C.

TALAMPAS, MA. SOPHIA S.

TAN NERY, RAJ FRANCIS P.

TAN, KARLA FRANCESCA E.

TAN, MARIA ATHENA EUNICE B.

TAN, PATRICK L.

TANCONGCO, BEA ANGELA R.

TANGPOS, SETH FRANCIS S.

TEJADA, JOSHUA GABRIEL G.

TIONGSON, KENT CLIFFORD J.

TIRONA, KISEKI JULLIANE A.

TIU, WINONA JANE B.

TOLENTINO, ROMMEL JOHN G.

TOLINERO, SHERISKA SOPHIA A.

TOME, KYLE MARLI A.

TORCULAS, ROD MARY H.

TORRES, JUSTY R.

TUBOG, ANGEL IRISH TRISHA V.

TUQUIB, DOMINIC BENUEL L.

UBALDE, JUDE MARI N.

UMPA, NORJAIME ALYSSA L.

UROT, MA. JULIENNE REI G.

UY, HEINZ TRISTAN A.

VALENCIA, TIFFANY G.

VALENTON, MARY CLAIRE G.

VALERA, KRYSSTAL T.

VALLENTE, JESCHA B.

VALMORIA, DAN LLOYD C.

VENTURA, BETHY DOLEIGHN G.

VILLAMOR, REINA MARGARET GWYNETTE T.

VILLANOY, JONAS V.

VILLANUEVA, JUSTIN GABRIEL C.

VILLO, VIPLEEN KURT L.

YACAPIN, MARK GABRIEL

YACAPIN, STACEY AUDREY Y.

YAMSON, ALEXANDRA D.

YANA, RYANNE ANGELI EMMANUELLE M.

YAP, ISABELLA KAYE D.

YEBAN, JEFF Y.

YEE, KAITH MARIE S.

YUBUCO, CYBELE RENZYMAE G.

YULO, KEREEN FAITH P.

ZABALA, LOURD JOSHUA O.

ZAPANTA, GABRIELLE R.

ZARATE, ALEXIS U.

The following passers with admission offers must
to confirm their interest to enroll at
Xavier Ateneo Senior High School
for AY2018-2019.

* * * * *

ABALES, JORIEGAE M.

ABANIL, EARL KHYDGE VAN N.

ABAO, HOLLY APRIL C.

ABARQUEZ, ARDIAN REY L.

ABASTAS, KENNETH PAUL M.

ABBAS, SITTIE TAHANIE B.

ABCEDE, JULES SIMON E.

ABDULJABBAR, JOWAYRIYYAH H.S.

ABEDIN, MOSTAQEM P.

ABERILLA, ANNA KATHERINA O.

ABOBO, KAIZAN P.

ABRAGAN, AIANNA ISOBEL ZOE C.

ABRIOL, KAILHA MAE B.

ABSUELO, JASON LOUIS A.

ABUTON, LLANSZE LUEL A.

ACAYLAR, CLINT BRUCE B.

ACEBU, CATHERINE MAE F.

ACERON, MARIA ZAIREL CYANN A.

ACOP, ILHAM T.

ADAME, MICHAEL ROWE T.

ADANE, DAN FRANCES L.

AGRIPO, KERRIE YANNEE A.

AGRIPO, SHADRACH AZUR R.

AGUAM, AMERHASSAN M.

AGUIRRE, JOANNE NICOLE S.

ALABA, CHARLES IVAN F.

ALAIR, KELLY CAMILLE G.

ALAMBAN, JAN CARLO C.

ALAMEDA, KYLA JOY P.

ALAWI, NOR SALAAM S.

ALBA, RYAN JACOB R.

ALBARICO, KENNEDY D.

ALCULAR, ALTA XYLENE V.

ALDEMA, BLESSIE FAITH G.

ALERTA, TRIXIA MAY P.

ALFECHE, ARVIN GERARD C.

ALIKHAN, AMALHAYAH M.

ALIMAN, JOEVAN M.

ALMEDILLA, PRESLY JANE L.

ALONG, ISMAEL L.

ALUG, AMNA JANICA P.

ALVAREZ, ALLYN D.

AMIGO, KORRINE RICA B.

AMINODEN, MALIK SAIF S.

AMORA, FIONA LOUISE M.

AMPER, PAULINE JHUN C.

ANGULO, MISSY ANGEL P.

ANIÑON, BRIANE JAMES R.

ANSARY, JANIMAH C.

ANWAR, MARHAMAH A.

APARECE, JOANNA CAMILLE B.

ARAO-ARAO, JAN CHRISTIAN L.

ARELLANO, JAN BJORN P.

ARELLANO, JON PAUL C.

ARJONA, JACINTH JUNELL S.

ARMENDAREZ, DANICA ELA P.

AROBINTO, KHALID B.

ARRIESGADO, JAN MISSY A.

ARUN, DANIEL R.

AS-ASON, SHYRA JAYNE T.

AUSTRIA, BEN ALEC B.

AYUBAN, JOSHUA ALEXANDER M.

BABIA, ADRIANNE C.

BACADON, BABE P.

BACAS, KRISHA L.

BADELLES, BENJAMIN JAMES O.

BAGABALDO, FREZY LOU B.

BAGAPORO, BOB FRANCIS T.

BAGARES, LEBBY REYSS D.

BAGAYAS, EULA JUDEA A.

BAIT-IT, CEAN CHRISTOPHER S.

BAJUYO, DAVE A.

BAJUYO, JOHN CHRISTOPHER LOUIE D.

BALA, SETTIE NEHAN G.

BALABAT, JHOVEL ANRHEA C.

BALANGYAO, KIMBERLY XYRA C.

BALIQUIG, NICOLE DIVINE GRACE B.

BALO, AURA MENKAR S.

BALT, ABDULRAHMAN Y.

BALUCAN, ZYRILLE M.

BANGCONG, AZELIYAH C.

BANSAO, SAFIYAH M.

BANTING, KARL LLOJIE S.

BANTUG, ATHALIAH JENINE T.

BANUAG, JAE ROSIE ANNE H.

BARROQUILLO, JAZMIN ANGELYKA P.

BARSAGAS, KING JIM T.

BASALO, PAUL KENNETH B.

BASHER, SITTIE ALYSSA Y.

BASHIER, FATIMA ZAHRA G.

BASLOTE, GWENETH ANGELEE G.

BASS, JERILOU JEAN D.

BASSIT, ABDULMAJID D.

BATAO, AKLIMAH L.

BATAYOLA, ALYANA KYLE G.

BATO, MOHAMMAD N.

BAUL, ERICA VENN P.

BEJA, GENE IVAN B.

BELONGILOT, BRITNY C.

BELTRAN, BERNARD LLOYD C.

BELTRAN, PATRICK JAMES G.

BENOLIRAO, ERIKA DANIELLE L.

BENT HABIB BALINDONG, NAJAHA P.

BEOYO, NIÑA GRACE M.

BERDON, JOEAR T.

BERNIL, NYL FRANCES M.

BIOCO, ULAP A.

BOBADILLA, CYREENE JOY P.

BONITA, JUIZY JENN T.

BONSALAGAN, MOHAMMAD YACOB M.

BRUNO, ELIJAH MARIE T.

BUCA, LAWRENCE GIL L.

BUCAY, SULTAN M.

BUNIEL, AARON VAL JOSE A.

BURGOS, SOPHIA ANGELA S.

BURLADO, NICOLE R.

BUSTAMANTE, FRITZ F.

CABAHUG, MARY ABBYGALE M.

CABALOG, JANE NICOLE N.

CABRIDO, FLORENCE RONN L.

CABRIDO, JOHN GUMER O.

CAGAANAN, SHELLEY ANNE GAIL G.

CAGATIN, NOEMIE D.

CAGULADA, CHERIE MAE C.

CAIREL, JAN NATHANIEL L.

CALONGE, AXEL HOWARD A.

CALUGAS, SHAREEN JEAN B.

CAMPOS, AXLL ROSS A.

CAÑASA, JAMES RYAN C.

CAPAROSO, KEM ANGELINE N.

CAPINPUYAN, SHANIA G.

CARANGCARANG, FRANCIS C.

CARLOS, JEATRICE NICOLE G.

CARRIEDO, MAEA KAYE M.

CASAS, MA. ANGELA KATRECE G.

CASIMERO, SCARLET E.

CASTILLA, CARYL PORTIA M.

CASTILLANO, KIRSTEN ELA M.

CASTRO, DENN VLADIMYR A.

CASULO, VINCE EDWARD Y.

CATACUTAN, MARK JOHN VINCENT U.

CEBALLOS, JOSHUA PHILLIP L.

CEBEDO, KATRIN KLAIR S.

CHAVES, GIAN ANDRES S.

CHING, JENNIFER KIM E.

CHIONG, ALBERTO EMANUEL S.

CHUA, MILES NIÑO C.

CHUNG, VICTORIA DOROTHY G.

CIMENE, DANIELLE REY A.

CODANTE, SITTIE JEHAN G.

CODINERA, GRICH MAE ANTONNETTE D.

COLANSE, JAMES BRYAN C.

CORTES, SERWELLO PHILIP B.

COSEP, MARIELLA BERLEEN I.

CUBERO, CARLOS REI C.

CUENCA, FAITH R.

CUTAR, ROUELLE JESSIE M.

DAAYATA, CHRISTEN JOY S.

DACOCO, RUSSELL ANN C.

DAEL, DAVE VINCENT A.

DAGALANGIT, MUAMAR A.

DAGATAN, GABRIELLE G.

DAGOHOY, SOPHIA LORRAINE L.

DAGUIMOL, JEROMI D.

DAGUIMOL, RODEL P.

DAL, DAVID SHANE J.

DALIDIG, AYNA JANNIYAH D.

DALIGDIG, JEAH PEARL MENETTE M.

DAMALERIO, CZARINA YSHABEL B.

DANTE, JOHN RAY S.

DAQUIPIL, MARIA LOURDES P.

DAYAO, MARIA ANDREA ISABELLE B.

DE LA PEÑA, ANGEL OZZY DEO F.

DE LEON, DARWYN DAVE T.

DEAPERA, KRISTIN BELLE O.

DEDEL, PATRICK CARLO P.

DEHING, AL VINCENT G.

DELA CRUZ, CHLOE MARIE C.

DELA CRUZ, HANNAH MARIE A.

DELA CRUZ, JACOB ANDRE Y.

DELA CRUZ, JOSHUA TERONE A.

DIGAMON, MICHAEL BRYNE D.

DIMARO, ALEA JANEFA S.

DIPATUAN, SITTIE NEZREEN M.

DISIMBAN, FATIMAH ZOHRA B.

DISOMANGCOP, ASRIZA B.

DITUCALAN, ABDANNIE R.

DITUCALAN, MOHAMMAD HASIM M.

DIZON, PHILIP JADE

DOBLE, XYLE CHRISTIANNE S.

DON, KYLE JOHN V.

DORIA, ANDRE SOCORRO F.

DUCTO, KATHRINE ALEXIA M.

DUMANON, ALEXA C.

DUROTAN, MARK D.

DY, KYRA ALYSSA M.

EBABACOL, LIEGH ANN FARL D.

EBALE, NICOLLE J.

EBALLE, SHANEEN ROSE E.

EBORA, PAOLO Q.

EDUAVE, STELLA CLAREZE V.

EDUCALAN, ERWIN GRANT C.

EGE, JAN BARTOLOMEW C.

EHENG, NICOLAS G.

EJARES, SHAQ M.

ELIAS, SITTIE JOHANAH D.

ELUMIR, DANICA MAE B.

EMATA, EIYAN JULIANNE B.

ENGUIO, RHY KENJI Y.

ERMITA, KATHLEAH P.

ESCAMILLA, LEO ROMEL JR. A.

ESDICUL, HEISEN JANE L.

ESMAIL, HANIYAH ABBAS

ESTANILLA, FHIEL ANDRE E.

ESTONILO, CINDY MAE B.

ESTRADA, RALFH RENZ C.

FAHMY, MOHAMMADFAIZ S.

FAUNILLAN, MAIREN VERA E.

FELISILDA, ANDREI JOHN B.

FERROLINO, ALEXA S.

FLORES, ELAIZA MAY

FLORES, KEEZIAH CHARISE A.

FUA, CLENT IVAN O.

FUDALAN, XIANNE R.

GAAMIL, RICHARD MATTHEW Z.

GABUTAN, JEAN ALEJANDRO R.

GABUYO, EARLYN NICOLE M.

GADOR, CHRISTINE EVE T.

GAID, RENIER JANE E.

GALAGNARA, ROMEL ANGELOU H.

GALLARDO, ATHENA KEZIAH Y.

GALORIO, RONALD STEPHEN A.

GALVEZ, ARMSTRONG B.

GAMBOA, MORPHEUS HUGO

GARCES, MANOLITO JR. N.

GARCIA, ALLY MAE C.

GARGANTOS, ELDEY RAVE N.

GARRIDO, GIENNI MARIE M.

GASTON, VIANNA DOMINIQUE B.

GATAB, JU B.

GAWINGAN, VEA CRYSTINE L.

GENELZA, RALPH DARWYNE G.

GERBESE, JOHN MARVIN D.

GERONA, JEZER T.

GERONA, SEAN KENT M.

GERONG, JOHN ANTHONY L.

GERONG, MAE RUTH T.

GICA, JOANNA MARIE D.

GINATILAN, RUSSELLE EVE D.

GLOVA, ANDREA COLLEEN R.

GOLOSINDA, KRYZLLE R.

GOLOSINO, DWAYNE M.

GONZALES, MONIQUE N.

GREGORIO, RIA JOELLE A.

GRENGIA, MARY RAFAELLE C.

GUBAT, SITTIE ROHAIMA G.

GUEGUE, RICK JAY S.

GUERRERO, PETER JAMES B.

GUILLERMO, JUSTINE JEAN D.

GULBEN, JASPER CLARK R.

GULTIA, ALAN PIERRE MIGUEL R.

GUMANID,NINA ANGELICA B.

GUMPAL, KARL CEDRHIC A.

GUZMAN, BERYL IVEE E.

H. SATAR, NESHRAIDA H.S.

H.NOOR, ARAFAT S.

HADJIMALIC, CARIYONG JR. M.

HADJIZAMAN, NURHESHAM S.

HALASAN, IZEK VINCENT B.

HAM, HYEONGJUN

HERAMIZ, ALTHEA KAYE T.

ICONG, LORAINE A.

ILAGAN, RRYGO J.

ILUSTRISIMO, IALY HANNAH S.

ISAGA, KAREN JOY E.

JABUNAN, MARY VERGEL I.

JADUCANA, SERRA ABIGAIL L.

JALAGAT, ARICK JUSTINE C.

JALI, SHARIFA SITTIE ZEHARA M.

JAMAIL, JAINURAFFY R.

JAMERO, CAINE DERICK Y.

JANOLINO, RHEA MAE S.

JANUBAS, MCKINLY L.

JARUDA, MATEO RICARDO A.

JAVIER, JULLIANA FAYE O.

JO, JUSTIN DANIEL T.

JUMAMOY, ELIZA PATRICIA L.

JUMAWAN, ALLYSSA KIM V.

JUSTINIANO, JANAH MILENE M.

KABINGUE, REYMART R.

KABIRUN, ABDUL MAJID C.

KIERULF, CLAUDE CHARLES B.

KUMAL, SITTY HAFSAH M.

KURANGKING, ARIF T.

KWAN, ROMMEL XAVIER P.

LA VICTORIA, CHRISTIAN A.

LABASTIDA, BENITO ROY C.

LABIAL, KYLE MANUEL P.

LABIS, CARLO JEMBO J.

LABIS, NOEL FRANCIS M.

LAFUENTE, LILIANA KRISTINA M.

LAGARDE, MATT KEINLOURD A.

LAGRITO, CLAUDETTE JERACE A.

LAGURA, MARY ANTONNIETE B.

LAGURA, NAZHIEL JOY L.

LAMBAYAO, LIANNAH DANIKA E.

LAMPARAS, GARYL LUVANI BRAY L.

LANDAR, JAPHETH JONES A.

LANTO, HANIYA DAYYAANAH M.

LAO, ASNAIRA B.

LAO, KAYESAH M.

LAVADIA, MA. REMEDIOS M.

LAYUG, MARY JERLYN A.

LAZARITO, APRIL GRACE U.

LAZARTE, DESTINY

LAZARTE, MELARCE M.

LEE, EUNG JIN C.

LEE, EUNG KI C.

LEE, JOHN COBBY L.

LEE, SHANE RAY S.

LEGASPI, ERIKA MARIE D.

LEIBLING, RICO C.

LEYSON, LOVE JHOY M.

LIM, ANDRE PRISTINE G.

LIMUG, NORNISAH T.

LINAAC, CHRISTIAN MIGUEL C.

LIZARDO, GWEN C.

LLORENTE, ALEXA GAYLE V.

LLUBIT, JENEALLE MICAH B.

LOPEZ, AIDAN JOSEPH B.

LOPEZ, IVANDREI L.

LOZADA, QUEENIE HEART R.

LUCAS, DENIESE KAITLIN L.

LUCMAN, MOHAMAD ALIREZA M.

LUCMAN, MUADZ D.

LUMAYAG, JUDY MAE M.

LUSPO, FRANCIS JOSE T.

LUZON, CYRGIL S.

MABALE, NATURELLE T.

MACABUAT, SITTIE-HABIBAH B.

MACARADI, AMERAINAH S.

MACARAMBON, NAJMAH A.

MACARAYA, FAROUK S.

MACASERO, JABEZ IAN S.

MACUGAR, ADEL SHAHALI O.

MADELO, JANE KIMBERLY B.

MADERAL, JEAN CRYSTAL MAE C.

MADROÑO, JOSHUA MARTIN S.

MADURA, ERIKA M.

MAESTRADO, RUFFA MAY NICOLE

MAGANDIA, ABDULWAHID R.

MAGANDIA, SOHAILE M.

MAGLINTE, SHEMAIAH K S.

MAGONDACAN, FATMAH NIZREN H.R.

MAGTO, RAPHAEL K.

MAGTULIS, ARA BELLE R.

MAMA, SAMANODEN M.

MAMAINTE, MOHAMMAD AQUIL JR. A.

MAMBUAY, MOHAMMAD NOR A.

MANABAT, CHRISTIAN CEZAR A.

MANALAO, SALAHUDDIN N.

MANAY, NOREEN V.

MANDARIO, JAMMY ANTONETTE T.

MANGLICMOT, SHIN HALLEY G.

MANGONDATO, MOHAMMAD AMMAR G.

MANOS, NIÑO GEN M.

MANQUIQUIS, RAFAEL KRISTIAN J.

MARINTES, JOSA MARIE H.

MARZAN, KIARA KIMBERLY R.

MASUCOL, JANA LOU S.

MAUNG, VHALWIG WAYNE B.

MAXINO, CARL LAWRENCE A.

MEJORADA, MA. FAIZA THALIA P.

MILITANTE, MAXINE C.

MINDALANO, MOHAMMAD TAHIR JR. B.

MINDALANO, SITTIE RASHIDA M.

MINODAR, AMER JAWAD R.

MIPANGA, MAYRASNAH D.

MIRAL, FRANCISCA A.

MODASIR, ABDULLAH A.

MODASIR, ALJOM-AH A.

MOLEJON, AYESSA MONIQUE P.

MONERA, SHEILA MAE L.

MONES, LENNETH B.

MONTON, JOSHUA MIGUEL P.

MORILLA, JOHN RICHARTE V.

MOSLEM, MUHAMMAD NAJEEB M.

MOSQUEDA, ALBERT ANTHONY L.

MOSQUITO, DONITA NIÑA

MUGOT, MICHELLIN VAN F.

MULATO, KASSANDRA GEBRIEL E.

MUNDER, ALJANNA-MARIE P.

MUSTARI, NORJANIFAH A.

NACALABAN, CATRIONAGH LIEN B.

NAGUIT, JUSTINE MIKHAILA C.

NAVARETTE, TRISHA MAE B.

NEMIL, MARIE FRANCIS P.

NERI, CHELSEA PSALM M.

NERI, KYLE CYRUS B.

NONOT, LARRENCE PAUL B.

OCHE, ALYSSA KAYE B.

OCHO, JOLI ANDREA M.

OLALO, MANUEL JR. A.

OLAYON, KETH CARMEL D.

OLEMBERIO, ZENNITH V.

OLIB, MEGAN ERIKA G.

OLIVER, LUSTRE LUKE ANGELO H.

OLIVERIO, LIWAYWAY JADE C.

OMICTIN, EMMALINE D.

OPANIS, LEEVIE ANN T.

ORAIS, KUGI H.

ORBE, CEAZAR JONIMAR Q.

OUANO, JABEZ OLIVER D.

PAANO, ALLYSSA A.

PABILLARAN, ALEX MAVERICK C.

PACHECO, LEONARDO JR. Q.

PADILLA, EMMANUEL JAMES C.

PADUA, RHEA CAROLYNE M.

PAGAPULAR, LARS VINCENT F.

PAGHASIAN, CLAIRE ELOISE P.

PAHILAN, PEACH DIANNE F.

PAILAGAO, FRANCINE NORVIC Y.

PALARCA, LEVINA EUNICE O.

PALOMAR, AIRA SHANE D.

PANES, GLECIE MAE D.

PANGANDAMAN, ROHANIMA P.

PANGANIBAN, MIKAELA DANIELLE L.

PANGARUNGAN, RAHEEMAH HAFSAH M.

PANSAR, TASNIM S.

PAQUINGAN, TATJANA ARACHNE BLEU S.

PARRADO, SAMANTHA ANTONETTE Z.

PARTULAN, KHANDIZE B.

PASAMONTE, ALEXXIA MARIEL P.

PASTRANO, TRICIA ANGELA P.

PATIAN, FRANCE P.

PAULMA, GHENESA L.

PAYOT, PRINCESS JUDETTE S.

PELAEZ, ETHAN AGUSTINE D.

PELARE, REYNAN PAUL B.

PELIGRINO, MARIE ELIZABETH B.

PELIÑO, LOURIE MAE E.

PELINO, SETH ADRIAN D.

PELISCO, PRINCESS NIKKA N.

PENSERGA, MARIA CHRISTINA M.

PENUELA, ZYRONNE Y.

PERALTA, GUALTIER LUKE P.

PILAPIL, MARCO C.

PINGOY, KEZIA MONICA V.

PIO, NEL CHRISTIAN DAVE T.

PIQUERO, ARIANNE DAPHNE L.

PITAO, MARYGOLD P.

PITAO, VINCE C.

PONCE, JETHER M.

POPERA, SHANDA EVE R.

PREMACIO, HYACINTH L.

PULLIDO, KHARYLE VIANCA E.

PUNDATO, PRINCESS RACMA A.

QUEROYLA, JB MOONA PRINCESS C.

QUIAMBAO, MAC ARSEN L.

QUIMQUE, LEI ARIANNE M.

QUIMZON, LYZA JANZL S.

QUIÑANOLA, HAZEL B.

QUIPANES, ARRANTXA I.

QUITOR, BLESSILA ALTHEIA Y.

RAAGAS, CHRISTOPHER JOHN T.

RABUYO, ANGELINE DECEREE M.

RACMAN, PRINCESS KHYLAA M.

RAGANDANG, KRISSTOFFER JOSHUA A.

RAMIREZ, JOHN MICHAEL V.

RAMOS, MOHAMMAD JAMAEL JR. G.

RANARA, DANIELA JULIA L.

RATILLA, EJ AMERPHIL D.

RAYPON, NIÑO JOSH M.

REDOBLE, FE JANNAH GRACIA G.

RENGEL, JETO OSVAL G.

RETALLA, ANNIE LYN N.

REVILLA, PIA ISABELLE C.

REY, MARK LAURENCE D.

RIVERA, SUZANNE ANN MICOL T.

RIVERA, YUBEE G.

RIZON, ZIE D.

ROA, AXEL DOMINIC A.

ROCAT, BENEDICT JUDE A.

RODRIGUEZ, KARL LOE B.

ROMERO, MOHAMMAD MISHARY P.

ROMUROS, ASHARY M.

RONDEZ, QUEENIE ALYSSA D.

ROSLINDA, KRYSTELLE ROSE S.

ROSTATA, STEPHEN CHRISTIAN T.

RUT, ANDREA LOUISSE B.

SA-ADUDIN, AYNALHAYA P.

SABIT, CYNTHIA JULIENNE B.

SAGRADO, JAN LUCHINE T.

SAGRADO, PAULAINE XYNA J.

SAGRADO, PAULAINE XYRA J.

SAGUIN, JOHN BENNY L.

SAGUISA, SACHIKA AZUMI

SAID, AZZA P.

SALAMANCA, JHON IVAN T.

SALAUG, KATHRYN BJ C.

SALCEDO, KENSHIN RUCELLE F.

SALCEDO, NICO JOHN O.

SALMASAN, GIAN PAOLO F.

SALON, SYHLL O.

SALUBRE, MEIKO JED L.

SALVACION, CHRISTIAN PAUL A.

SALVANE, SYRIAH LOU

SALVO, WINONA JANE P.

SAMBAAN, JASHTYN AH E.

SANCHEZ, HANS CHRISTOPHER D.

SANGCAAN, SHAZNEI ALIAH N.

SANI, AREEJ ZAYNAB L.

SANTELICES, CHRISTIAN REY M.

SANTO, JONATHAN MHAR C.

SANTOS, JOSE D.

SANTOS, KATHLEEN B.

SARILAMA, CAHARODIN M.

SARIP, AL-RAFFY S.

SARIP, SHARIFA HANIAH S.

SARIPADA, AISAH A.

SASAO, PRINCE JEANNIE F.

SCIORA, NATALIE KATE H.

SEE, SHANN KEVIN P.

SEMAÑA, AEDRE GABRIELLE D.

SERAD, ANTONETTE P.

SERIRITAN, SHYLA ANGIELYN L.

SHARIEF, ILHAM A.

SIA, GIL MARC A.

SIA, JINX JOHN LLOYD

SIA, PAWENAKORN C.

SIAO, ETHAN GABRIEL P.

SIBE, ISABELLA MARIE R.

SIHABODDIN, NORALYN A.

SIMBAJON, MARY ZENAVI B.

SIMON, FRANCIENNE ELLE L.

SIMUDLAN, VIRGILIO JR. G.

SOFOCADO, KESH SHEINA O.

SOLLOSO, AIRENE JOANNA B.

SONTOSIDAD, JHONHEL H.

SOURIBIO, MARIA ISABEL JOST T.

SUELA, LOVELIE S.

SULITA, FRANKLIN B.

SUMAGANG, FLORIAN B.

SUMAGANG, THEA VERAH P.

SUMINTAN, FRED GENESIS B.

TABAMO, DAPHNE JASMINE L.

TABBAY, KARL MYKELL M.

TACANDONG, CRAIG MATTHEW

TAGENIS, LOVELY R.

TAGUPA, JAHZEEL S.

TAN, DANIELLE NICOLE B.

TAN, MALCOLM G.

TAN, MARIA ATHENA EUNICE B.

TAN, MICHELLE DANIEL G.

TAN, STEVEN JEREMY G.

TAN, SYD RICK P.

TANAKA, ANJIELO M.

TARRE, COIE RACHEL ANGELIE G.

TESORO, KYLE ADRIAN H.

TING, JHOANN KIM

TINOY, KARYL DENISSE C.

TIU-CONTRERAS, KIRBY THOMAS

TOBIAS, MIK CARMELI P.

TOMOLIN, ELIJAH JOHN T.

TORING, MA. DANIEL ANDREA V.

TORRICO, HERROL JOHN REY S.

TRAVILLA, SAMME JABEZ V.

TRINIDAD, MIGUEL ANGELO MANUEL T.

TRUYA, ROBERT MICHAEL T.

TUBILAG, RHEJEL A.

TULANG, ALESSANDRA MARI B.

TUMALA, DANIELLE MARIE R.

TUMALA, KIM VINCENT D.

TUÑACAO, KARLO ENGELO E.

TUQUIB, JUDI ISABEL P.

TUTAS, BLAIR LEO JR. G.

UA-O, AWESOME JOHN M.

UDARBE, GWEN STEFANIE N.

UMPA, NORLEAH H.

UNDA, HANNAN A.

USMAN, HAINI KHOURTUM F.

USMAN, RAHILA D.

VALDE, ARMAND ANTHONY JR. R.

VALDEZ, LAURIE D.

VALMORES, DANIEL CARLO Y.

VALMORIA, IEOUSUA ANTONIO B.

VELASCO, ENRICO MIGUEL T.

VELONTA, JEMINA KAYE C.

VIADO, MELANIER JOHN D.

VICENTE, ANALOU A.

VILLANUEVA, ALEAHNA SHANE M.

VILLAR, RICHARD R.

VILLARO, MA. EASTHER CARLA M.

VILLOS, RAYMART ANDREW P.

WABAN, JANNINE GAE L.

WAGA, ANTONIO JOSE B.

WALAG, BREAN MEI A.

WAMINAL, PRINCE ROIE N.

WOOTON, NORMAN S.

YABES, NAIAH A.

YANGCO, VANESSA JEAN A.

YOON, MINSEO

YUMO, FEARY MYLLS G.

YUSOPH, FATHMA NAVELA N.

YUSOPH, FATMA LUTFIA P.

ZAMBRANO, KRISTEL MAE M.

The following students are NOW passers
with admission offers for Xavier Ateneo Senior High
School AY2018-2019. They may now confirm
their interest to enroll at XUSHS by paying
the commitment fee of Php1,000.00,
which will form part of their downpayment
upon enrollment, at the XU Finance Office.

* * * * *

ABA, VALIANT C.

ABALES, ALOHA JANE G.

ABAN, ANI BETH V.

ABAO, NICOLE MAE D.

ABAO, WOJTYLA JOSEF S.

ABASTAS, MANUEL BENEDICT J.

ABASTAS, MARIA MICHAELA D.

ABATON, SITTIE HAYNNAH WARNIZAH O.

ABBU, CHARMAINE F.

ABDULAZIS, MOHAMMAD NADJER L.

ABDULHALEM, HANIFA P.

ABDULJALIL, SAMIHA L.

ABDULLAH, ASLEMA D.

ABDULLAH, ATHILAH T.

ABDURRAHIM, HUSSEIN M.

ABEJARON, DARWIN BRYAN B.

ABEJO, SOPHIA IRA

ABELLANOSA, KRISTINE ANGELI D.

ABERIN, MONIQUE F.

ABO, HUSSIEN D.

ABONITALLA, EISEN COLUMBUS O.

ABREA, BRYLLE VINCE Y.

ABROGUEÑA, DOUGLAS I.

ABUGAN, MIZPAH DALE T.

ABUNDA, ARIANE PEARL A.

ABUNDA, CHEZKA S.

ACAIN, ALLORIE FRANCES L.

ACAIN, CRISLYN ROSE B.

ACEBES, GLECIUS JR. M.

ACEBES, KYLE CRYSTAL SHEEN S.

ACEBES, VINCENT JERICHO Q.

ACERET, EVAN REY B.

ACERO, GIOVANNA JANE G.

ACHACOSO, TREXY E.

ACLAO, RALPH MATTHEW S.

ACRAMAN,MOHAMMAD RYAN M.

ADAYA, LARRENCE ANGELOU A.

ADIONG, OSAMA P.

AFDAL, HADJI RASAM P.

AGBALOG, CLAIRE B.

AGBU, ASHLEY PAULINE B.

AGOSAJES, ACABAR R.

AGUAM, AHLAM C.

AGUSAN, GIAN MATT E.

AGUSTIN, TRISHA MAE D.

ALA, LJ TRISHA B.

ALAS, MICHELLE L.

ALCE, DIANNE BEATRICE S.

ALEJANDRINO, ALESSANDRA MARIE E.

ALFABETO, KENN MARLY M.

ALI, ANNA SAMIRAH P.

ALI, QUEENIE T.

ALI, ZUMAINAH B.

ALIPONTO, NOAIM M.

ALIVIO, MA. SOPHIA CELESTE L.

ALLI, PRINCESS KYLLE T.

ALMONIA, SCOTT JOHNSON L.

ALVARADO, ALTHEA THERESE B.

AMANODDIN, HISHAM C.

AMEN, JOHAIFAH I.

AMEN, JOHAILAH I.

AMINOLA, WAFFAH N.

AMORA, SHAIRAH ERICKA P.

AMOTO, JHINO M.

AMPA, MOJEEB S.

AMPATUA, AMER HAMZA M.

AMPER, JEFFREY TYRONE V.

AMPUAN, ABDULHALIM H.M.

AMTO, JOHN DAVE CHRISTIAN V.

ANALO, HEZAM M.

AÑANA, KAEZETH JASMINE J.

ANDRES, LEAH ABIGAIL D.

ANDUJAR, CHRISTOPHER JOHN G.

ANG, ALTHEA NICOLAI O.

ANGDAO, PRINCESS SAIDEH C.

ANGNIE, NORHANIFA S.

ANITO, GENESIS REYVYNN F.

ANSIN, MAYLYN C.

ANUAR, HANNAH A.

APARRI, DAN EZIEKYLE A.

APAT, CLAIRE VALERIE L.

AQUINO, ANDREY A.

ARANTE, ALEXIS JEWELL S.

ARAT, LEA ANGELIE B.

ARCADIO, THEOPHANY BELLE C.

ARCENAL, RIKKA NICOLA C.

ARDA, KERIL F.

ARDIENTE, RHEA VANESSA F.

ARINGA, WILWENNA SHAILAINE A.

ARLIGUE, KIMBERLY C.

ARPON, PATRICIA NICOLE C.

ARUMPAC, JASH MAHAYANAH M.

ASAGRA, RONALD DAVID T.

ASONG, ZEA NICOLE O.

ATIENZA, GERMEE B.

ATUEL, KYLE B.

AUJERO, KARLA GRACE S.

AUTIDA, RUFAME B.

AZARCON, BON GUSTINE ANTHONY R.

AZCUNA, LADY RADJI

AZIS, SHAHANI H.

BACALSO, KHATE CHEARJ M.

BACARAMAN, EMERALDEN P.

BACASMOT, GRACE ANNE V.

BACLAYON, SHANE KHEZIA A.

BADILLA, DAEV EDRIAN PAUL S.

BAGAYAN, JUNAID JR. G.

BAGNOL, SHARON ROSE A.

BAGUIO, ERICA JANE D.

BALADHAY, ALISTER MICHAEL RAE L.

BALDADO, DEMI LYNNE PATRICIA P.

BALDEVISO, JETHRO G.

BALHON, ANGELA MARIE J.

BALINDONG, FAISALIN A.

BALINDONG, SAMEJA M.

BALONA, ROUXYLLE JOYCE B.

BALSAMO, JESSA A.

BALT, ALLYSA HANNA S.

BANA, HAZEL KATE Y.

BANARES, EUNICE LOIS M.

BANGCOLA, HANIYA R.

BAQUIANO, JOHN MARK

BARAN, JANEL GRACE B.

BARANI, MONICA A.

BARAPANGCAT, PRINCESS AZIMA A.

BARATAMAN, ROSELYN A.

BARBER, ALEXIS J.

BARROS, JOREX

BARSUMO, KEZIA T.

BASARTE, SEAN GABRIEL M.

BASHER, AYINIE B.

BATALLA, AUDREY RUTH A.

BATAO, LUVRYNNE G.

BATILO, JAHZIEL REI G.

BATOBATO, CHARLAINE SHROSE Q.

BATTAD, HOWELL PATRICK H.

BATUGAN, NAIFAH M.

BAYLOSIS, BRITISH WISDOM T.

BEBELONE, KEM RYAN D.

BEDUYA, ARIANE CAMELL Z.

BEGAFRIA, SHEKINAH M.

BELDEROL, SEAN LLOYD H.

BELTRAN, FRANCES PHILLINE D.

BENITO, SITTIE JEHANNIE M.

BETANIO, JOSE MANUEL E.

BILLEDO, KYNA BLANCHE I.

BINALON, HAROLD M.

BIOL, KIMBERLY T.

BLANCO, JOYLYN S.

BOBITA, ANGEL LYNNE S.

BOLIPATA, LYKA NICOLE

BOMEDIANO, ANGELYN EVAN S.

BONGGOT, LOE JASON D.

BONGO, NYAH TRAMIA B.

BONGOCAN, LOUISSE PEREGRINE D.

BONTUYAN, LYNLEE R.

BORNIDOR, DEVONNAH MARIE D.

BORROMEO, ARBELYN A.

BRANZUELA, JHON CHRIST A.

BRIONES, DENVEIR HLEIN M.

BROZAS, AERIEL DANIELLA P.

BUGAS, CARYL JOY O.

BULA, AL HASHER B.

BULACAN, MARY ROSE G.

BURIAS, LIANA ROSE L.

BURNS, CLINT VINCENT R.

BUSANO, KAY ANGELIE M.

BUSTAMANTE, RICHELLEN B.

CABAHIT, ELEZAH MAY S.

CABALUNA, QUEENZY FIEL O.

CABANA, ANGELY M.

CABAÑELEZ, JORGILLE M.

CABANGCA, LISA MARIAN M.

CABE, RALPH VICTOR R.

CABIASA, CHARMIE H.

CABIGUIN, BRIAN JAY M.

CABUNOC, ROB KENNAN M.

CAGALAWAN, JERIC JOHN P.

CAGASAN, MELBOURNE JEKO S.

CAGULADA, RHEA MAE R.

CAHILES, YANCY KEANAN D.

CAHOY, LHEVINNE DIANNE NIÑA L.

CAIÑA, MARY SHELLEY A.

CALAM, VVIC BYRNELL O.

CALANTOC, JEDEN ZONIA R.

CALIMBO, KHRYSS ALLEN P.

CALISO, CALVEIN JOMER A.

CALONIA, RAMXILL R.

CALONIA, TRISHA ALEXIS S.

CALUBIHAN, KYLLA CLEAH A.

CALUNSAG, JANEROS A.

CAMAGANACAN, SHAINA

CAMAMA, AZHARIE M.

CAMAMA, MUHAMMAD AL-KHUDRI E.

CAMARGO, JESERYL PATRICE N.

CAMORAL, RJ NEIL B.

CANDIDATO, AIMAN A.

CAÑO, JASMINE ELIZABETH A.

CANONIGO, ARDIAN LOI O.

CANOY, TREACIA RAYNN O.

CANTAROS, RUVY MAY D.

CANTOJA, KATHRYN ANNE G.

CAPALA, BELLE PEHMBIE E.

CASCARA, REX MARSSON T.

CASICA, NHECOLE M.

CASIÑO, DIANE MARIE L.

CASINO, MYKAELA KYLE F.

CASTRUDES, KEAN MARC U.

CATALUNA, SHEKENNA BRYL T.

CATAMIN, KRISTYLE MISCY STEPHANIE P.

CATIIL, FRIZZIAN ANGEL J.

CATIIL, GLES ANGELI G.

CATIWALAAN, TIMOTHY CHRISTIAN A.

CAVAN, QIZ MARRIE R.

CAYME, ASHLEY CHILL M.

CELESTIAL, KYMEIRRA ICY LUV M.

CENABRE, MARK LEMUEL T.

CENTENO, GARI ANGELO Z.

CERVANTES, CHRISTIAN EMMANUEL G.

CHAVEZ, SOPHIA MAY R.

CHAVEZ, TRISHA YVONNE D.

CHEN, MISSY SHYNA E.

CHIO, JUSTINE C.

CHUA, HANNAH MIKHAIL S.

CLAVECILLAS, GLENDALE GAIL T.

CLOMA, KRYZL GENE D.

CO, JACHIN C.

CO, JANET B.

CODILLA, JOSHUA P.

COLIPANO, SHAIRA GRACE E.

COLOCAR, JOHN DANIEL TYREESE C.

COME, JASPER JOSUE B.

CONCHA, JANNA ALLANA A.

CONEJOS, ERIKA MAE S.

CONZON, ALESSANDRA YSABELLE C.

CORNETA, SETH G.

COSAIN, PRINCESS SARAH T.

COSTALES, JUNE SHEREEN F.

COTACTE, KYLE CHESTER J.

CRUZ, JASPER ELIUD M.

CUA, SHANEALLE ATHALIAH M.

CUEVAS, HANNAH C.

CUIZON, GWYNETH R.

CUTAR, JESSICA SHANE M.

CUTARAN, CHARLES JAVEN SO.

DABATOS, DENYCE REMY ROSE D.

DABLIO, ELI B.

DACALOS, ARVIE GEN ALIJANDRO D.

DACLAG, DUSCHA VANYA G.

DACOCO, ZYNELLE KISHIA A.

DADAYAN, ALI-AKBAR M.

DAGALANGIT, SUMAYA M.

DALEON, HEINZ A.

DALIT, ARMITO III

DAMASING, JASMIN M.

DAMICOG, CARLOS DAVE D.

DAP-OG, KENNETH ANGELA S.

DAYAO, ANTHONY JOSH R.

DAYAO, MARY MAE LEONICE A.

DE GUZMAN, REYLYN B.

DE LA CRUZ, KATE FRANCINE G.

DE LOS REYES, SHIELA MAE J.

DE LOS SANTOS, ELLENITA R.

DEDICATORIA, KHRYSTINE CAMILLE S.

DEL PUERTO, DEANNA REIGN B.

DELA CALZADA, FRANCES PAULINE B.

DELA CRUZ, LEONARD C.

DELOS SANTOS, JOHN ANDREY V.

DELVO, FATIMA T.

DEMAVIVAS, ED BERNARD G.

DEMEGILLO, KERVY CLYDE B.

DEQUEROS, GRACHIELLE EDREA A.

DEYSOLONG, JOSIAH JOSE A.

DIANGKA, MOHAMMADSALMAN K.

DIANGO, CLARENCE DAVE G.

DIDULO, JOHN DAME A.

DIMARO, ALLYZA NEZA S.

DIMAS, SOHAIDEN D.

DINGAL, ALYSSA DANIELLE C.

DIONZON, GODFRAY S.

DISOMANGCOP, MAIMONA NOHA M.

DISOMANGCOP, PRECIOUS SHAMEEMAH T.

DITONGCOPUN, REHAM M.

DITUCALAN, JAWAYRIA D.

DOCOR, ROXETTE VENICE

DONAIRE, EILEEN GRACE M.

DORATO, STACIE ALYSSHA M.

DORON, FRITZ MARIE T.

DRIZ, ROSELLE NINA D.

DUMAT OL, RETCHELLE CHRIS E.

DUPLITO, MARK LAURENCE T.

DURA, HAIRODEN A.

DUROTAN, ZAIRA MARIE C.

EBNER, SHAWN ROSS G.

EBRAHIM, JIHAN S.

EBREO, LANCE ANDRE D.

ECHANO, JOHN KYLE V.

ECHAVEZ, ROB THOMAS M.

ECHEM, JOHN JORIZ C.

ECUACION, EMYLOU LADY R.

ECUACION, KRYLOV AYN RAND N.

EDANO, MC NHILL S.

EDMA, ANNA PATRICIA A.

EDROTE, FREDERICK MIKHAIL C.

ELLEZO, JULIA ALESSANDRA D.

ELLOREN, CAREEN C.

ELUMBA, MARFER JAY JR. P.

EMATA, MA. ANGELICA T.

EMPEPRAD, AALIYAH CHRISTIENNA

ENAD, ANGELINE ISABELLE C.

ENDAYA, HANNAH ERIKA E.

ENGRACIA, JULIUS CAESAR L.

ENRIQUEZ, CHARITY FAE AMOR D.

ESCALA, IANNA MIKHAELLA

ESCALANTE, LEE GABRIEL L.

ESCOBER, MIKHAIL LIAM PERRY B.

ESCOLANIA, ABEGAILE R.

ESPAÑOLA, REYNAN JAY M.

ESPINOSA, JOAN GRACE T.

ESPIRITU, LEILA PATRICIA R.

ESTANDARTE, NICOLETTE B.

ESTOPITO, KHEIAN M.

ESTRADA, LIS LEE D.

ESTRADA, TREISHA D.

ESTRAÑERO, PATRICIA G.

EVANGELISTA, PRINCESS ROGEAL T.

FABELA, KYLA SOFEA M.

FABELA, STEPHEN CHRISTIAN R.

FABRIA, KAEDE REY B.

FABRIA, PRINCE GERRY C.

FALLARNA, ASHLEY JENN P.

FERNANDEZ, N ROSS L.

FERRER, JANNAH RAE S.

FLORES, CHARLIZ LAUREN MAE G.

FLORES, JAMIE MIKAELA A.

FLORES, JEE ANN C.

FLORES, JENNINE MAE O.

FLORES, NATASHIA KAYE S.

FLORIN, DAVE B.

FUENTES, KRISSEREI D.

FUERZAS, RAY ANTHONY O.

FUJINAMI, CHARLES LUIS D.

GABE, PEARL ANTHONETTE Y.

GABUTAN, DARREN KAYE C.

GACUTNO, FRIENDLEE ZOE A.

GADRINAB, ANTONETTE JANE B.

GADRINAB, LYNERIE D.

GAITE, MARIE JEANELLE G.

GAJE, MARK RYWELL G.

GALAGNARA, DESTINY B.

GALANAY, ZEFORAH KAYE N.

GALENDEZ, FRANZ LLOYD S.

GALENO, PIERRE JUDE D.

GALIMPIN, KAREN NICOLE C.

GALLEROS, WILLIAM JR C.

GALLO, KEILAH T.

GAMOTAN, GWYNETH C.

GAMPONG, WASEM A.

GAPOL, KISTNAH CASSANDRA O.

GAPUTAN, LAI NERULLY O.

GAPUZ, EZRA MAE G.

GARCIA, AILEE MARIELLE R.

GARDNER, KAYE U.

GARINGO, ANA MURIELLE P.

GARUDA, WAIDA M.

GASCON, GIO ANGELO P.

GATMAITAN, KYLIE ANGEL P.

GEMINA, RIA ANGELA L.

GERVISE, KRISTINE VICTORIA M.

GETARUELAS, JERECHO GREG R.

GIGHE, ERRA MARIE D.

GLORIA, MAY S.

GO, KRIZ LIN KYLE S.

GODINEZ, FEBRIELLA A.

GODMALIN, AGE C.

GOMAHIN, DEANNE R.

GONZAGA, ROEZENN ZIANNIAH P.

GONZALES, ANGEL D.

GORGOLON, HOWELL P.

GORING, KYLE DANIKA L.

GRAVOSO, MAXINE GRACE E.

GREGORIO, PEARL JANARACINTH C.

GUBATEN, AMER M.

GUERRA, GIA KAYLA T.

GUILING, AMAL HAYAH M.

GUILING, KAMILODE JR. P.

GUILING, MOHAMMAD ARIF G.

GUIMBA, TAHARA ZAINAB G.

GUIRRE, CHRISTINE ABIGAIL L.

GULLE, JOANNA ERINNE L.

GUMAPAC, GLENN KLYDE S.

GUMAPO, GELLE ROSE V.

GUMAPON, SHANNEN ANGELLI M.

GURO SARIH, MOHD RAYAN D.

GURO, FAISAMI M.

GURO, JAMAICAH D.

GURO, SITTIE NURKHANSA P.

GURO, SITTY HEDJARAH G.

GUTIERREZ, ALI F.

HABLOS, JOHN OLIVER A.

HADJI COSAIN, PRINCESS ALIAH S.

HADJI YUSOPH, ROHANIFAH M.

HALIL, NAHARA S.

HASIM, NADIA B.

HEMBRADOR, SEAN KHALIL A.

HERNANDEZ, WHEMSEY WEBB T.

HERNANE, ARBY E.

HERRERA, PHYLLIP CEAZAR

HERRERO, KATHELYN MEG P.

HERUELA, ANGELO G.

HINGPIT, MARIA LOVELY THINE G.

HINOJADO, NIKOLAI FRANCIS E.

HINOTAN, JANE LAVENDER D.

IBANEZ, QUEENIE FAISAH G.

IBA-OC, FREDERICK P.

IBRA, NOR-INSANAH M.

IGASAN, YSABELLE GHEA E.

INSON, LEAH JEAN A.

ISMAEL, SITTY AMANIE M.

JABIGUERO, FRANCES KYLE A.

JACUTIN, JOAQUIN ANGELO O.

JAECTIN, MARIELLE MAE M.

JALEM, KRYSTELLE JOUY V.

JANOLINO, DJ RYAN R.

JANSOL, KASSANDRA VALERIE C.

JAPITANA, GEM S.

JARAMILLO, KYLA MARIE P.

JARANILLA, MARY GRACE O.

JAURIGUE, KHEN FLOYD M.

JAVA, GABRIEL GODWIN D.

JAVALUYAS, DENISE M.

JAVIER, JULIENNE RHIA O.

JIMENEA, LJ MAE G.

JIMENEZ, RENEE MAXINNE P.

JIMENO, RENZO T.N.

JOAQUIN, EKAIRA FELIPH C.

JOVITA, JAN ANDRE R.

JOYO, JOHN CARLO A.

KAHAL, EDBON JOHN D.

KHU, ALLIAH MIZMOON S.

KIEFER, TIMOTHY B.

KISEO, MONTANO III L.

KIUNISALA, GRACE G.

LABIAL, EVAN MONICK F.

LABIS, DEANNE L.

LACANARIA, RHEY PATRICK G.

LAGO, SHEENA MAE M.

LAGUA, JADE GODWIN B.

LAGUNA, VIN EZRA V.

LANDAR, JOSIAH KIT A.

LANTUD, NOR-HAIMA R.

LAPATIS, ERIKA REZ M.

LAPINIG, CAROLE MAY B.

LAPORE, ANGELA M.

LAPUT, MARRYL C.

LAPUZ, ALYYAH SAMANTHA M.

LAUREA, RHEYA MAE A.

LEGASPI, DALE ANNE P.

LEONG, ANGEL JEDIZEN D.

LEONO, HARRY EZRA C.

LEOPOLDO, ALDRESA G.

LEPARDO, PRANZ KYLE O.

LERIA, MELODY KYM

LERIAS, DOROTHY ANNE R.

LETIGIO, JOHN JOSEPH L.

LIBETARIO, BILLY IAN T.

LIBRANDO, ALLENA MAE D.

LIBRES, TIMOTHY DEO F.

LIGAN, REY IVAN G.

LIM, DWIGHT KOLEY N.

LINGO-LINGO, JADE KAREN P.

LITUANAS, ANTHONY JAMES C.

LITUAÑAS, JARVEIN MARIE E.

LIWAGON, NOELLHA JEANETTE G.

LLANES, JASON S.

LOFRANCO, DIANARAH K.

LOGRONIO, IVAN ADRIENE Q.

LOGROÑO, AIRA JANINE J.

LOMONDOT, ALIYAH JANIFAH S.

LOMPON, CLAUDETTE MARIE A.

LONGGOS, JASON A.

LONGINO, NEIL R.

LOZADA, REBECCA KAYE R.

LUCMAN, ABDUL HANNAN M.

LUCRECIO, TRISHIA MONIQUE M.

LUGOD, ALEXANDRA NOELLE R.

LUMAGBAS, JETHRO D.

LUMANE, KYLA L.

LUMANTAS, POL JASTIN C.

LUMILE, SEAN C.

LUSAÑEZ, KRISTINE CHARSI T.

LUSPO, MARA RONA A.

LUSTERIO, NIKKI G.

LUZON, JOZY SOL REAH R.

MAAGAD, KRIZZIA CRYSTELLE S.

MABALA, JHONELLA E.

MABALE, MA. NIÑA PAULA B.

MACA-ACO, MOHAMMAD JABBAR B.

MACADA AG, ASNAWIE P.

MACADATAR, ANIENAHARA L.

MACADATO, RAFISAH B.

MACAIBAY, AUBREY MARIA EDRA A.

MACALAGUING, JERVIS JOSHUA U.

MACALAGUING, PRINCESS MAE A.

MACALAWI, NIZREEN M.

MACAMIMIS, MOHAMMAD YASNOUR M.

MACAPAAR, HASSANOL BASARI M.

MACAPANTON, JALAISAH M.

MACARAMBON, RIHAM P.

MACARAMBON, SITTIE HAYMEL C.

MACARAYA, NUR AYNAH PARAMATA C.

MACASERO, JAPHETH P.

MACASINDIL, ABDULLAH L.

MACASINDIL, NASRIFAH A.

MACASPAC, CARMINA LORRAINE R.

MACATANONG, SITTIE ASPIAH P.

MADANGUIT, HILARY S.

MADERSE, GWYNITH ANGELA Z.

MADLOS, ECCLESSIAH EMMANUEL M.

MADRONA, THEO SIEZAR JOHN B.

MAESTRADO, LYCEL T.

MAGANA, MONALIZA L.

MAGBOO, CYRIL FAYE M.

MAGDALE, MARK FELIPH A.

MAGSALAY, JULIA RAE L.

MAGSALAY, JYLIAN CHRYSTLE R.

MAHUNYAG, CHERRY ANN L.

MALACO, MUHAMMAD FAIZ M.

MALAYA, KYLE MARIE P.

MALAYA, SOPHIE MAY M.

MALBAS, IDONA FAITH C.

MAMA, ESNAIRAH M.

MAÑA, KYLA SORAYA V.

MANANQUIL, MARY CARMELLE B.

MANAYAGA, EARL MATTHEW A.

MANCAWAN, ANGELIQUE KAUFF P.

MANGACOP, JALANI D.

MANIRI, JUNAIRAH O.

MAÑOZA, CARLYLE Q.

MANTALA, CHERRY MAE F.

MAPANDI, MIARA AYESHA M.

MAPUTI, FRANCIN ANGELA MAE S.

MAQUE, MAE ANN T.

MARABE, JESHEL T.

MARASIGAN, JOHN DAVE H.

MARAVILES, AURORA CHRISTINE A.

MARDAN, SAMILA A.

MARENTES, KRYSTYL ANNE JOY M.

MARIANO, CAIRASHMIN G.

MARIANO, CHRISTIAN LOUIE O.

MARIANO, DIONARD WAYNE C.

MARQUEZ, LAWRENCE DAVE T.

MARTINITO, KYLA THERESA A.

MASCUAL, JEDDIAH FELIZ E.

MASIDING, NAJMAH S.

MASILUNGAN, BETHAMY GYN S.

MASION, ADRIAN C.

MASION, ERNESTO JR. C.

MASLOG, REUEL MATTHEW T.

MATA, ALEXANDER I.

MAULANA, PUTRI ASRAH QAOULA C.

MAYORMITA, HOWELL IVAN CLYDE P.

MAYUMAN, KIAHNA DAWN M.

MEDIANTE, KIRK M.

MEDICO, EVON MAE E.

MELGAR, WEBSTER DAVE S.

MENDEZ, CHRISTIAN DOMINIC H.

METMUG, AMER ABDULLAH D.

MICABALO, LIANNE DEA B.

MILLARE, CHRIST ISRAEL A.

MIRA, SAGE ROBERT J.

MISSION, CHERUBIM A.

MOCORRO, MARIA AIZA L.

MOHSEIN, HAFSAH H.

MOLDE, XANDRA IAN L.

MONTAÑO, SAMANTHA NICOLE R.

MONTEZO, HANNAH D.

MORADA, JUSTINE T.

MORALES, KRYSTYN DAWN L.

MORDEN, ANGELICA DIANE D.

MORDENO, CARMY VERSELLY L.

MURAKI, FAYRUZ L.

MURALLON, JANN MYREEN I.

MUSTAPHA, JALANIE C.

NACARIO, KARL CHRISTIAN A.

NACAYA, ALYZA MARIZ R.

NAGAC, ARJAY JUN P.

NALA, SHIERY REINA M.

NALING, SHAIRA FAYE G.

NAMBATAC, ABBYGAEL C.

NAMOC, KATE MARGARETTE B.

NAPISA, FRUMEN ALLAN LUIS B.

NARA, DAVID JEIEL F.

NARAVAL, JOHN ARNEL E.

NAVARRA, MISCHA BRIA D.

NAVARRO, RICARDO JOSE S.

NAYVE, KENNETH JAMES C.

NEBREJA, ZEPHANAIH CLAUDE Q.

NERI, JOHANA THERESE B.

NERI, MARTINA S.

NERI, NICOLETTE B.

NERI, RIGIL KENT L.

NERI, SEAN T.

NISPEROS, POL VENZ A.

NODADO, REST GABRIELLE P.

NOURALDIEN, QUEEN TASHNEEM U.

NUAL, ALLYCIA JOANCE

OAFERINA, BETHANY JULIA B.

OBIAL, FARRAH FLORAINE T.

OCCEÑA, SEAN RIKKI J.

OCLARIT, JOEL GENE A.

OFRACIO, LADY MAE T.

OHAY, JAIRAH PAULINE P.

OKIT, OASHA T.

OLADIVE, REVSON A.

OLAER, ASTER JOY L.

OLAER, GEDYL ANN L.

OLIVERIO, SHELLA MAE M.

OMANDAM, NISSI ADRIAN D.

OMAR, ALIHASSAN B.

OMAR, ALNAIF G.

OMOL, JEANNE MERL LYSSAH P.

OMPOC, JALAICA A.

OMPOC, SHAMIRA JASMINE C.

ONDI, JAMAICA M.

ORACION, REYLEN NICOLE L.

ORDONIO, PRINCESS AYEESHA L.

OZCELIK, JASON MARK N.

PAASA, ERIKA XINA KIRSTEN R.

PABELIC, MICKEY BENSON P.

PABLO, LEVI JAMES B.

PABULARIO, REA CASSANDRA S.

PACALNA, SITTIE KHADIDIA A.

PACANA, KEVIN MATTHEW N.

PACIS, ALLEN KENNETH S.

PACUDAN, MARSHA RIZZA S.

PACULANAN, MARY QUEEN O.

PADILLO, JOSEPH LAWRENCE P.

PADUA, CASSIE ANDREA F.

PAGARIGAN, CHELSEA C.

PAGCALIWAGAN, CHARLES A.

PAGLINAWAN, SHEKINAH SHEEN S.

PAGUPAT, ROMA ALEXZANDRIA L.

PALA, VEIR ALEXIS S.

PALASAN, EMMANUEL VOLTAIRE S.

PALASAN, PRYNZ JEREMY S.

PALAWAN, ALIAH JEHAN A.

PALMA, JHENEVA LOUISE T.

PALUBON, CHERIE CLARK V.

PAMAGAN, RACHELLE LOU S.

PAMISA, QUENNIE MAE Q.

PAMPORA, JON ROMAN B.

PANANGGILAAN, JOHANNAH M.

PANDA, MOJAHIDAH H.N.

PANDAPATAN, FATMAH RIZA A.

PANGANDAG, NURHANA B.

PANGANDAMAN, BATOALI JR. M.

PANGANIBAN, KATHLEEN CLAIRE L.

PANGCATAN, EMAN D.

PANGCOGA, ROHANIYA T.

PANGILINAN, NICOLE J.

PANTANOSAS, KAYECY KYLE

PAPANDAYAN, ANNA SHEERINE T.

PAPELLERO, GEISHA MAE S.

PAQUE, JOHN PAUL C.

PARANTAR, DAVID ADRIAN Q.

PAREDES, FLEURDELIZ MARIE A.

PARTOSA, FLINT EDMUND B.

PATI-AN, NATHASHA LUCCI M.

PEGUIT, CZARIE WINCEL L.

PEÑAS, EVAN W.

PIMENTEL, KENT M.

PINGOL, JERICHO S.

PISCOS, KRYSTELLE SHANE R.

PLAZA, PRINCESS RYAN S.

POGOY, JADE A.

POLIGRATES, MARC BRANDON C.

PONG, JASMIN JANE G.

POONON, KEZIAH KYLE C.

PORNIA, MEL JAN C.

PULMONES, ROMEO RENZ P.

PUMBAYA, SITTIE RAISAM M.

QUIDER, MEIA FAITH L.

QUIDET, SHIELA MAE A.

QUILONGQUILONG, KRISTINE ANN A.

QUIMPAN, KIMBERLY ANN U.

QUIMSON, KHAREN LIZ O.

QUIPANES, KENN BRADLEY B.

QUIPET, EZA CHARISSE T.

RADAZA, MAY ANGEL B.

RAGANDANG, JAMES JOHN PATERSON V.

RAGMAC, VENCE SHELLEY C.

RAMO, CAMILLE PATRICIA ANN M.

RAMOS, AL-RAJEB M.

RANA, KRIS RHEAN JAY B.

RANARA, RAY ANTHONY H.

RAÑOA, RANI RENZO B.

RAPIRAP, AIRA MARIE C.

RARA, ZHEKAYELLA NOUELLE L.

RAS, KRISTAL NORIZ T.

RASUMAN, GLENNACE ARFREYA F.

RATILLA, ANGEL ANN D.

RAZUMAN, NORSAIFAH D.

REAMBONANZA, GEMARY C.

RENON, QUEENIE MARIE T.

RETUERTO, TRISTAN JOSH G.

REVACA, SOPHIA BRIDGET A.

REYCTES, QUENNIE ELIZABETH D.

REYES, ALBERT JOHN E.

REYES, BIENAVEL JUNE A.

REYES, PAUL ANTHONY A.

REYES, PAUL BRYAN E.

REYES, ROXANNE G.

RIBO, ENTEZAR A.

RIMANDO, RENEE HELENA DENISE T.

RIVERO, JOVEL ANNE F.

ROA, FRANCO ALEXIS G.

ROA, JULIANNE PHOEBE C.

ROBLE, CHRISTHIE JEAN M.

RODRIGO, ABELARDO P.

RODRIGUEZ, MONICA T.

ROMAOB, RAYHANAH D.

ROSTATA, STELLA MAE T.

ROXAS, GEM RUSSEL L.

ROXAS, MISSY DELILAH C.

RUEDAS, KIANE CAESAR M.

RUIZ, JAYMAR S.

RUSIANA, SWEET LORRAINNE B.

SAAVEDRA, INIGO MIGUEL M.

SABANDAL, JASPER D.

SABANPAN, BRYAN ANTHONY E.

SABAYTON, TRISHA KHAYLA D.

SABEROLA, ALBEI FAITH A.

SABEROLA, KARL ARLLY T.

SABLAS, ALLYZA KAYE E.

SACAP, FARAIDA N.

SACAR, SALEHA E.

SACULINGAN, CRISTALYNN S.

SAGUSAY, JILLIAN RAYNE N.

SALADA, HANNAH KHRISE L.

SALADAGA, JUDAN CHRISTIAN M.

SALALIMA, JACQUES CESAIRE T.

SALARES, CARA HONEYLETTE V.

SALAS, KOBE JEM G.

SALCEDO, IZZA ALISTINE D.

SALCEDO, JASON GABRIEL S.

SALCEDO, LOUILA F.

SALDIVAR, ZEEFPRIL T.

SALE, JAMES DODI U.

SALEDAIEN, JOHANNA ELISHA A.

SALIPANDE, TRISHA DOMINIQUE M.

SALOMON, GABRIELLE M.

SALVA, AILA MARIE O.

SALVACION, MARIELLE DEO T.

SALVADOR, MARION ROWIE C.

SALVAÑA, NISEL MANUELLE P.

SANCHEZ, AIMEEAEL KHRISTYA D.

SANCHEZ, RHANNE JAY Y.

SANI, MAIZAH LOUISE B.

SANICO, CHELTSIE TATIANA G.

SANICO, STARIAN MILES E.

SANTIAS, KHRIZ GERALD K.

SANTOS, AARONE RODEL M.

SANTOS, ALFONSO JOAQUIN C.

SARCOL, KYLE ADRIAN A.

SARIO, MARCO EMMANUEL P.

SARIP, ANIMAH M.

SARIPADA, AYEEKA-FARDAH D.

SARIPADA, ZAIDI P.

SAROMA, BEN JASON S.

SARPAMONES, GWYNETH S.

SAUD, NEHARA G.

SAUSAL, RIAN KRISTIA B.

SENO, CHRIS DERECK N.

SERINA, CARL A.

SERINO, MARVIE P.

SERRANO, NICHOLE ANGELA E.

SETIAR, HANS M.

SHARIEF, JEHARA B.

SHARIEF, MOHAMMAD ALI D.

SIAO, DAN KYLE A.

SILMA, JOVI D.

SILOS, GLAIZA TRICIA P.

SILVA, JESSA MAE S.

SIMBAJON, KIM Y.

SINAYON, EMMANUELLE NICOLE C.

SINGAYAN, LLOYD VINCENT G.

SISMONDO, EIMEREN FRITZ E.

SITAO, JOSHUA P.

SIY, MARY JOYCE P.

SOLAIMAN, ASHRYMA D.

SOLIS, KENNETH M.

SOLIS, WINDEL JR. T.

SOLITE, TRACY JANE B.

SOMOSIERRA, JOSHUA DAVID D.

SONZA, NIKKA GRACE E.

SOTTO, IAN LEMUEL E.

STA.CRUZ, COLENE FRANCHESKA A.

SUAREZ, RAINJANA CRIS B.

SUELLO, JANINE GRACE P.

SUGANG, MATTHEW N.

SUMABONG, MARK VINCENT P.

SUMAGANG, RACHEL ROSE L.

SUMAGPAO, RODBERT MATTHEW C.

SUMANDURAN, NATHANIEL B. B.

SUMIDO, LINCELLE R.

SUNGA, MARNIL LOVE B.

SUPERABLE, JANNIE MARIANNE D.

SUSON, KOHLEN L.

SUYAT, ISABELLA M.

SY, ERIN LEIGH MARIE C.

TAACA, AIZEL M.

TABAÑAG, KESHIA S.

TABOCLAON, PRINCESS XANDRA L.

TACANDONG, FRITZ NOE M.

TADO, MHELLOU CLAIRE D.

TAGALA, MAE ANGELINE O.

TAGAM, RUSSHEL C.

TAGARAO, KYLA JOYCE G.

TAGAYLO, CHIAN MARIE PEARL C.

TAGUD, CLEO THERESE V.

TAMAYO, RANJIT KENREX I.

TAMBOR, MARIO JR B.

TAN, DONNA MAE L.

TANA, CATHERINE DOROTHY S.

TANQUIS, ERICA JHOI A.

TANTOY, KIARA SOPHIA O.

TAPON, ANGEL M.

TARIFE, INGRID JOY D.

TASI, MARIAN PATRICE M.

TEJADA, KIM LESTER D.

TELEN, YVONNE B.

TERO, MARK DAVID R.

TINGTING, MARLJONE AVECIER B.

TOLENTINO, VICTOR ANTHONY M.

TONG, JOSHUA SHENG JI U.

TORILLAS, STEPHANIE T.

TORREJOS, SHAN M.

TORRES, HARRISON G.

TORRES, PATRICIA MAE C.

TORRES, TARA A.

TUANTE, NATHANIEL JR P.

TUAZON, STEFANIE ERYN C.

TUDARA, DIANA MARIE P.

TUMALE, KISSA MARIE L.

TUMANGOB, KINBERLY JEAN M.

TUQUIB, KRYZEL MARIE I.

TY, WINCH BLAIR R.

UBA, KYLA U.

UBALDE, SOPHIA KARENNINA P.

UBATAY, JHOANNA MAUREEN R.

UCAB, DOMINIC GABRIEL G.

UY, JEPHTHAH NOVA L.

UY, PAULXANDER M.

UYAN, ADA MIL MARIE A.

VACALARES, IVY A.

VALDE, ALESSANDRA ZOE E.

VALDEHUESA, NADINE CYRA

VALDEHUEZA, SHEIN KHAN KAE L.

VALLADOLID, HONEY F.

VALLAR, EULA MARIE G.

VALLEJERA, RAYFRANDO A.

VALMORIA, JOSHUA LEE D.

VALMORIDA, MARY GRACE H.

VARQUEZ, LAWRENCE JAY

VERGARA, CHRISTINE C.

VERGARA, LEANNE L.

VIDAD, FERDILLAINE KATE S.

VILLACILLO, RENZON A.

VILLAMIN, DEMHEINZIE A.

VILLANUEVA, CHRISTIAN RIEL S.

VILLANUEVA, JULIE ANN J.

VILLARMEA, CAREM R.

VIRTUDAZO, LLOYD N.

VISTAL, VENICE DENIELLE D.

VOCALES, IAN RENZ B.

WAGA, ANTHONY JAMES B.

WAKABAYASHI, NATSUMI L.

WONG, LEALA G.

YACAPIN, SHAWNRICK LLOYD S.

YAP, APRYL SHYNE TUESDAY G.

YAP, JHEA S.

YAP, MARIA ZHANETTE D.

YBANEZ, EMIERY JANE J.

YEE, BIANCA ROSELLE E.

YEO, BRETT JOSEPH LAGURA

YOSALINA, GIZZA MARIE B.

YRAG, SIRE JOEY V.

YU, KIZ BRIAR P.

YUSON, LIZA GABRIELLE M.

ZABALLERO, MICHAELA ANGELIC A.

ZACARIA, PRINCESS JHEHARA L.

ZARZOSO, RENZ Q.

ZAYAS, BRITNEY JOY G.

ZAYAS, LARABEL B.

ZULITA, GERRY JR. B.

ZULITA, NICOLE LOUISE I.