Xavier Ateneo holds 12th Magis Awards
By Camille Pelaez
The 12th Annual Magis Awards concluded last Friday, 16 March 2018, at the Magis Roof Deck. The event was organized by the Mission and Ministry cluster led by Office of the Student Affairs - Student Activities and Leadership Development, Xavier Center for Culture and the Arts, National Service Training Program, University Athletics Office, and Guidance and Counseling Office to recognize the student leaders, organizations, projects, and individuals who have demonstrated the Ignatian values of service and excellence.
The finalists were nominated by their peers. They went through a series of screening processes by the members of the Review and Recognition Committee composed of representatives from all schools and colleges. The finalists who best exemplify the value of Magis were revealed during the event. It was not only the awards that were looked forward to during the event, however, as different performances were also prepared by performing artists from the university. This year, the performances were selected to emphasize the stories of people who were present during the Marawi siege.
"The Magis Awards has always been a celebration – a celebration of ideas, creativity, and advocacy. It is inspiring to see our student leaders and moderators go up on stage and convey a sense of accomplishment and inspiration so that others may be inspired and influenced to emulate them," said director for student affairs Ivanell Subrabas on why the Xavier Ateneo community looks forward to Magis Awards every year.
The event was graced by the university president Fr Roberto C Yap, VP for academic affairs Fr Rene Tacastacas SJ, VP for administration Edison Sasoy, VP for mission and ministry Irene Guitarte, among others.
12th Annual Magis Awards Winners
INDIVIDUAL AWARDS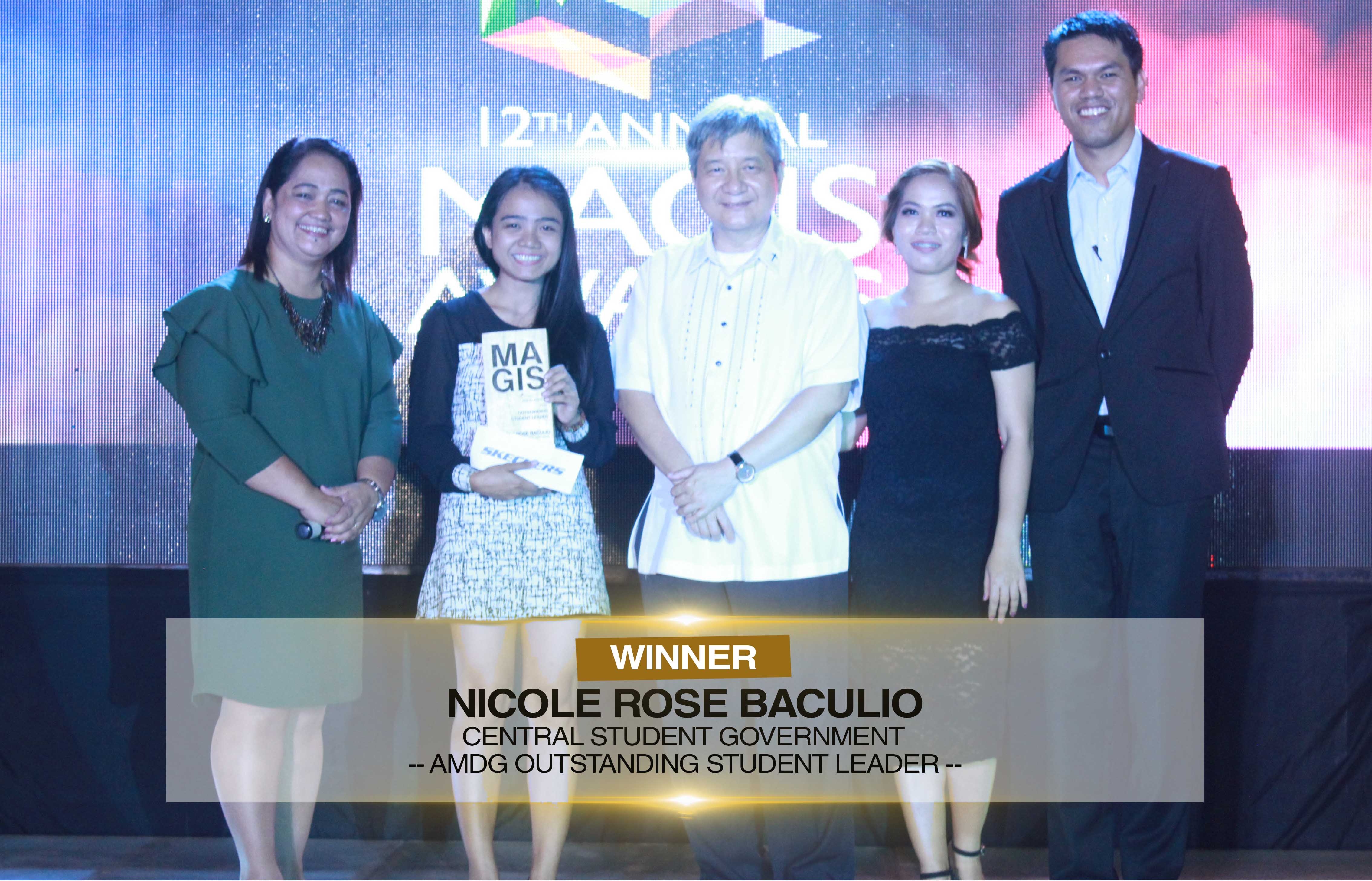 AMDG Outstanding Student Leader
Nicole Rose Baculio (Central Student Government)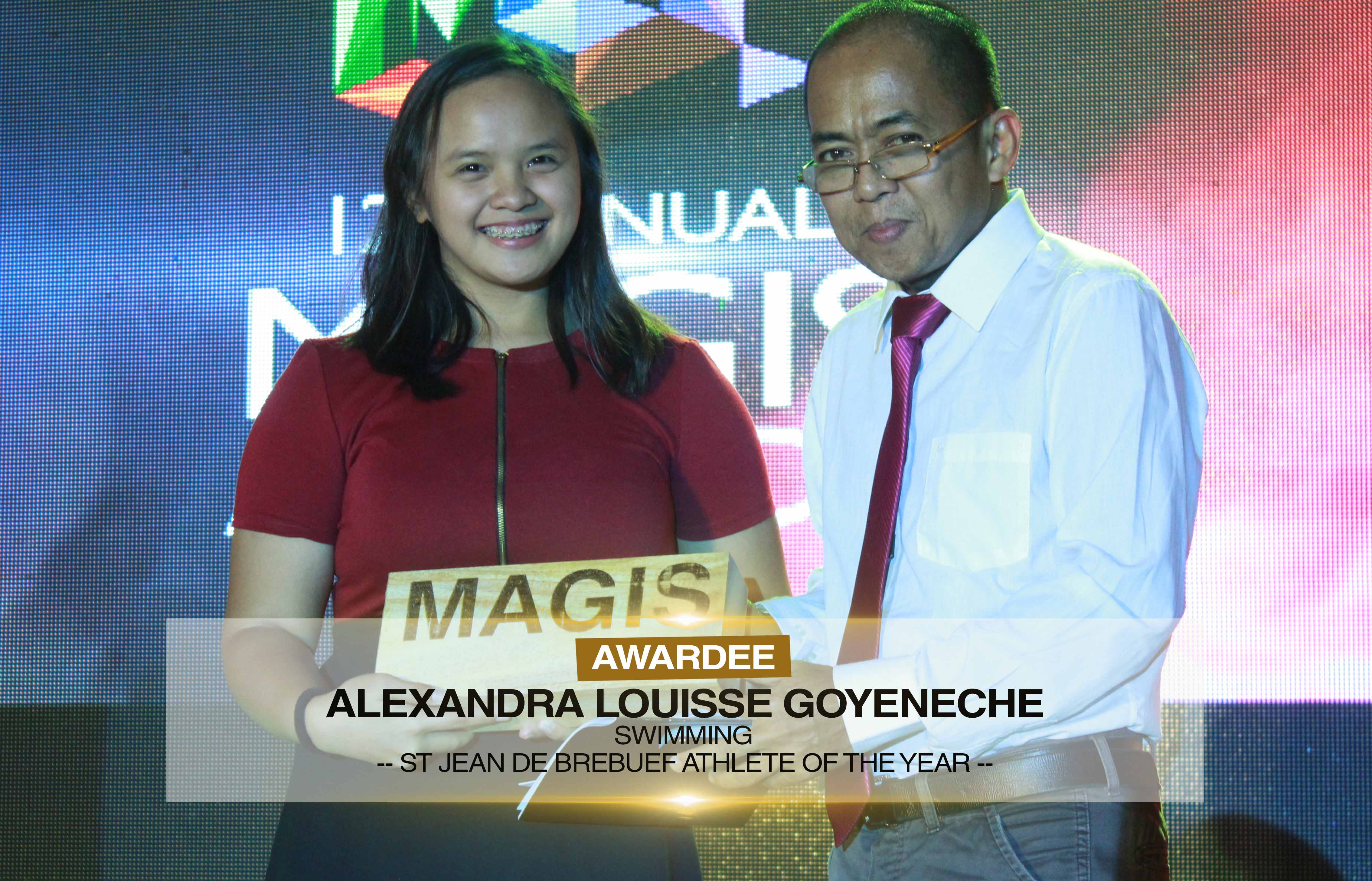 St Jean de Brebeuf Athlete of the Year
Alexandra Louisse Goyeneche (Swimming)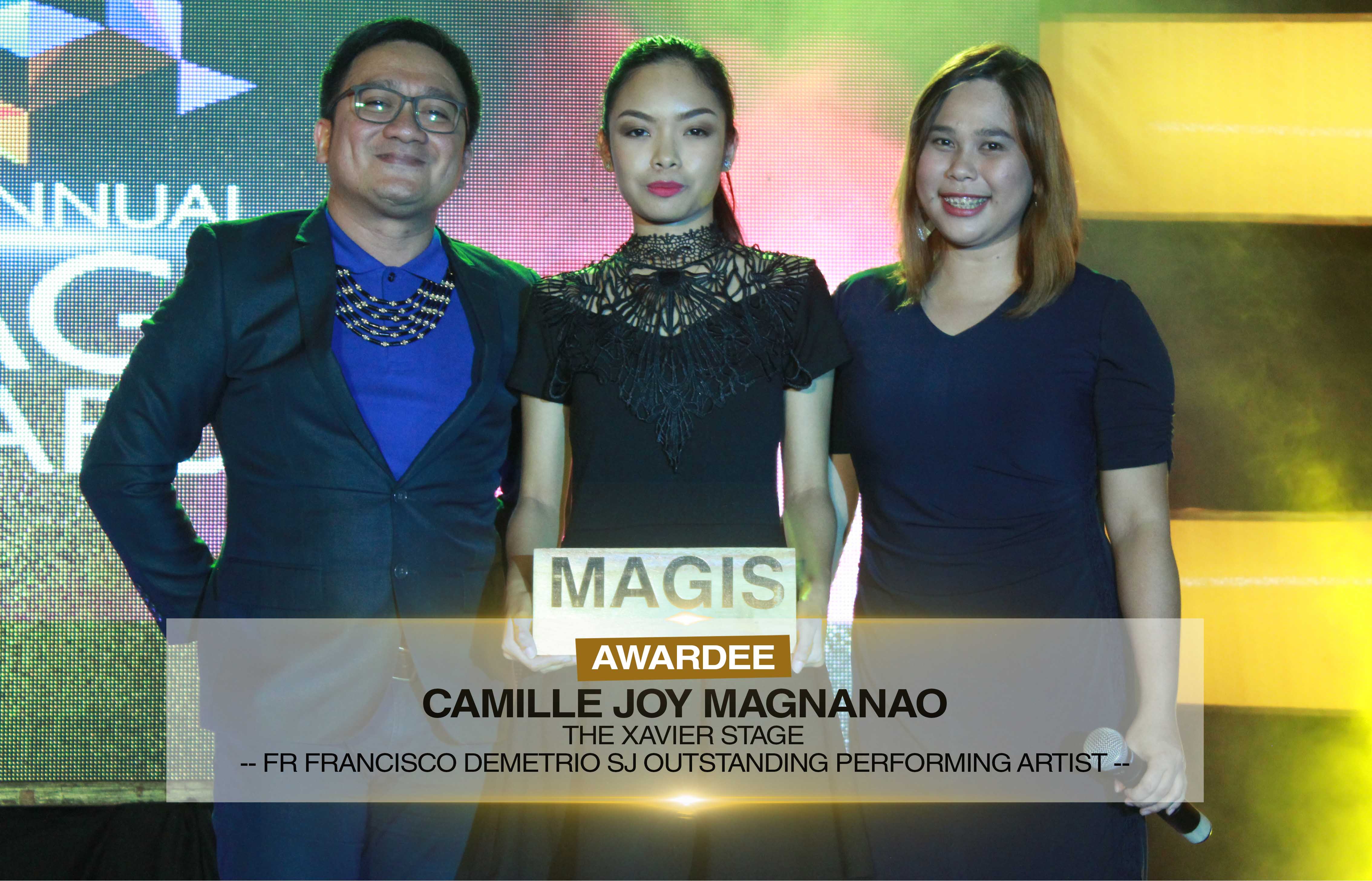 Francisco Demetrio SJ Outstanding Performing Artist
Camille Joy Magnanao (The Xavier Stage)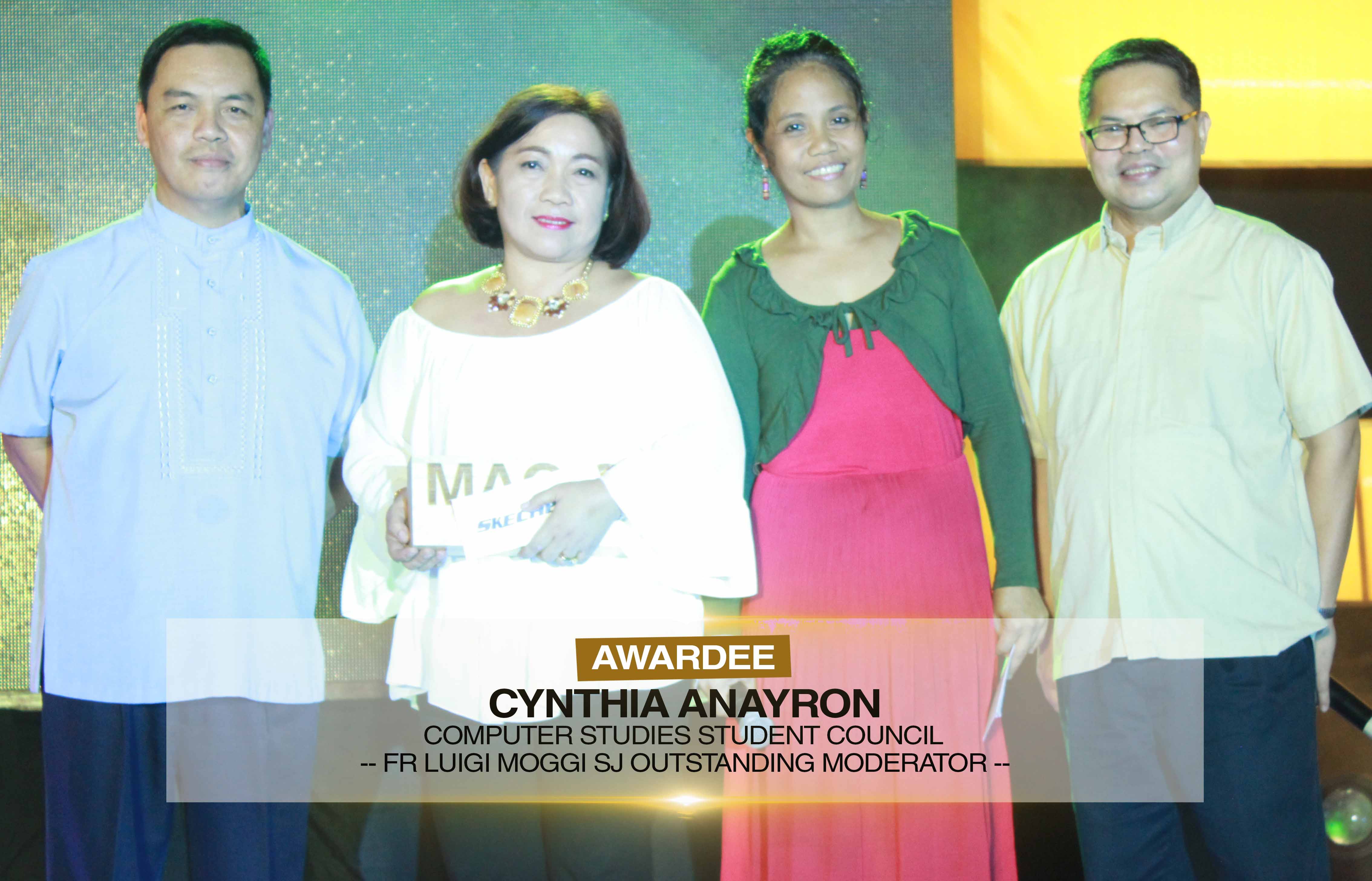 Fr Luigi Moggi SJ Outstanding Moderator
Cynthia Anayron (Computer Studies Student Council)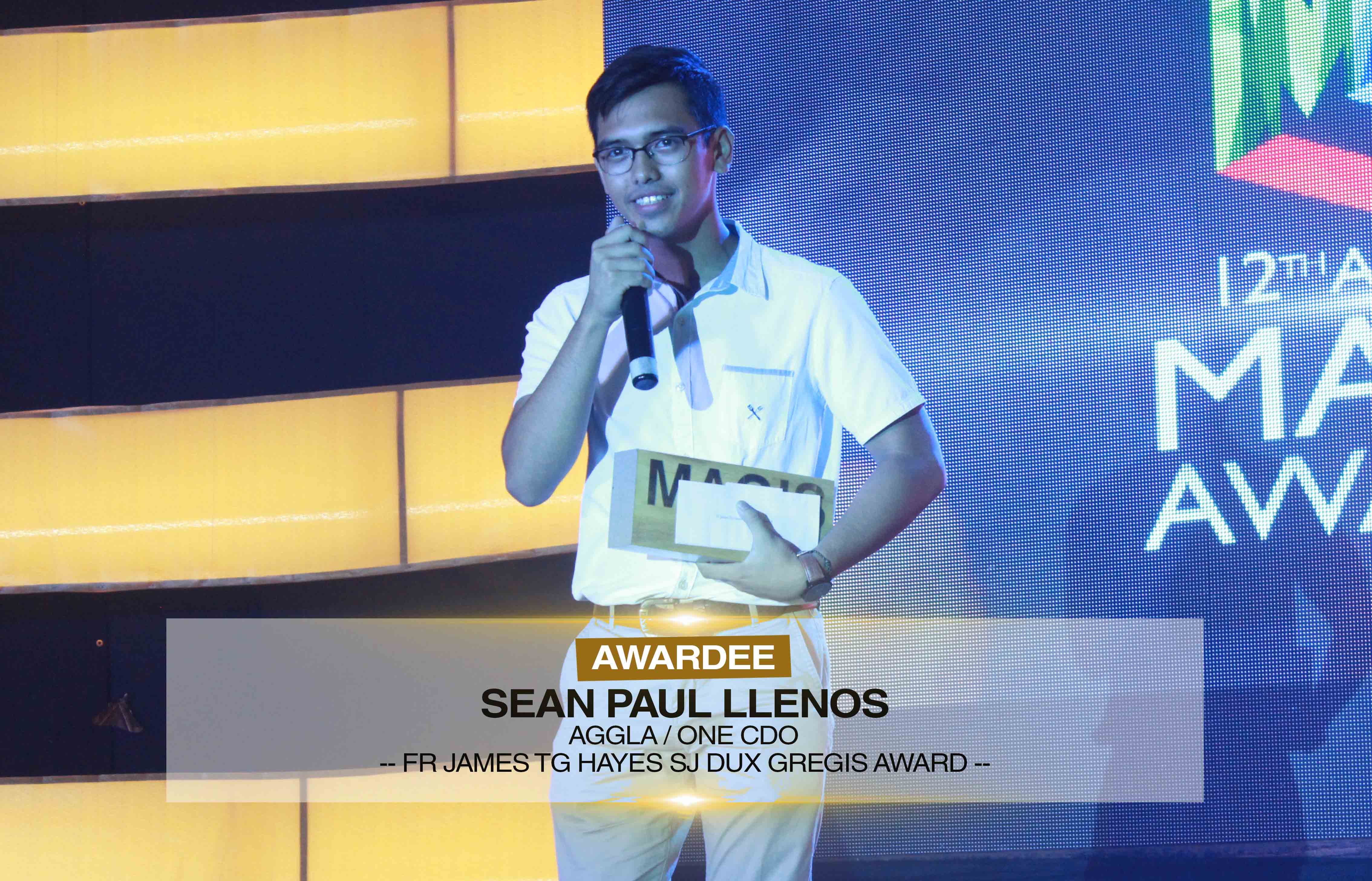 Fr James TG Hayes SJ Dux Gregis Award
Sean Paul Llenos (AGGLA / One CDO)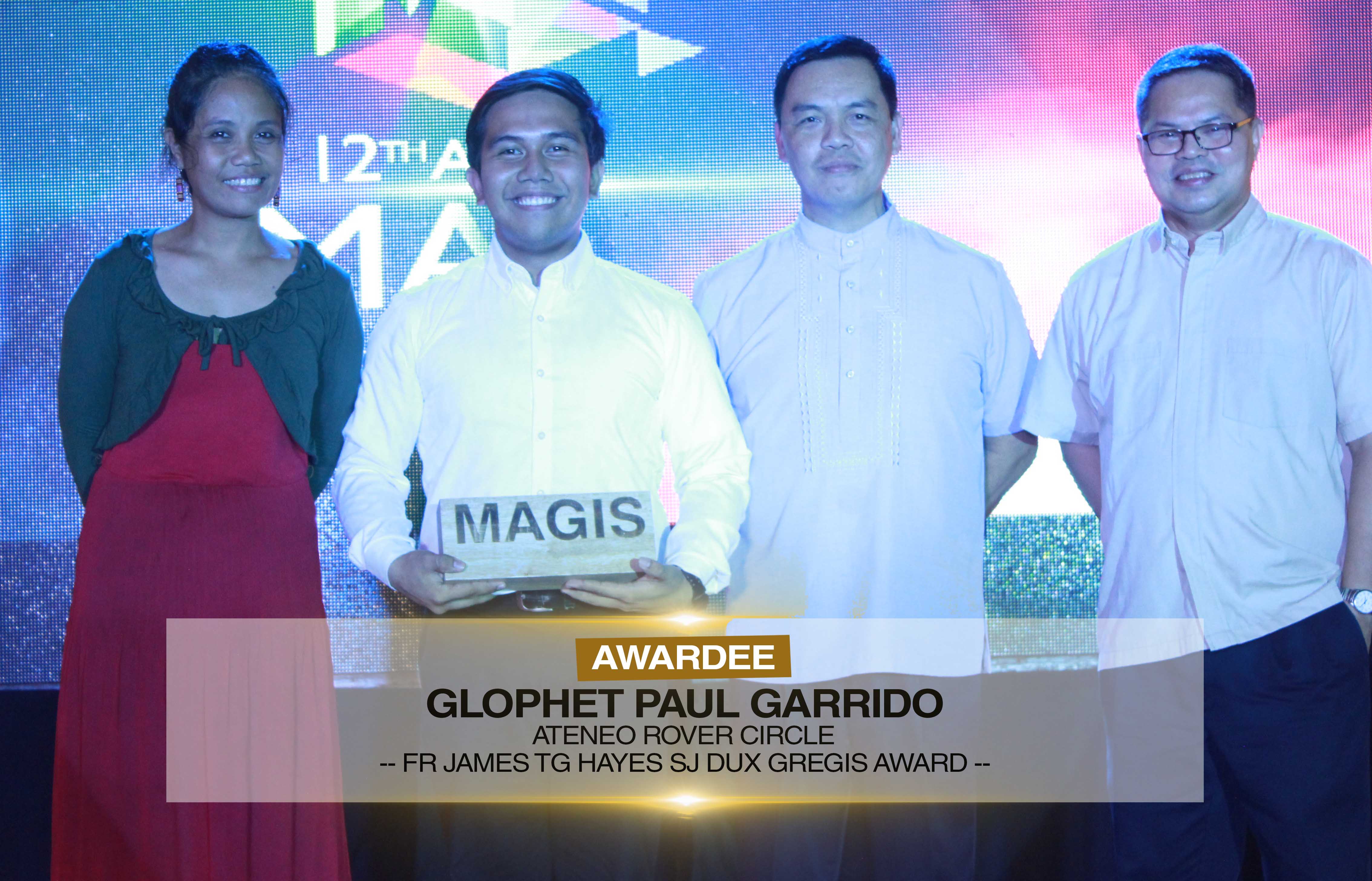 Fr James TG Hayes SJ Dux Gregis Award
Glophet Paul Garrido (Ateneo Rover Circle)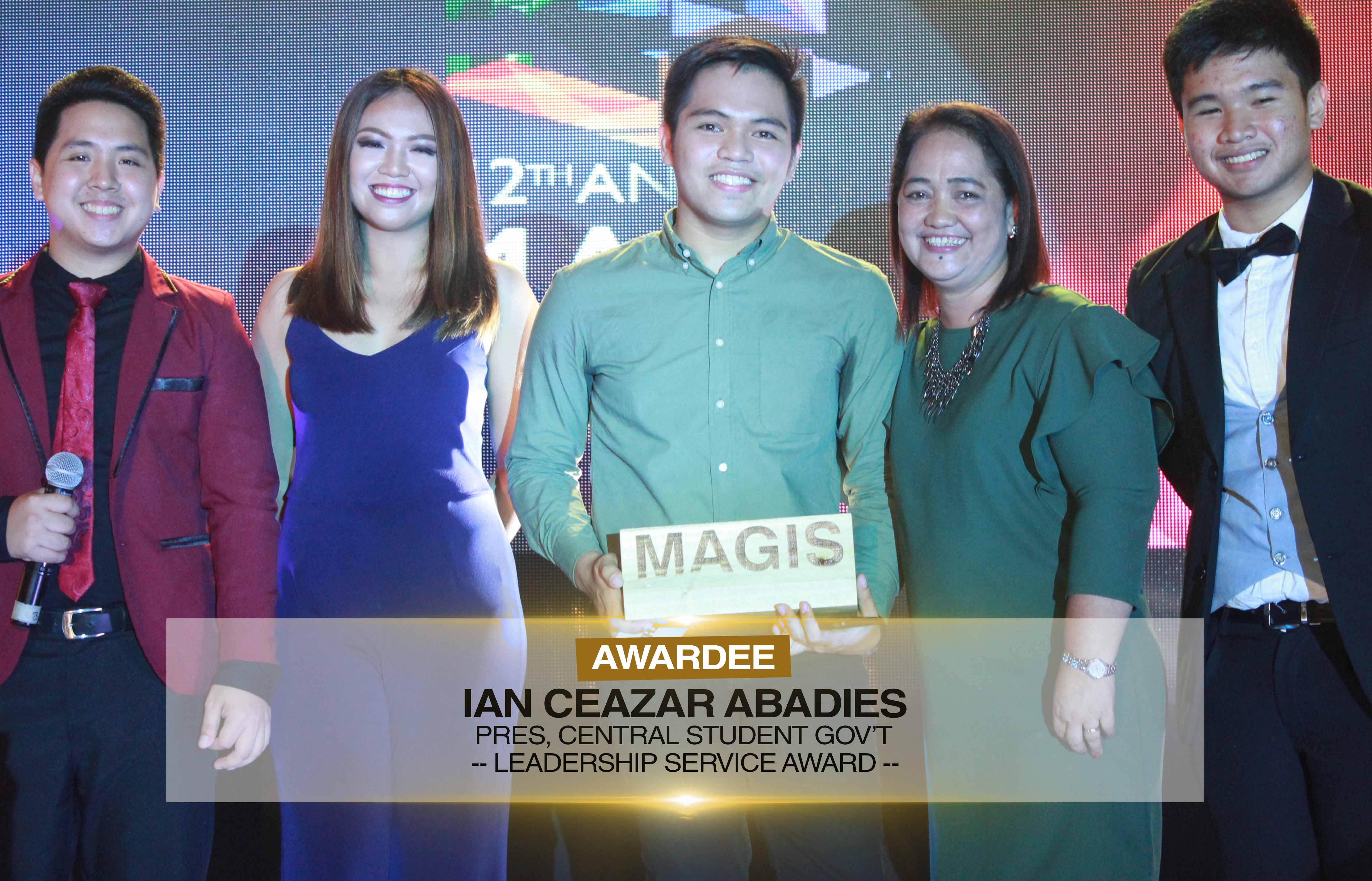 CSG Leadership Service Award
Ian Ceazar Abadies
PROJECT AWARDS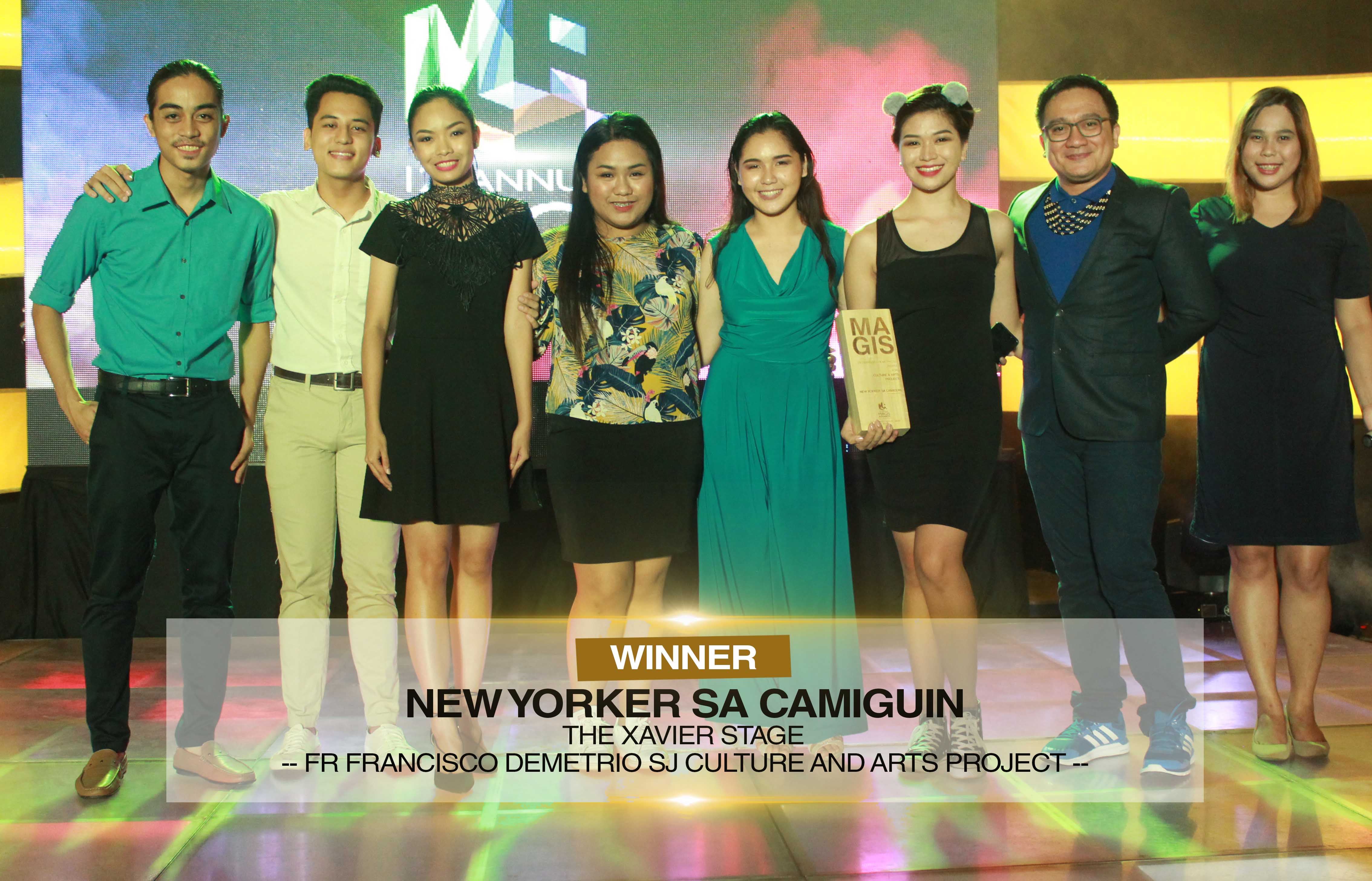 Fr
Fr Francisco Demetrio SJ Outstanding Culture and Arts Project
New Yorker sa Camiguin (The Xavier Stage)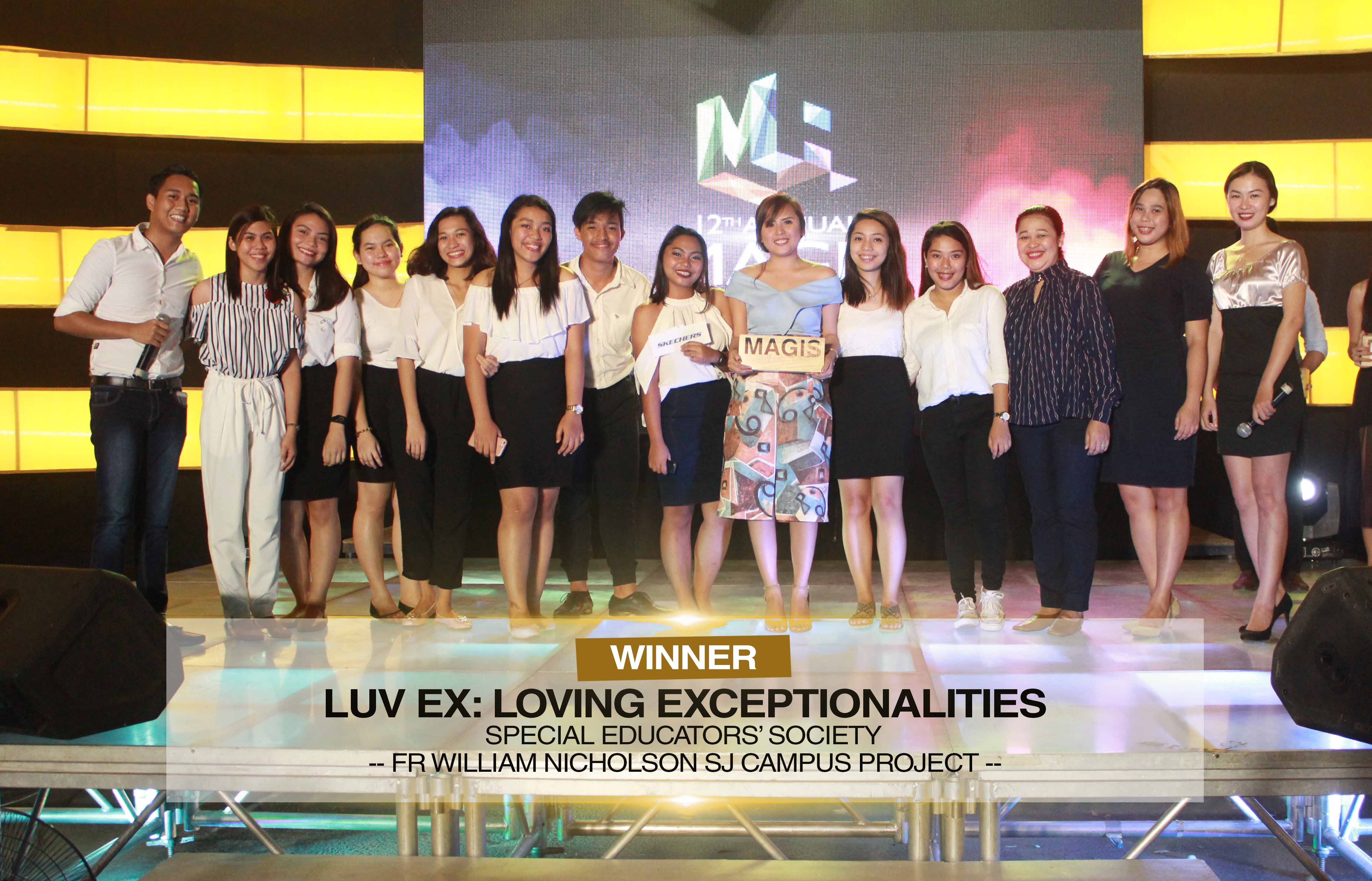 Fr William Nicholson SJ Outstanding Campus Project
LuvEX: Loving Exceptionalities (Special Educators' Society)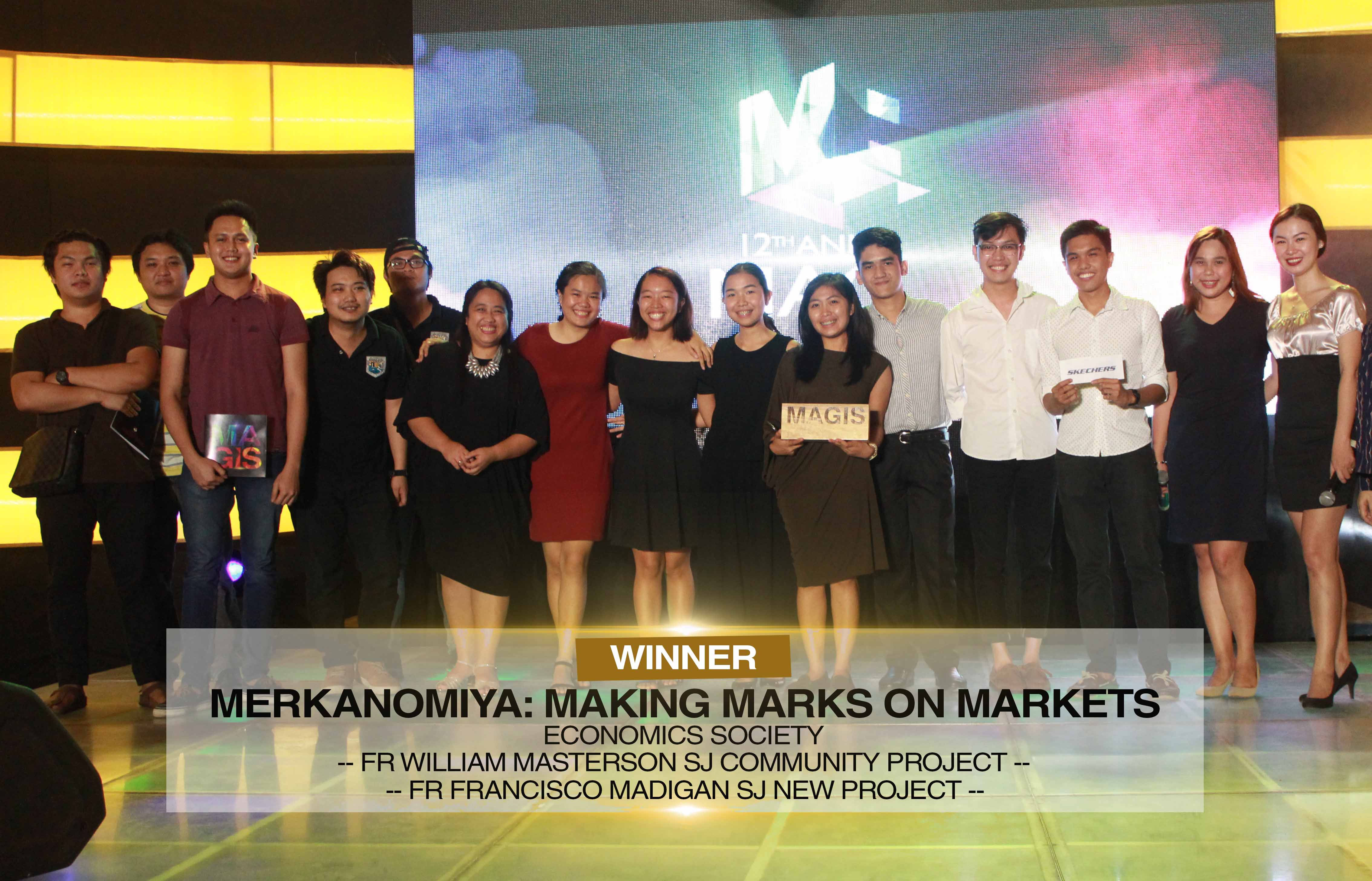 Fr William Masterson SJ Outstanding Community Project Award
Fr Francisco Madigan SJ Outstanding New Project Award
Merkanomiya, Making Marks on Markets (Economics Society)
ORGANIZATION AWARDS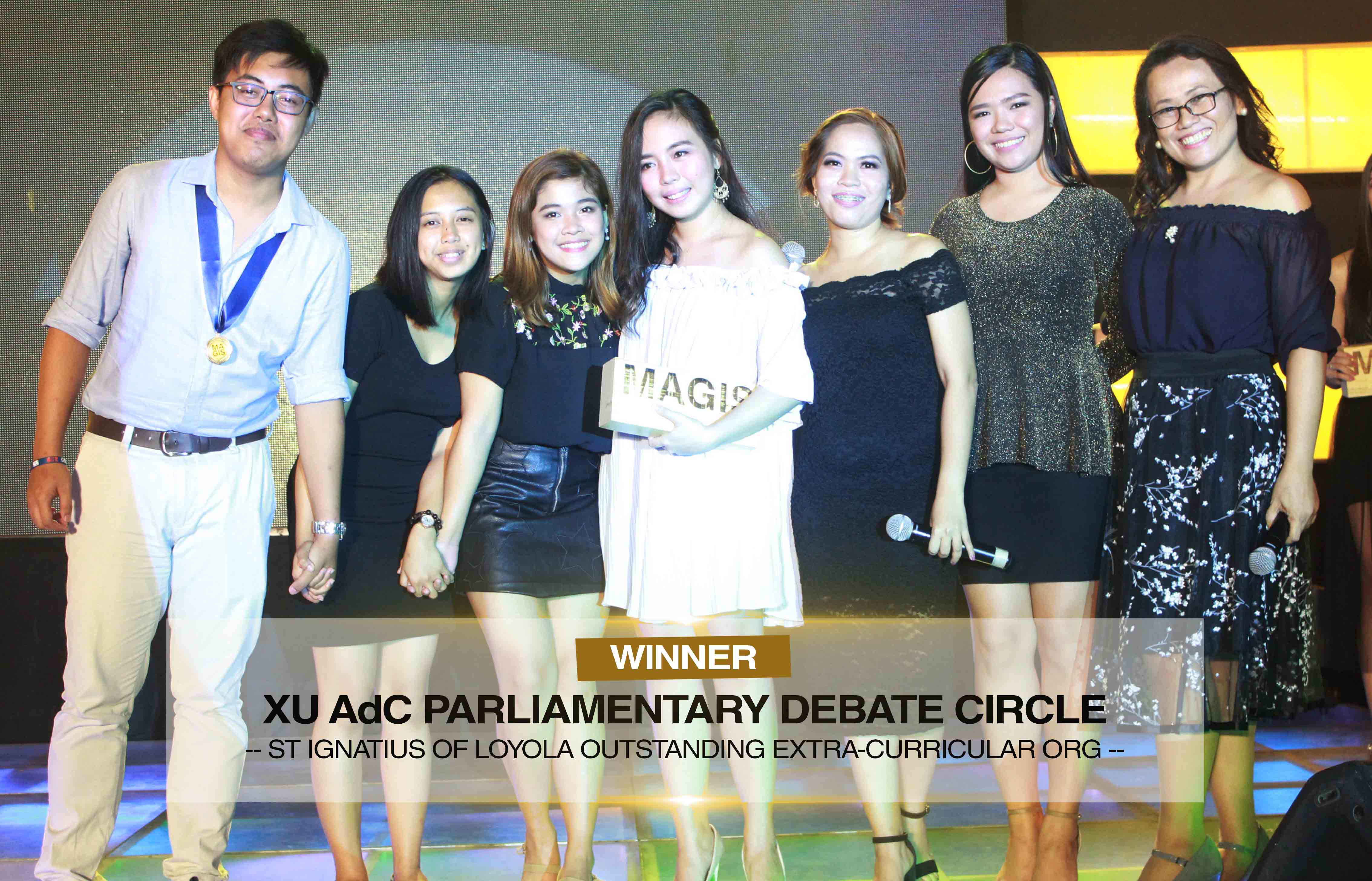 St Ignatius of Loyola Outstanding Extra-Curricular Organization
Xavier University - Ateneo de Cagayan Parliamentary Debate Circle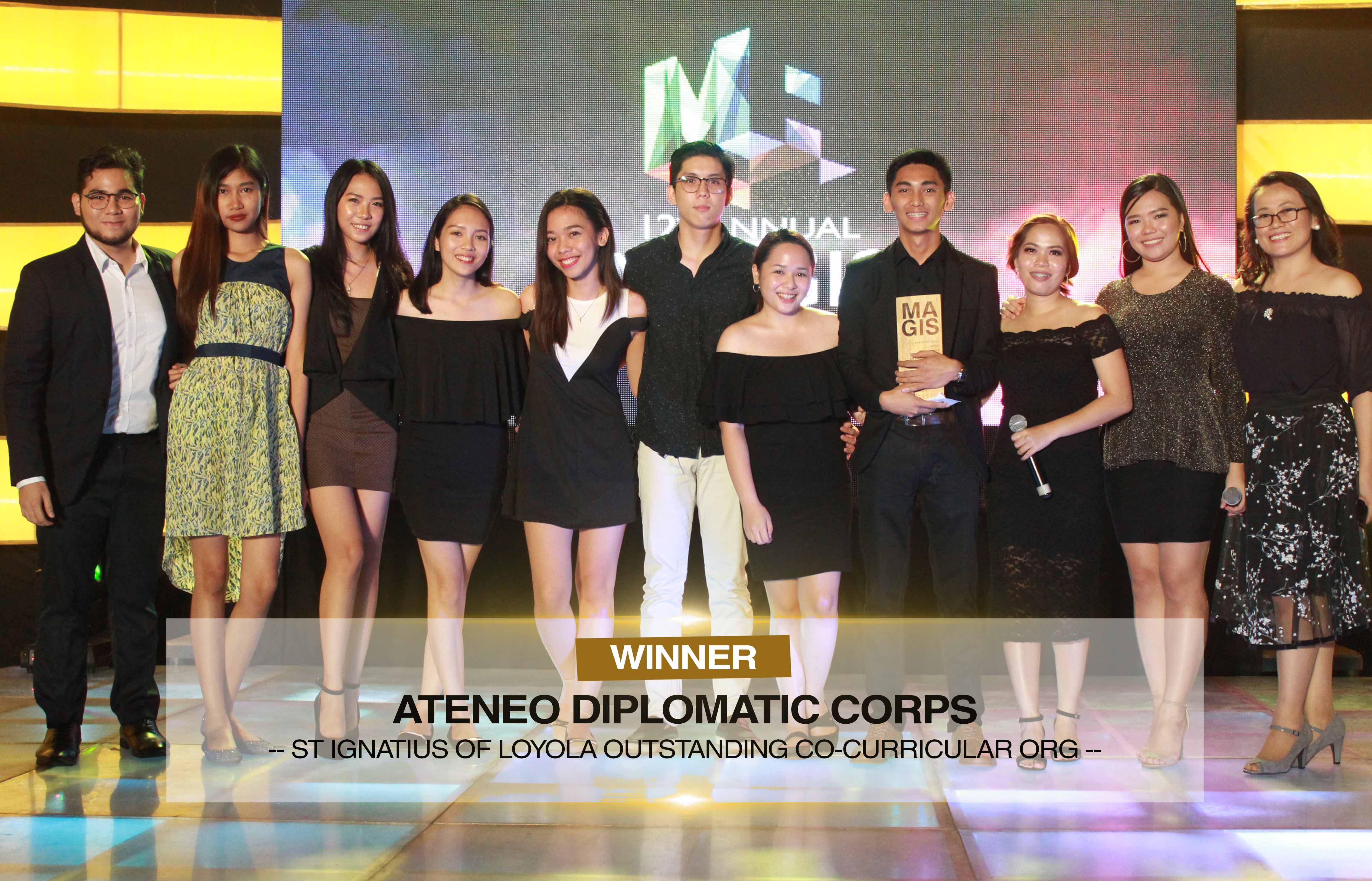 St Ignatius of Loyola Outstanding Co-Curricular Organization
Ateneo Diplomatic Corps (ADC)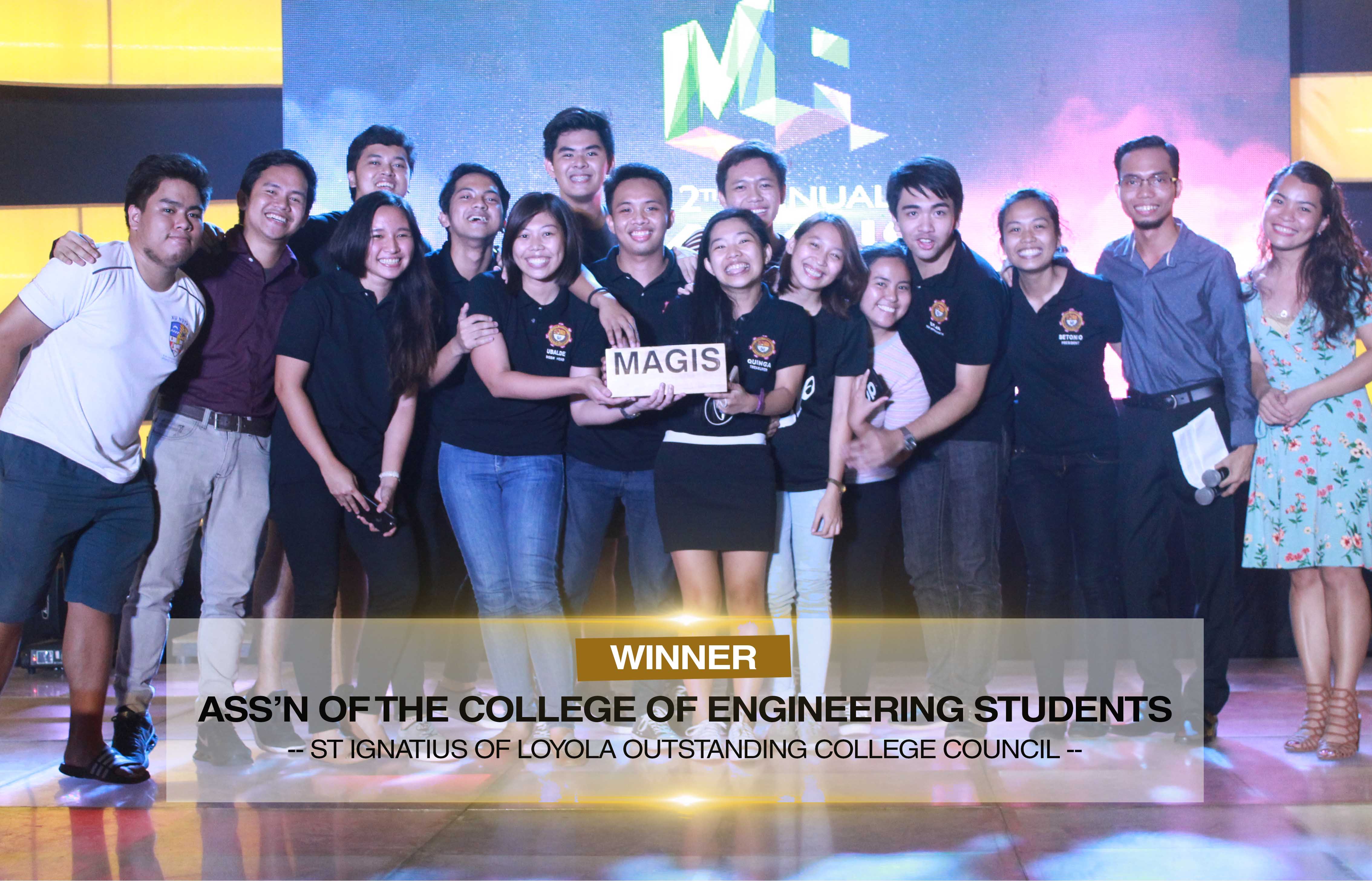 St Ignatius of Loyola Outstanding College Council
Association of the College of Engineering Student (ACES)
EXEMPLAR AWARDS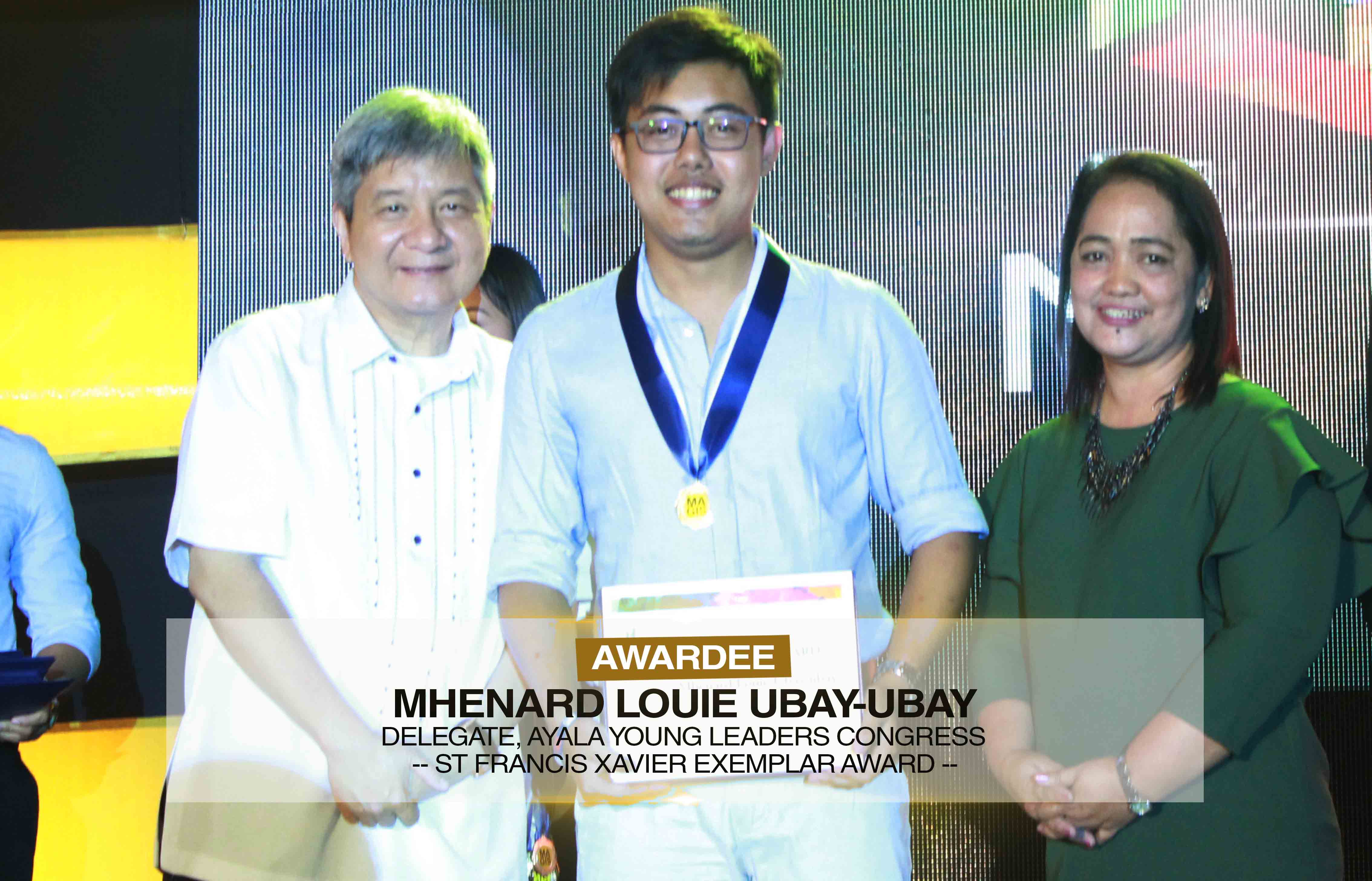 Mhenard Louie M Ubay-ubay
Delegate, Ayala Young Leaders Congress
Ayala Foundation Inc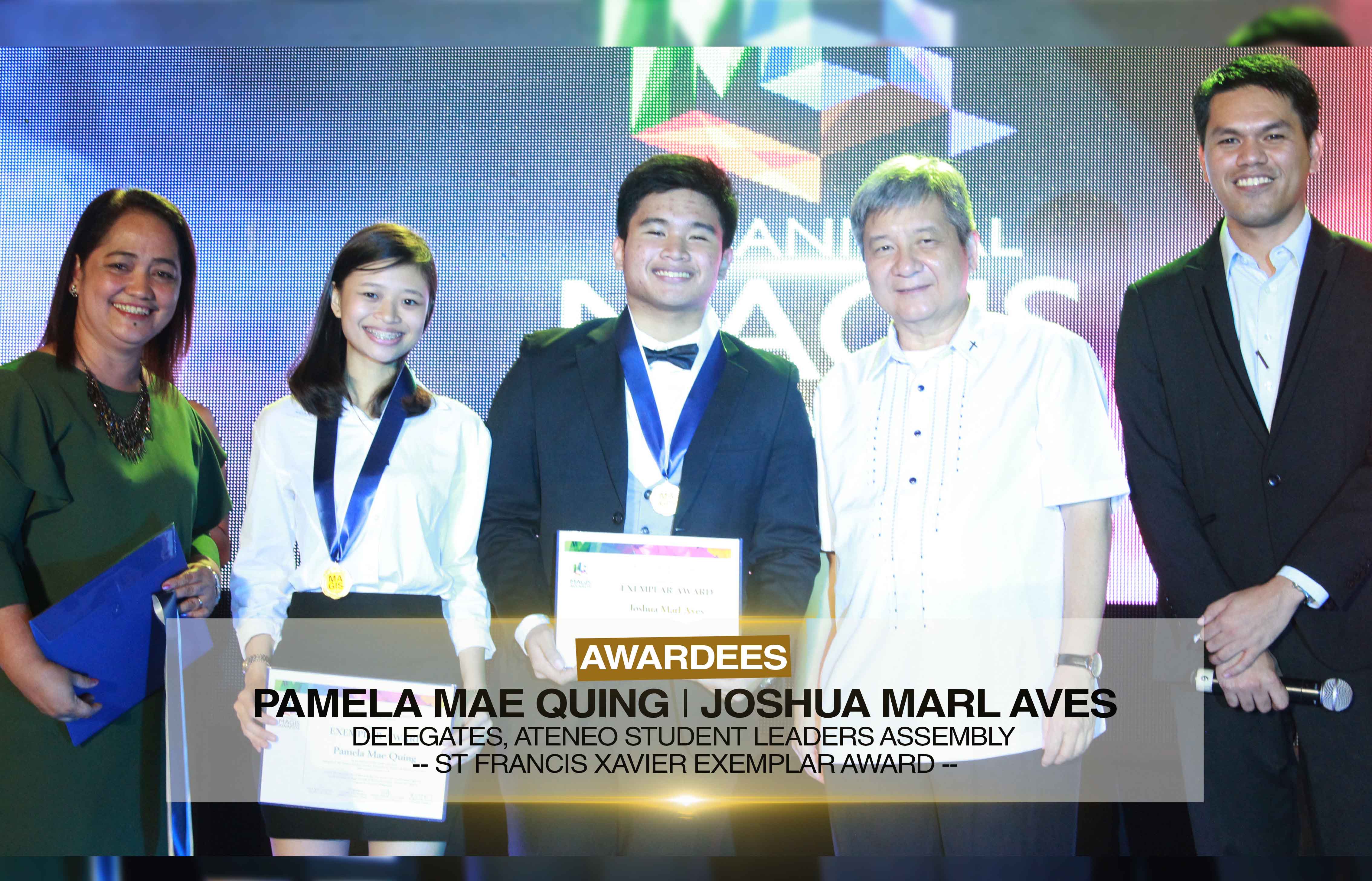 Janniko Arvi R Gopez, Joshua Marl Aves, Pamela Mae M Quing
Delegates, Ateneo Student Leaders Assembly
Ateneo de Manila University / 9-13 January 2018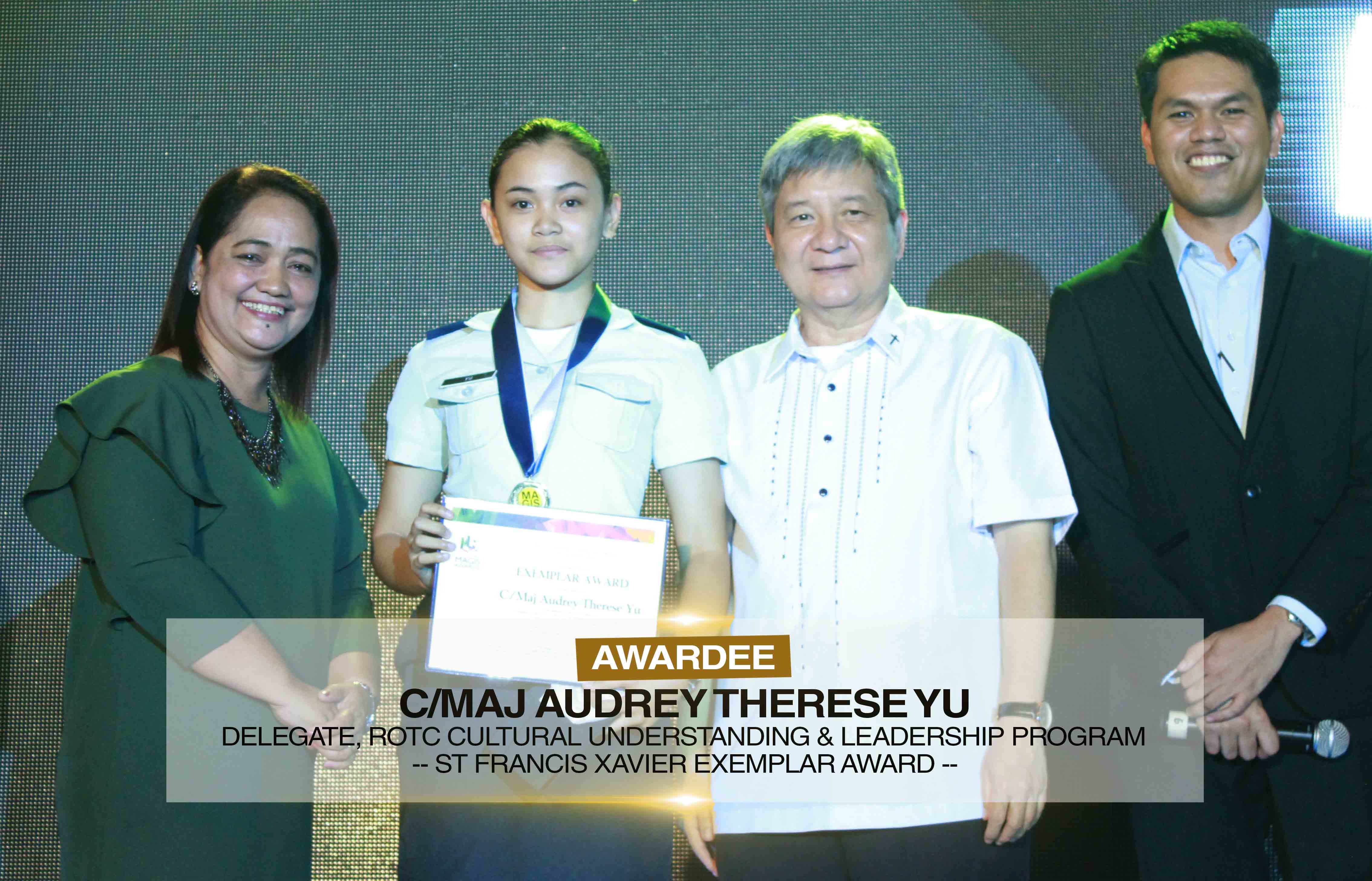 C/Maj Audrey Therese M Yu
Participant, ROTC Cultural Understanding and Leadership Program
University of Guam / 17 November 2017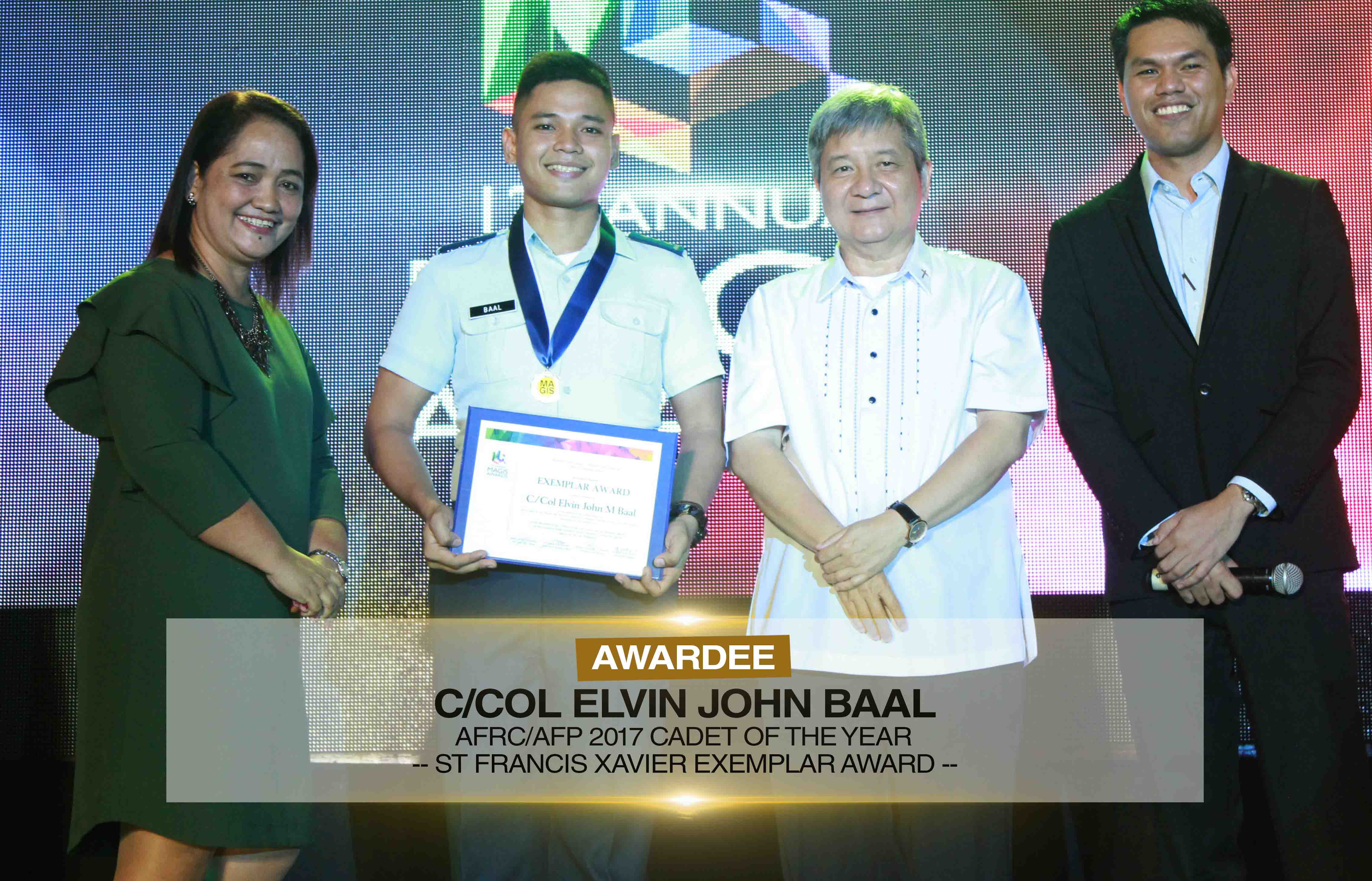 C/Col Elvin John M Baal
AFRC / AFP Cadet of the Year 2017
Air Force Reserve Command / Armed Forces of the Philippines / 1 December 2017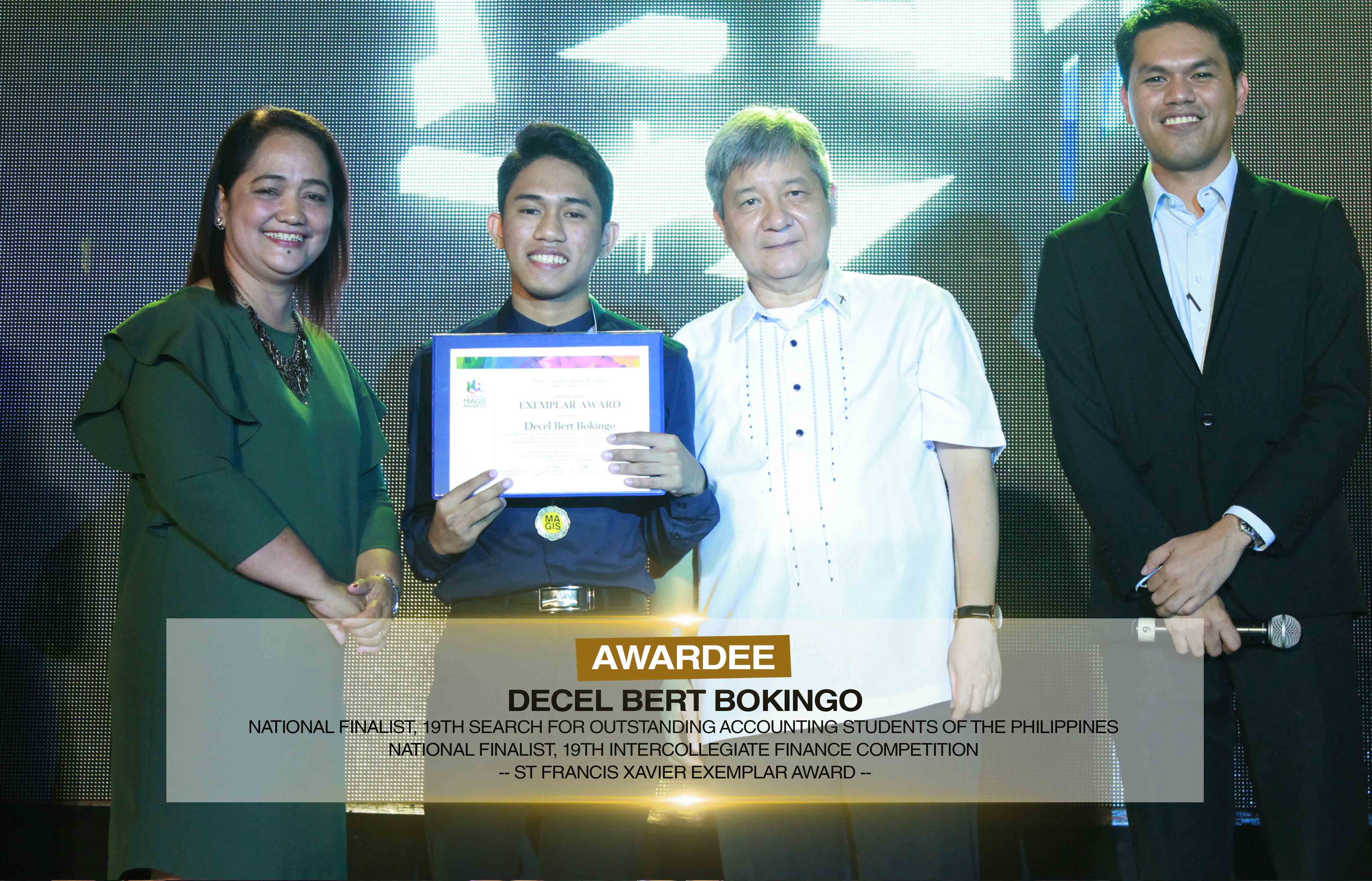 Decel Bert Bokingo
National Finalist, 19th Search for Outstanding Accounting Students of the Philippines
P&A Foundation Inc, 1 December 2017
National Finalist, 19th Intercollegiate Finance Competition
Financial Executives of the Philippines / 28 November 2017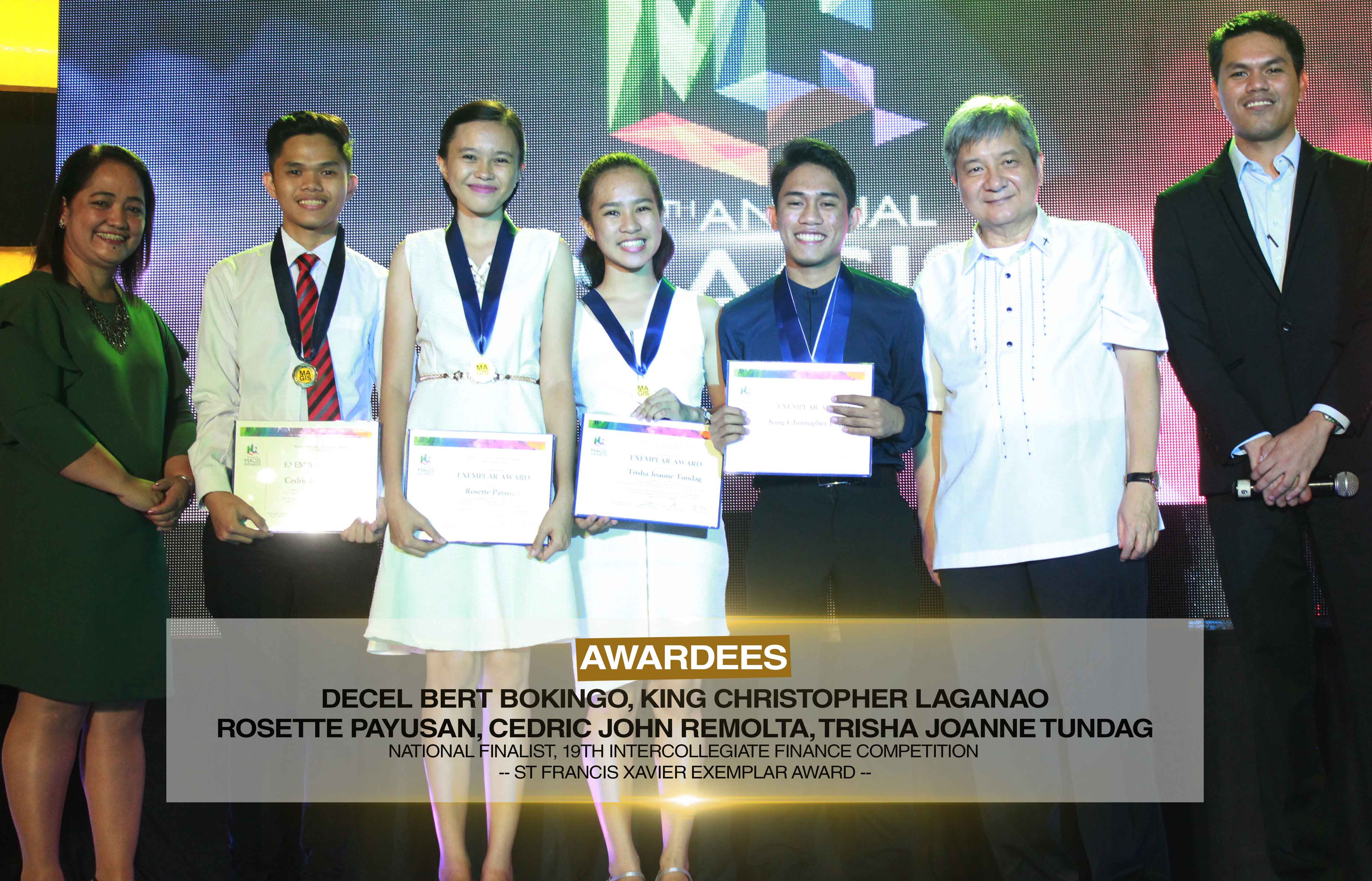 King Christopher Laganao, Rosette Payusan, Cedric John Remolta, Trisha Joanne Tundag
National Finalist, 19th Intercollegiate Finance Competition
Financial Executives of the Philippines / 28 November 2017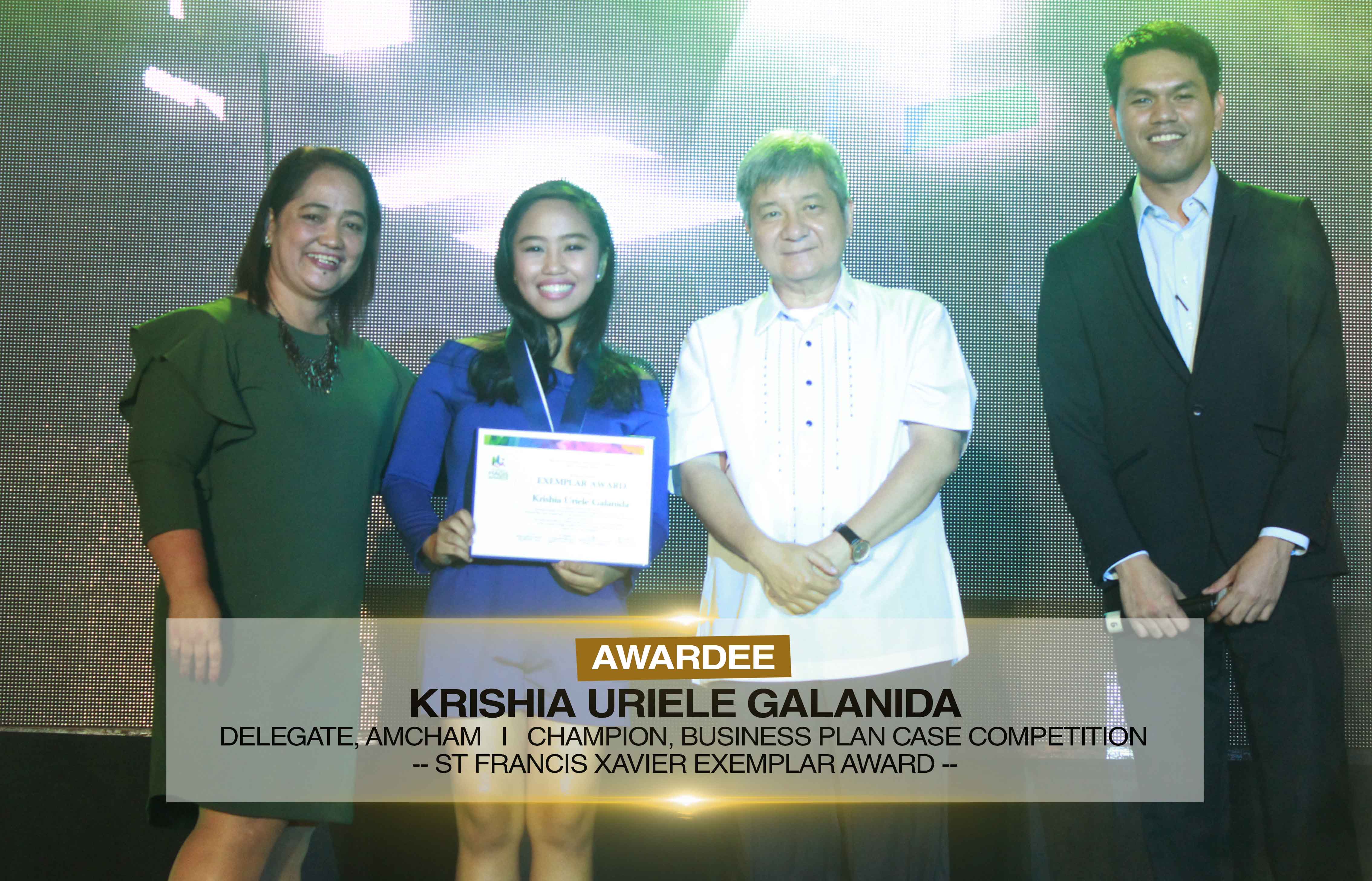 Krishia Uriele Galanida
National Delegate, American Chamber of Commerce of the Philippines Business Leadership Program / Champion, Business Plan Case Competition
American Chamber of Commerce of the Philippines – Business Leadership Program / 29 April 2017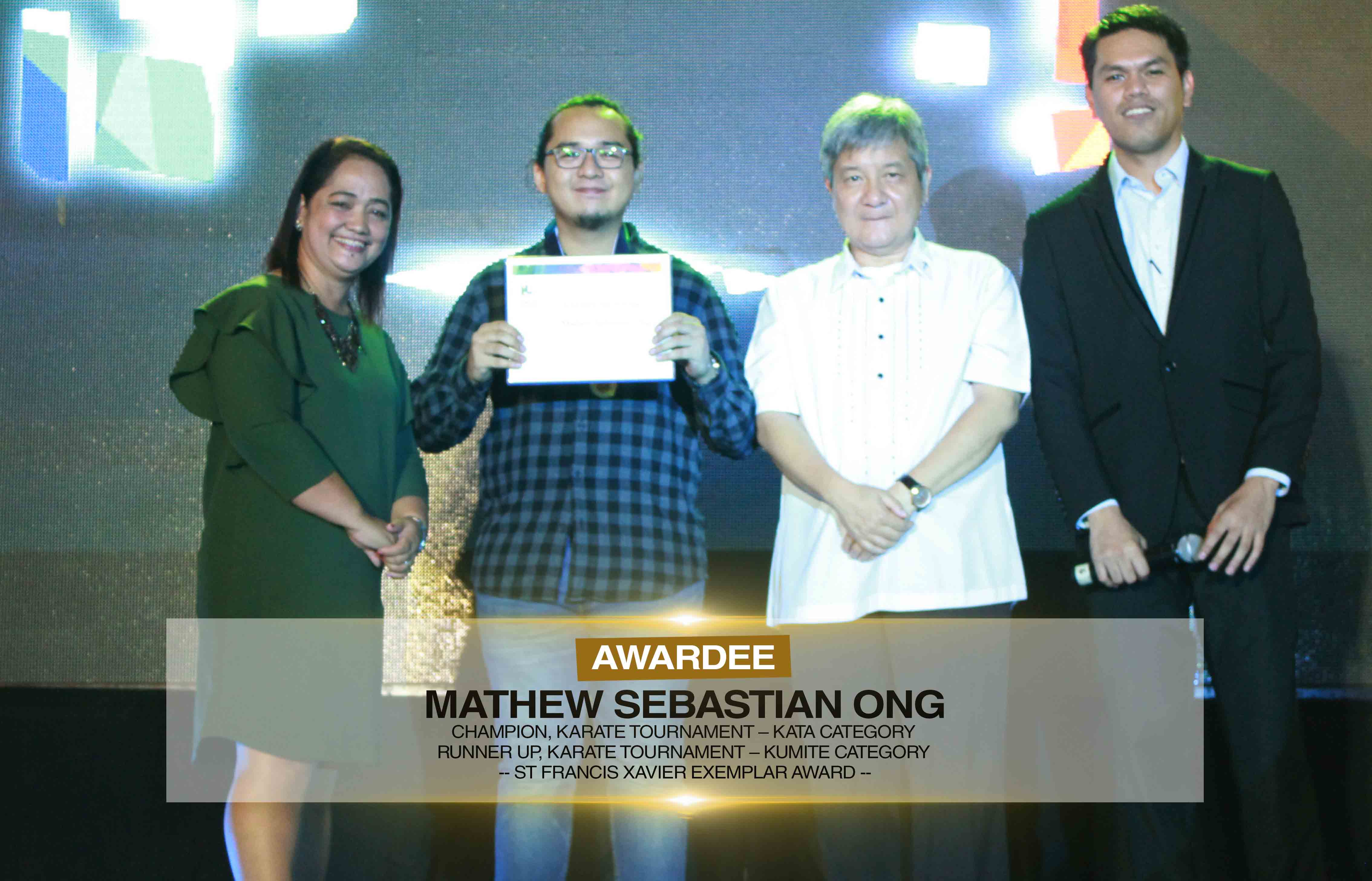 Mathew Sebastian Ong,
Champion, Karate Tournament – Kata Category
Japan Karate Association Asia Pilipinas Inc / 9 September 2017
Runner Up, Karate Tournament – Kumite Category
Japan Karate Association Asia Pilipinas Inc / 9 September 2017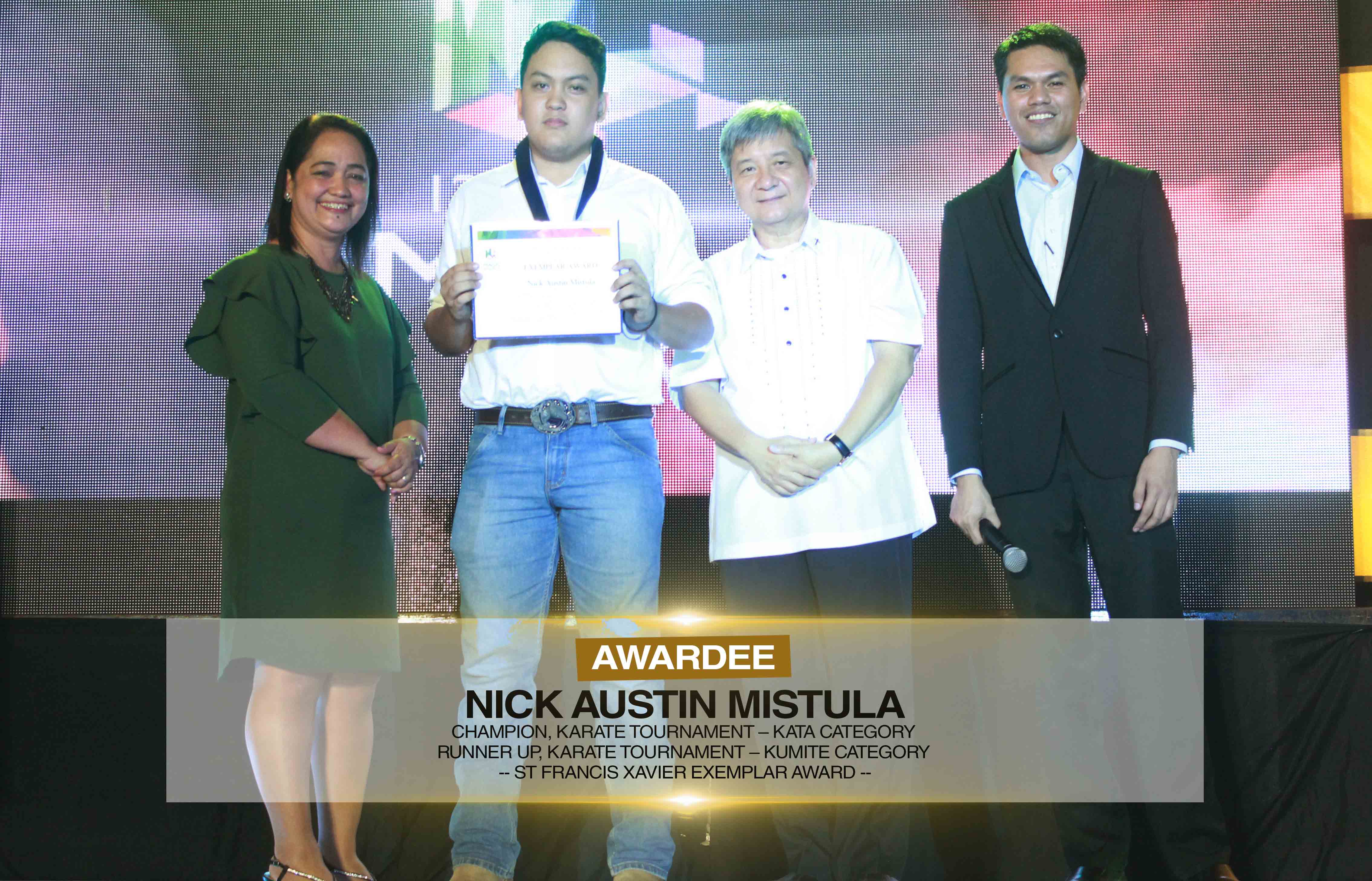 Nick Austin Mistula,
Champion, Karate Tournament – Kata Category
Japan Karate Association Asia Pilipinas Inc / 9 September 2017

Runner Up, Karate Tournament – Kumite Category
Japan Karate Association Asia Pilipinas Inc / 9 September 2017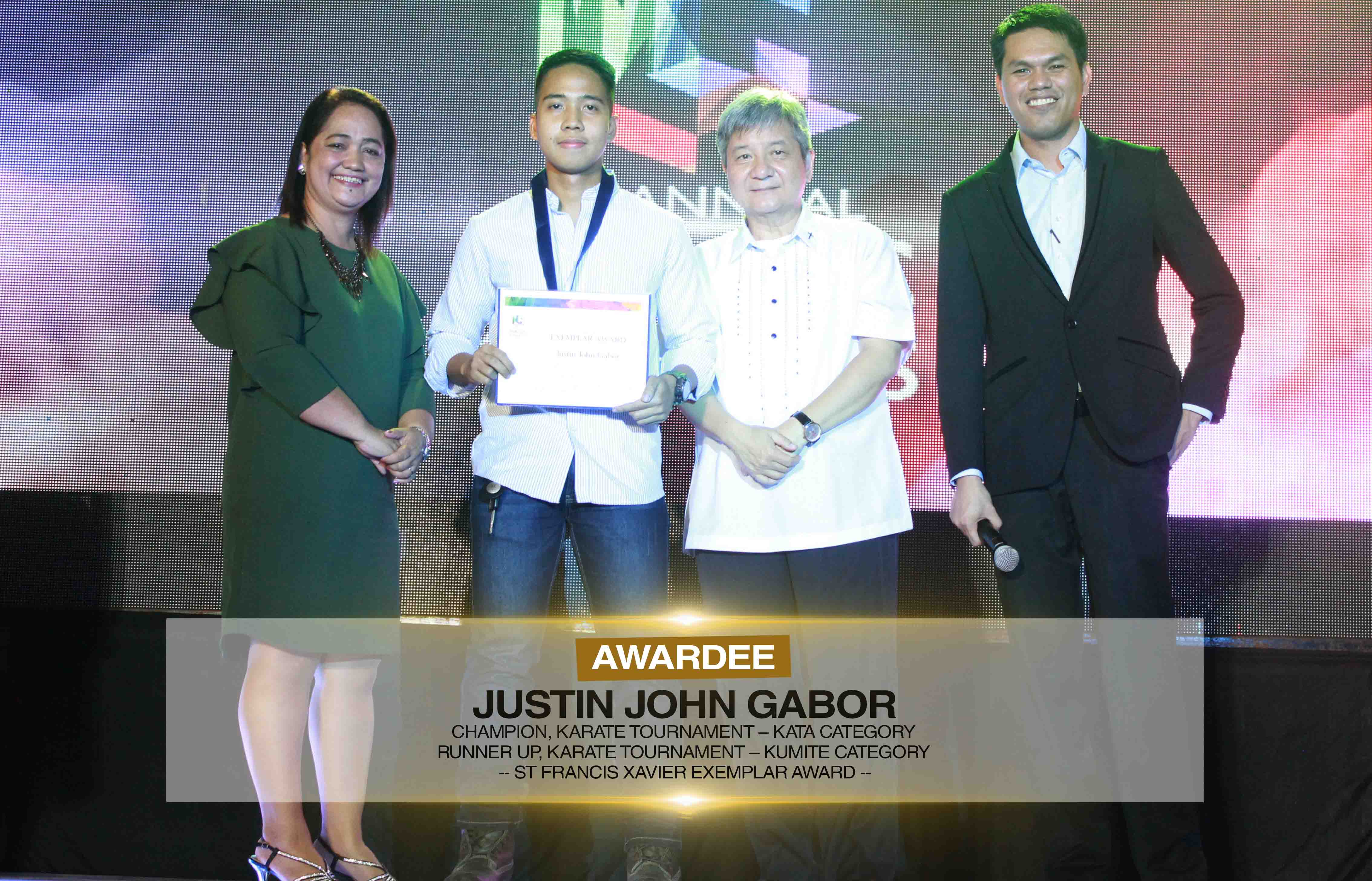 Justin John Gabor
Champion, Karate Tournament – Kata Category
Japan Karate Association Asia Pilipinas Inc / 9 September 2017

Runner Up, Karate Tournament – Kumite Category
Japan Karate Association Asia Pilipinas Inc / 9 September 2017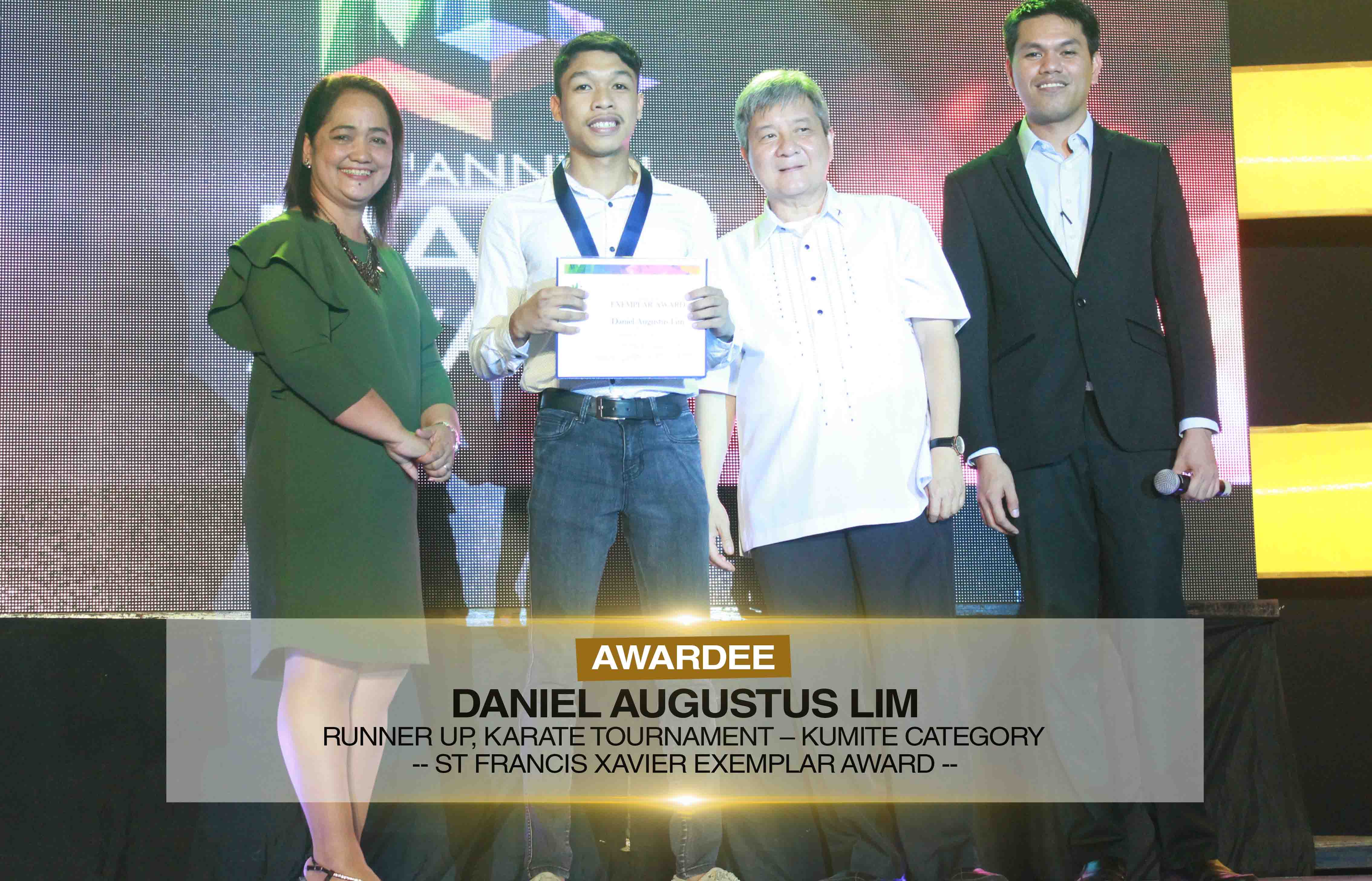 Daniel Augustus Lim
Runner Up, Karate Tournament – Kumite Category
Japan Karate Association Asia Pilipinas Inc / 9 September 2017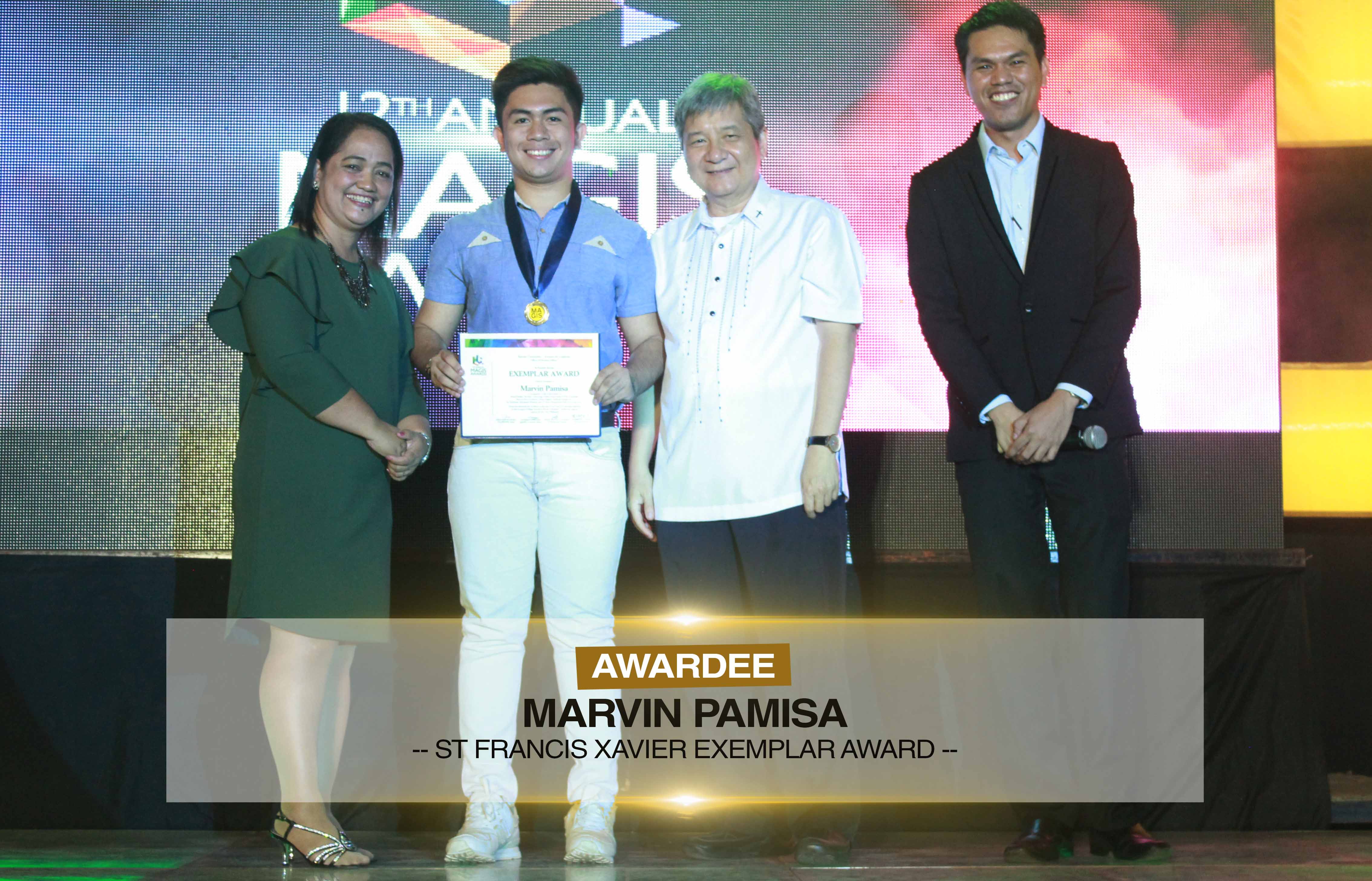 Marvin Pamisa
Delegate, Peer-to-Peer Facebook Global Digital Challenge Fall 2017
Facebook, Edventure Partners / 21 November 2017
Semi-Finalist, 4th Best Countering Violent Extremism (CVE) Campaign – Peer-to-Peer Facebook
Global Digital Challenge Spring 2017
Facebook, Edventure Partners, US State Department / 19 July 2017
Grantee, Mindanao Rapid Response Small Grants Competition
United States Embassy in Manila / 26 October 2017

Champion, Philippine Competition Commission Essay Writing Competition
Philippine Competition Commission / 21 November 2017

Delegate, ASEAN-Republic of Korea (ROK) Youth Exchange Visit to Cambodia
Philippine National Youth Commission, ASEAN Cambodia Secretariat 10-14 December 2017

Delegate, Asia Pacific Youth Exchange
Facebook, Asia Pacific Youth Exchange Organizing Committee, Asian Development Bank Headquarters, and Urban Youth Academy / 19 January 2018
Champion, One Meralco Foundation Award
Facebook, One Meralco Foundation / 19 January 2018
Grantee, Hanyang University Changemaker Scholarship Award
Hanyang University / 19 January 2018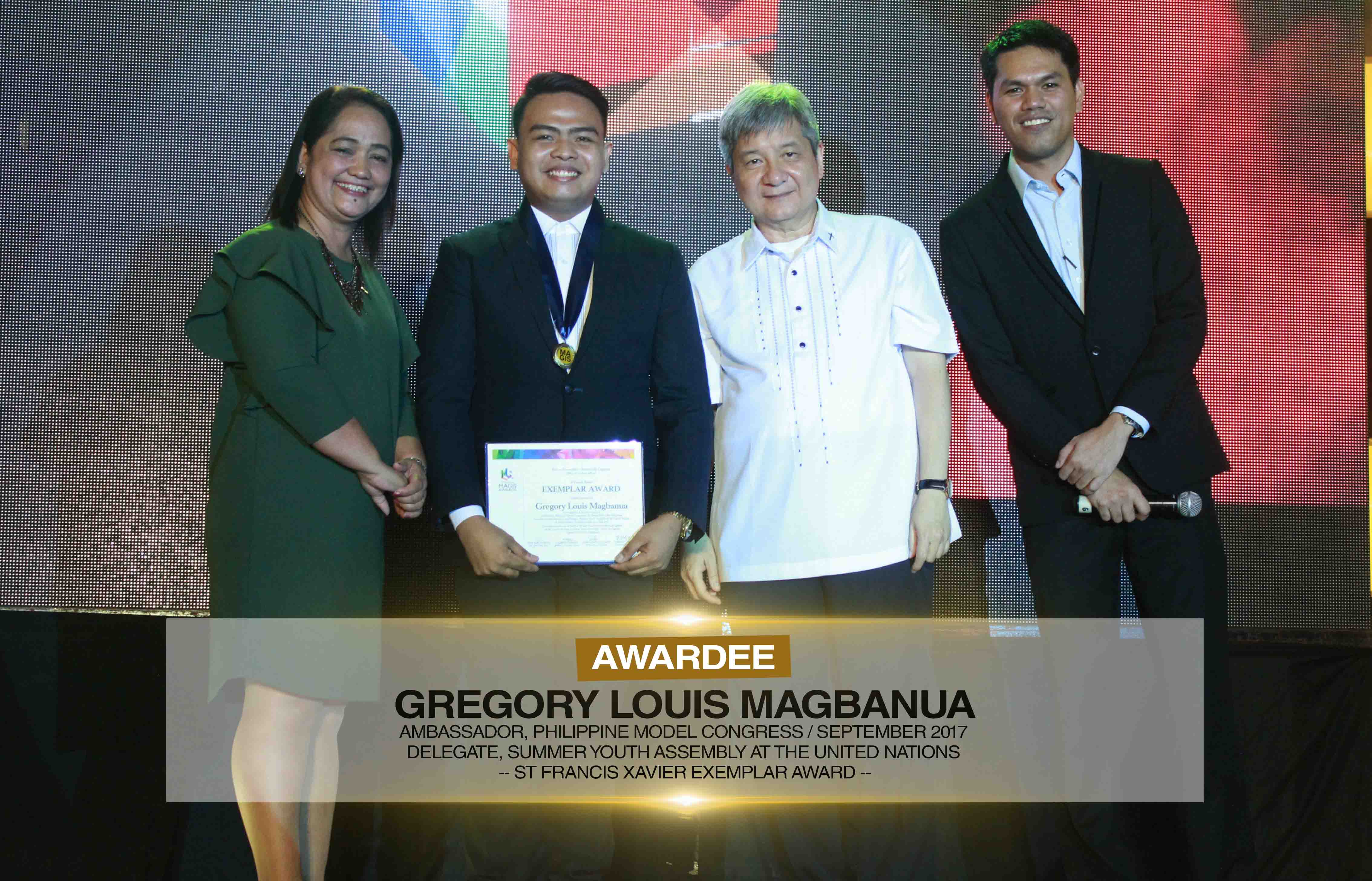 Gregory Louis Magbanua
Ambassador, Philippine Model Congress / September 2017
Senate Hall of the Philippines

Delegate, Summer Youth Assembly at the United Nations
SIKLAB Pilipinas Foundation / 17 May 2017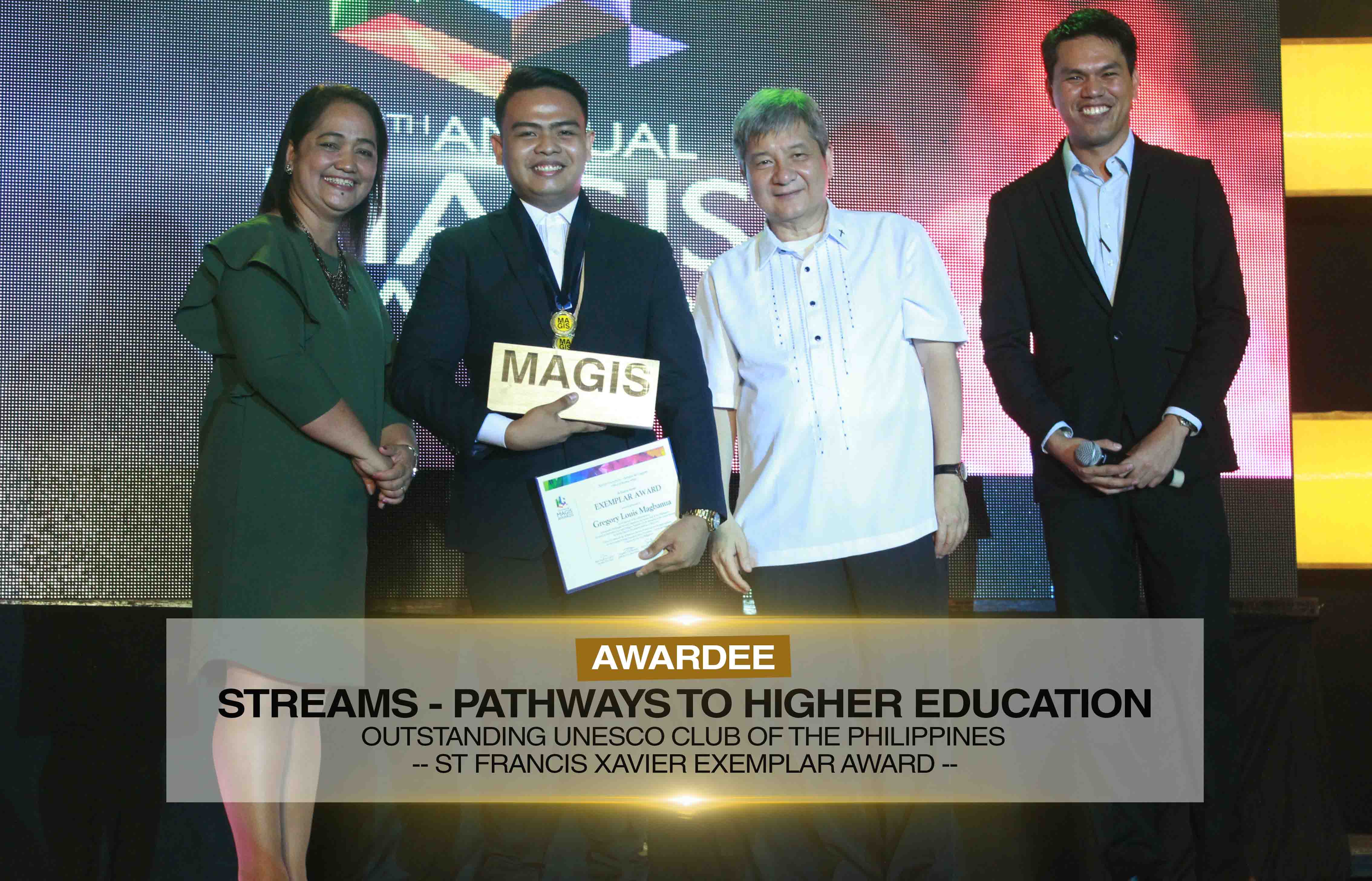 STREAMS – Pathways to Higher Education
Outstanding UNESCO Club of the Philippines
National Association of UNESCO Clubs in the Philippines, 3 Sept 2017