First-ever Fire & Magis Gala fetes Xavier Ateneo's commitment to excellence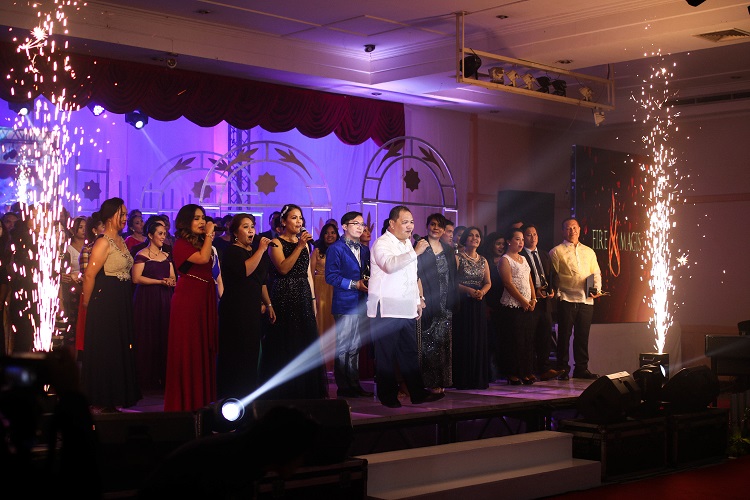 A NIGHT OF EXCELLENCE AND TALENTS. The people behind Xavier Ateneo's revered tradition of excellence gather and celebrate at the first-ever Fire & Magis Gala.
Words by Stephen J Pedroza
Photos by Cobbie Karagdag, Caryl Be Trabadillo, and Michael Angelo Estillore
As dusk gathered on the 25th of May, more than 500 men and women exuding a fine esprit de corps began to flock at The Grand Caprice, the venue for the first-ever Xavier Ateneo Fire & Magis Gala.
On the red carpet, guests struck pose after pose against a floral wall, an explosion of azure, red, pink, and white synthetic blooms, installed at the corner before the entrance to the grand ballroom.
"Give it your best smile, ma'am," said the photographer to a lady in a vermillion gown as she stood poised on the platform. She beamed in front of the camera and the photographer clicked off a number of shots.
On the side, an usherette from The Xavier Stage, one of the university's theater companies, carefully managed the line and sequence in the picture area. "You're next po," she told the man in a Barong Tagalog.
People had come in the spirit of the year-ender event. It was on the invitations and posts on social media, and now it unfurled overhead like a grand banner, unseen yet known and anticipated by all:
"For more than eight great decades of Xavier University - Ateneo de Cagayan, fire (a symbol of passion) and magis (a philosophy of excellence) have been two of our treasured elements as a thriving academic institution and our common home that nurtured leaders of character and competence. This gala pays homage to the people behind this revered tradition whose minds and hearts carry out and exemplify the ideals of Xavier Ateneo and the true meaning of fire and magis."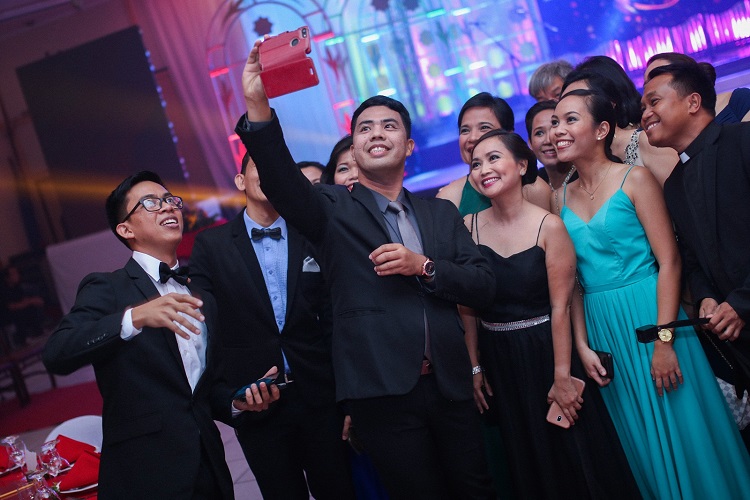 GROUPIE. Gala attendees strike a groupie with university president Fr Bobby Yap SJ before the start of the program.
The gorgeous ensembles of Xavier Ateneo's faculty, staff, administrators, and formators were a stunning departure from the usual office uniforms and semi-formals. At the gala grounds, you would see a dean next to a priest, a professor next to a director, staff members next to formators, and more scenes of mini-reunions, faces leaning in for a beso-beso (social kiss), firm handshakes, amiable chatter, and camera flashes.
Soon it began, and the evening went by like a symphony.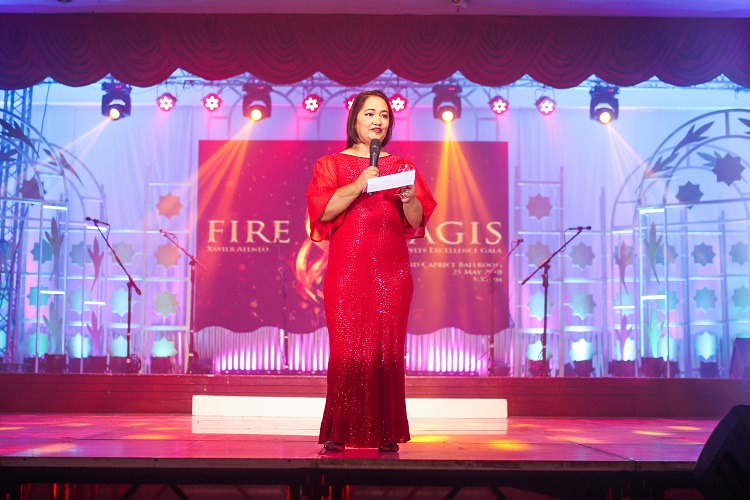 LADY IN RED. VP for mission and ministry Irene Guitarte leads the wine toasting and birthday greeting for Fr Bobby, who turned 59 last May 16.
Love never fails
The first movement was brisk and lively. At past six, university chaplain Fr Roberto Archie Carampatan SJ led the grace before meal. Guests enjoyed a feast of buttered chicken, beef with broccoli, sweet and sour cream dory, pancit guisado, lechon (roasted pig), and fresh fruits.
Halfway through dinner, VP for mission and ministry Irene Guitarte stood up from her table and went onstage to offer a toast to the attendees and to give a belated birthday greeting to Xavier Ateneo president Fr Roberto C Yap SJ, who turned 59 last May 16.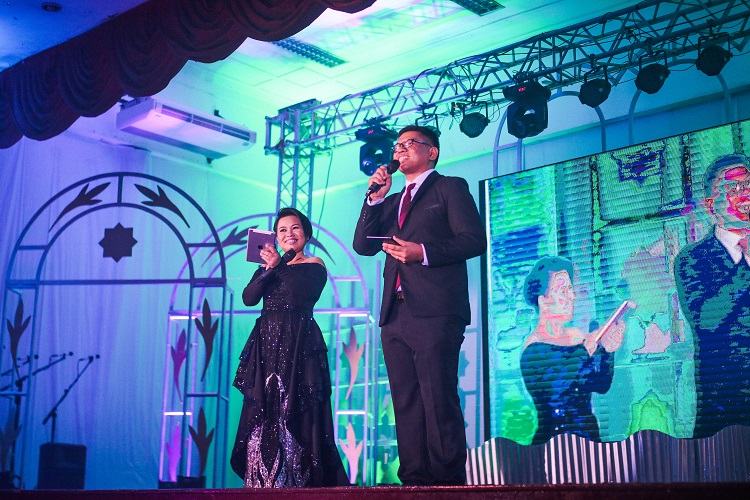 MASTERS OF CEREMONY. Anili Butcon (XU Junior High School English faculty member) and Samuel Macagba (XUJHS assistant principal for formation) serve as hosts of the Fire & Magis Gala on Friday night.
The crowd sang the birthday song as Fr Bobby blew the candle mounted on the walnut cake. Wine glasses were raised, too, for cheers, marking the start of the awards show.
"Thirty-six nominees, nine awardees, and one Xavier Ateneo community gathered together for our first-ever performance excellence recognition to celebrate the exemplary works of Xavier Ateneo's employees who exemplify Fire and Magis," said host Anili Butcon in her opening spiel. Anili Butcon and Samuel Macagba were the hosts of the evening.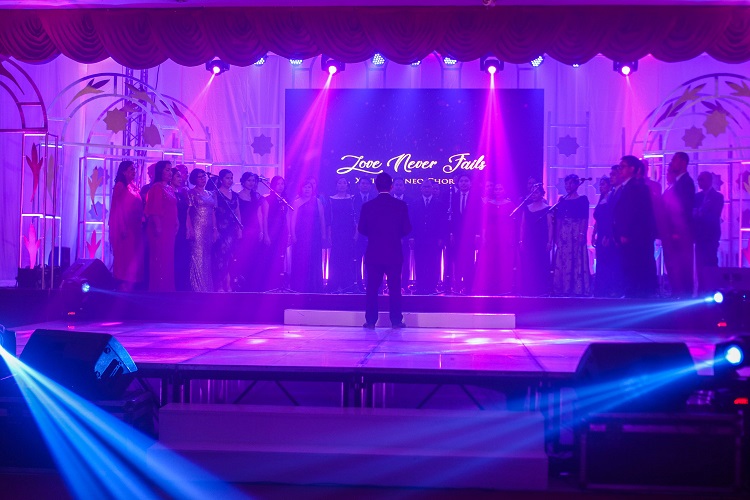 LOVER NEVER FAILS. The Xavier Ateneo Chorale serenades the crowd with "Love Never Fails" by David Hass. This newly-formed chorale group is composed of XU faculty, staff, and formators.
The program, meticulously designed and curated by Xavier Center for Culture and the Arts (XCCA) director Hobart Savior, kicked off with a Xavier Ateneo Chorale performance of David Hass' "Love Never Fails."
"Each performance was carefully selected to showcase the theme of the gala," Savior said. "The show is a product of performance as a way of logic that goes beyond entertainment or what's superficial. The deep and surface structures of the event are about meaning-making and what better way to open this gala than the message of the song 'Love Never Fails'?"
Love is patient
Love is kind
Love rejoices in the truth
It bears all things, believes all things
It hopes all things, endures all things
Love never fails.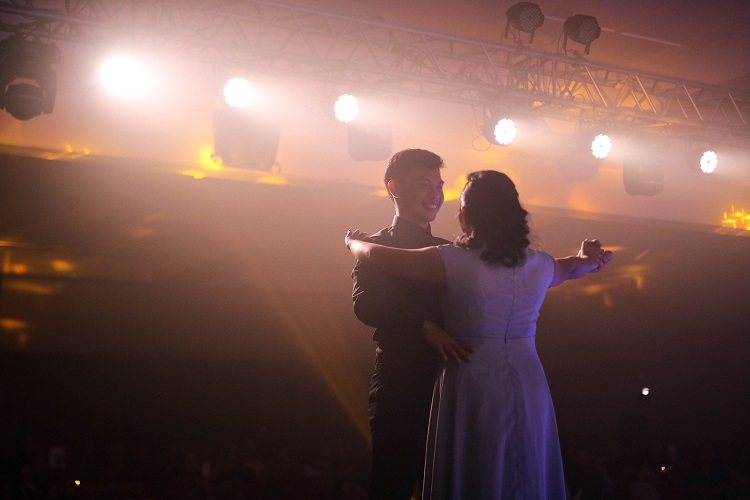 LIGHTS AND DANCES. Members of the XU Junior High School perform a cotillion ball dance on the stage, to everyone's amazement.
Excellence is a Xavier Ateneo ideal
The second movement was tender and lyrical. In his impassioned speech that night, Fr Bobby acknowledged that strengthening the Xavier Ateneo community requires "constant care, effective communication, and joyful celebration."
"At XU, we are more than co-workers, more than people who happen to be in the same workplace, laboring beside each other, with nothing more that binds us together beyond time and space," said Fr Bobby.
"At Xavier Ateneo, we are a community bound by common values and meanings, common hopes and dreams, and by mutual concern and responsibility. Our community is as strong as the strength of our shared values and hopes, as sturdy as our shared vision and dreams."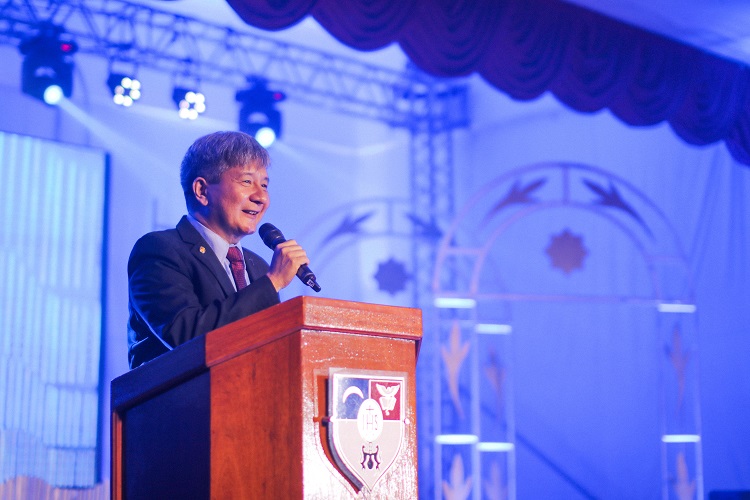 COMMUNITY OF EXCELLENCE. University president Fr Bobby Yap SJ tells the crowd: "This evening, we celebrate community. At XU, we are more than co-workers, more than people who happen to be in the same workplace, laboring beside each other, with nothing more that binds us together beyond time and space."
The university president went on to declare that the evening was about celebrating the Community of Excellence.
"Excellence in academics, excellence in cura personalis, whole-person formation, excellence in service — excellence is a Xavier Ateneo ideal. Ideals are like the stars, we may never reach them, but they will always guide our course. Tonight, we honor our co-workers, our colleagues, our friends who distinguish themselves in having magis as a star that guides their course of service at Xavier Ateneo."
Nine outstanding employees received the Xavier Ateneo Ignatian Awards in various categories, namely:
Outstanding Rookie Faculty for Basic Education: Maria Lourdes B Vocal (English Department, Junior High School)
Outstanding Junior Faculty for Basic Education: Marites B Tagas (Math Department, Junior High School)
Outstanding Senior Faculty for Basic Education: Angelina P Galupo (Science Department, Junior High School)
Outstanding Non-teaching Staff for Higher Ed: Adora S Rondez (Lab Technician, Biology Department, CAS)
Outstanding Junior Faculty for Higher Education: Roderick Z Ocangas (Filipino Department, CAS)
Outstanding Senior Faculty for Higher Education: Adlai V Valledor (Religious Studies Department, CAS)
Outstanding Formator: Jerome L Torres (Service Learning Program, Social Development Cluster)
Outstanding Administrator for Basic Ed: Hilda J Gumanit (Assistant Principal for Academics, Grade School Pueblo)
Outstanding Administrator for Higher Ed and Central Admin: Dr Jovelyn G Delosa (Dean, School of Education)
(For the mechanics and criteria for judging for the 2018 Ignatian Awards, go here.)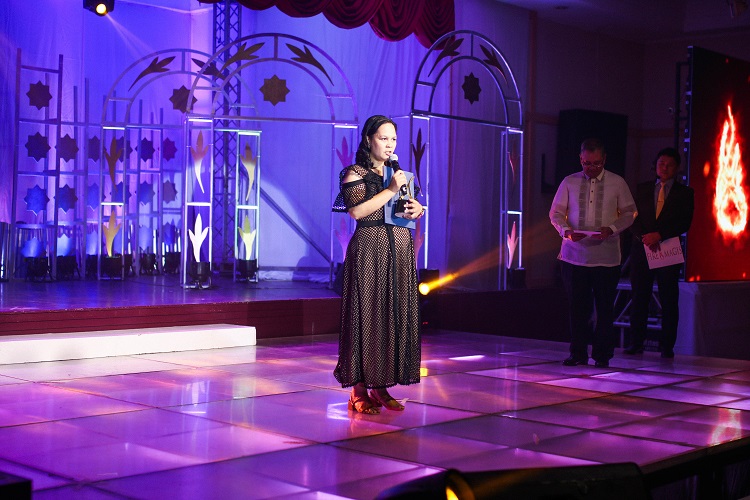 EDUCATION DEAN. School of Education dean Dr Jovy Delosa dedicates her award as the "2018 Outstanding Administrator for Higher Ed and Central Admin" to God, Xavier University, and students.
In her acceptance speech, Gumanit said: "This award will remind me to stay grateful and kind every day. Thank you so much for this recognition."
Torres, who was featured in Esquire Philippines for leading the Xavier Ateneo Night School Program, dedicated his award to the street children and out-of-school youth and to everyone who has been supportive of his advocacy work.
The acceptance of Delosa of her award was a humbling sight. She said that there were far more deserving people to receive such recognition and she hadn't expected to win it this year. The line-up of nominees in her category had included high-caliber deans and top administrators.
"I offer this recognition to God, to Xavier University, and to all our students," said Delosa, who was recently named one of the 14 accomplished leaders in higher education for this year's United Board for Christian Higher Education in Asia Fellowship.
The screening committee for the Xavier Ateneo Ignatian Awards 2018 was composed of Jose P Rizal School of Medicine dean Dr Ruth S Beltran (chairperson), Human Resources director Ma Soledad F Amir, Office of International Cooperation and Networking director Elisabeth B Enerio, Quality Management Office (QMO) director Fr Anthony C Pabayo SJ, and QMO assistant director (and former Med associate dean) Dr Agaton T Panopio Jr.
Each of the awardees received a trophy designed by artist Wendel Abejo, a certificate, the privilege of having their name on the "Xavier Ateneo Wall of Fame," and a cash gift.
"The design of the Ignatian Award trophy is a 'Fire & Magis' composite shaped by letters X and U in the form of golden flames," Abejo said. "It's inspired by the flaming heart in the Sacred Heart of Jesus, representing a burning passion for service and sacrifice."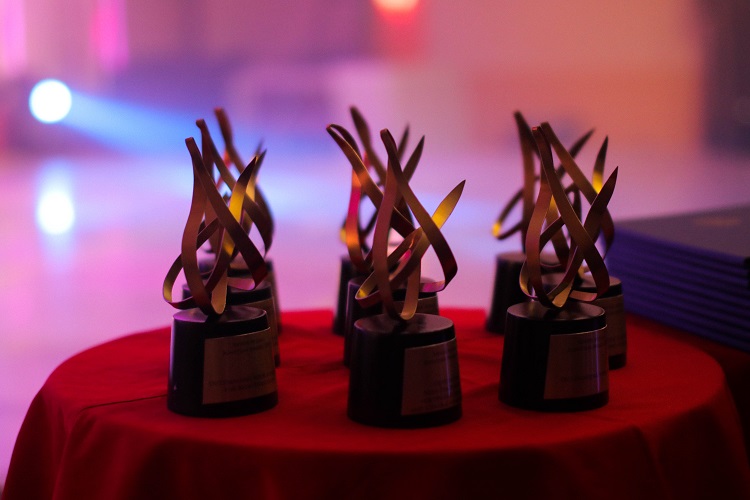 IGNATIAN TROPHIES. Xavier Ateneo graphic artist Wendel Abejo is this year's designer of the Xavier Ateneo Ignatian trophies of the nine awardees.
A showcase of talents and excellence
The third movement made people sing along and dance a little, as the gala was packed with performances from different units.
The XU Junior High School performed a cotillion ball dance and a Mama Mia mash-up. Xavier Ateneo Chorale presented their rendition of "L'important C'est la Rose" (Gilbert Becaud).
Former Madrigal singer-trainee (and History professor) Catalina Gaite and Marianne Grace Danuco from Junior High sang "For Good" from the Broadway musical Wicked.
Jessie Salon treated the crowd to jazzy renditions of "L-O-V-E" (Nat King Cole) and "More Today Than Yesterday" (Spiral Staircase). Four Xavier Ateneo Senior High School faculty members also joined Salon in his second song number as dancers.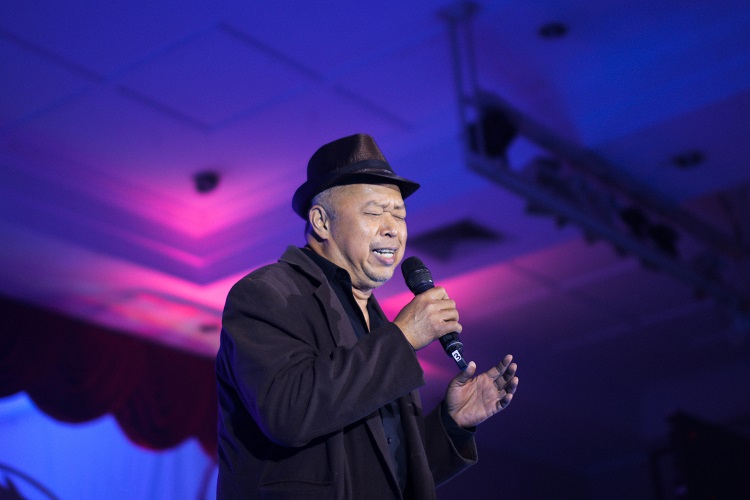 L-O-V-E. Jessie Salon from the School of Business and Management serenades the crowd with his jazzy renditions of "L-O-V-E" (Nat King Cole) and "More Today Than Yesterday" (Spiral Staircase).
XU Grade School performed a Grease mash-up while Russell Raluto (QMO), Charity Absin (SOE), Rusty Gevero (SBM), and Hobart Savior (XCCA) also performed a Carpenters combo.
Loel Von O Castrodes from the University Health Services Office served as the musical director of the event.
When it came to talent, Xavier Ateneo didn't fall short. The chairman of the Board of Trustees, Francisco Guerra, said that this gala proved that talents and skills are abundant in the university, and that when talent and skill were coupled with perseverance and dedication, excellence became attainable.
"I am so happy and deeply honored to be here tonight because tonight we celebrate achievements, we celebrate excellence, and we celebrate our being men and women for others," said Guerra.
"May I invite all of you one last time to a standing ovation for all our winners tonight!"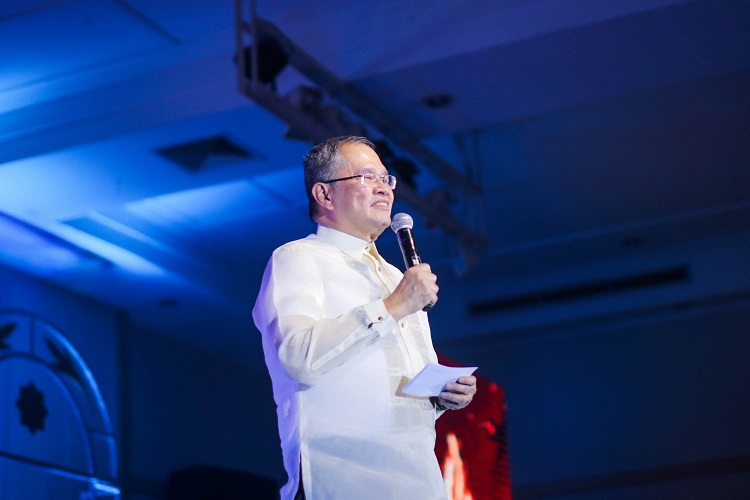 CELEBRATE EXCELLENCE. XU Board of Trustees chairman Frank Guerra says he is "so happy and deeply honored" to join the first-ever Fire & Magis Gala of Xavier Ateneo.
Finale: cheers to community and excellence
"We branded XU's mission as Experience Excellence at Xavier Ateneo," Fr Bobby said. "'Experience Excellence' is another way of saying that we seek the magis. … Experience Excellence means the fullest possible development of each person's individual capacities and the motivation to use those developed gifts for others."
As a fitting finale, Fr Bobby declared, "May Fire & Magis become an annual celebration that will cap every XU school year. Three cheers this evening: Cheers to Community! Cheers to Excellence! Cheers to Xavier Ateneo!"
The finale song number was led by Terence Maceren, with Cathy Gaite, Marianne Danuco, Charity Pagara, Russell Raluto, Rusty Gevero, and live piano accompaniment by Jerome Llagas and Loel Von O Castrodes. Their emotional rendition of a song from Musical Aspects of Love earned a reverberating applause from the crowd inside the ballroom.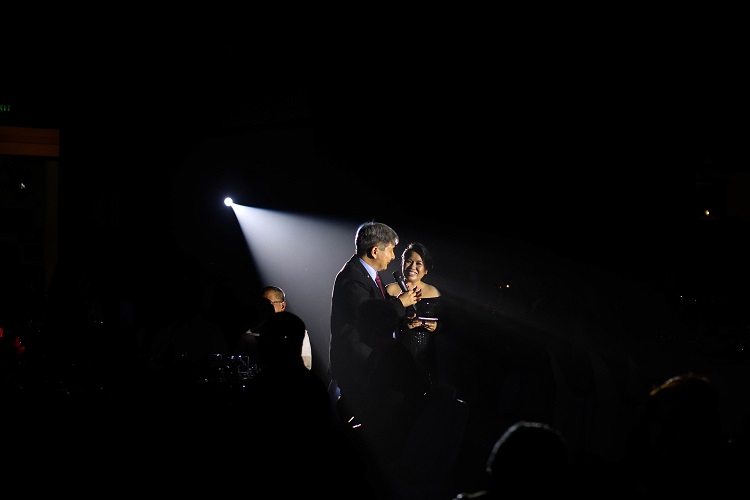 ANNUAL GALA. Fr Bobby hopes that Fire & Magis Gala becomes an annual celebration that will cap every school year of the university.
On the 25th of May, the Xavier Ateneo Fire & Magis Gala, where more than 500 men and women in gorgeous ensembles and exuding a fine esprit de corps gathered and celebrated excellence, opened with "Love Never Fails" and culminated with "Love Changes Everything."
Love, love changes everything,
Hands and faces, earth and sky
Love, love changes everything
Guerra encapsulated the celebration in his text message the next day: "My heart is full. Last night's Fire & Magis Awards had me tongue-tied and overwhelmed by the positive energy, genuine inspiration, and collective appreciation."
The gala now forms part of Xavier Ateneo's history, a symphony in everyone's hearts to remind them that in the midst of the challenges that the university faces, it remains steadfast in its commitment to excellence and to caring for the people behind this tradition that began in 1933 and resonates to this day.∎