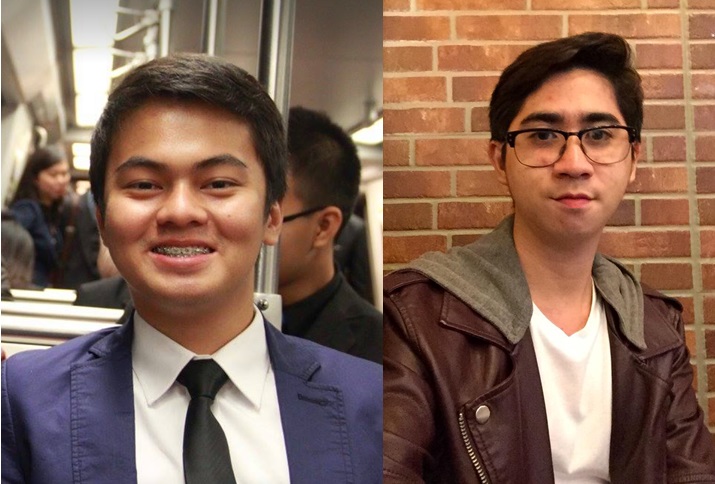 XAVIER ATENEO LAW STUDENTS. Albert Wences Daba III (left) and Dennis Flores (right) from XU's College of Law are among the 25 delegates for the 2018 ASEAN Legal Camp in Singapore. Contributed photos.
By Stephen J Pedroza
Two students from the College of Law of Xavier University - Ateneo de Cagayan will be flying into Singapore on June 22 to participate in this year's ASEAN Legal Camp.
Albert Wences Daba III (a senior student) and Dennis Flores (an incoming sophomore) are among the 25 participants to the camp, based on the final list released by the Association of Law Students of the Philippines (ALSP) on Friday, June 1.
"I expect the event to be a window into the world of ASEAN-wide legal practice and hopefully, I will get to see some emerging trends in the region such as legal research being assisted by artificial intelligence," Daba said.
"As a representative of the Philippines and Xavier Law, I feel a sense of responsibility and also it gives a sense of affirmation of the efforts I placed into developing Bots Legis," he added.
Bots Legis is a first-level artificial intelligence chatbot that supplies legal information through Facebook Messenger and guides users through a textual dialog system on a specific legal topic.
For Flores, he believes that this event is an avenue to learn more about the importance of the ASEAN Integration laws and how they will benefit the country-members in the long run.
He admitted that he is nervous and excited at the same time to be part of the delegation.
Flores shared: "This is my first time to join a legal camp. … Receiving the [congratulatory] message on the afternoon of May 29 was like receiving a letter that you won an Academy Award or something. Given that I am still learning the law at this early stage and be chosen as one of the delegates is mind-blowing! It is an honor."
Filipino law students
To qualify for the program, the applicant must be a bona fide student from an ALSP-member law school in good standing and must write an essay on "Why he/she would best represent Philippine law students for the ASEAN Legal Camp 2018 in Singapore?"
Each applicant was screened based on their submitted documents, essay, and ability to generate social media impact.
The screening committee, composed of three ALSP National Board members, shortlisted 60 candidates and then trimmed it down to 25, based on the following criteria: short essay (30%), leadership performance (30%), and social media impact (40%).
The final members of the delegation were selected following a proportionate geographical distribution representing all the regions of ALSP. The 25 delegates will receive a 50% funding for their expenses in this program.
Legal camp features
The four-day ASEAN Legal Camp is packed with sessions on Singapore's history, government, and legal system; a talk on the ASEAN Integration; visits to SG's Supreme Court and judicial offices; interaction with Singaporean law students, a tour around the National University of Singapore campus; and recreational and cultural activities.
Based on their itinerary, the camp delegates are also set to visit the Philippine Embassy in Singapore on June 25.
The Department of Foreign Affairs and the Philippine Embassy in Singapore are coordinating with the Ministry of Law and Supreme Court of Singapore for the visits to their government offices.
When asked how will their participation in the legal camp contribute to their law studies and to the greater community, Flores answered: "This will be a great help in understanding how these ASEAN Integration laws play into the dynamics of Philippine Criminal Law, Labor Law, Tax, Corporate Law, and more so with our Private International Law. To be chosen as one of the delegates is really a huge responsibility and there is this great expectation for us to share the lessons, not only to our fellow law classmates and schoolmates but to our fellow citizens."
Flores added: "Given the political landscape of our country today, it is crucial that we have to be adamant in gradually providing an education that is clear and, of course, factual to our fellow Filipinos about these regional concepts of laws and treaties."
For Daba, his participation in the legal camp fuels his preparations for his review classes.
"Becoming a lawyer is a requisite to every opportunity that will be presented in the event," he said. "By looking at the trends of legal practice in the ASEAN region, it will help me better chart the course of Bots Legis as a source of common legal information for the masses."
The ASEAN Legal Camp is organized by the Association of Law Students of the Philippines, a national federation of over 60 law student governments across the country (Xavier University - Association of Law Students being one of the members), recognized by the Supreme Court as the student counterpart of the Integrated Bar of the Philippines (IBP). This camp is in partnership with the Legal Education Board, IBP, Divina Law, and the Asian Law Students Association of Singapore.∎