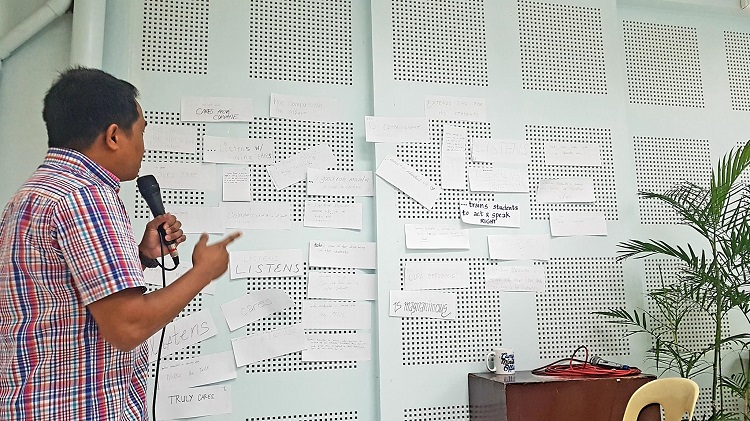 REFLECT. XUJHS chaplain Fr Errol Nebrao SJ reads the class moderators' answers to "An Ignatian moderator is someone who...?" Supplied photo.
CAGAYAN DE ORO CITY, Philippines — Aimed at strengthening their foundation on Ignatian Spirituality, the XU Junior High School (XUJHS) class moderators underwent a training called "Reflecting, Gearing, and Learning Together" from June 4 to 6.
Organized by the XUJHS Formation Council and led by the JHS Guidance Center, the training was also an avenue for developing effective strategies and techniques on dealing with students with special needs and revisiting various formation modules to be delivered during homeroom sessions.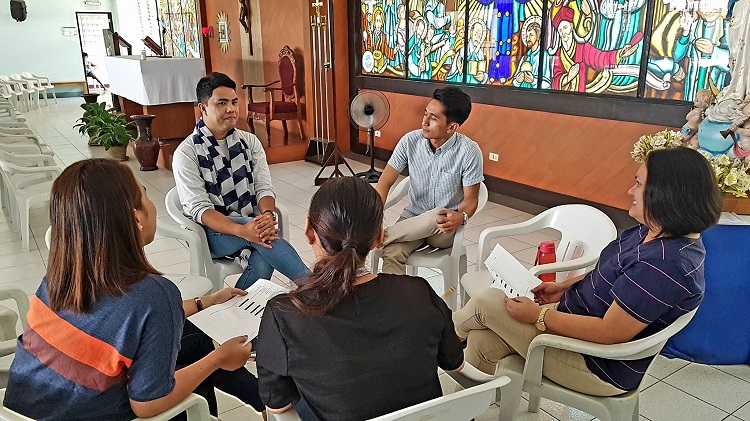 MODERATORS. XUJHS class moderators evaluate their Ignatian moderatorship and share their scores with their assigned groups. Supplied photo.
Ignatian moderatorship
XUJHS chaplain Fr Arthur William Nebrao SJ presented a framework to the participants on how to be an Ignatian moderator. He started by sharing the characteristics of Jesuit education and how it translates to the mission and vision of Xavier Ateneo as an academic institution.
In his framework, Fr Nebrao specified six areas that define an Ignatian moderator, namely, (1) magis (a philosophy of excellence), (2) cura personalis (care for the whole person), (3) being a man or woman for others, (3) being a forming and educating agent of change, (4) union of mind, heart, and soul, and (3) offering everything for the greater glory of God.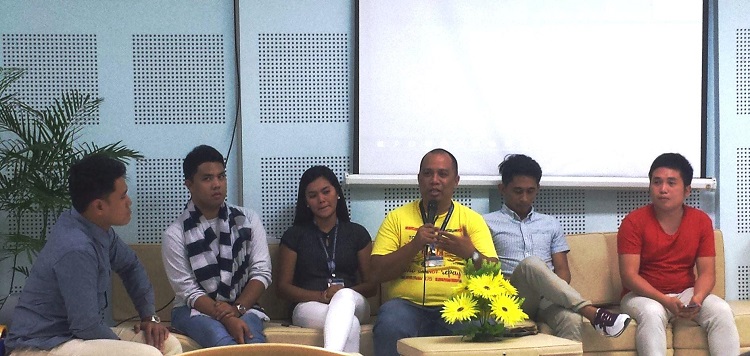 REFLECTION SHARING. Select class moderators (R-L) Renan Agad, Bonifacio Tariga Jr, Ryan Mañus, Kristina Sancebutche, and Jeffrey Velasco share their ways and strategies in conducting individual consultations with their students in informal and/or formal way. Jet Hokin Paclar (leftmost) serves as the facilitator of the sharing. Supplied photo.
"While the values seem to be elusive, it is comforting to know that we have somehow practiced being an Ignatian moderator in our own way," shared moderator Jeffrey Velasco.
Kate Ebonia, another moderator, said, "[Fr Nebrao's] discussion has lessened our anxieties in being a class moderator."
At the end of the first session, Fr Nebrao shared on "The Examen" as a tool that helps Jesuits, like him, to be grounded and spiritually connected. He encouraged the moderators to pray "The Examen" to guide them during tough times and for them to find Christ amidst their experiences.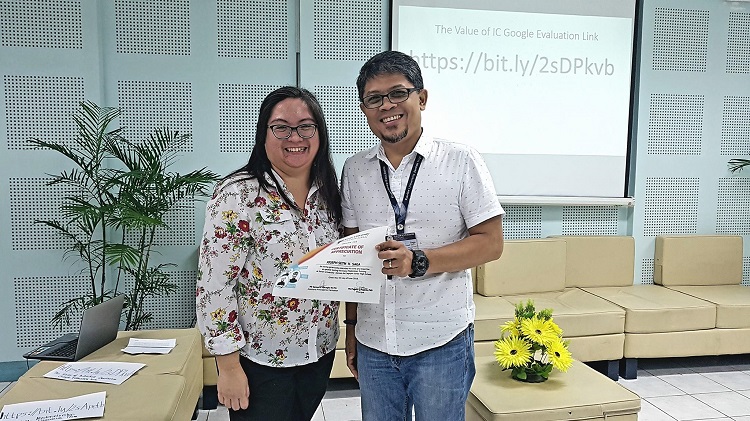 TRAINING. XUJHS guidance coordinator Faith Yatoc (left) gives the certificate of appreciation to XUJHS prefect Joseph Seth Saga (right) for sharing his expertise on "Individual Consultation - A Basic Tool for Class Moderators" during the first day of the training. Supplied photo.
Individual consultations
XUJHS prefect Joseph Seth Saga, for his part, shared on the importance of individual consultations (ICs).
"After all, the curriculum should be centered on the person rather than on the material to be covered," Saga said. "The teacher must accompany the learners in their growth and development."
Moderators Jeffrey Velasco, Ryan Anthony Manus, Renan Agad, Bonifacio Tariga Jr, and Kristina Sancebutche shared their experiences on handling ICs.
Select students also shared their IC experiences, particularly on how the consultations have helped them cope with the demands of academic work and resolving personal issues.
Members of Dulaang Pilipino (DULAPI), a theater group from XUJHS, simulated ICs where moderators got to see some ways to improve their practices.
"When you listen, we allow stories to consume us," moderator Bonifacio Tariga Jr said. "We listen with loving ears, but let us not make their stories consume us."
For Ryan Anthony Manus, moderators need to have a strong sense of spirituality in their ICs with students, while Kristina Sancebutche reminded them to build connections and trust.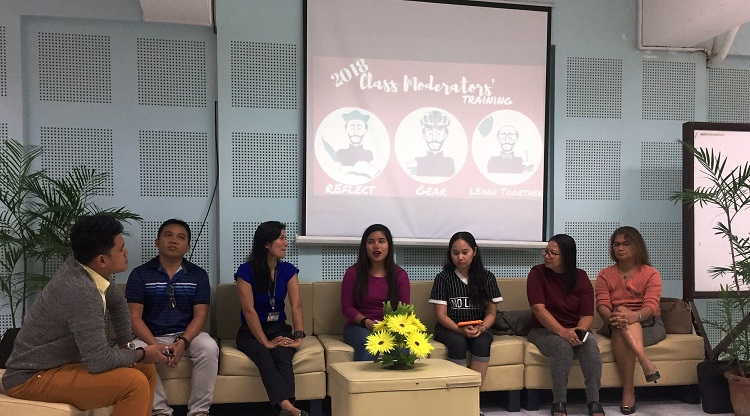 MODERATORS. Four class moderators Danny Zapanta, Jonalie Echavia, Rugill Karla Ferrer, and Ma Katerina Janubas share their personal experiences last school year on handling students with special needs, while Dr Elinessa Abamonga (second from right) and Dr Mia Phoebe Ajo (rightmost) from the School of Education give their inputs per sharing. Supplied photo.
Handling students with special needs
With regards to students with special needs and concerns, Dr Elinessa Abamonga and Dr Mia Phoebe Ajo from the School of Education, together with JHS guidance coordinator Faith Yatoc and JHS Testing, Admissions, and Scholarship (TASO) officer Maria Angeli Pacamalan, analyzed various cases encountered last year by the moderators.
Handling various developmental disorders, like Aspergers Syndrome, and special cases, like suicidal tendencies and anxiety disorders, were discussed in length to help moderators understand what happens to a child under these circumstances. Doctors Abamonga and Ajo also presented ways on how teachers can effectively deal with these cases.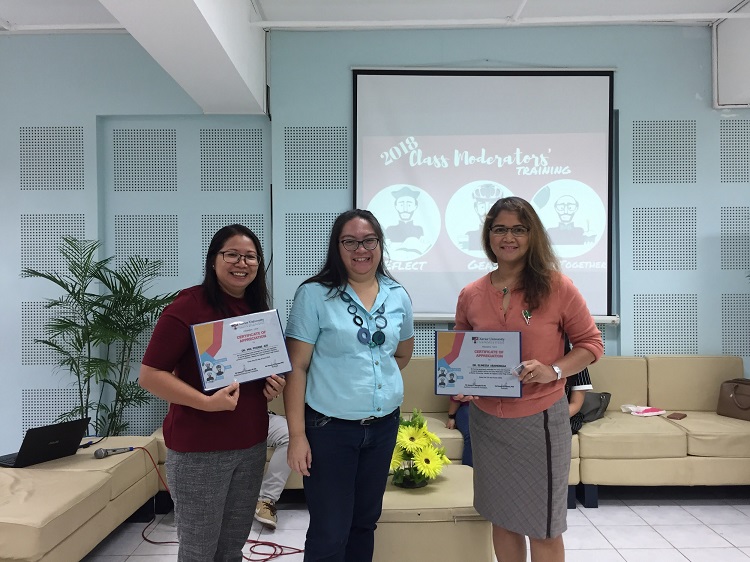 GEARING TOGETHER. XUJHS guidance coordinator Faith Yatoc (center) presents the certificates of appreciation to the resource speakers of handling students with special needs from the School of Education, Dr Elinessa Abamonga (left) and Dr Mia Phoebe Ajo (right). Supplied photo.

Other concerns raised during the training included the importance of the diagnosis of medical professionals and the Magna Carta for People with Disabilities.
As a synthesis of the program, XUJHS assistant principal Samuel Macagba III said: "Our way of dealing compassionately with these kids is a concrete manifestation not just of cura personalis but also of our magis. We are extending our efforts to accommodate the many needs of our learners while equipping ourselves to make sure that we provide the best care for our students."∎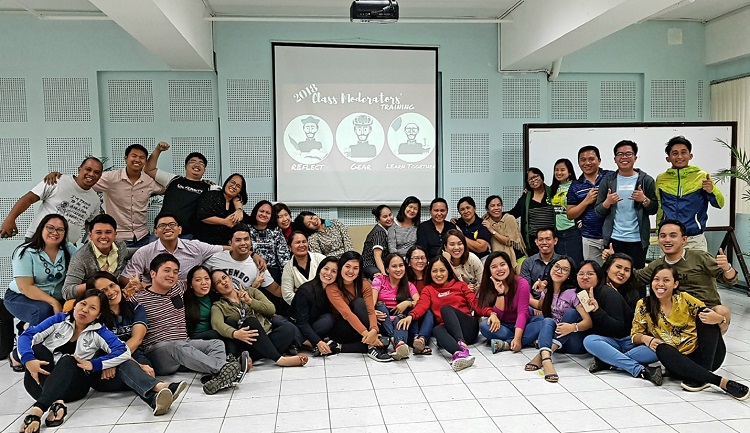 LEARNING TOGETHER. The XUJHS class moderators strike a barkada pose after their three-day training. Supplied photo.