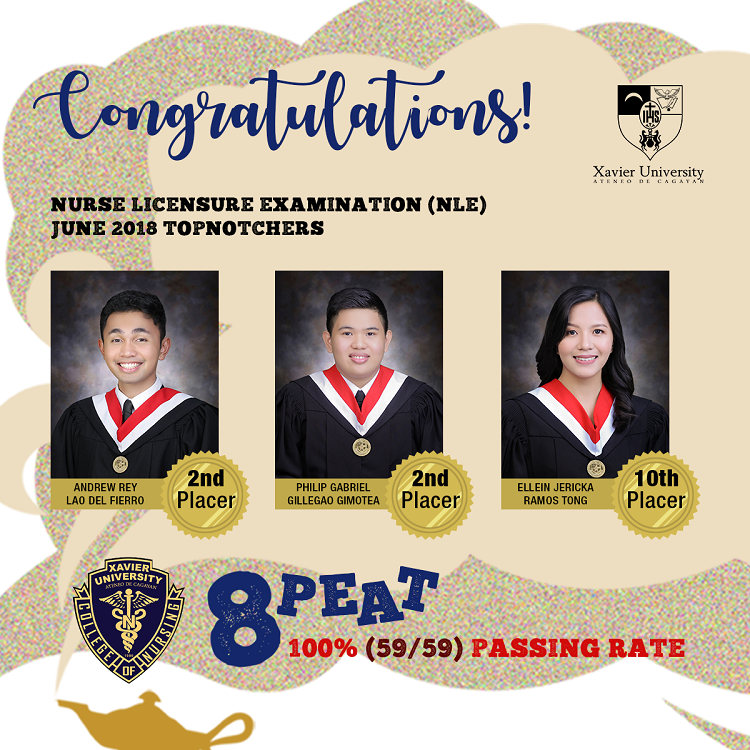 For eight consecutive Philippine Nurse Licensure Exams (PNLEs), Xavier University - Ateneo de Cagayan's College of Nursing has maintained its streak of garnering a 100% passing rate.
Xavier Ateneo Nursing ranked one of the three top performing schools in the country in the June 2018 PNLE after all its 59 takers passed the board exam.
Three XU passers also secured spots in the Top 10: Andrew Rey Lao Del Fierro and Philip Gabriel Gillegao Gimotea shared in the Top 2 with 87.20%, while Ellein Jericka Ramos Tong ranked 10th with 85.40%.
"We thank once again, dean Dr Ramona Heidi C Palad, faculty, and staff of the College of Nursing for the superb guidance and steadfast support they provide our students," said Xavier Ateneo president Fr Roberto C Yap SJ.
He added: "Congratulations to our new Xavier Ateneo nurses! Pope Francis has said that 'The role of nurses in assisting the patient is truly irreplaceable. They touch the sick like Jesus, making them experience the closeness and tenderness of God.'"
The Professional Regulation Commission (PRC) announced Tuesday, June 19, that only 4,326 out of 9,873 (national passing rate of 43.92%) takers passed the exam administered by the Board of Nursing in the cities of Manila, Baguio, Cagayan de Oro, Cebu, Davao, Iloilo, Legazpi, Lucena, Pagadian, Tacloban, Tuguegarao, and Zamboanga last June 3 and 4.∎
For the complete list of June 2018 PNLE passers, pop over here.