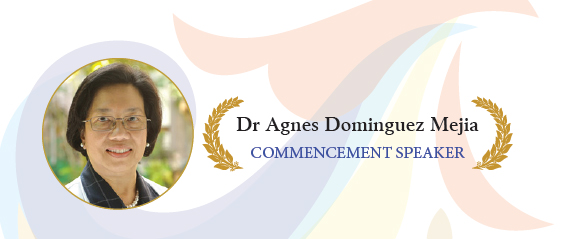 DR AGNES DOMINGUEZ MEJIA
DEAN, UNIVERSITY OF THE PHILIPPINES COLLEGE OF MEDICINE
SPEAKER, 32ND JPRSM COMMENCEMENT EXERCISES
Xavier University - Ateneo de Cagayan
23 June 2018
"It is often said that life is a journey," her speech began. "Yet, oftentimes, we fail to appreciate that this is so — caught as we all are in the web of day-to-day concerns at home, in school, at work … or on Facebook. We need to be alert to — and grateful for — those rare opportunities when we can pause to look back and cherish the people and circumstances that enabled us to get to where we are."
These profound words were the introductory remarks of Dr Agnes Dominguez Mejia on August 14, 2012, during her first formal address to the University of the Philippines College of Medicine community as the Dean. "The curious thing about life journeys is that we can never be absolutely sure of our destination. We may aspire for certain things that, in the end, do not turn out to be meant for us."
She asked, "Was the Deanship meant for me?"
More than five years since her installation as the head of one of UP's flagship colleges, Dr Agnes remains a vital figure in the medical education in the Philippines and a true inspiration to all aspiring doctors.
"That preparation began — without my knowing it — 40 years ago right on this [UPCM] campus. I was an ordinary student during my 1st and 2nd years in med school. I found my wings, so to speak, on my 3rd year when the clinics exposed me to the varied faces of humanity," she recounted. "That's when I first internalized the value of compassion and how this infused meaning to our chosen vocation."
Dr Agnes finished Medicine in 1977 and ranked 6th in the Physician Board Exam of the same year. She completed her BS Pre-Med, cum laude, at UP Diliman in 1973.
From 1979 to 1980, she was doing her residency in Internal Medicine at the UP-Philippine General Hospital, the biggest hospital in the country and designated as the National University Hospital. Dr Agnes went on to do her three-year fellowship in Nephrology at the University of Cincinnati Medical Center from 1982 to 1985 and another three-year fellowship in Hypertension at the University of Michigan Medical Center from 1986 to 1989.
Upon her return to the Philippines in 1990, she was welcomed back with open arms and tight hugs by her Filipino mentors — among them, Dr Ramon Abarquez, Dr Greg Patacsil, and Dr Ernie Domingo — all notable names in medical education and profession.
She shared: "They showered me with roles to choose from and a career to pursue. With their guidance, I learned to nurture equanimity. Rather than feel threatened or intimidated by brilliant or precocious minds, harness their talent. There will always be a place for everyone and, ultimately, you will all be peers."
Prior to her deanship, Dr Agnes served as the chairwoman of the Department of Medicine of UP-PGH from 2004 to 2012. For her, the past eight and a half years as the department chairwoman constituted an extremely fulfilling period in her academic career. "The department was a world of its own, but we all managed to sneak out often enough to see the other side of life. The experience rekindled in my consciousness the power of passion: my own as a teacher at heart and that of all the other committed members of the department, who invested long hours of service for so little material returns."
Spanning nearly three decades of exemplary leadership in medical education, Dr Agnes serves in various capacities, including being a member of the editorial board of UP Press, member of the National Book Development Board, and president of the Association of Philippine Medical Colleges Foundation Inc since 2017. Her former positions included Nephrology Section head of UP-PGH (1992-1998), chairman of the Department of Adult Nephrology of the National Kidney and Transplant Institute (2002-2003), chairwoman of PSBIM & PSN Specialty Boards in 2004, chairman of LU6 Committee (2006-2008), and course director of the Annual Review in Internal Medicine (2009-2011).
Dr Agnes has also been the recipient of several national awards for her work in medical education. In 2017, she received the Gloria T Aragon Centennial Award for Most Illustrious Faculty. She was named the Outstanding Teacher Awardee in Clinical Science by the UP Medical Alumni Society in America (Missouri, Southern Illinois Chapter) in 2009, UPMAS Distinguished Alumna in 2015, and UPMAS Distinguished Teacher in 2008. In 2004, she received two accolades, namely, the Distinguished Teacher Award by the Philippine College of Physicians and the Special Award for Medical Education by the Philippine Society of Nephrology.
Beyond her prominence as a multi-awarded educator, there is one thing Dr Agnes values the most: family. She is a caring mother to her two girls Olia and Kittina, and son Jimboy, and a loving wife to husband Jimmy. Through all the chapters in her life, she said, her family has remained her magnetic north, grounding her constantly in the value of simplicity.
In her "Our Shared Journey of Enrichment" address, Dr Agnes left a striking reminder of the critical fork in the road during the formative years of aspiring doctors: "This is when we must discern whether what drives us to excel is the lure of financial rewards and social stature or a burning desire to serve and heal our community. I submit that only a journey that can enrich us in mind, heart, and spirit is worth embarking on; all other rewards would flow as a matter of course."
In recognition of her passionate commitment to excellence in academic leadership in the field of Medicine, selfless service and love for our Motherland and its peoples, and for being a commendable inspiration to all those who aspire to traverse the medical vocation in the Philippines and beyond, Xavier University - Ateneo de Cagayan is pleased and deeply honored to present Dr Agnes Dominguez Mejia as the commencement speaker for the Dr Jose P Rizal School of Medicine Class of 2018.
A profile by Stephen Pedroza