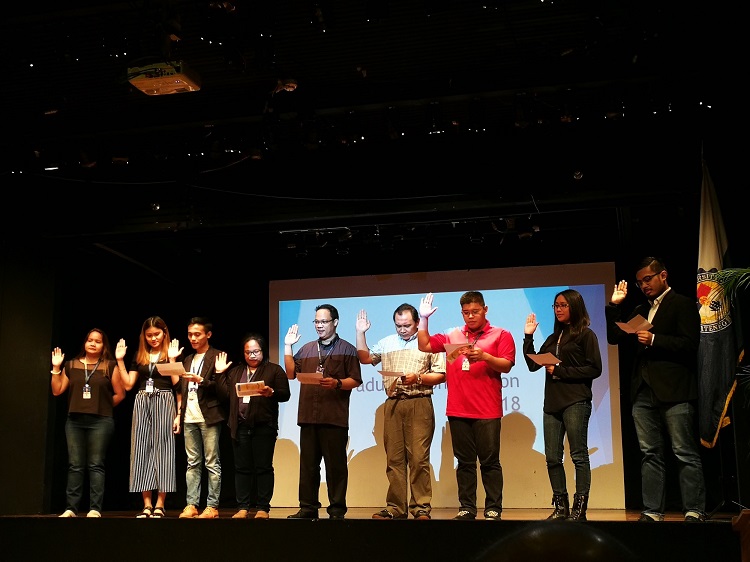 OATH OF OFFICE. This year's Graduate School Student Council officers take their oaths of duties and responsibilities at the convocation. Supplied photo.
By Angelo Lorenzo
CAGAYAN DE ORO CITY, Philippines — This year's convocation of the Xavier University - Ateneo de Cagayan Graduate School encouraged its students to pursue the goals of the institution, namely, (1) academic excellence, (2) holistic formation, (3) social engagement, and (4) global competitiveness.
Graduate School Student Council (GSSC) advisor Dr Libby Josephine Abesamis highlighted the four goals in her message during the Graduate School Convocation held at the XU Little Theater on Saturday morning, July 7.

"Xavier Ateneo offers the ideal Jesuit education experience," said Abesamis, who is also the Xavier Ateneo Senior High School assistant principal for administration and assistant administrator for the newly-opened Andrew L Gotianun Sr Center for Integrated Technologies (ALGCIT).
Coordinators of the graduate programs emphasized that the four goals will guide the students in fulfilling their purpose in their chosen fields of higher education. (See list of Xavier Ateneo Graduate Programs here.)
"We are having these activities for the mission of Xavier Ateneo," said Graduate School dean Dr Isaias Sealza.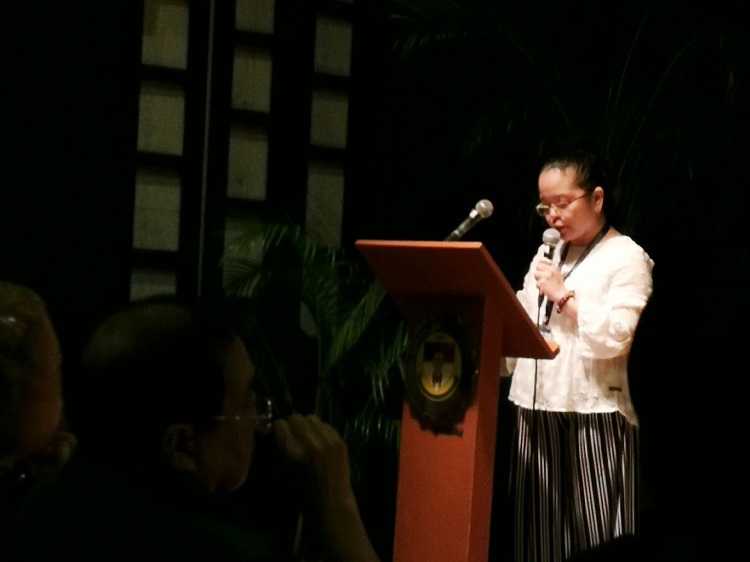 DEFINING THE GOALS. Graduate School Student Council advisor Dr Libby Josephine Abesamis relays to the graduate students the four university's goals. Supplied photo.
Means of accomplishments

Beyond the classroom walls, graduate students can accomplish these goals by participating in the initiatives conducted by the GSSC.
In his second term as council president after his re-election last June 30, Master in Public Administration student Laurence Ian Sumando shared GSSC's accomplishments from the previous academic year.

In partnership with JR Borja City Hospital and Red Cross, GSSC conducted a blood-letting activity in September 2017, where 20 individuals were able to donate blood.
To promote camaraderie in the Graduate School community, GSSC organized a Christmas dinner and sold customized shirts to raise funds for their social outreach.
The proceeds were donated to the Bureau of Jail Management and Penology for the welfare program dedicated to the lady inmates. Scholastic books (provided by GSSC's former auditor Kimroel Libutaque) were also distributed to the rescued minors at Boys Town. GSSC organized separate Christmas parties for the two groups of beneficiaries.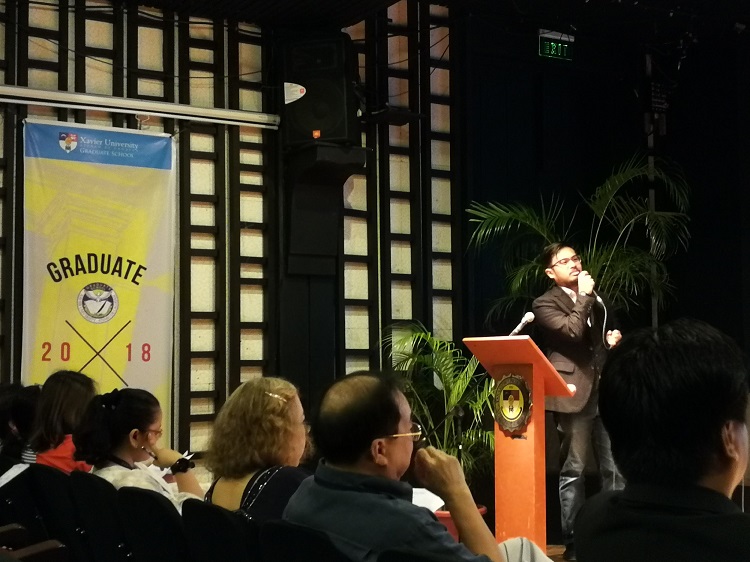 SECOND TERM. On his second term as Graduate School Student Council president, Laurence Sumando shares at the convocation the accomplishments done by his administration last academic year. Supplied photo.
GSSC organized a Christmas dinner for graduate students to raise awareness about their outreach. This year, the council looks forward to selling customized shirts to graduate students for a more inclusive fundraiser for similar initiatives.
"I want each program officer to be the colleague whom their classmates can look up to," Sumando said in his speech.
Graduate Health Programs coordinator Dr Agaton Panopio further encouraged the grad students to use their full potential in all spheres related to their studies.

"Think about what you would be doing in your courses," he said. "As you graduate, please remember the four goals."∎
* * * * *
Formulated by the Higher Education Council and endorsed by the President's Council and the University Forum, the Board of Trustees has approved the University Goals which complete the triptych of Xavier Ateneo Vision-Mission-Goals.
Academic Excellence
To develop the knowledge, skills, and attitudes required for a solid and interdisciplinary foundation in the arts, sciences, and humanities; and apply these to solve problems, consider, and make new discoveries, verify and expand existing knowledge, and be effective and responsible professionals.
Holistic Formation
To educate the heads, hearts, and hands of men and women who will serve the faith, promote justice, dialogue with cultures and religions, and care for creation, our common home; while upholding the Ignatian values of magis, cura personalis, and finding-God-in-all-things.
Social Engagement
To form men and women for others, who possess a deep sense of leadership and service characterized by discerning and concrete engagement in social issues and by direct service to communities, especially for the poor and those in the peripheries; working towards peace and justice for the inclusive and sustainable development of Mindanao, the Philippines and the global community.
Global Competitiveness
To educate lifelong learners who will continue to equip themselves with competencies that will enable them to work and compete in other knowledge-based economies and societies; allow them to thrive in different countries with people of diverse cultures; empower them to successfully transition into global citizens and avail of opportunities to actively shape a just and peaceful world.