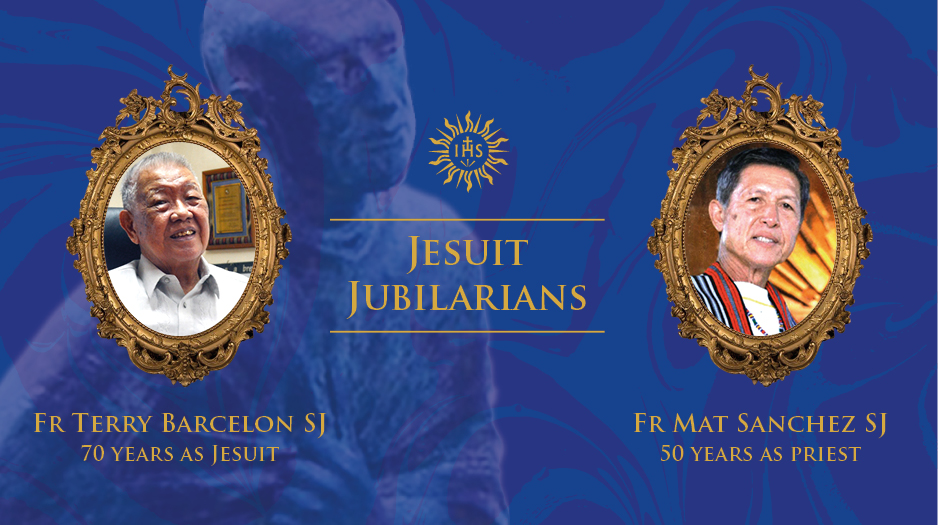 Profiles by Br Carlo A Lacang SJ
Photos courtesy of the Archives of the Philippine Province of the Society of Jesus
Jesuit anniversaries are occasions to thank the Lord for the gift of the vocation to religious life, a path that leads to greater service to God and the Church. These are moments that make us remember with gratitude the call of the King, heard by young men at different stages in their lives, summoning them to labor with their Lord in the manner of St Ignatius Loyola. Celebrating Jesuit anniversaries is celebrating the many lives that have been touched, blessed, and changed by the grace of Christ through the ministries of fragile but committed individuals. Ultimately, Jesuit anniversaries enkindle in the hearts of all the fire that has kept the Ignatian way of loving alive these past 450 years.
This year, two Jesuits are celebrating their anniversaries: Fr Emeterio "Terry" L Barcelon (70 years a Jesuit) and Fr Mateo "Mat" A Sanchez (50 years a priest).
Fr Emeterio "Terry" L Barcelon SJ:
A figure of apostolic vigor
Fr Emeterio Barcelon, or Fr Terry to his friends, has been a Jesuit for 70 years. At 90 years old, he is among the most senior Jesuits in the Philippine Province today. Although his physical faculties are not in as tip-top shape as before, Fr Terry continues to be active in his pastoral ministries as a priest.
One readily notices several remarkable things when one engages with Fr Terry in a conversation. First is his cheerfulness, which seems to swell from deep within him. It is very seldom for one not to find a smile on Fr Terry's face. Whenever he is in conversation, whether with a fellow Jesuit or an ordinary employee or a patient in the hospital, Fr Terry radiates joy and childlike enthusiasm. Second is his capacity to listen. His wealth of experience and wisdom does not prevent him from listening to others and learning from them. For about thirty years now, he has been meeting regularly (once a week) with a group of friends with whom he discusses contemporary issues in the fields of politics, business, and spiritual wellbeing. Life never ceases to offer us new insights, he would often say. Third is his undying passion for the mission. One would think that, given his age and breadth of achievements as an educator and an authority in the field of microfinance, Fr Terry would happily rest on his laurels. On the contrary, his new ideas and fresh energy continue to push him to dream like Ignatius did. His eyes dance every time he talks about Mindanao and its economic potential of offering better lives for its people. The dynamism and range of his interests are gleaned from his weekly column in a national paper. His holy restlessness, if one can call it that way, is almost comparable to the spirit that characterized St Francis Xavier's missionary endeavors.
Entering the Jesuit Novitiate in Novaliches in 1948 after a year of seeing the world with his poet-father, Fr Terry brought with him good memories of Jesuit teachers and friends from his pre-war years at Ateneo de Manila which was then in Intramuros. In 1961, he was ordained a priest by Bishop Francis D Keough of Maryland, USA. Back then, because the Philippines was still under the New York mission, Jesuit seminarians were sent to the United States to study Theology there. Fr Terry stayed in America for several years, in between brief assignments in Ateneo de Manila, to earn graduate degrees in Business Administration and to go through Tertianship, the final stage in the formation of a Jesuit.
Returning to the Philippines in the late 1960s, Fr Terry devoted himself generously to the assignments that were given to him. From 1969 to 1974, he was a professor at the Asian Institute of Management in Makati, and a senior fellow at the Development Academy of the Philippines in Tagaytay from 1973 to 1993. From 1974 to 1986, he was the president of Ateneo de Davao University (ADDU) and concurrently, the president of Davao Medical School. He led the construction of nine new buildings during his leadership stint in ADDU and stirred the university to greater heights in academic excellence and social development.
After his assignment in Davao, Fr Terry was transferred to Xavier University - Ateneo de Cagayan where he became the academic vice-president and, later, vice-president for special projects. For several years, after his "retirement" in 2008, Fr Terry continued to teach management and business courses to graduate students.
Fr Terry's work goes beyond the academe. In the early 1990s, he started to be involved with Mindanao Lumad and Muslim Development Center (MILAMDEC), a foundation that helps in the economic development of and job-creation for poor people and ethnic communities in Mindanao. He was instrumental in strengthening and expanding MILAMDEC to support more projects and serve more people. Presently, MILAMDEC engages in micro-finance, forestry, marine biology, community organizing, seaweed processing, local leadership training, Nature Farming Technology System, and the work with disadvantaged children.
On top of all these, Fr Terry is, most importantly, an inspiring figure among those who have had the privilege of knowing him or working with him. He continues to be a figure of apostolic vigor. Truly, he is a son of St Ignatius Loyola and St Francis Xavier.∎
Fr Mateo "Mat" A Sanchez SJ:
An ardent lover of Bukidnon
Fr Mateo Sanchez, a beloved formator and missionary to the Indigenous Peoples in Bukidnon, is celebrating 50 years of priesthood. A Jesuit for 63 years, this saintly man is revered among younger Jesuits, diocesan clergy, and lay partners for his fatherly love and example.
A living embodiment of the Ignatian value of "cura personalis" (care for the whole person), Fr Mat's soft-spoken ways and kind demeanor make present the compassionate spirit which enabled St Peter Faber to guide and form souls. At 85 years old, Fr Mat still travels alone, goes to his beloved Bukidnon via public transportation, enjoys fiesta food, and regularly facilitates 30-day retreats for seminarians.
Fr Mat was born in Masbate and grew up in a large family. His academic potential brought him to the University of the Philippines (UP) Diliman where he finished college with a degree in Botany, magna cum laude. Few people know that in the 1950s, when the collegiate games were not yet televised and were not yet as popular as they are today, Fr Mat played for UP as a volleyball varsity player. Being a star athlete, younger Jesuits often joke Fr Mat, is a distinction he shares with St Francis Xavier who was himself a track-and-field varsity player during his college years. It was in UP where Fr Mat first met one of his Jesuit models, Fr John Delaney, who was then the charismatic chaplain of the UP Catholic community.
Fr Mat entered the Jesuit Novitiate in Novaliches after his college graduation. He took up Philosophy at Berchmans College in Cebu City and then did regency work at the San Jose Seminary in Quezon City. In 1968, he was part of the first batch of Filipino Jesuits who were ordained in the Philippines, at the Loyola House of Studies in Ateneo de Manila. Their ordaining prelate was no less than then-Archbishop of Manila Rufino Cardinal Santos. The iconic photo of the four newly ordained Jesuit priests was featured in some local newspapers and magazines during that time.
Fr Mat took up further studies in Botany, earning a master's degree from UP Los Banos. This came in useful for his four-year assignment at Xavier University - Ateneo de Cagayan's College of Agriculture where he was not just professor but also confessor and spiritual companion to students and teachers. His gift for nurturing life was not confined to plants, as later on, with his training in spirituality from the famed Sadhana Institute of Fr Anthony de Mello in India, Fr Mat was given a series of assignments that allowed him to take of souls. For 13 years, Fr Mat was the Master of Novices at Sacred Heart Novitiate. During this period, he was instrumental in the formation of the hearts and hands of numerous generations of Jesuits, many of whom are currently holding key positions in the Philippine Province. His next assignment brought him to St John Vianney Seminary in Cagayan de Oro where, for seven years, he was a spiritual father to many diocesan seminarians, many of whom are now holding important pastoral positions in their respective dioceses, including several bishops in Mindanao.
His longest assignment was in Bukidnon where, for almost two decades, he was a compassionate and caring pastor to many communities in Cabanglasan, Zamboanguita, Miarayon, and the Jesuit Retreat House in Malaybalay. He ministered to Lumad communities and was so loved that he was treated as one of their own, often the mediator of inter-tribal conflicts. He travelled to chapels on horses or by foot to reach far-flung places that seldom got to celebrate the Eucharist. A whole generation of children owes their baptism and growth in the Christian faith to Fr Mat. Many of the vocation promotion posters that display missionary work in Mindanao feature Fr Mat in action, always with a warm smile on his face.
To this day, Bukidnon is close to Fr Mat's heart, just as he is close to Bukidnon's heart — for such is the way a true missionary's heart beats.∎