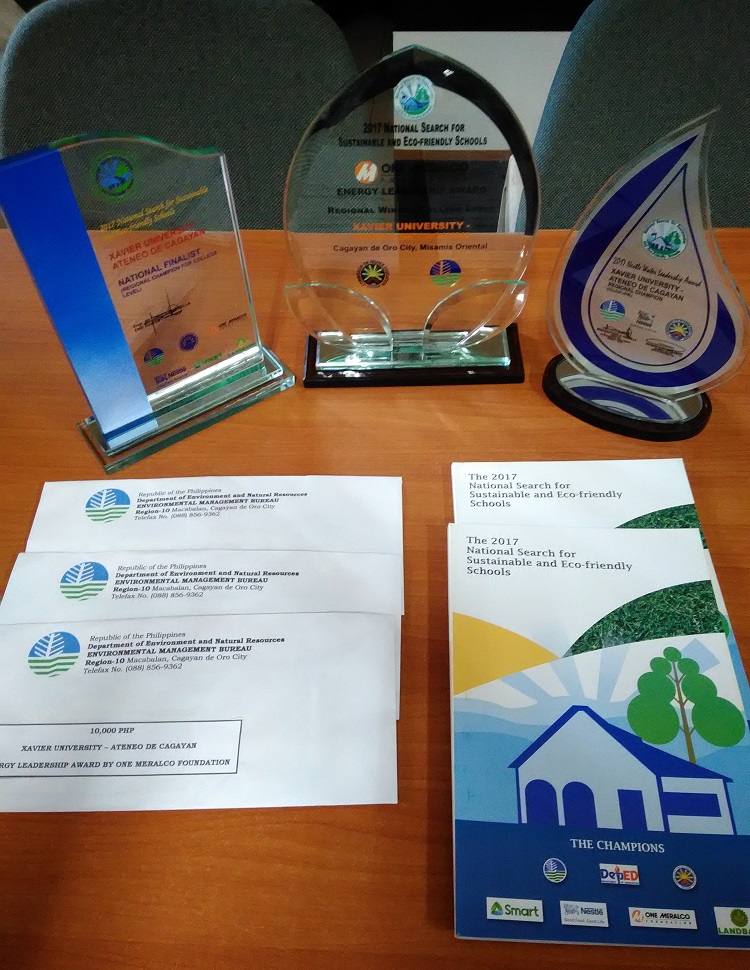 The Department of Environment and Natural Resources (DENR), through the Environmental Management Bureau (EMB), has recognized Xavier University - Ateneo de Cagayan as one of the "Sustainable and Eco-Friendly Schools for 2017" in the country for "initiating and integrating in instruction, research, extension, and administration, programs which are environment-related in nature."
For the college level, Xavier Ateneo received three plaques and cash prizes for being the Regional (Northern Mindanao) Champion, Water Leadership Awardee from Nestlé Philippines, and Energy Leadership Awardee from One Meralco Foundation.
XU Grade School (Macasandig) also won the Energy Leadership Award (Elementary Level) from One Meralco Foundation with a cash prize of Php10,000.
The National Search for Sustainable and Eco-Friendly Schools was launched in 2009 in support of the Republic Act 9512 (The National Environmental Awareness and Education of 2008) under the National Environmental Education Action Plan for Sustainable Development.
The said search cited the university's environmental efforts in the following areas: waste management, water conservation, electricity conservation, paper conservation, pollution prevention, and greening program.
Aside from the presence of waste segregation bins, a Materials Recovery Facility (MRF), and a vermicomposting facility, the university donates plastic recyclables to the Villar Foundation, which will be turned into school armchairs. Different student organizations are also pushing for a "strawless university" campaign.
To mitigate pollution, policies on non-smoking and prohibition of the entry and use of Styrofoam materials (expanded polystyrene) are strictly implemented in its campuses.
The university is also home to different trees such as palms, narra, molave, and mahogany, among others. Each campus also maintains their own gardens and energy-saving programs.
Representatives from Xavier Ateneo also sit in various city and regional environment-related policymaking bodies. University president Fr Roberto "Bobby" C Yap SJ, being an example, serves as the chairman of the Cagayan de Oro City Solid Waste Management Board.
As a Jesuit university, Xavier Ateneo participates in the mission of the Society of Jesus to reconcile with God, with others, and with creation. Embedded as one of its four university goals, the school, through holistic formation, aims "to educate the heads, hearts, and hands of men and women who will serve the faith, promote justice, dialogue with cultures and religions, and care for creation, our common home; while upholding the Ignatian values of magis, cura personalis, and finding-God-in-all-things."∎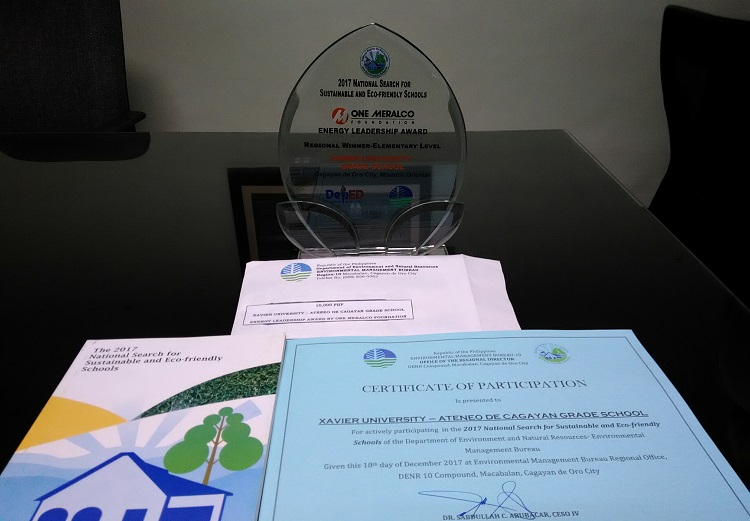 ENERGY LEADERSHIP. Xavier University - Ateneo de Cagayan Grade School (Macasandig) is the recipient of the Energy Leadership Award (Elementary Level) from One Meralco Foundation as part of the National Search for Sustainable and Eco-Friendly Schools. Supplied photo.