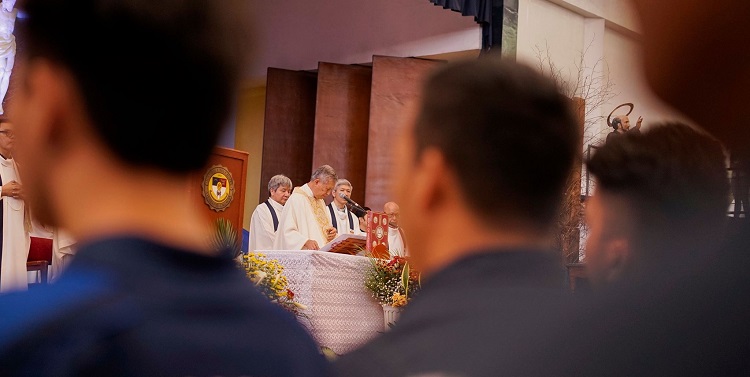 This is the complete text of the homily of this year's jubilarian Fr Mateo Sachez SJ (50 years a priest), delivered during this year's Blue Mass on July 30 at the XU Gymnasium, in celebration of the feast day of St Ignatius Loyola, founder of the Society of Jesus. Photo by Jinky Mejica of The Crusader Publication.
"Hear then, I have today set before you, life and prosperity, death, and doom…. Choose life then, that you and your descendants may live by loving the Lord, your God, heeding his voice and holding fast to him (Deuteronomy 30: 15-20)."
In this choice God sets before every man, St Ignatius of Loyola is an outstanding example of a man who chose life and this has made all the difference in his life. I need not recall the great achievements of this saint which had stood the test of time all these 400 years, like the foundation of the Society of Jesus, the Jesuit educational system and the missions. However, I would like to share with you St Ignatius' great legacy of his method of choosing or discerning the will of God, which helped him and thousands of people from his time to the present, and not just Jesuits but other priests, religious and lay as well.
St Ignatius discovered this method of choosing or discerning God's will not from books or instant Spiritual revelation,
but by experience, through trial and error.
He claimed God as his spiritual guide in this.
Those of you who saw the movie Ignacio de Loyola (2016) would recall that scene during his convalescence from a broken leg hit by a cannonball in a battle, how Ignatius was forced to read books on Christ and the saints, in the absence of stories of adventures he was fond of reading. But then while reading those books, he experienced strong feeling and emotion of a great desire to do what the saints did and to follow Christ. However, he had not quite given up his old desire to make a great name for himself through military exploits and courting a high-born lady. But he noticed a big difference between these two desires of his. His consideration of his worldly desires made him sad and restless while the consideration of his desire to follow Christ and the saints continued to bring him peace and joy.
From this experience, St Ignatius discovered the important role of our feelings and emotions in discerning the will of God. This discovery would later be confirmed by his many spiritual struggles, during a year's stay in Manresa, his trip to the Holy Land, his decision to study for the priesthood at the age of 33, his studies in Spain and later in Paris, his attempt to organize a group, the first of which failed, but the second succeeded to become the present Society of Jesus and many other experiences.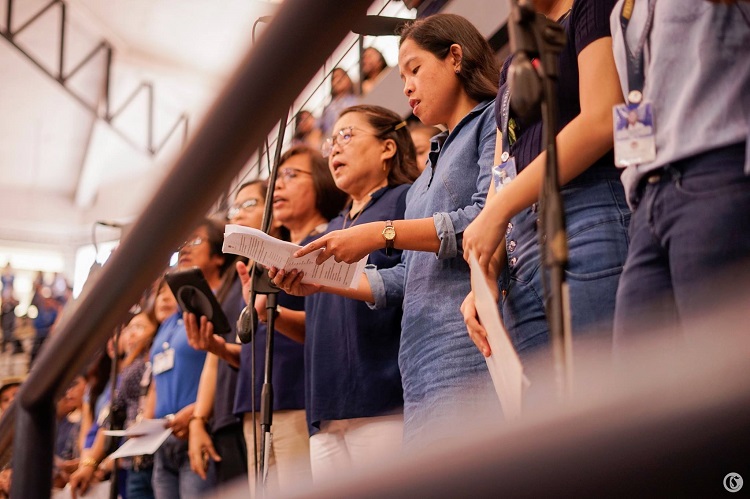 CHORALE. Members of the Xavier Ateneo Chorale perform during the Blue Mass 2018 held at the XU Gymnasium. Photo by Jinky Mejica of The Crusader Publication.
All these experiences in discerning God's will for him, Ignatius systematized in a retreat experience. This is the "Spiritual Exercises" which lasts for a month, which we now call the Long Retreat. Ignatius tells us that the aim of all the spiritual exercises we do in this retreat (five hours of prayer each day, mass, silence, spiritual direction by retreat guide, etc) is to rid ourselves of the inordinate attachments so as to find the will of God. It is not really that difficult to find the will of God. What makes it difficult is our inordinate attachments.
So what are inordinate attachments? Fr Anthony de Mello defines this as "our emotional clinging" to something or someone for fear that if we let go we will miss out on something important to us. Negative feelings of resistance and resentment result when we have to give up our attachments. There are three possible causes of these attachments. First is our divided self. St Paul cries out in his letter to the Romans: "Unhappy man that I am. The things I want to do I do not do. The things I do not want to do I do." We want contradictory things. We want everything. We want to have our cake and eat it too! The second is the worldly spirit around us such as the culture of individualism, corruption, and excessive desire for riches, prestige, and power. The third is the presence of the spirit of evil within us and around us tempting us to do evil things out of our self-interest.
Our inordinate attachments leave us unfree. So how do we rid ourselves of our "unfreedom." In the retreat experience, we ask for the grace to fall in love with Christ, to know and to follow him. When we love God we are ready to sacrifice everything. Here is a good example of love that can help us understand how love can help us rid ourselves of our attachments. Mary is so emotionally attached to her family, that the thought of leaving them to work abroad was just too much for her. But one day she finds herself in love with John. When John later asks her to marry him and go with him abroad she would readily accept. What about her love for her family? It is still there but there is a greater love that would sustain her.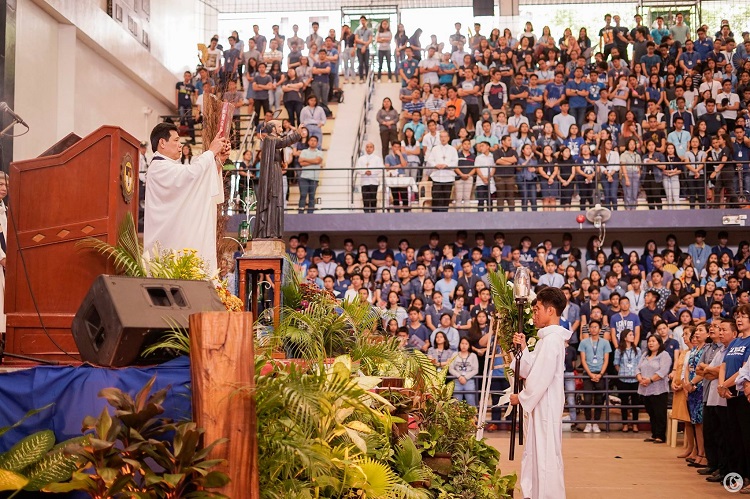 FOR IGNACIO. Loyola House Jesuit Community rector Fr Mars Tan SJ hails the Book of Gospels during the Blue Mass in honor of the feast day of St Ignatius Loyola, founder of the Society of Jesus. Photo by Jinky Mejica of The Crusader Publication.
What about those of us not making the long retreat. How do we get rid of our attachments? Ignatius suggests that we ask God for the opposite of what we are attached to. We call this in Latin, agere contra which means "to act against." By conditioning ourselves to let go of our attachment so as to let God, we will suddenly realize it is not the end of the world! Dili man diay kita mamatay!
Once freed from our inordinate attachments we can more easily find the will of God. Like I've already said our feeling and emotion are one important key to our discernment of God's will.
St Ignatius classified them into two categories which he termed consolation and desolation. Consolation describes the feelings that move us towards God and others. It is any felt increase in faith, hope, and love of God that leads to feelings of peace, serenity, joy. But it could also include feelings of sadness for sins and shortcoming which draws us closer to God. Desolation is the opposite. It consists of feelings that take us away from God towards the self. It is experienced as a troubled spirit, anxiety, restlessness, doubt, upset.
We should make our decisions associated with our feelings of consolation. In times of desolation, Ignatius cautions us not to make new decisions or change previous decisions. And yet many of us in moments of desolation, frustration and disappointment, anger and disgust, resign from jobs, break friendship and even marriages, or give in to all kinds of temptations. Instead, St Ignatius recommends more prayer, penance, and patience and to examine the possible cause of desolation. It is also good to seek advice from people we trust.
St Ignatius has systematized discernment with a set of rules which we cannot discuss in detail now. His method of discernment has stood the test of time and has remained effective until the present. But it is not only a method of making good decisions. It is even more a way of growing in our relationship with God, so that in all things we may love and serve His Divine Majesty, as Ignatius would say: In omnibus, amare et severe Domino.∎