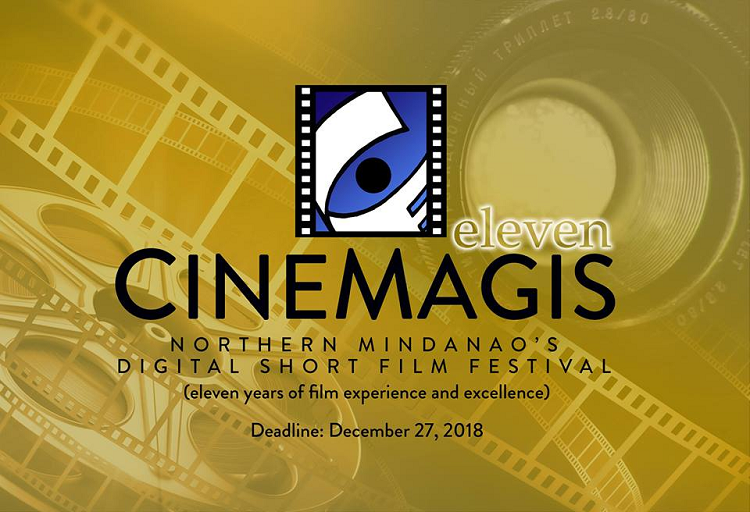 By Angelo Lorenzo
After celebrating a decade of nurturing Northern Mindanao-based filmmakers, the Cinemagis Digital Short Film Festival echoes its call for entries for next year's installment.
The 11th Cinemagis aims to strengthen its objective to celebrate the culture of cinema in Mindanao where issues perpetuate and aspirations thrive.
By providing an avenue where voices will be heard and images will be seen according to the lense of aspiring and professional filmmakers in the region and its neighboring communities, the film festival has made a legacy out of its cinematic achievements since it began in 2009.
Heroes in films
In 2019, the tradition will flourish. Cinemagis opens a new category that will focus primarily on heroes in Mindanao who will be portrayed in films.
Termed as Bayanikula, this category will feature "pi films" that contain narratives of heroes in Mindanao. These heroes may be the characters based on either epics and legends that originated in Mindanao (Hagiographic) or historical personalities who have exemplified valor in their communities and in the lives of others.
Pi films usually last for three minutes and 14 seconds in length (3:14). In 2016, the film festival had anchored over similar films that focused on the Ignatian values of magis (a philosophy of excellence), cura personalis (care for the whole person), pursuit for truth, and grounded on Pope Francis' encyclical Laudato Si.
As these values may still represent the characteristics of heroes - whether mythical or realistic - the Bayanikula [a combination of Filipino terms for hero (bayani) and film (pelikula)] category will advance the cause of featuring the rich culture and traditions of Mindanao that will be woven into cinematic narratives.
Patterned after the 2016 installment, heroic pi films will be listed under the competitive category (just like the student and professional categories).
However, these films - unique as filmmakers can be experimental - must not bastardize their source material or misrepresent Mindanaoan culture and heritage. This will matter in the selection process.
Vibrance of Mindanaoan short films
Besides the category for pi films, the anticipated film festival will be showcasing previous winning films in the non-competing Cinemagis Reloaded category. It will also feature short films from other Mindanaoan film festivals supported by the National Commission for Culture and the Arts in the Viva Mindanao Films.
Tanglaw, another program for the non-competing category, will also feature a full-length film by a Mindanao-based filmmaker.
The call for entries began in June this year and is slated to end on December 27, 2018. The film festival is projected to take place from January 23 to 26, 2019, with venues at the XU Little Theater, SM CDO Cinema, and SM Downtown Cinema.
Organized by the Xavier Center for Culture and the Arts, Cinemagis has become a household name for Northern Mindanao filmmakers for 11 years and counting.∎
For more information, interested filmmakers may inquire through Cinemagis' Facebook page or visit the XCCA office located at 3/F Museo de Oro, Xavier University, Corrales Avenue, Cagayan de Oro City.