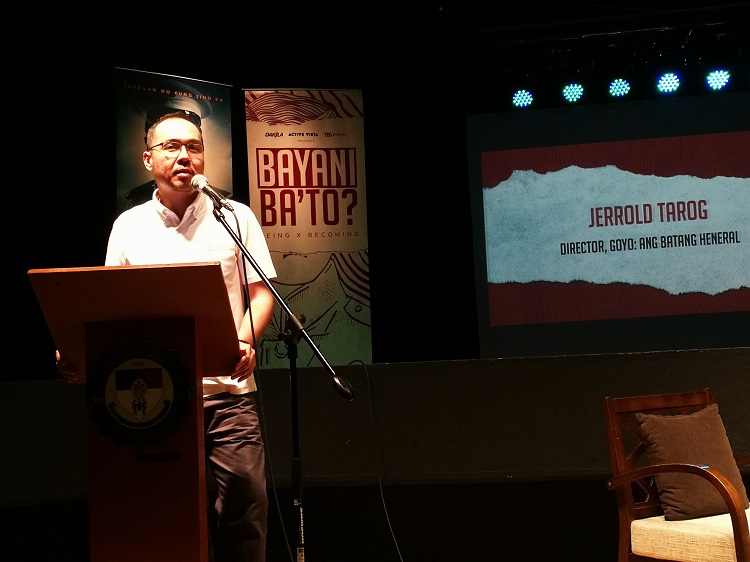 YOUTH IN HISTORY. "Goyo: Ang Batang Heneral" film director Jerrold Tarog shares about Gregorio del Pilar's triumphs during the Philippine-American War despite being a youth. He hopes for students to learn from the upcoming film and for educators to use it as an educational material to teach history.
Text and photos by Angelo Lorenzo
Jose Rizal's identity as a national hero may still raise doubts even though his sacrifice had contributed largely to the Philippine Revolution against Spain. But this might just be a thought that springs from questioning heroism as portrayed in history.
This was one of the many discussions tackled during the "Bayani Ba 'To?" forum at the Xavier University Little Theater on Wednesday (August 1, 2018). DAKILA, a collective of passionate and artistic individuals, initiated the event through the support of TBA Studios as part of their school tour to promote the upcoming film, Goyo: Ang Batang Heneral, a sequel to the 2015 biopic, Heneral Luna.
With the collaboration of Xavier Center for Culture and the Arts and Xavier Ateneo's History, International Studies, and Political Science Department, the forum provided an educational experience for students and the academe to view heroism in a new perspective.
As the initiative sought to redefine the representation and manifestation of heroes in mainstream culture for three years now, DAKILA encouraged participants to re-evaluate the individuals they look up to or their "idols."
Questioning the personalities of historic heroes, regardless of their legacies, involves critical thinking that will allow learners of history to see them in multiple points-of-view.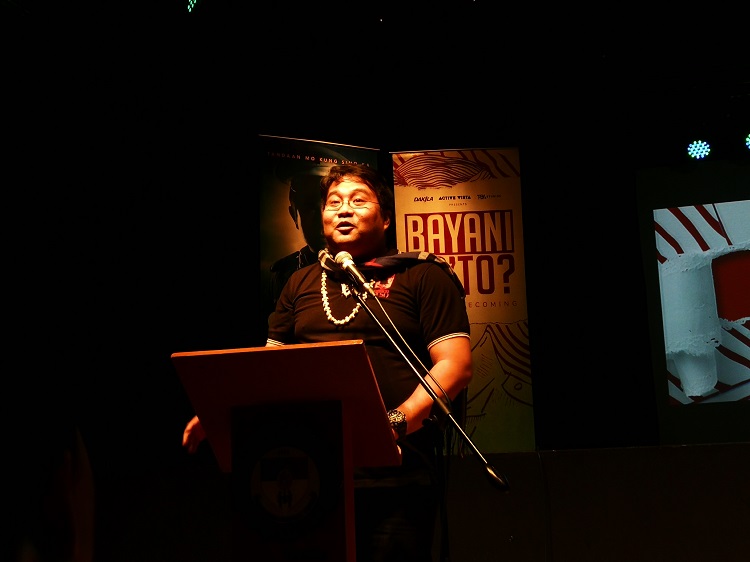 THINKING CRITICALLY. De La Salle University (Manila) and University of the Philippines Diliman's history professor Michael Charleston Chua encourages the participants to think twice about the heroes they revere and assess their legacies and flaws.
Heroism questioned
Was Rizal's sacrifice enough to constitutionalize his national heroism? This might be an open topic for debate, but Rizal was not the only one exemplified during the forum.
Prof Michael Charleston Chua, a historian and an educator from the University of the Philippines Diliman and De La Salle University, enumerated the known heroes of Philippine history, their noble deeds, as well as their flaws. From General Luna's short temper to Apolinario Mabini's alleged allegiance to the United States during the Filipino-American War, and Emilio Aguinaldo's decisions that led to heinous consequences, Chua noted that all these individuals, like the people who see them as messianic, were not entirely perfect during their time.
"We see what they have done for our country," Chua said, "but when they commit mistakes, we must not justify them."
But just as there had been heroes in the past, people still revere "idols" today. For Chua, this may pose a problem since the term denotes a negative meaning. This was explained further in the short film, Angelito which premiered during the forum.
Also directed by Jerrold Tarog, the film serves as the bridge between Heneral Luna and Goyo: Ang Batang Heneral. In one scene, one of Luna's soldiers who had escaped from Aguinaldo's troops explained the difference between an idol and a leader – the former being revered by followers who do not seek to question principles, and the latter being commended to inspire and influence the people being served.
"Admiration should be tempered with critical thinking," Chua declared. "When we have critical thinking, we venerate with understanding, not without understanding."
He posited that this thought process is essential in a country that practices democracy and recognizes the heroes who established it years ago. But, he noted further, this must be done by viewing people not through the literal lenses of good and evil but through their gray areas.
Critical thinking may lead to questioning the heroism of historical figures. Luna, Mabini, Aguinaldo, and even Rizal are not exempted. It can also allow people to discover more about what they have learned from history and to see themselves as capable of making the right decisions.
"Critical thinking can be one small step for you, but it can be a giant leap for a greater society and a better nation," Chua remarked.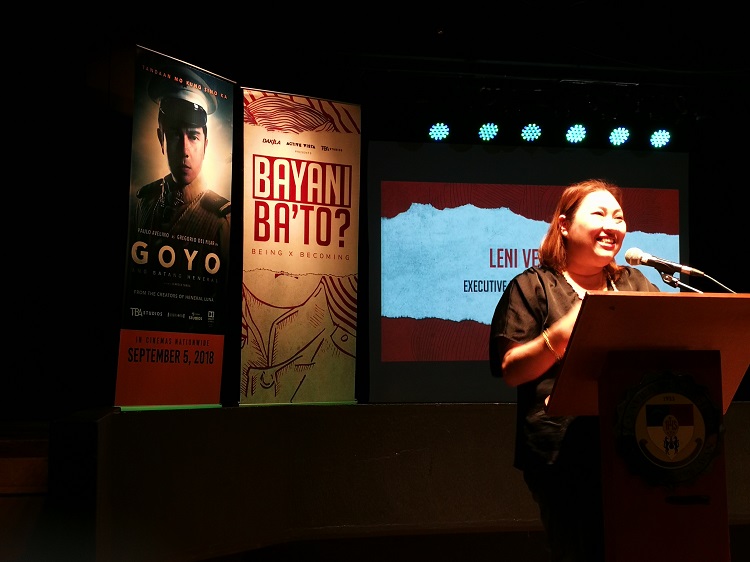 THE INNER HERO. DAKILA executive director and co-founder Leni Velasco advises students to seek their inner hero by knowing who they are and what they can do for the country.
Heroism rediscovered
One of Bayani Ba 'To?'s objectives constitutes raising awareness about social issues, their similarities in history and in the current generation, and empowering students to participate in a collective call for social transformation.
Depicted in the upcoming film Goyo: Ang Batang Heneral (which has been slated to release this September) are issues to which many students can relate. Although the revolution happened during the previous century, the titular character as a young adult (who had faced diverse political, social, and military challenges) reflects that the youth can become heroes of the country.
"It's about a guy who is not really different from all of you," film director Jerrold Tarog shared during the forum. "He was given a huge responsibility at the risk of losing everything, and he is forced to think about which is more relevant in his life."
Despite Gregorio del Pilar taking the reins of the revolution after the assassination of General Luna, Tarog stressed that the film is about "growing up."
Growing up can mean discovering "the self." Based on Chua's stance, thinking critically about issues that relate to the country might reveal one's inner hero.
DAKILA executive director and co-founder Lenie Velasco echoed this point.
"Finding heroism is not only remembering, but also learning from our [own] history," she said. "How can we move forward as a nation if we do not know our past?"
Velasco challenged the participants to identify their "being" heroes and to pursue "becoming" one – as the forum's tagline stated.
"The first step is to know who we are," she said.
This resonated with the Goyo's tagline, "Tandaan mo kung sino ka."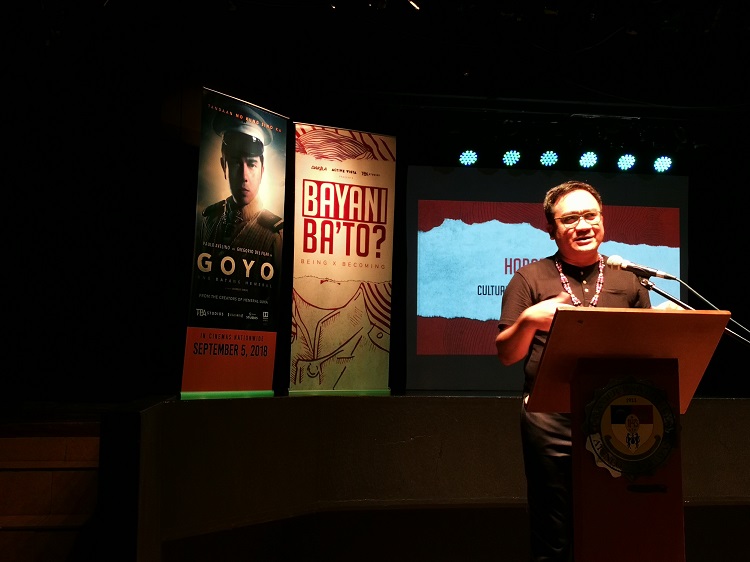 FILM DEPICTS TRUTH. Xavier Center for Culture and the Arts director Hobart Savior lauds initiatives where education uses art to inspire the academe to think critically in learning about history and heroism, and to think creatively in portraying truth and culture through artistic endeavors.
Films for education
Recollecting the birth of this initiative, XCCA director Hobart Savior shared that films can be used for educational purposes besides entertainment.
This was not the first time when DAKILA and XCCA worked together for this advocacy. In 2010, they founded the CinEdukasyon program to spearhead similar objectives.
"This is for a cause to build a better republic," Savior said.
Since they began this initiative when Heneral Luna was still being anticipated in the movie theaters in 2015, DAKILA's Bayani Ba 'To? forum continues to showcase films that present and integrate themes related to social, historical, and cultural realities.
This year, DAKILA collaborated with XCCA to provide opportunities for the academic communities to learn about these issues through films.
"Let us learn from history and move towards the necessary post-modern day heroism that will give us holistic formation of becoming genuine citizens of this country," Savior noted.
Luna, in Tarog's film, gave two options for present-day Filipinos to choose from: bayan o sarili (country or self)? With its sequel coming to theaters next month, viewers may soon find out which choice matters more.∎