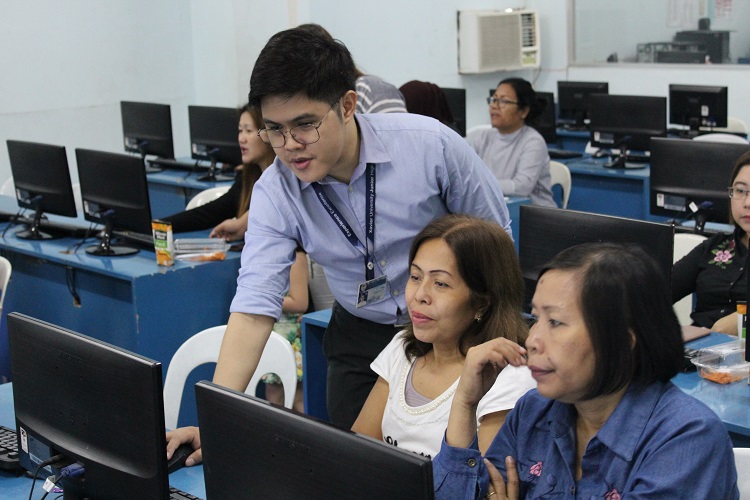 MICROSOFT EDUCATION. Xavier Ateneo Junior High instructional technology specialist Michael Dave Tan assists DepEd teachers to access the Microsoft Education Community portal. Supplied photo.
By Anito Librando Jr
CAGAYAN DE ORO CITY, Philippines — Xavier University - Ateneo de Cagayan Junior High School gathered 365 public elementary teachers from its Tulong Dunong (TD) partner schools to participate in the Microsoft Education Ambassadors Adopt-A-School Program last July 14 and 28.
"This collaboration was made possible through the support of our Tulong Dunong partner schools principals, coordinators, and teachers who had expressed interest in participating in a professional development training since the inception of TD years ago," shared Tulong Dunong coordinator Anthony Ryan Mañus.
Elementary school teachers from Camaman-an ES, Bayabas ES, Lumbia CS, Macanhan ES, Bulua ES, South City CS, West City CS, Sacred Heart Village ES and Fr William Masterson SJ ES were introduced to professional development opportunities through the Microsoft Educator Community (MEC).
Twelve Xavier Ateneo JHS faculty members who are Microsoft Education Ambassadors (MEAs) facilitated the training and provided inputs on innovative teaching methods.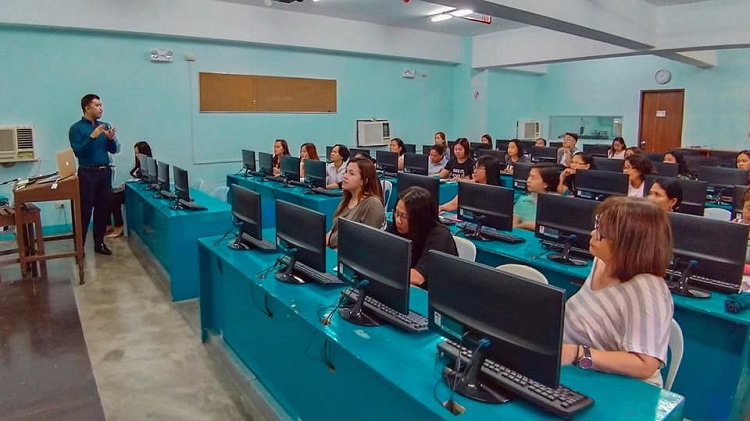 TRAINING OF TEACHERS. Microsoft Education Ambassador Jeffrey Velasco (left) facilitates the training of teachers from Lumbia Central School and West City Central School. Supplied photo.
"With Microsoft's Adopt-A-School program, we are able to reach out with various communities like our partner Tulong Dunong schools by providing them the training and materials on the proper use of technology for classroom instruction," said instructional technology specialist Michael Dave Tan.
During the program, XUJHS Microsoft Education Ambassadors conducted workshops on how to effectively use Microsoft productivity tools like Word, PowerPoint, Excel, Skype in the Classroom, and Sway.
"Teachers were also introduced to the Microsoft Educator Community where they can access unlimited professional development content and lessons on which they can use for their respective classes," Tan continued. "The MEC promotes global collaboration among students and teachers from different parts of the world."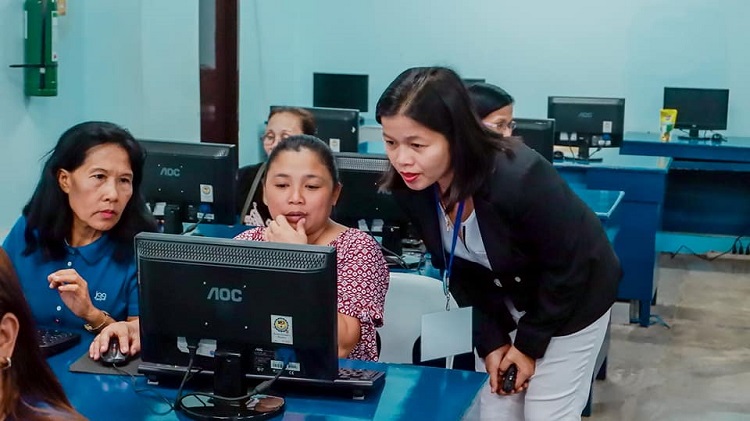 INTERACTION WITH TEACHERS. Microsoft Education Ambassadress Septuagin Salvador (right) interacts with teachers from Macanhan Elementary School. Supplied photo.
XUJHS assistant principal for formation Samuel Macagba III said: "The TD partner schools have been instrumental in the formation of our Grade 10 students. We believe that their contribution in making our students knowledgeable not just about the realities of the community around them but equipping them with the skills to be actual agents of change."
Macagba added: "Through this program, we feel that while our school is being provided with an enormous avenue for formation, we are providing them also the capacity to grow professionally in the process. This partnership is not only beneficial for our schools but a concrete contribution to improving the quality of education in our country, which we believe is within our reach when we work together."
At the end of the training, the participants generated and downloaded their own personalized digital certificates as Microsoft Innovative Educators (MIEs) via education.microsoft.com.∎
To know more about the Microsoft Educational Community, pop over to education.microsoft.com and sign up for free.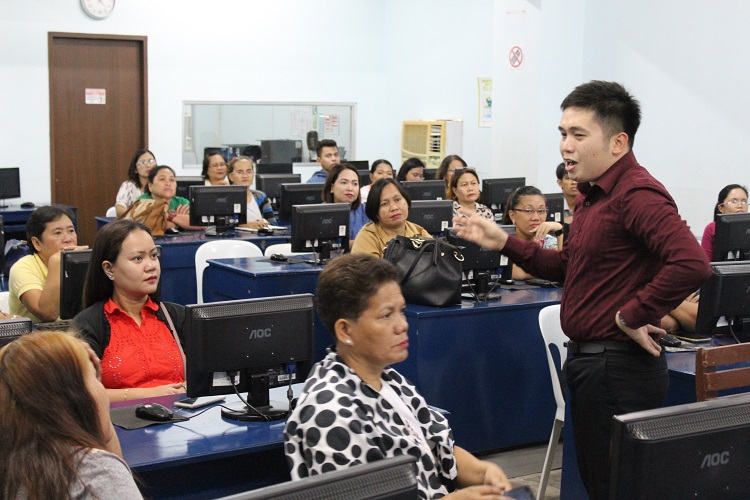 OFFICE 365. Microsoft Education Ambassador Renan Agad shows how teachers can maximize the use of Office 365 in the classroom. Supplied photo.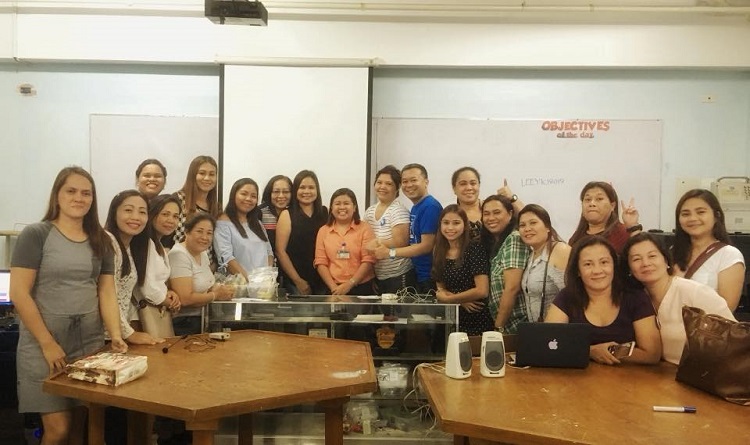 PARTNERSHIP. Xavier Ateneo Junior High assistant principal for academics Lea Lilibeth Emata (center) poses together with teacher participants from Sacred Heart Village Elementary School. Supplied photo.