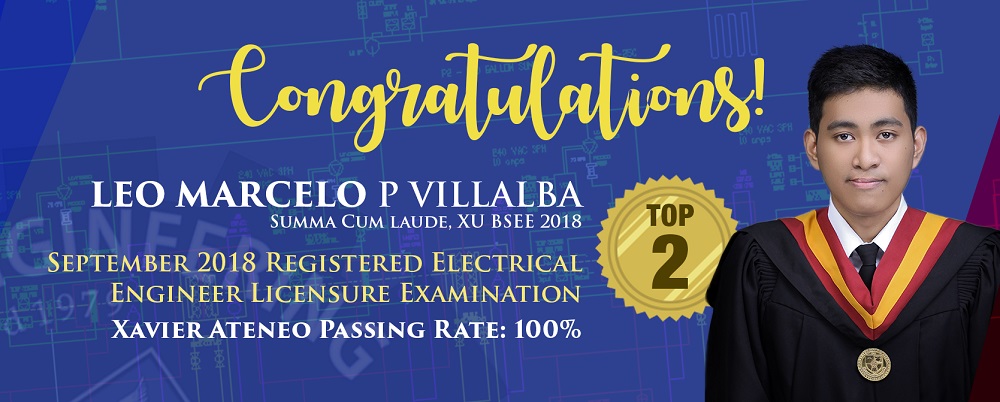 Electrical Engineering graduate Leo Marcelo Palima Villalba of Xavier University - Ateneo de Cagayan landed on the second highest spot in the September 2018 Registered Electrical Engineering (REE) board exam.
In an online post on September 7, a day after the results were released, Villalba wrote, "My accomplishments wouldn't have been realized if there were no great people together with me in this journey."
"Thank you to everyone," he added. "Ad majorem Dei gloriam."
He also included a quote from Sir Isaac Newton which serves as his inspiration: "If I have seen further, it is by standing on the shoulder of the giants."
Villalba, a summa cum laude, was among the 24 REE passers from Xavier Ateneo; giving the university a 100% passing rate.
Three from XU also passed the Registered Master Electrician (RME) licensure exam: Liezel A Cheng, Nikko Mc Wane R Galvez, and Michael Jad H Mallari. In addition, Roseller M Salise (BSEE 2001) passed the technical evaluation for upgrading as Professional Electrical Engineer.
"We thank Electrical Engineering Department chairperson Engr Gunnar Marc Shane C Cabaraban, College of Engineering dean Dr Hercules R Cascon, and the faculty and staff for the guidance and support they have given to our students," said Xavier Ateneo president Fr Roberto C Yap SJ in his message to the academic community.
The Professional Regulation Commission (PRC) announced that only 3,135 out of 4,697 (66.74%) REEs and 2,649 out of 4,251 (62.31%) RMEs successfully passed the exams administered on Sept 1-2 (REE) and Sept 3 (RME) in the cities of Manila, Baguio, Cagayan de Oro, Cebu, Davao, Iloilo, Legazpi, Lucena, Tacloban, and Zamboanga.∎