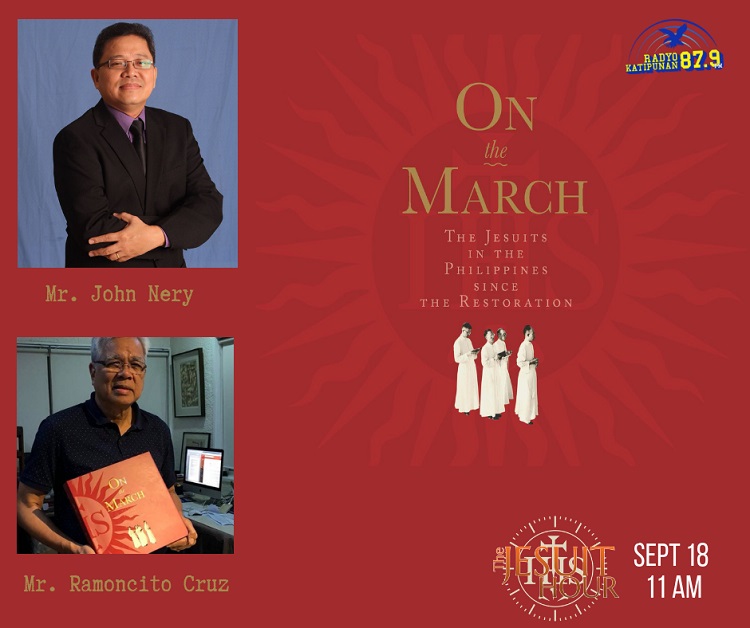 ON THE MARCH. Editor John Nery and publisher Monching Cruz will launch their latest publication "On The March - Jesuits in the Philippines after the Restoration" on September 29. Both are alumni of Xavier University - Ateneo de Cagayan. Supplied image.
Media Wise Communications Inc/Muse Books, producer and publisher of "On the March – The Jesuits in the Philippines Since the Restoration," is launching the coffee table book on Saturday, September 29, 4PM, at the lobby of the Arete of Ateneo de Manila University along Katipunan Avenue, Quezon City.
Jesuit priests and other guests will grace the event.
The book, published for the Philippine Jesuit Aid Association (PJAA) which seeks to help infirm Jesuits, gives the reader an overview, a closer look, and survey of how Jesuit missionaries in Mindanao lived and traveled from place to place to bring the good news of salvation.
It is divided into three chapters: the history of the Jesuits since their return to the Philippines, the Jesuit ministry in education, and the various aspects of the religious order's apostolate in the Philippines.
The book is edited by journalist John Nery and published by Ramoncito Ocampo Cruz, both alumni of Xavier University - Ateneo de Cagayan.
Media Wise Communications, created in 1993, is the leading name in coffee table book publishing in the Philippines. It has been cited by prestigious award-winning bodies like Quill, International Association of Business Communicators, and Anvil for its excellence in producing coffee table books that tell good stories and contain quality photographs that depict the best of what institutions and companies offer.∎