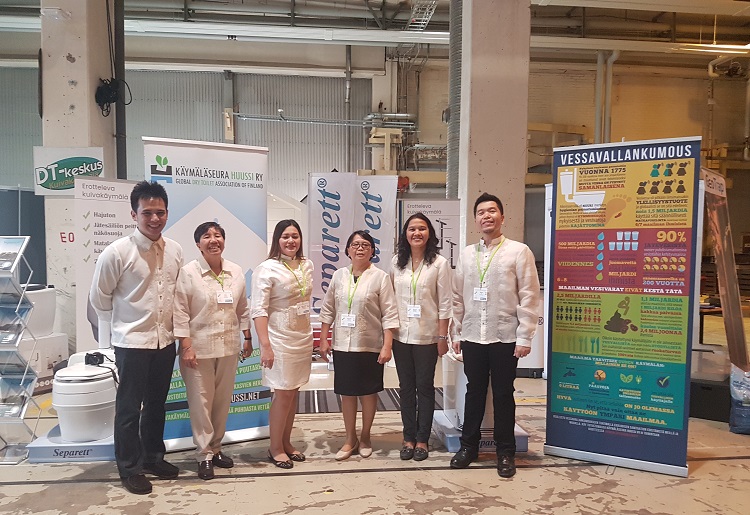 TEAM XAVIER ATENEO AT THE 2018 DRY TOILET CONFERENCE IN TAMPERE, FINLAND. Left to right: Ben Aguilar, Dr Gina Itchon, Dr Rikka Laplap-Macariola, Gertrude Garcia, Meiyoshi Masgon, Engr Dexter Lo. Supplied photo.
By Ben P Aguilar, Senior Medical Student
Xavier University - Ateneo de Cagayan represented the Philippines at the Dry Toilet Conference 2018, hosted by the Global Dry Toilet Association of Finland and sponsored by the International Water Association.
This conference is held every three years for experts in fields of sanitation, engineering, agriculture, sociology, and public policy to gather and discuss the world's situation regarding the problems of global water crisis and the persistent lack of access to sanitary facilities in poor areas, as well as to exchange solutions to these problems.
This year, Xavier Ateneo brought its experts in the fields of medicine, microbiology, public health, and disaster management to the table, providing new perspectives to a challenging, complex problem.
"I've always wondered why the medical field has been lacking at these conferences," said Dr Gina S Itchon, chairperson of XU Dr Jose P Rizal School of Medicine's research unit and director of the Sustainable Sanitation Center.
She added: "Discussions happen about whether or not a dry toilet design is acceptable, how much water it saves. But nobody looks at whether these toilets are safe health-wise, after deployment."
Itchon sits as part of the scientific committee of the conference, where she presented the results of a three-year study which found that improved sanitation at schools was related to improved health outcomes in schoolchildren.
"I presented the results of a related study I conducted, looking at sanitation from a broader perspective — including menstrual health, water safety, among other variables — and looked at whether cleaner, more sanitary schools had healthier kids and whether they were better at reading," Itchon shared.
Dr Rikka Laplap-Macariola, an obstetrics and gynecology resident at the Northern Mindanao Medical Center and Xavier Ateneo alumnus, discussed her research findings on how poor sanitation led to parasitism and eventually anemia among pregnant women at NMMC, further cementing the need for improved sanitary facilities in Northern Mindanao, and the relevance of the fields of medicine and public health in the discussions on improving sanitation and solving the water crisis.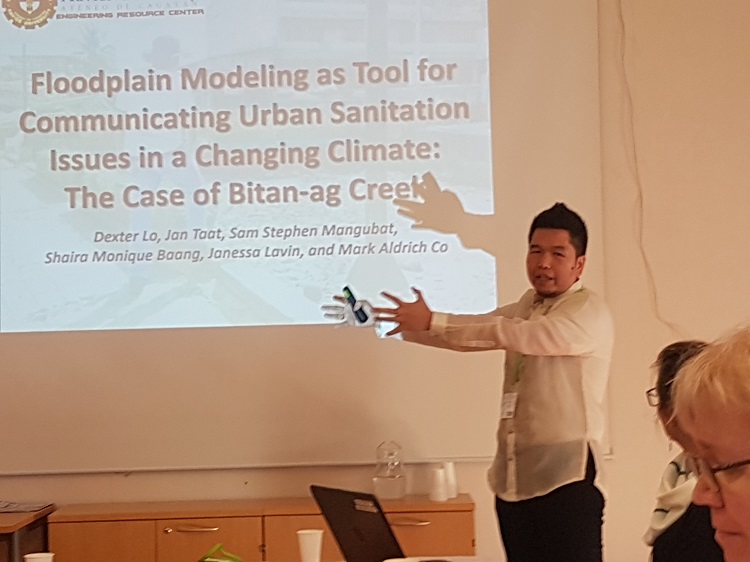 ENGINEERING SOLUTION. XU Engineering Resource Center founding director Engr Dexter Lo presents "Floodplain Modeling as Tool for Communicating Urban Sanitation Issues in a Changing Climate: The Case of Bitag-ag Creek. Supplied photo.
Gertrude M Garcia, in the same vein of microbiologic studies, presented the findings of her research on how the water reservoirs of a disaster resettlement site were contaminated with bacteria endemic to fecal matter. The study suggests that sanitation facilities at resettlement sites after disaster response efforts have to be re-thought and improved.
Meiyoshi A Masgon, on the other hand, presented the successes she encountered with her work with internally-displaced peoples (IDPs) during the Marawi Humanitarian Crisis by helping them use urine as a soil enhancer for their agricultural activities — the flip side of sanitation and how much good a good sanitation facility can produce.
As part of the discussion on creating public policy solutions to water and sanitation problems, Engr Dexter S Lo, founding director of the XU Engineering and Resource Center, served as chairperson in one conference session; at another, he presented his paper on flooding of a local creek due to poor waste management, and the use of using geomapping as a tool to communicate disaster risk.
Lo's paper was a significant addition to the conference discussion on how the water crisis is now viewed largely as a problem of communicating the urgency of the situation to the general public.
"Charts and graphs are not intuitive to everyone; but when you show them a map of where the floods happen, they can say, 'hey, that's where I live!' and it gives them a much better understanding of the scale of the problem," Lo said in his presentation.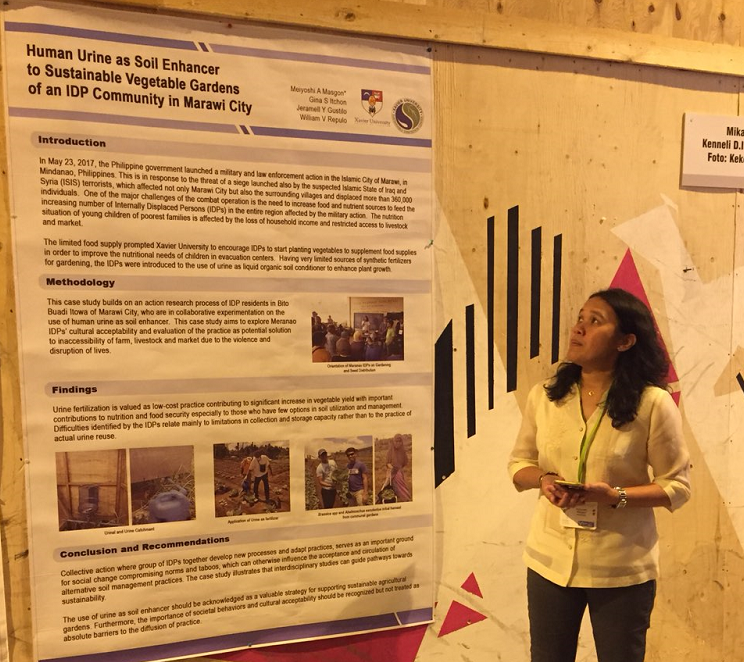 FOR MARAWI. Meiyoshi A Masgon of XU Sustainable Sanitation Center presents "Human Urine as Soil Enhancer to Sustainable Vegetable Gardens of an IDP Community in Marawi City Human Urine as Soil Enhancer to Sustainable Vegetable Gardens of an IDP Community in Marawi City." Supplied photo.
When asked what she thought our most important contribution was to the conference, Itchon answered: "Our most important contribution was to highlight that sanitation is an important public health issue. It is an issue not only by itself but also as it is associated with other health issues … to highlight that sanitation has implications for disaster management, management of pregnant women, nutrition rehabilitation, and reading ability."
Xavier Ateneo has grown its global reputation through international engagements such as the Dry Toilet Conference, as well as through other successful projects such as the recently-concluded Vegetables Go to School Project that saw the Sustainable Sanitation Center partner with the Swiss Agency for Development and Cooperation.
Institutions abroad are seeing XU as a good potential partner for academic collaboration in the field of public health and community development, as Itchon and Lo have already begun talks for further partnerships with other universities.
As more and more social engagements from the Xavier Ateneo community come to fruition, the future in which Xavier University leads the charge towards equitable, sustainable development across all sectors in the Philippines seems all the more realistic.∎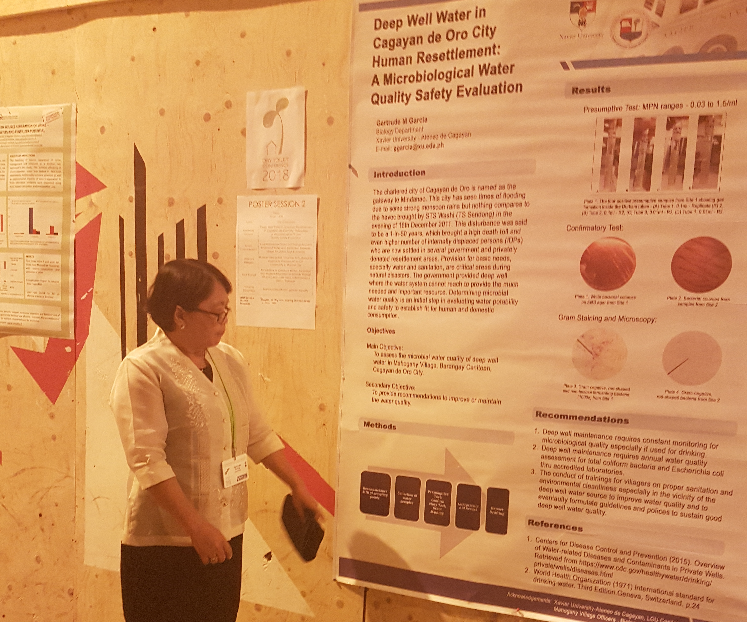 ON WATER QUALITY. XU Biology faculty Gertrude M Garcia presents "Deep Well Water in Cagayan de Oro CIty Human Resettlement: A Microbiological Water Quality Safety Evaluation." Supplied photo.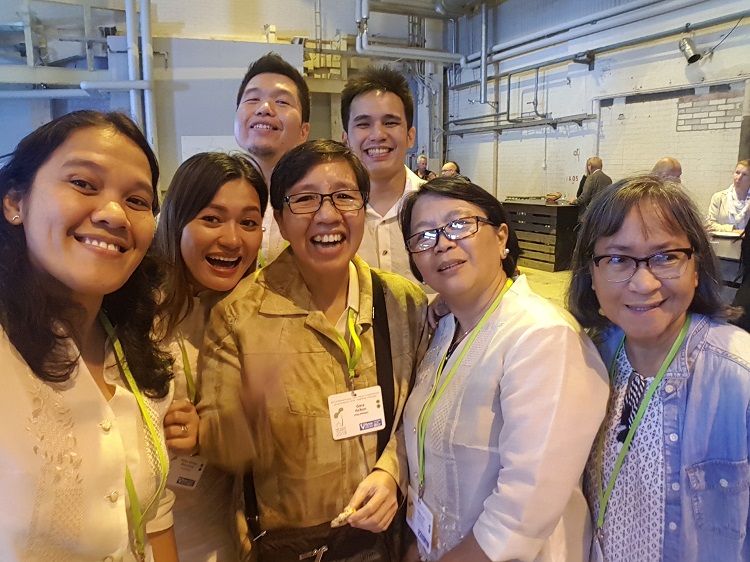 A FUN MOMENT. Team Xavier Ateneo takes a groufie at the 2018 Dry Toilet Conference in Finland. Supplied photo.