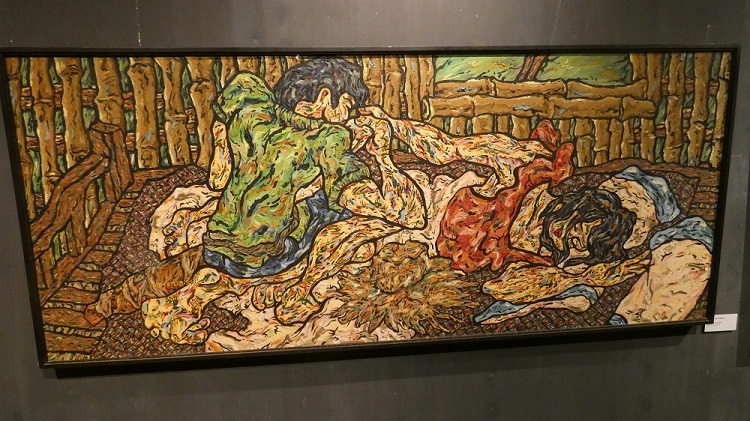 Umaga na, Mahal, 1994 (Oil on Canvass)
CAGAYAN DE ORO CITY, Philippines — Kagay-anon artist Albert "Bet" San Juan Vamenta opened his sixth one-man show "Mabuhi ug Dugay Pa! Petition Insignias (Distortion In Pen And Ink: Minus Two: Part Two)" at the Xavier University - Ateneo de Cagayan's Museo de Oro - Demetrio Gallery on Friday, October 12.
Recently retired from Museo de Oro, Bet has resumed pursuit of his life's passion as a visual artist in the local art scene after an absence of some time.
"Bet's work is a kind of unique form of expression," said Pennesencio "Nonoy" Estarte, Bet's longtime colleague at the XU Museo de Oro and a fellow artist.
Estarte added: "It is a combination of many styles, distortion, expressionism, and others. Bet is really a talented artist, but just lacks a bit more of expression, that's why a lot of people don't understand his work. But that's because many people don't realize the importance of modern art."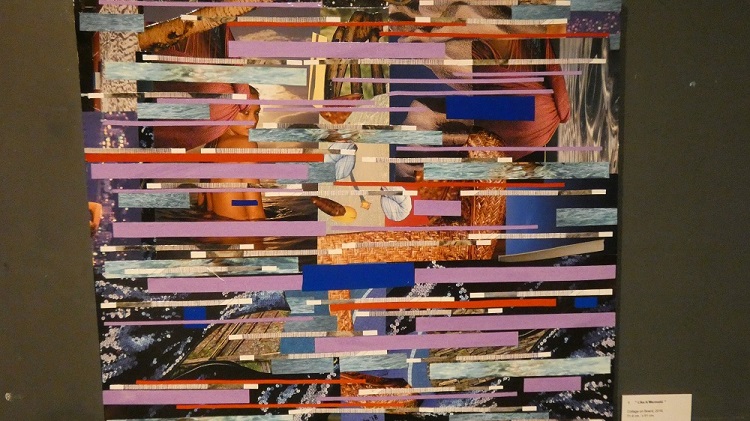 Like A Mermaid, 2018 (Collage on Board)
Bet's art is focused on folklore, especially the historical and folklore aspect, and he has a lot of historical paintings that could be considered a heritage to Cagayan de Oro to understand what is Cagayan de Oro and its culture.
"Grabe akong respeto ni Bet ug Nonoy," echoed local performance artist Nicolas "Nic" Aca, now a commissioner of the Cagayan de Oro Historical and Cultural Commission.

"Wala pa ko nagseryoso sa akong art pero nakita nako ni sila nga seryoso na. Nawala siya for a while sa art scene tungod siguro sa trabaho ug sa iyang health, pero karon dako ang akong kalipay nga nibalik siya sa art nga maka inspire sa mga batan-on. Nalipay ko para sa iya."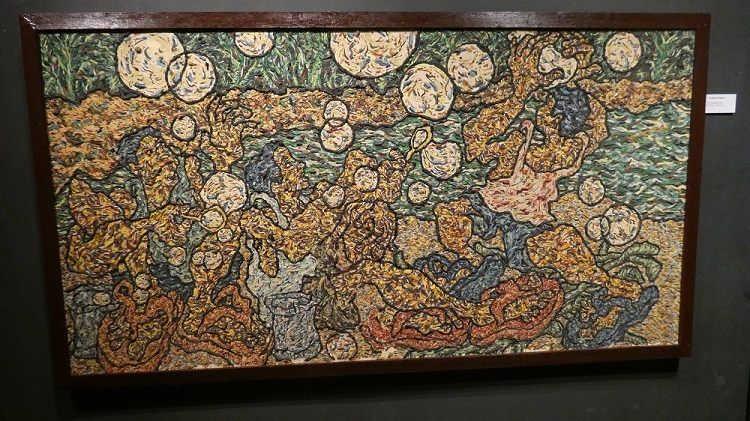 The Mischief Maker, 2000 (Oil on Canvass)
Bet has made his mark as one of Cagayan de Oro's pre-eminent artists, gaining prominence in solo as well as group exhibits. His third one-man show "Distortion" was held at Gallery Three of Ayala Museum in Makati in 1995, where he again held his fifth solo exhibit "Distortion Minus Two (Distortion in Pen and Ink)" in October 1998. He was selected to the Cultural Center of the Philippines (CCP) "100 Years, 100 Artists" handled by National Commission for Culture and the Arts (NCCA) that same year.
Later, he was included as one of the "2,000 Outstanding Artists and Designers of the 20th Century" published by the International Biographical Centre (IBC) of Cambridge, England, with the citation: "In honor of an outstanding contribution within the artistic medium of Postmodern Expressionism."
Hobart Savior, director of Xavier Center for Culture and the Arts (XCCA) describes Bet's art a combination of Van Gogh, Monet, and Dali.
"Albert's expressionist and quasi realist-surrealist creations bring me to the reverberations of life and its beauty crisscrossing thought, emotion and movement, whether in happiness, in pain, and in love," Savior said in his message read by his representative Flora Magriña during the exhibit launch.
"Albert's contributions to visual arts are significant and inspiring, and many colleagues and friends in the arts, young and old, revere him. His works are worthy of this generation of audiences, for them to appreciate the sensibilities and sentiments of Albert Vamenta," he added.
Bet himself introduced his new pen and ink drawings depicting a betel nut container in the foreground as a visual prayer, "a type of various insignia linear representation, a sort of petition to God for a much longer life."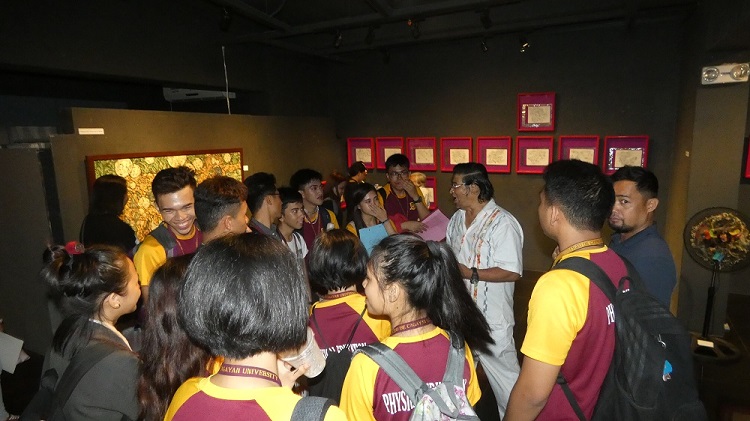 NEW GENERATION. Bet Vamenta (in white shirt) entertains students from fellow artist Mike Bacol's class from Liceo de Cagayan University during the launch. Supplied photo.
Referencing the late esteemed folklorist and author Fr Francisco Radaza Demetrio SJ and Ulahingan author Dr Elena Maquiso, Bet describes the process of attaining immortality as the transformation of human intestines into gold to enter Yandang (paradise in the Manobo epic Ulahinghan).
"By chewing some betel nuts which were brought by the Maya birds, Agio, his clan, and some fellow Manobos became immortals. The Maya was our former national bird," the artist noted.
"In this trend of mind based on the Manobo epics, my buyers and I have a clear petition to God to plead for a much longer life to accomplish our lives' goals and mission to serve mankind and God," he added.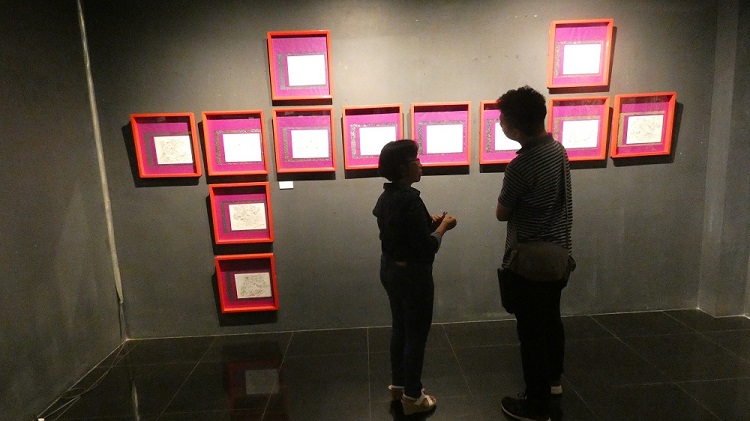 PEN AND INK. Guests discuss Bet Vamenta's "Masterpiece in Pen and Ink" during the exhibit launch. Supplied photo.
Fellow artist Patrick Gabutina, who now works at the local government of Cagayan de Oro City as executive overseer for the Office for Community Affairs, commented on the new direction of Bet's art: "Bet comes from a family of artists. ... I love his works because like Van Gogh, there's always movement, and he mentioned that the skin tone is so colorful because our emotions change, that's why our aura changes that's why there are so many colors in the skin tone. According to him, the skin tone represents the changing emotions of a person."
"For this one, it's totally different, it's like a different artist but you see the old still, everything's still fluid, but it's more modern now," he noted.
Asked how the new works connected with his earlier ones, Bet replied: "The real artist has not really a style. As a senior citizen artist with 43 years of museum work, putting up exhibits, and recently accepted as one of the 2018 Lambago awardees of Cagayan de Oro City, I could now be free to express almost instantaneous doodle-like linear strokes."
"I have no more concern of the society's norms, styles, and demands of academics and aesthetics. I rather enjoy most of my works that are appreciated by my fellow Kagay-anons and by other art enthusiasts."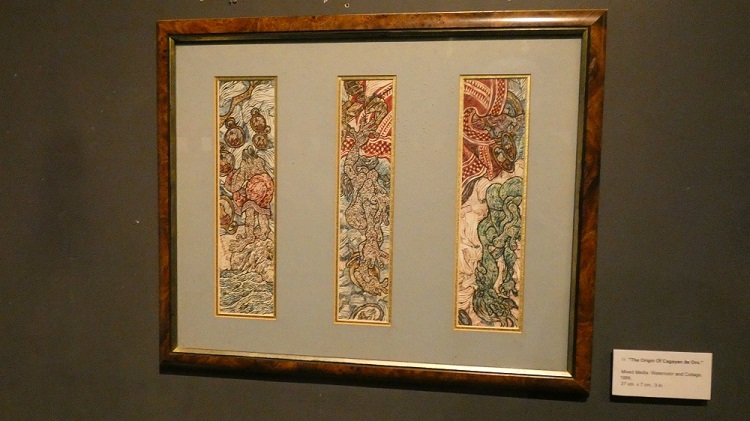 The Origin of Cagayan de Oro, 1999 (Mixed Media - Watercolor and Collage)
Admitted as a Fine Arts Advertising student at the University of Santo Tomas in 1973, Bet had been a working student since third-year high school up to his college days. In 1970, he became a working student as a student artist at the Xavier University Museum. By 1981, he was designated as assistant curator for artifacts, eventually becoming its resident artist before retiring a few years ago.
"Mabuhi Ug Dugay Pa! Petition Insignias (Distortion In Pen And Ink: Minus Two: Part Two)" is sponsored by Xavier University - Ateneo de Cagayan, XU Office of Mission and Ministry, Xavier Center for Culture and the Arts, and XU Museo de Oro. The exhibit will run until November 24.∎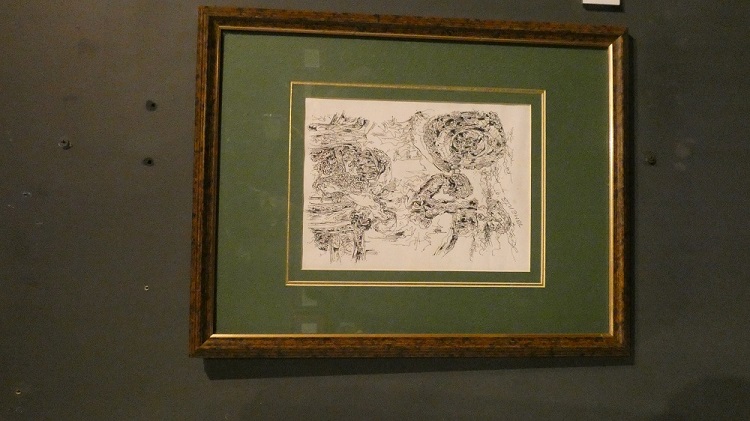 Peanut and Boiled Banana Vendor, 1997 (Pen and Ink)