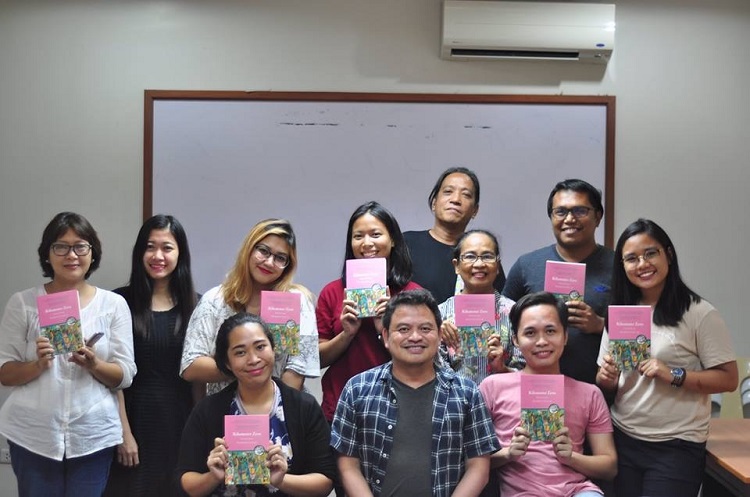 ESSAYING SELF-DISCLOSURES. Essayist Wilfredo Pascual (center) was in Cagayan de Oro City to conduct a workshop titled "Essaying Self-Disclosures," held at the XCCA conference room in Xavier Ateneo's Museo de Oro. Supplied photo.
By Abigail C James
Internationally-acclaimed essayist Wilfredo Pascual facilitated a workshop titled "Essaying Self-Disclosures" at the Xavier Center for Culture and the Arts (XCCA) conference room in Xavier University - Ateneo de Cagayan's Museo de Oro on October 6.
The afternoon-long talk was divided into three parts: a discussion on Pascual's journey as a writer and his poetics, a short writing exercise participated by the audience, and a critiquing if three personal essays written by members of Nagkahiusang Magsusulat sa Cagayan de Oro (NAGMAC).
To start things off, Pascual described the first time he wrote an essay in his youth — a school writing contest which he won when he was just in 2nd grade. From then on, he shared, he felt that writing was his key to something better. As it turned out, writing would also be the means for which he could deal with trauma from troubled younger years.
Pascual implored that the writing of the personal essay should start with the self; finding the core of which one wishes to share their experience. The essay writer acknowledged the need to "piece things together" in a process of self-interrogation that becomes a revelation. He also emphasized how the personal essay becomes the journey of thinking through things while "challenging yourself to understand."
After the fascinating sharing, Pascual then gave a short exercise in memory, having the participants write down sentences that occurred to them while thinking about the past; as early as yesterday and as far off as Valentine's Day. The audience then shared what they wrote, with poet-journalist Lina Sagaral-Reyes delighting everyone with a poetic summary of her selected past to which Pascual described as a rare treat.
Following this activity, Pascual proceeded to critique three personal essay manuscripts previously submitted by NAGMAC members Raymond Ybañez, Abigail C James, and Hazel Aspera. Pascual suggested the technique of using an emblem in an essay to give it a centralized vision, similar to the titular essay from his collection Kilometer Zero.
The insights and feedback given by Pascual inspired a conversation about opening up and revealing unsaid thoughts on sensitive topics. He advised that writing the personal essay is dealing with uncertainties and one must acknowledge that the essay becomes the truth as for how the writer sees it. The group acknowledged how it can be difficult to share the personal experience with those around them without causing some negative feedback.
Essayist-poet and workshop organizer Alton Melvar Dapanas also gave suggestions on how to deal with such issues when writing the personal essay such as changing names or asking permission from anyone mentioned in the work.
Once the formal workshop was completed, book signing for Pascual's latest collection of essays commenced where each copy he brought was promptly sold. The collection "Kilometer Zero" features nine essays spanning the course of Pascual's life, dealing with many sensitive moments of the human experience. It also includes an essay which won the Curt Johnson Prose Award for Nonfiction and another which placed runner-up to the Steinberg Essay Prize.
The book signing was just one of the first done by Pascual during his Philippine tour which would take him to several parts of the country. But Cagayan de Oro was special, the author said, as it was the first place in Mindanao to welcome him during his early days of writing. Copies of Pascual's "Kilometer Zero" are available in bookstores nationwide.
"Essaying Self-Disclosures," a first of a series of author craft talks with local writers, was hosted by writers collective NAGMAC and its flagship publication, the Bulawan Literary Journal of Northern Mindanao with special thanks to XCCA.∎
For more events and updates, like the page of Nagkahiusang Magsusulat sa Cagayan de Oro on Facebook.