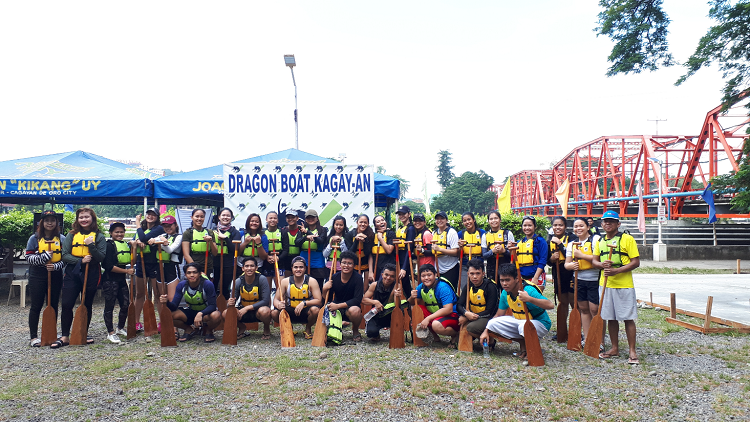 Through the leadership of Mindanao Leadership Summit for Athletes (MLSA) alumni, composed of Elaiza Nicole P Pajigal (AB Psychology), Ella Bianca B Estrera (AB International Studies), and Lea Angela E Sobremisana (BS Psychology), the Xavier Ateneo Women Crusaders athletes enjoyed more than two hours of Dragon Boat experience in the city's biggest river, the Cagayan de Oro River.
The event happened last October 20 and was participated in by members of the women's basketball, football, and volleyball teams. The Xavier Ateneo Women Crusader teams were joined by members of the newly-organized Blue Dragon of Xavier Ateneo.
The activity started with an orientation about the history of Dragon Boat, how Dragon Boat Kagay-an started, including the parts of a Dragon Boat and ways to paddle. The orientation was followed by a short warm-up and stretching, then the actual Dragon Boat activity.
The Dragon Boat activity served as a team-building activity for the participants of the 4th Mindanao Peace Games, to be held in Butuan City and hosted by Fr Saturnino Urios University.
The MPG participants will depart for Butuan on Friday, October 26, and will be back home on October 30, Tuesday.
The Xavier Ateneo MPG participants will be accompanied by higher education athletic coordinator Arvin R Martinez and XU representative to the MPD and Physical Education faculty member Jessica H Esparrago.∎