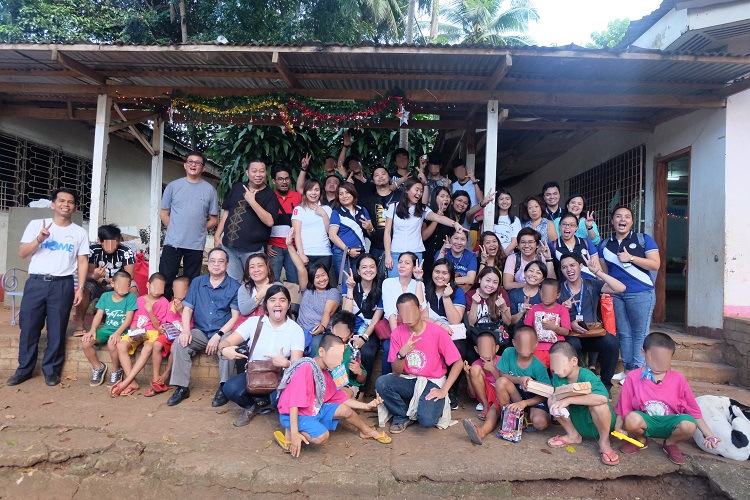 OUTREACH ACTIVITIES. In December 2017, the Xavier Ateneo Graduate School conducted outreach activities at the Boystown Center and Bureau of Jail Management and Penology - Region 10 in Lumbia, Cagayan de Oro City. File photo.
By Angelo Lorenzo
The Xavier Ateneo Graduate School will continue its annual Christmas tradition on December 1 with an outreach activity and a dinner for a cause.
This philanthropic endeavor is spearheaded by the Graduate School Student Council and the university's Graduate School Department.
This year, the outreach activity will provide financial and logistical donations for the juvenile residents at Boystown Center and the female inmates at the Bureau of Jail Management and Penology (BJMP), all of which are located in Lumbia, Cagayan de Oro City.
Underscoring Ignatian principles as the year nears its conclusion, the outreach activity aims to fulfill the same value that Jesuits encourage, as worded by Pope Francis, to "go to the peripheries."
GSSC encourages graduate students to take part in the activity as this resonates with the university's social responsibility and the Grad School's engagement with the shelters.
Since 2012, the Graduate School has donated packaged goods, dormitory water tanks, dormitory bunk beds, cash for installation of facilities, and cabinets to the beneficiaries, among others. The department sustains this initiative every Christmas with the participation of its students.
After the outreach activity, a dinner for a cause will take place at the Magis roof deck, within the university campus.
Graduate students are also encouraged to attend the evening's event in smart casual wear to celebrate Christmas with their peers and professors, and to raise funds for donations.
As Christmas season begins, Xavier Ateneo Grad School has set its sight on the heart of the celebration by offering help to those who need it.∎