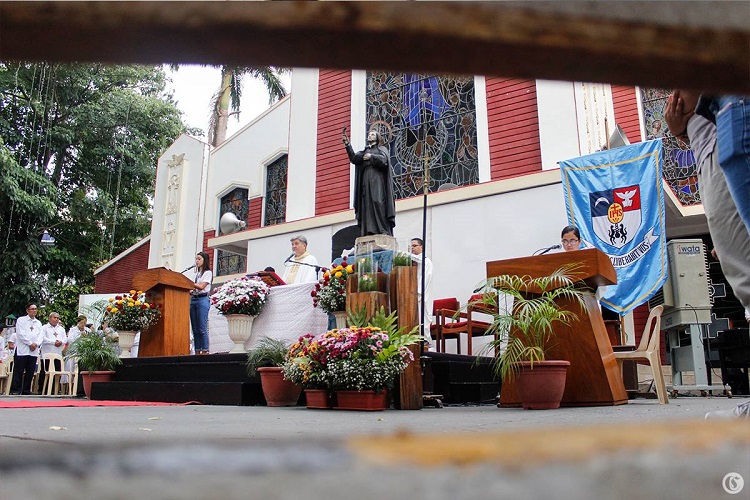 This is the full text of the homily delivered by Xavier University - Ateneo de Cagayan president Fr Roberto "Bobby" C Yap SJ during the opening mass of the XU Festival Days 2018 celebration on Wednesday, November 28. Photo by Gene Verona of The Crusader Publication.
The theme of Xavier Festival Days 2018 is X85+: Weaving The Xavier Ateneo Story. The weaving of our story has three major threads: Gratitude, Service, and Hope. Gratitude for all past blessings. Steadfast Service in the present. Living in Hope for the future.
Let us reflect on the life of the Saint whose feast we celebrate during Xavier Days to deepen our appreciation of Gratitude, Service, and Hope. Let the stories of St Francis Xavier's Gratitude, Service, and Hope inspire us to weave our Xavier Ateneo story.
Gratitude for friendship. A wonderful story of friendship began in 1527 at the University of Paris, where nineteen-year-old Francisco Javier was a promising scholar and athlete. A nobleman from a Navarre family that had fallen on hard times, he was making ends meet by rooming with two other students. One of them was a former military official who had experienced a profound conversion while recuperating from a war injury.
The two men were Basques from the north of present-day Spain, but there the similarity ended. Francis was proud, somewhat wild, and ambitious to get ahead. His roommate – fifteen years older – was intent on loving and serving God and bringing people to the Lord. Francis treated him with derision and ridiculed him for his piety.
But the scorned roommate was none other than Ignatius of Loyola – not a man to be easily daunted. Somehow, he saw Francis' hidden potential and worked hard to win him over as a friend. Tactfully, he found ways to help him out of his serious financial difficulties, especially by drumming up paying students for him to tutor. He praised and encouraged Francis and engaged him in conversation.
As Francis' resistance melted away, his heart was opened to the love of Christ. Ignatius then guided his new friend through an intensive, month-long personal retreat designed to encourage full surrender to God. He used some notes drawn from his own spiritual life – a little book of "spiritual exercises," which is still bearing great fruit. It was just what Francis needed – a powerful experience of repentance and conversion that decided him to give his life to Jesus.
From that point on, Francis regarded Ignatius with the deepest affection and gratitude. He called him "the father of my soul," and told a relative, "Never in all my life will I be able to repay the debt I owe him." Ignatius, too, had gained something: a close friend he would always be able to rely on, someone whose loyalty and affection would never waver.
Steadfast service. Francis was ordained a priest with Ignatius in 1537 and was with him in Rome when the pope formally approved the Society of Jesus. But they were not to be together for long. Ignatius was soon asked to send Jesuits as missionaries to the Portuguese territories in India. When one of his candidates fell ill, he asked Francis to step in. "Good!" replied Francis immediately. Héme aqui. "I am here and ready."
On April 7th, 1541, his thirty-fifth birthday, Xavier sailed from Lisbon. There began then a decade of the most courageous and tireless missionary enterprise this world has ever seen. On shipboard and in the harbors, never for a minute did Xavier leave off hearing confessions, teaching Christian doctrine, tending the poor and the sick, and all this in joy.
In 1552, Xavier set out from India to Malacca (a port city in the Malay peninsula) and found it was being ravaged by the plague. He tried to do what he could for the victims. He had huts erected on the seashore, to serve as temporary hospitals, the existing hospitals being entirely inadequate for the number of plague victims. Francis himself tended the sick, spending his days and nights in the main and auxiliary hospitals.
He was a man consumed with a divine impatience, a saint in a hurry. Sometimes he has been accused of restlessness, but God knows, as he would say himself, that his journeys were not due to an itch for change or a desire for more interesting labors. He "must go to open doors," he said, and God knows too what each door cost him in privation and suffering. If he spent only five months in Goa when he first arrived there, they were at any rate months never to be forgotten by the sick, the poor, the slaves, the outcasts among whom he labored day and night.
Living in hope. India, the East Indies, the Spice Islands, Japan: all this was not big enough for Xavier's great heart. There was still China. To enter China in those days, he would have to be smuggled in. In the late summer of 1552, he reached the smuggler's paradise of Sancian, a barren and empty island off the Cantonese coast. He waited there until he found a Chinese trader who agreed to smuggle him into the mainland. The day was set for November 19th.
That day dawned. His books and his little bundle of clothes beside him, Francis waited, watching the shore. Hour after hour he waited. There was nothing to see, not a sign of the brown sail he had hoped for. Then … he knew that China had beaten him and the poor body, so long driven by the dauntless spirit, took its revenge. At that moment, he fell ill. A fortnight later, the early morning of December 3rd, 1552, he was dead, forty-six years and seven months old. He whose hand had been raised in absolution countless times died without a priest within a thousand miles of him and was buried without ceremony in a deserted island in unhallowed ground.
In present-day Sancian, there is an empty tomb in a rundown chapel, believed to be where Xavier was laid to rest for a few years. This empty tomb is an image of Xavier's burning and intense Hope. Only that Hope – for Christ, for the peoples of Asia, for service – could explain why Francis Xavier, scion of a noble family who grew up in a castle in Navarre, died alone and with arms outstretched toward China on desolate Sancian. Only that Hope makes sense of Xavier's constant, almost driven pushing beyond familiar boundaries into new territories. It was that Hope that enabled him to go to the peripheries, endure physical hardships, cultural disorientation, piercing loneliness, frustrations and persecutions – and … not give up.
San Francisco Javier was truly a person of Hope, of Service, and of Gratitude. May the saint after whom our beloved University is named, inspire Xavier Ateneans to be grateful for friendships, steadfast in service, and ever hopeful in the mission to which they are called. May we weave stories of gratitude, service, and hope. St Francis Xavier, pray for us. San Francisco Javier, pray for Xavier Ateneo.∎