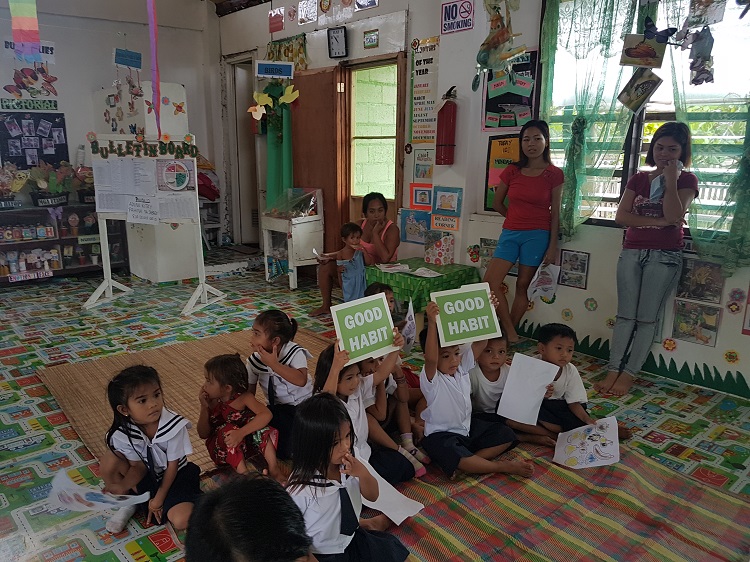 KIDS CAN TELL. Kids enjoy playing "Good and Bad Habit" during the World Toilet Day celebration in Baybay, Alubijid. Supplied photo.
Report by Dinah Belle P Abong
"Sustainable Development Goal (SDG) 6: Ensure availability and sustainable management of sanitation and water for all by 2030."
The development of SDG 6 is a manifestation that the leaders worldwide have recognized that social development and economic prosperity rely on the sustainable management of freshwater resources and ecosystems. As such, one of the targets of SGD 6 is to achieve universal access to sanitation and hygiene and end open defecation. Countries must ensure access to basic toilet and put in place excreta management systems. However, according to a recent United Nations report, the world is not on track to reach this SDG – 4.5 billion people around the world don't have access to safely-managed sanitation services and 892 million people still practice open defecation.
The World Toilet Day is intended to raise awareness and for advocates worldwide to attend and/or hold events to take action and inspire others to tackle sanitation crisis. Sanitation is a global development priority; thus, in 2013, the United Nations General Assembly designated the 19th day of November as World Toilet Day.
To this end, the Xavier University Sustainable Sanitation Center, under the Dr Jose P Rizal School of Medicine, launched an activity during the World Toilet Day aimed at increasing the awareness on water, sanitation, and hygiene among children and the greater community.
A number of fourth-year senior clerks gave an orientation to the kids of Baybay, Alubijid Daycare Centers using entertaining powerpoint presentations and interactive games and activities to convey serious sanitation and hygiene messages.
The program set out with a short introduction of the World Toilet Day and followed by a short lecture focusing on a healthy body and the means to achieve it through proper nutrition, exercise, and proper hygiene.
With the lecture on proper hygiene, the importance of having toilets and knowing its proper use came into the picture. This was emphasized by showing an animated presentation on the spread of germs via flies to food as a consequence of open defecation and as a cause of illnesses, such as diarrhea.
The importance and the steps of proper handwashing were also highlighted, noting that by proper handwashing, germ particles may be eliminated.
The short lecture was followed by a game called "Good Habit vs Bad Habit." In this game, the children were shown pictures depicting acts such as washing one's hands, brushing one's teeth, eating a balanced meal, and their negative counterparts among others. They were then asked to identify whether the picture showed a good or a bad habit.
In another activity, students were given crayons and cut-outs of various food, fruits, and vegetables. After they have colored the pictures, they were instructed to sort each food into which category it belongs – Go, Grow, or Glow.
The program was concluded with a short recap on achieving a healthy body through proper nutrition, exercise, and proper hygiene, and emphasizing the importance of toilet, its proper use, and the consequences of open defecation.
With these materials and activities, the kids learned about and appreciated the importance of toilets and how its proper can help stop the spread of water and sanitation-related diseases. They further learned that handwashing during critical times (after using the toilet and before eating) is one of the most substantial steps in avoiding those illnesses and the spread of germs.∎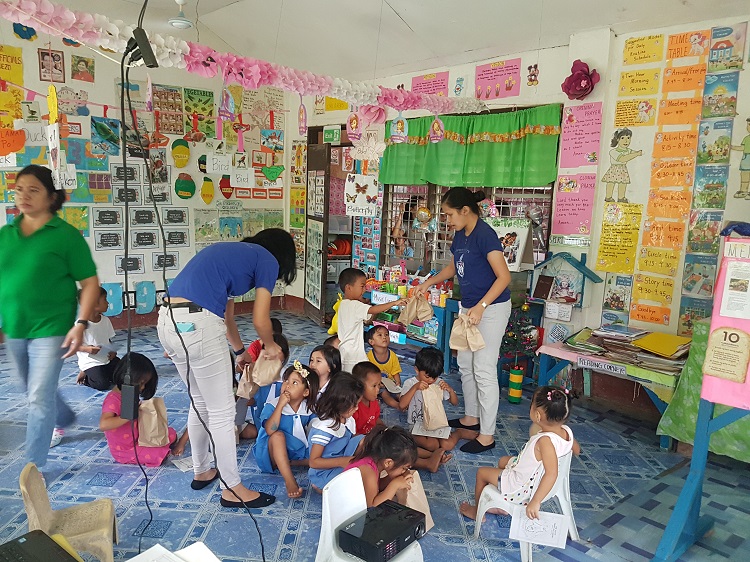 WORLD TOILET DAY. XU senior clerks (SC) Moreno and Abong distribute snacks to kids during the World Toilet Day orientation in P-4 Daycare Center in Baybay, Alubijid Misamis Oriental. Supplied photo.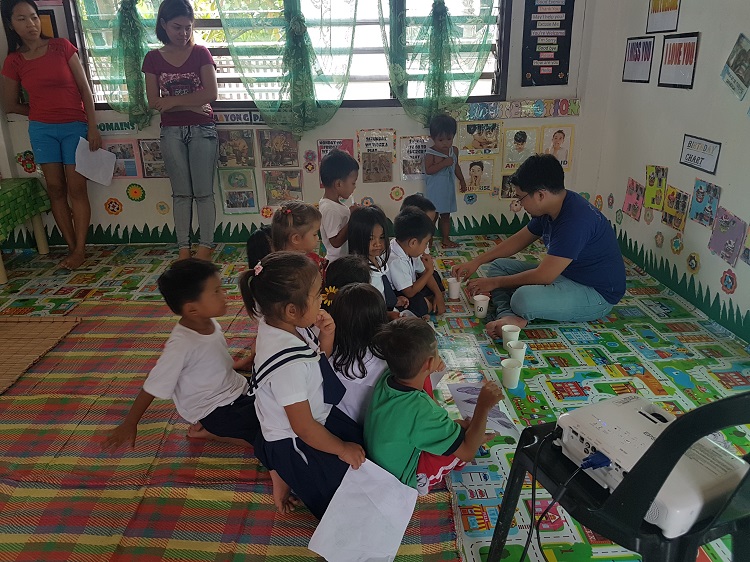 GO, GROW, AND GLOW. SC Tating instructs the kids of P-1 Day Care Center of Baybay on how to play "Go, Grow, and Glow." Supplied photo.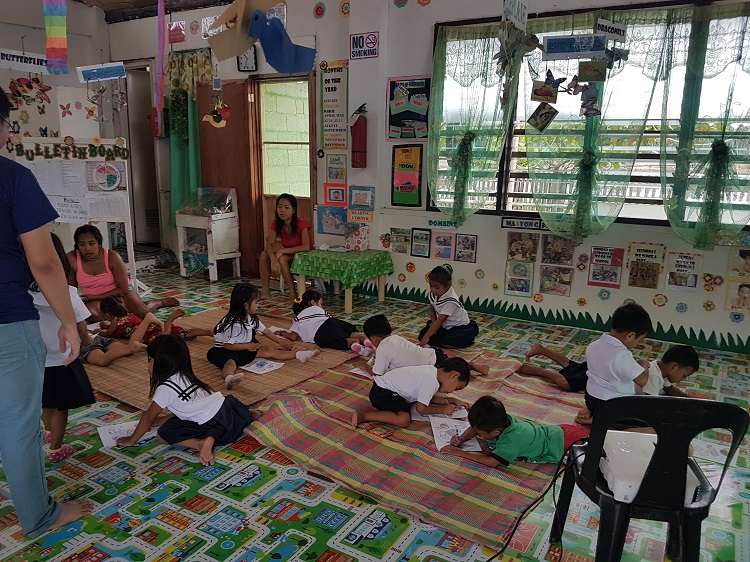 COLOR THE PICTURES. Kids in P-1 Day Care Center in Baybay do the fun-coloring activity. Supplied photo.