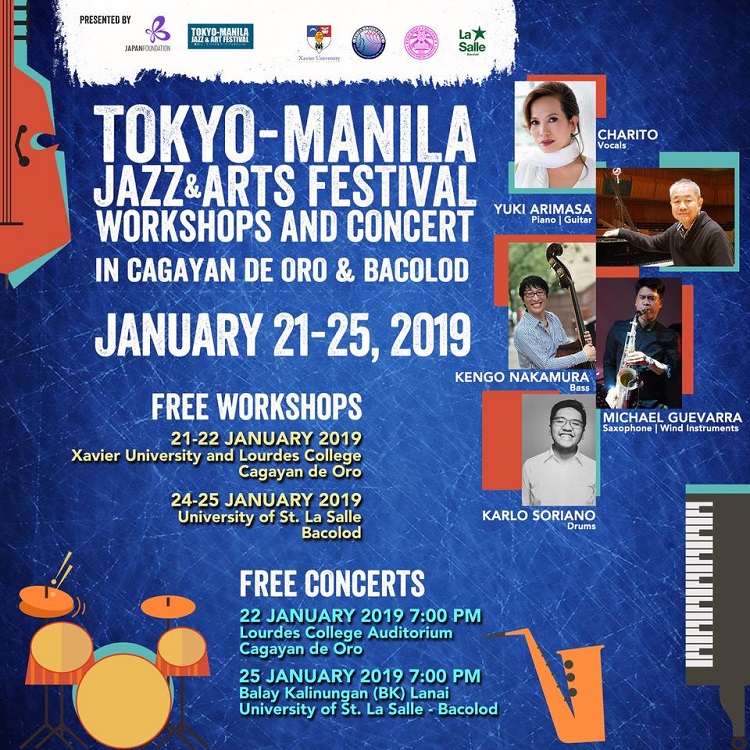 By Angelo Lorenzo
Jazz music will soon set its noteworthy tune in two of Cagayan de Oro City's schools: the Jesuit-led Xavier Ateneo and the RVM-centered Lourdes College.
Japan Foundation - Manila (JFM), in its aim to further foster Japan's relationship with the Philippines, accentuates its objective for artistic and cultural initiatives by scoring one of the world's influential and phenomenal music genres through this anticipated event.
JFM is in tandem with the Tokyo-Manila Jazz Arts Festival (TMJAF) group as they will arrange a series of workshops at selected venues within Xavier Ateneo and Lourdes College from January 21-22 and orchestrate a concert at the latter's auditorium in the evening of the second day — all in coordination with the Xavier Center for Culture and the Arts (XCCA) and organizers from Lourdes College.
Honing talents
"I always like to support and nurture talent," Filipino Jazz musician Charito, one of the founders of TMJAF, expressed in a transcribed interview on the website, Jazz Corner.
Hailed for her unique and soulful renditions of famous pop and ballad songs into jazz (such as Phil Collins' "Against All Odds" in 2013 when she performed it live), Charito has earned the adulation of many Japanese audiences because of her passion in the genre.
This passion crescendoed to a teaching career in Japan where she is now based. Returning to the Philippines for the annual TMJAF, she plans on rippling Jazz music in her home country to inspire enthusiasts of the craft.
"If you are looking to improve your jazz skills and looking to meet and play with other musicians, TMJAF provides a stimulating and focused environment where students get personal training tips from professional musicians," she noted.
The free workshop is set to improve a variety of skills. With their respective venues, these include: voice (at the Xavier Ateneo Little Theater), contrabass and double bass (Xavier Ateneo AVR 8), drums (Lourdes College Auditorium), and piano and wind instruments (Lourdes College Music Department). Participants must already have at least basic first-hand experience with these skills and are expected to be 15 years of age or older.
Joining the ensemble are renowned pianist and guitarist Yuki Arimasa, bassist Kengo Nakamura, saxophonist and wind instrumentalist Michael Guevarra, and drum pundit Karlo Soriano.
Resonating to unite two cultures
Although Jazz traces its rhythm back to the African-American communities in the early 20th century, the genre now streams with different cultures as music has become a universal art form to promote understanding in lieu of language and numbers.
What makes jazz unique from other music genres is its improvisation style in which band members complement and compromise with the sounds of their instruments to weave a swinging upbeat harmony.
The same concept is being sought after by TMJAF and JFM to unite Japanese and Filipino talents for a mutual musical masterpiece.
"Improvisation is a gateway to self-confidence and self-empowerment," Charito explained.
Resounding this call since it began in 2012 in Shibuya, TMJAF concerts had been performed at notable venues between Japan and the Philippines; one of which was at Solaire Resort and Casino in Manila.
Charito added to encourage potential participants, "Learn how to reveal your inner source of voice and self-expression; how to be free and uncover both individual expression and personal resonance."
After the workshops and concert in Cagayan de Oro City, TMJAF will take center stage at the Balay Kalinungan Lanai at the University of St La Salle in Bacolod where similar activities will also take place.∎
For inquiries about the TMJAF workshops and concerts, you may contact Ms Flora Magriña and Ms Margie Madreña through (088) 858-9800 local 9263; 09756009101 and 09120025350. You may also email your registration (indicating your name, age, school, affiliation or office, contact numbers, and the workshop you are applying for) through This email address is being protected from spambots. You need JavaScript enabled to view it..