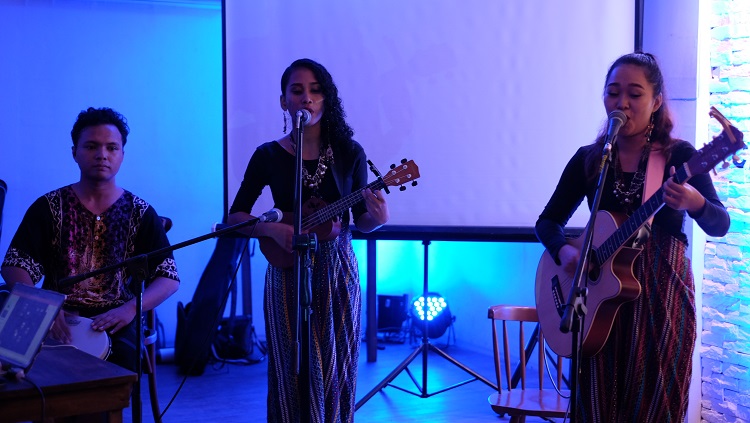 BEYOND ART. Artists get their messages of hope across people through their talents and skills.
Words and photos by Tisha Biruar, Communications Intern
You went inside a tea shop and when you reached the other end, there was an entire room filled with creatives showcasing their arts and their crafts. You set aside ordering milk tea as you get pulled into the curious crowd. You browsed through the merchandise and you mentally heard everyone's "oohs and ahhs" as you went from one booth to another. Recognizing that these pieces were actually made by local artists made them a hundred times better than anything you see online.
"Soft" was an initiative headed by Chingkeetea that organized creative events such as art fairs among others. Last month, they held the second installment of Makers Market at Chingkeetea Velez.
Local artists gathered and were given the venue to showcase their artworks. The major feature of Soft was Cagayan de Oro City's first-ever "Pechakucha." According to its website, Pechakucha is "a presentation style which originated in Tokyo back in 2003 and has since then become popular worldwide, whose format comprises of speakers with twenty images each and each speaker is given only twenty seconds to explain each image. The transition of the slides are automated and this keeps the talks fast-paced, concise, and interesting."
It was already 6 o'clock in the evening. More people started to pour into the shop. You head to the counter, ordered a drink, and found a seat to settle in. It was getting darker outside and the blue mood lighting spread across the room. The crowd was buzzing in excitement while waiting for the speakers. Then someone finally took hold of the mic.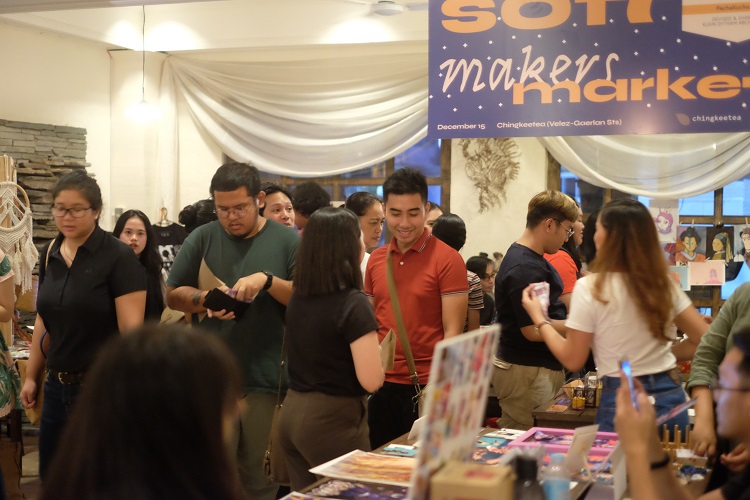 MAKERS MARKET. "Soft" serves as a venue for local artists to showcase their crafts.
Adeva Jane Esparrago, writer and an English Language & Literature teacher at Xavier University Junior High School, was one the speakers. She delved on spoken poetry for her Pechakucha talk.
"Some words are made for the page and some words are made to be performed," Adeva said. She quipped: "People don't like to read. They like to listen."
She also emphasized the importance of literature: "Literature is very powerful. Those who undermine literature forget that Jose Rizal was a writer."
Another speaker, Nadine Abellera, who also teaches at Xavier Ateneo Psychology Department, shared on mental health in her presentation. She defined major depressive disorder and gave some tips on how to cope with depression, like getting into a new hobby, getting in touch with one's spirituality, and having the right kind of social support. Abellera ended her talk with the call to amplify mental health awareness.
The rest of the Pechakucha speakers, Pearl Aton, Alve Aranton, Bjorn Lim, and KC Salazar delivered their presentations, with topics such as film photography, living creatively, and indie music. In between talks were intermission numbers by talented Kagay-anon artists.
The CJ Kaamiño band also serenaded the crown with the Cebuano love song "Kulang Pa." The next two tracks were Filipino songs "Kayamanan ng Mindanao" and "Kilos Na." From the titles themselves, these were songs about nature's beauty, particularly of our beloved Mindanao, and why we should take care of it.
The success of the event was a manifestation of Cagayan de Oro City's growing art scene. The event did not only promote the arts but also raised awareness of social issues. As one speaker summed up: "Our goal as artists is to spark social change through art and skill."∎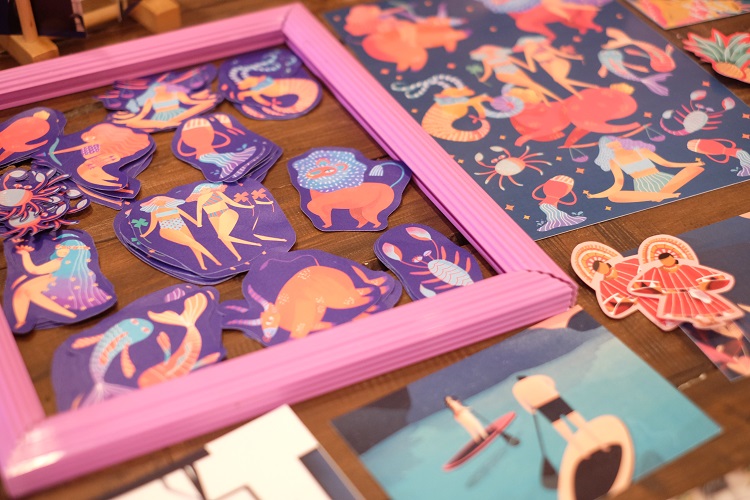 CRAFTS. Pictured here are some of the stickers and postcards being sold during the Soft Makers Market.