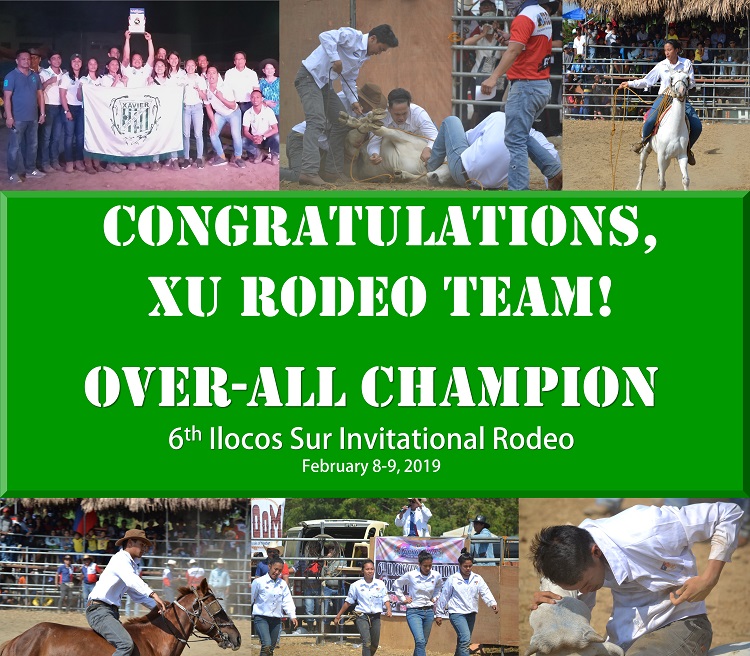 After defeating the teams from 14 schools, the Xavier University - Ateneo de Cagayan Rodeo Team emerged as the over-all champion (male category) during the 6th Kannawidan Festival Rodeo Competition on February 8 and 9 held in Vigan, Ilocos Sur.
The XU Rodeo Team also reaped the over-all 3rd place for the female category.
The team was composed of seven male and six female members with XU Manresa Farm manager Hernando O Pacana who served as their moderator.
The Xavier Ateneo community, particularly the College of Agriculture, congratulates the XU Rodeo Team for their latest conquest.∎
Congratulations to the XU Rodeo Team!
Female Players
1. Briana Bianca Novela
2. Joah Joloyohoy
3. Patricia Ann Glema
4. April Borja
5. Van Faye Zulita
6. Rena Agol
Male Players:
1. Mark John Pocong
2. Clifford Allister Sario
3. John Paul Panuncial
4. Leon Vincent Paraguya
5. Nick Mistula
6. Brent Olana
7. John Paul Cailo