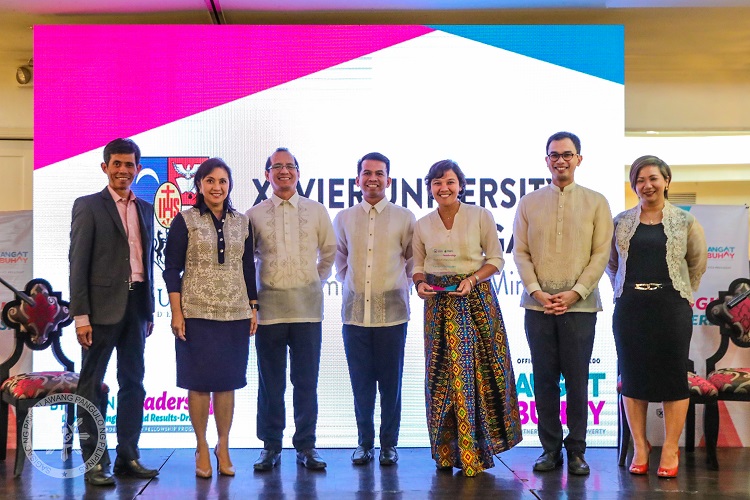 Xavier University - Ateneo de Cagayan received a plaque of appreciation from the Office of VP Leni Robredo and Seaoil Foundation during the culmination and awarding ceremony of the Angat Buhay Bridging Leadership (ABBL) program on February 12 in Quezon City.
Xavier Ateneo, through the Governance and Leadership Institute (GLI), serves as the academic partner of the ABBL program in forming local government officials into bridging leaders.
Bridging Leadership professors Derrick Bart Pimentel, Wilson Hormeguera, and Meiyoshi Masgon received the plaque on behalf of Xavier Ateneo president Fr Roberto C Yap SJ.
Participating local government units (LGUs) included Manolo, Sumilao, and Lantapan of Bukidnon, Kauswagan and Tangkal of Lanao del Norte, Tampakan of South Cotabato, and Siayan of Zamboanga del Norte.
Out of the 34 participating LGUs, 2 Mindanao LGUs got the special awards for their best practices, namely, Sumilao, Bukidnon for Education and Kauswagan, Lanao del Norte for Agriculture.
"They (participating LGU leaders) showed that change can truly begin with local leaders who are willing to listen, learn, and broaden their perspective," Robredo said. "We were all in awe of the programs that they shared with us."
She added: "It goes to show that the challenges faced by our people, especially those at the fringes, require leadership that inspires, leadership that acts, leadership that encourages others to take part in solutions. We are filled with hope that the change that have begun in their hometowns will flourish and spread across the country."∎