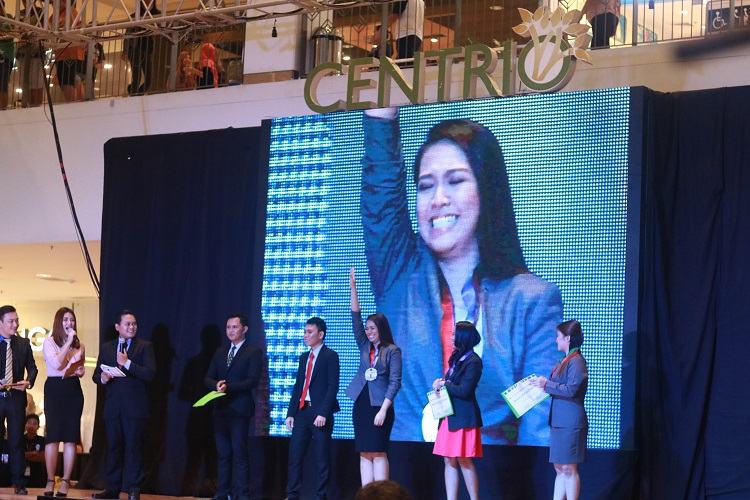 THE VICTOR. Xavier Ateneo's Donnabelle Lumasag emerges as the champion at the fourth ABS-CBN interschool newscasting competition.
Report and photos by Maria Monica L Borja
A third-year Development Communication student of Xavier University - Ateneo de Cagayan emerged as the champion in the college division of the fourth installment of the ABS-CBN interschool newscasting competition held Saturday, March 11.
Donnabelle Lumasag bested other participants, who are taking various communication courses, from private and public universities and colleges in Northern Mindanao.
"To be honest, it was much unexpected and I wish I knew what exactly made me win this year's competition but I really just gave it my all, enjoyed the experience, and entrusted everything to God," she said.
"I kept praying before the results came out, 'Lord, I just don't want to come home empty handed, I want an award, any award will do, to bring home to XU and for all my loved ones who supported me' and God gave me more than I could ever ask for. Glory to God!"
According to Lumasag, it was her parents who have influenced her in developing a passion for newscasting.
"When I was a kid, my mom and dad would insist on watching TV Patrol every night, when I always wanted to watch something else while eating dinner," Lumasag recounted.
"Growing up I became fascinated with news anchors, I actually took a communication course in college because my dream back then was to be the next Korina Sanchez. ... Now it feels like maybe, just maybe, it's really where I'm meant to be, like it's what I was always meant to do," she said.
The competition covered three categories, namely, voice of the people (vox pop) campaign, news reading, and impromptu annotation before a crowd of hundreds at Centrio Ayala Mall.
In the first round, each school representative was required to write three news articles for the three rounds English, Filipino, and Cebuano using the facts given to them. Donnabelle reported on "Gusto ko Matarung nga Pulis" campaign of the Philippine National Police - Region 10 in the English category; on the increasing number of HIV/AIDS cases in Cagayan de Oro City in the Filipino category; and on the recent transport strike that occurred in the city in the Cebuano category.
In the vox pop campaign category, Lumasag highlighted the "I am Mindanao" campaign which aims to address violent extremism in Mindanao through youth empowerment.
In the final round, Lumasag battled against other contestants in a tough annotation where she reported on Claveria having been named as a restricted area due to the recent bloody encounter between the military and New People's Army (NPA).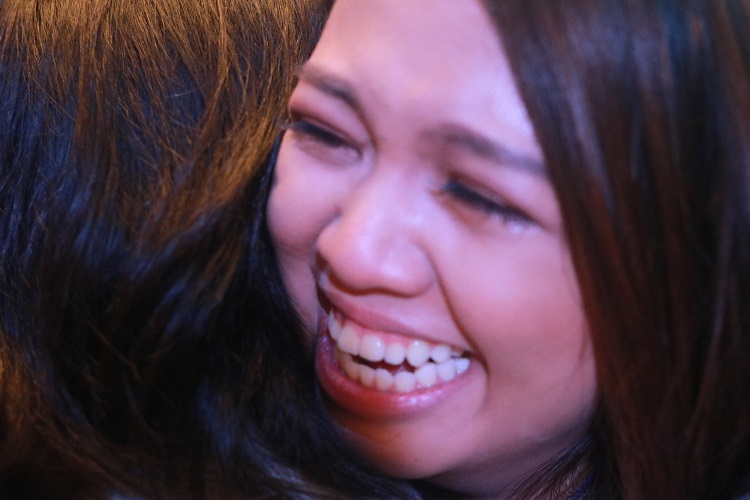 SWEET VICTORY. DevCom junior Donnabelle Lumasag was emotional when the results came out, declaring her as the 4th ABS-CBN interschool newscasting champion and for being the first female to win the title.
Lumasag shared the challenges she went through to prepare for the competition and expressed her gratitude to the people who supported her to overcome them.
"I was not confident in my writing skills; I knew I had to work on it a lot. Thankfully, a lot of people helped me. I couldn't have done it without all of them and God, of course. However, amid the challenges, there is that person who inspired me, former ABS-CBN interschool newscasting champion Adam Anay, who really helped me a lot," Lumasag mused.
Anay told Lumasag before the contest, "Dons, your biggest competition is not them, but yourself."
Moreover, religious Lumasag took pride on the lessons she has acquired from the competition.
"The competition and the whole experience taught me to really just trust in God and at the same time believe in myself, that I can do everything through Him and that, I alone could not do it. My faith in God has strengthened ever since then," she said.
"I hope that this competition will open doors for more opportunities for me to improve my skills or perhaps this would lead me to an exciting career in the future," Lumasag added.
She also considers her victory as a way of empowering women in celebration of the National Women's Month, having been chosen as the first female champion in the college division of the said newscasting tilt.
"In male-dominated industries, such as in broadcasting journalism, I want to become an inspiration to other young women out there. Pursue your dreams no matter how impossible it may be," Lumasag said.∎