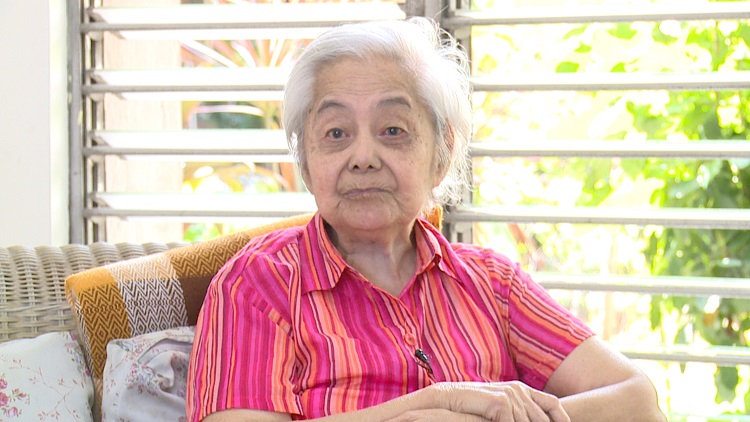 SR MA DELIA CORONEL ICM
FR FRANCISCO DEMETRIO SJ AWARD FOR CULTURE AND THE ARTS
Xavier University - Ateneo de Cagayan
30 March 2017
On July 19, 1991 in Beverly Hills, California, a lecture and autographing party was set to transpire at 7 in the evening. There stood a prominent Mindanaoan writer who was about to launch Books 1 to 7 of "Darangen: Maranao Epic," which she translated from classic Maranao into English. Her name is Sr Ma Delia Coronel ICM.
Sister Delia, as dearly called by her family and friends, also authored "Stories and Legends from Filipino Folklore," which had 12 editions between 1966 and 1976. Her creative and literary works were always in the service of the faith and of dialogue with religions and cultures. She spent many of her missionary years with our Muslim brothers and sisters in Mindanao, exemplifying an inspiring witness to the interreligious dialogue which Pope Francis describes simply as "being open to them, sharing their joys and sorrows" (Evangelii Gaudium 250).
Sr Delia was also deeply immersed in the academe. She obtained her BA in Journalism summa cum laude in 1949, MA in English meritissimus in 1950, and PhD in Literature benemeritus in 1959; all from the University of Santo Tomas. She had teaching stints at St Augustine's School in Tagudin, Ilocos Sur and Christ the King College in San Fernando, La Union (where she graduated as high school valedictorian). From 1977 to 1989, she was a literature professor at Mindanao State University - Marawi. In 1990, she was named "Professor Emeritus" and also served as senior researcher at Mamitua Saber University Research Center of MSU-Marawi.
A pivotal event in 1978 changed Sr Delia's life. She was kidnapped by Muslim separatist rebels aiming to publicize their cause. While in captivity, the good nun's belief was strengthened that through her work on the Maranao epics, she could contribute to a meaningful dialogue and enlighten the Filipino nation on the cultures of Mindanao. This experience was the precursor of her life's ultimate mission — using literature as a powerful instrument to promote peace-building and foster mutual understanding.
On September 6, 1991, at the University of Santo Tomas, 21 awards were given by the Manila Critics Circle, an elite group of writers and critics, varied in their sensibilities but united by their passion for books. Easily the most memorable part of the ceremony was the special award given to Sr Delia for then-four volumes of "Darangen," a project she started in 1983. The Catholic nun travelled from Marawi City, where she did her research work at Mindanao State University, and dressed in malong, a traditional Muslim skirt, gratefully received the prize ("The Saga of the Book Awards" by Lito Zulueta, Manila Chronicle, September 22–27, 1991). Besides her numerous literary awards, she was recognized as the Most Distinguished Alumna by her alma mater Christ the King College - La Union in 1984 and UST's Parangal Hakbong in 2000.
Sr Delia's journey in the arts, however, goes beyond her collection of accolades. Her true genius lies in nurturing and bringing the vivid and rich cultural heritage of Mindanao to the world stage — her tremendous gift from and for God.
In recognition of her prolific and commendable contribution to the promotion and enrichment of Filipino culture and the arts, and for her genuine service in interfaith dialogue for the greater glory of God, Xavier University - Ateneo de Cagayan is honored to confer the Fr Francisco R Demetrio SJ Award to Sr Ma Delia Coronel of the Immaculate Heart of Mary.
Words by Stephen Pedroza
Photo by Jesuit Communications Manila