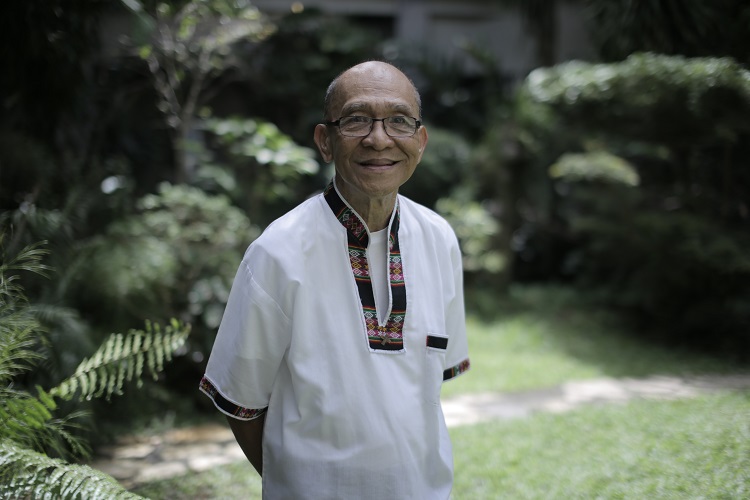 BR CARLITO "KARL" GASPAR CSSR
DOCTOR OF HUMANITIES HONORIS CAUSA
COMMENCEMENT SPEAKER
Xavier University - Ateneo de Cagayan
30 March 2017
"We really need to promote more concern and engagement in these particular areas because if we, Mindanaoans, won't do it, who will? This is our region. These are our people."
Making great strides in various fields, Br Carlito "Karl" M Gaspar CSsR is a prolific writer, respected socio-anthropologist, theologian, interfaith scholar, missionary, artist, and peace advocate, from Davao City. With doctorate degrees in the studies of anthropology, sociology, and history, he teaches as a professor at Ateneo de Davao University and serves as the academic dean of St Alphonsus Theological and Mission Institute.
Besides his teaching profession, Karl passionately pushes for development work in grassroot communities to realize his three major advocacy areas: championing the rights of Lumad people through solidarity work and immersions, conducting peacebuilding efforts in Mindanao through interfaith dialogues, and raising awareness on our ecological challenges through campaigns and training programs.
For nearly three decades, Karl has lived and worked with indigenous communities in Southern Mindanao, including the Mandaya in Davao Oriental, the Manobo in Cotabato and Bukidnon, the Subanen in Zamboanga del Sur, and the Dulangan Manobo in Sultan Kudarat, as a member of the Redemptorist Itinerant Mission Team.
His numerous engagements to promote the land rights of Lumads in particular have resulted in collaborations among church groups, non-government organizations, and educational institutions. He initiated solidarity work on behalf of the Lumads to alleviate their marginalized status, as well as in defense of their basic human rights and ancestral domains. Highlighting the need to bolster Mindanao studies and research, Karl encourages a shift of focus on the acknowledgment of indigenous knowledge, skills, and practices to trace our roots. Particularly in the academe, he engages in the disciplines of sociology, history, philosophy, literature, and theology to strengthen his advocacies. As Karl said, "The moment you are theoretically attuned to their plight and your life experience is very much connected to the reality of social problems, you cannot not respond."
As a multi-talented and celebrated writer, Karl has been a recipient of prestigious awards for his remarkable works on spirituality and on indigenous cultures, including the Jaime Cardinal Sin Catholic Book Awards for Best Book in Ministry and Best Book in Spirituality in 2015. In 2012, he received the 31st National Book Award in Social Sciences for his book "Manobo Dreams in Arakan: A People's Struggle to Keep Their Homeland" (University of Hawaii Press, 2011), a scholar-cum-activist's account of Mindanao's history and the struggle over the Lumad's ancestral lands.
Aside from being a columnist for MindaNews in Sojourner's Views and Panaw-Lantaw, he has contributed articles and essays on Mindanao to various publications in the Philippines and abroad. He was also bestowed the Gawad Dabawenyo Award by Sun Star Davao in recognition for his "true authority on life's purpose and spirituality." With new books published, namely, "A Hundred Years of Gratitude," "O Susana! The Untold Stories of Martial Law in Davao," and "Desperately Seeking God's Saving Action: Yolanda Survivors' Hope Beyond Heartbreaking Lamentations," his works now range from history books on Davao and Mindanao to stories of Martial Law, and to climate change adaptation.
Before joining the Redemptorists, Karl worked for several development and pastoral offices and organizations, such as the National Secretariat of Social Action, Justice and Peace and was the executive secretary of the Mindanao-Sulu Pastoral Conference Secretariat. At the height of Martial Law, Karl, fighting for democracy, was captured and detained for 22 months by the regime's military. During his detention, he was adopted by Amnesty International as a political prisoner and became more determined to stand up for peace and freedom.
Celebrating his 30th year as a Redemptorist brother in June 2017, Karl sees his being part of a religious congregation as an effort to bring in spirituality in his work as a human rights champion, academic, creative writer, and Filipino artist. His reflections and personal experiences underscore the holistic integration of his spirituality and mission. Karl, who is turning 70 on June 8, is deeply encouraged by the meaningful faith expressions of the Indigenous Peoples and believes that religious work with them should come from a deep and genuine appreciation of the integrity of their faith belief system. Hence, his prolific writings to this end have been described as an exceptional oeuvre to proclaiming the Gospel anew in challenging circumstances and social realities, especially in the peripheries.
In recognition of his extensive and excellent work as an inspiring theologian, interfaith scholar, multi-awarded writer, and Mindanaoan artist in pursuit of justice, peace, and the integrity of creation; and for his outstanding contributions to development work and social sciences in the country, Xavier University - Ateneo de Cagayan is deeply honored to confer the Doctor in Humanities, honoris causa to Br Carlito "Karl" M Gaspar of the Congregation of the Most Holy Redeemer.

Words by Stephen Pedroza, with contributions from Samantha Bagayas and Catalina Gaite
Photo by Jigo Racaza