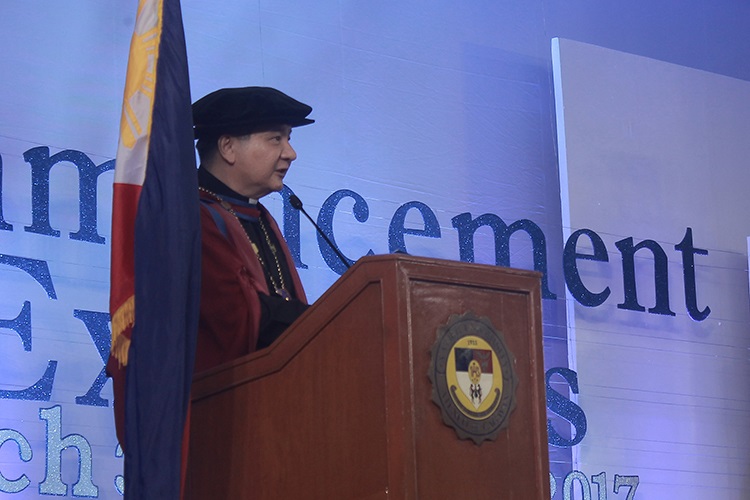 (Note: This is the parting message and benediction of Xavier Ateneo president Fr Roberto "Bobby" C Yap SJ to the Class of 2017, delivered on the 31st of March and 1st of April at the XU Gymnasium. Photo by Rico Magallona)
Dos palabras. Duha ka pulong alang sa Klase sa 2017: pabaon ug pagdapit. Ang pabaon: Panglakaw kamo ug isundayag sa tibuok kalibutan ang pamaagi ug abilidad nga XavierAteneo. Ang pagdapit: Ayaw kalimot sa pagpauli usahay sa inyong alma mater.
Ang unang pulong, pabaon: Panglakaw kamo ug isundayag sa tibuok kalibutan ang pamaagi ug abilidad nga XavierAteneo. Go forth and show the world the XavierAteneo way: be restless, be imaginative, be incomplete.
Be restless. Have restless minds and hearts. XavierAteneo graduates, be persons of great desires, of restless spirits, never satisfied. Have a deep desire to change the world and make it better. Do not be mediocre. Never be content. Rather, be audacious, daring, brave, and bold.
Be imaginative. XavierAteneo graduates, you must be agile, intuitive, and flexible. With your imagination, you will not become rigid, but will always have a sense of humor and inner freedom. You will find that life is not a painting in black and white but a painting in many hues and colors. You will see with your imagination that some aspects of life are clear, others dark, some soft, others vivid. Have a discerning eye to differentiate the many nuances and penetrate ambiguity.
Be incomplete. God is the Deus semper maior, the God who is always greater, the God who always surprises us. XavierAteneo graduates, your faith must always be open and not closed and rigid. With openness of spirit, confront the complex challenges of life and of social transformation. You can be sure of two realities: first, God will ceaselessly surprise you; and second, however startling the surprise, God will always be there.
XavierAteneo graduates, always be restless, imaginative, and incomplete. Persistently strive for magis. I hope this pabaon will nourish your journey as you leave the portals of the Ateneo and begin a new chapter in your life.
Ang ikaduhang pulong, pagdapit: Ayaw kalimot sa pagpauli usahay sa inyong alma mater. Come home once in a while to your alma mater, the mother of your soul. The poet, Robert Frost describes home as "the place where, when you have to go there, they have to take you in." Ang Xavier magpabiling puloy-anan kanatong tanan. When you need to relive the memories, come home. When you are tired and your soul needs refreshment, come home. When you are happy and wish to celebrate, come home. You are always welcome to come home to Xavier.
Before we part, please allow your University President to give you a final blessing. My dear XavierAteneo graduates of 2017, please rise.
My good faculty and staff, please also rise and kindly join me in imparting a blessing to our graduates by raising your right hands over them.
Graduates, please bow your heads and pray for God's blessing:
God be in your head
and in your understanding
God be in your eyes
and in your looking
God be in your mouth
and in your speaking
God be in your heart
and in your thinking
God be at your end
and at your departing
May the Lord bless you and keep you.
May his face shine upon you and be gracious to you.
May he look upon you with kindness, and give you his peace.
Amen. Amen.
Mabuhay, XU Class of 2017! Mabuhay!
Congratulations!