This year, they are called "the power set." They have stood out above the crowd. They have surpassed the labyrinths of college and emerged from both its burdens and joys with the highest academic award there is – summa cum laude. This series of profiles, penned by Angelo Lorenzo, Alex Belen, and Stephen Pedroza, is dedicated to the three exemplary graduates of Xavier University - Ateneo de Cagayan for school year 2016-2017, who magnified the meaning of Magis in pursuit of knowledge and excellence. This is but an attempt to tell what made them the "ideal students," what struggles they've had to contend with, what inspires them in their journeys, and who they are outside the hallmarks of the university. These are their stories.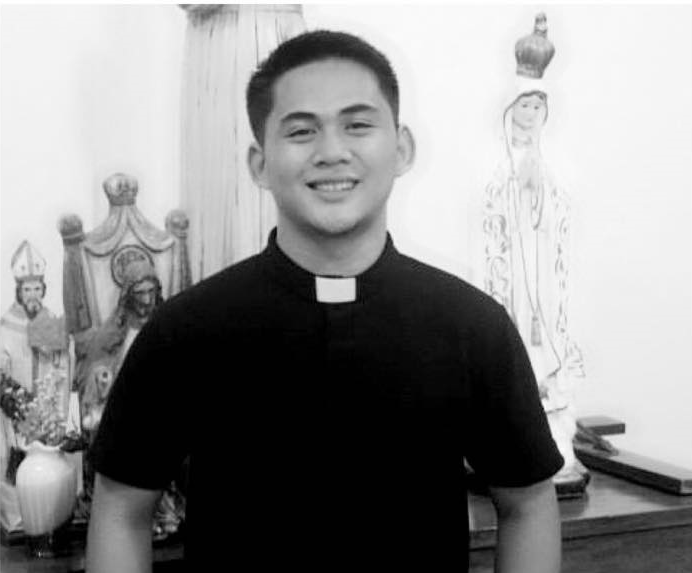 Emmanuel Sumayang, AB Philosophy summa cum laude, class of 2017. Contributed photo.

A profile by Angelo Lorenzo
Emmanuel knows God is with him.
Growing up as the youngest child in a family of seven, Emmanuel Sumayang has been exposed to religious activities when his family has continually served in the different ministries of their parish in Jasaan, Misamis Oriental.
At an early age, his knowledge broadened by reading encyclopedias and newspapers. His mind may have started accumulating the discoveries of science and the chronicles of reality, but his family's participation in their local church and his eventual desire to serve with them made his heart beat for God.
Thus, he responded to His calling; and that's how he knew He has been with him.
Finding the lost sheep
Becoming a diocesan priest in the San Jose de Mindanao Seminary is his way of responding to His call.
He believes this devotion was greatly inspired by a believer's responsibility to seek for the lost sheep that have gradually left the flock, and bring them back to the Shepherd, so wolves won't hunt them down. His generation has revealed this statistic, and so he intends to keep his faith and inspire others to do the same.
But to accomplish this role requires training. So, he moved from his home in Jasaan to the San Jose de Mindanao Seminary established on the hill of Barangay Camaman-an, Cagayan de Oro City. The seminary, built in 1954, was founded by the late Archbishop James TG Hayes SJ DD, and was the first college seminary in Mindanao.
His training led him to begin his Spiritual Formation Year. It was at this time when his director only acknowledged two marks – a perfect score or nothing. He managed, he learned, and he passed onwards to the next phase.
A degree in Philosophy became his priority upon enrolling as an undergraduate at Xavier University - Ateneo de Cagayan. Even with his formation in the seminary, he made sure to follow the training instilled in him to focus on his academics. Two hours were only allotted for him to study every night, but he knew glorifying God and fulfilling his training should include balancing academic demands and seminary formation.
Majoring in Philosophy had never been in his mind prior to his decision to devote the rest of his lifetime for God.
But the rest of his four years in college under this program helped him to see in better sight with his faith the path to wisdom and the pursuit for it. Science may involve facts, but Philosophy seeks to understand life.
An award-in-itself
He understands how much this calling means to him, so he pursued the academic track to the best of his abilities. He claimed that his training in his SFY influenced his recent achievement. He aimed for high scores, not because he wanted to become the top of his class, but because he was trained to persist and do his best, and to become impassioned with the requirements.
His pursuit led him to march onstage, among three of Xavier Ateneo's summa cum laude, during the university's 78th Commencement Exercises. Although he considers the award as an achievement, he looks beyond the honor; because for him, to become a man for God is his greatest honor.
But his pursuit goes on as he still has miles to take in his journey to priesthood.
He plans to take the next phase by enrolling at Ateneo de Manila's Loyola School of Theology where he will be undergoing theological studies.
Like a sheep in a flock, he belongs in the seminary where he submits to the formation for his priestly devotion. He is prepared for parochial and special ministry, and will go wherever the bishop sends him someday.
Learning about the present hostilities of the world by constantly reading the news, he believes this generation needs God more than anything else. Therefore, he takes on the responsibility to magnify Him and His glory in a world befogged by suffering and pain.
But he knows that whatever decision he takes for his devotion, wherever places he may go, or wherever the path of faith and service leads him, God will be with him. He has been with him since, and He will be with him then. ∎
RELATED READS
Jay Nelson Corbita defies odds in the name of his dreams by Alex Belen
The enduring love for literature and music of Miss Eunice Baliong by Stephen Pedroza