This year, they are called "the power set." They have stood out above the crowd. They have surpassed the labyrinths of college and emerged from both its burdens and joys with the highest academic award there is – summa cum laude. This series of profiles, penned by Angelo Lorenzo, Alex Belen, and Stephen Pedroza, is dedicated to the three exemplary graduates of Xavier University - Ateneo de Cagayan for school year 2016-2017, who magnified the meaning of Magis in pursuit of knowledge and excellence. This is but an attempt to tell what made them the "ideal students," what struggles they've had to contend with, what inspires them in their journeys, and who they are outside the hallmarks of the university. These are their stories.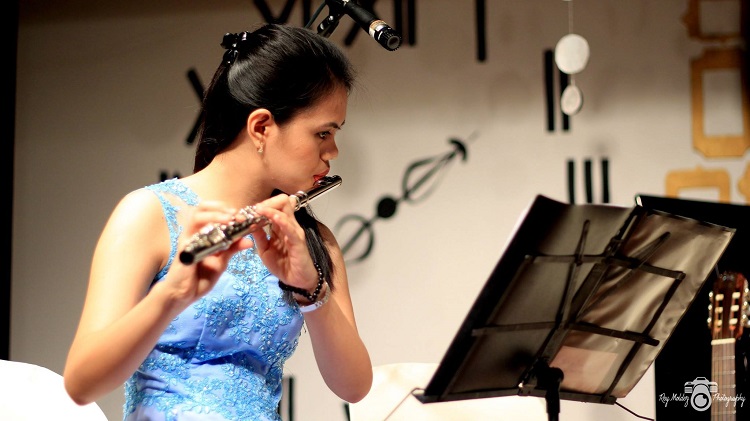 DECEMBER 14TH. Eunice Baliong performs Leo Delibes's "Duo des Fleurs" at the Xavier Ateneo Little Theater. Photo by Rey Moldez/Xavier Philharmonia
A profile by Stephen Pedroza
On the 14th night of December in 2016, the spotlight shone upon a flutist donning a cerulean sleeveless gown with beaded floral embellishments, standing proud before an eager crowd at the Xavier University Little Theater.
The stage was tense like a public initiation for her as part of the enigmatic Xavier Philharmonia, a group of young musicians revered for their classical ensemble performances inside the Xavier Ateneo campus and beyond.
During her flute duet with a male co-member, in the midst of performing Leo Delibes's "Duo des Fleurs," she hit a C natural instead of C#, rather inadvertently.
"It distorted the blending of the flutes in one bar! I don't think I'll ever forgive myself for that," twenty-one-year-old Eunice Baliong candidly shares.
It was an embarrassing moment, she tells, but the crowd had forgiven her almost unnoticed mistake and their performance was applauded.
"Music kept me sane in college," Eunice says. "It was the only diversion in the monotony of my academic and co-curricular engagements."
Miss Baliong, who hails from the beautiful island of Camiguin — billed as the "Island Born of Fire" due to its volcanoes that form part of the Pacific Ring of Fire — is a flutist. But she did not start her musical training with the wind instrument.
"I started with piano," she confesses of the black and white gnomes. "I was sent to a music teacher to learn it at the age of nine. I did not last in the piano very long because during the school recital, when the winds group performed, I fell in love immediately with their sound, and I realized that piano, though I liked it, wasn't my instrument," she narrates.
"I dreamt of becoming a wind musician."
So Eunice took the opportunity to hone her musical talents and skills at a local church. Her first flute, a JSchmidt silver-plated nickel, C flute, had been given a name. She called her "Aubrey" from the song "Aubrey" by Bread.
"The Baptist church here in CDO has a very active music ministry. I've been an active musician since 2013. In 2016, I joined the Xavier Philharmonia and enjoyed every minute of it," she says.
XP allowed her to develop her music and it was through this organization that she met the German international concert flutist, Ulrich Muller-Doppler, a descendant of the great composer Franz Doppler, whom she now considers as an influential mentor.
"I had a master class with Ulrich. He's in Germany right now but he continually tries to help me out. We communicate a lot through Facebook and every now and then, he gives me tips, techniques, and some flute literature for me to play," Eunice shares.
She could not live without her flute by her side. So clingy with her instrument that when she attended The Crusader Yearbook's Yuletide evening party at a white beach resort, she arrived from a gig with her flute, dress, play sheets, and music stand all in tow.
"It was memorable. They made me do a challenge."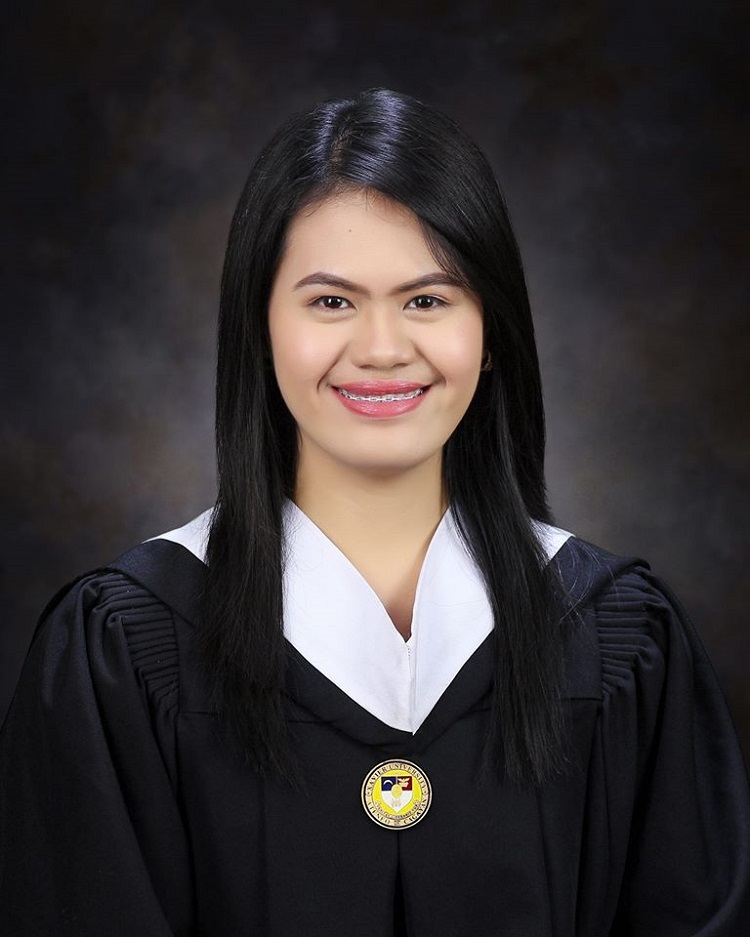 AB LITERATURE GRAD. Eunice Baliong, AB Literature summa cum laude, Class of 2017. Photo courtesy of The Crusader Yearbook 2017
Bittersweet endings
Eunice, a hunter for good reads, dreads the lack of bookstores in her hometown of Camiguin, an unsurprising gasp of horror for bookworms against the backdrop of the magnificent Mount Hibok-Hibok and the Pacific sea breeze.
Growing up, Eunice would wait for her parents — her father is a Baptist pastor while her mother is an elementary school principal — to bring home books from the city for her to read.
"I owe a lot to my mother. You see, she was the person who led me to love reading. She was a teacher, so I grew up in a house literally filled with books. At night my mother and father would read and tell my sister and me bedtime stories. She would come home from the local elementary school each afternoon with a new book for me to read. When they go to the city, they would always bring back books for me to read. They were very careful with the kind of books I was reading," Eunice shares.
Next to the Bible stories she learned by heart at home and at their Sunday school, Eunice was already reading the classical works of literary gods Dickens, Austen, and Doyle as a ten-year-old, when her peers were hustling the streets playing Chinese garter and slipper games.
"I was a loner back when I was a child," she recounts. "I was literally the little girl with her nose stuck in a book. I would read all the stories in my English textbooks even before the teacher discussed them. I would read anything I could get my hands on, even the labels and instructions on medicine and soap boxes," she says.
"Reading was my childhood luxury. … This love for reading surely helped me in college because in AB Literature, you're doomed if you don't read."
Eunice graduated at Xavier Ateneo with a degree in AB Literature, a course where she and her fellow majors concentrated on learning and analyzing literary works from various time periods, countries, subjects, and of the different forms they take: novels, poetry, prose, theater, and songs, among others.
"The course itself is meaningful. Literature allowed me to look at people and to look at life like I never did before. I found meaning in even the simplest of things and circumstances. I saw the multi-dimensional nature of human beings and the many events and interactions that created the fabric of their character," the summa cum laude graduate shares.
It was the only degree at XU that Eunice knew she would genuinely enjoy the most.
"Imagine sitting in class listening to published writers, poets, essayists, and Palanca awardees! See if that doesn't take your breath away!" she drums.
"My batch was the first batch of AB Literature students ever to graduate at Xavier (AB Literature is a new course, compared to AB English), and there were a lot of interesting and intelligent people among my classmates, so it was fun discussing and analyzing literary works with them," continues Eunice, who served as president of Xavier English Language and Literature Organization (XELLO) on her senior year.
Camiguin, Eunice describes, nurtures her love for nature, something she always attempts to show in her writings.
"I grew up in a two-storey house near the sea. Every morning, I would wake up to the smell of sea breeze, the songs of birds, and the resplendent view of Mt Hibok-Hibok on the terrace. Camiguin is very peaceful and quiet. The days pass by so slowly and the lives of the people are not fast-paced. Unlike in the city where everybody is in such a hurry, my neighborhood here is very relaxed. Since I live close to the sea, most of my neighbors are fishermen, which is why I love writing about fishing villages," she narrates.
A writer is a preserver of awe, Eunice believes. The writer's job is to tell a story to feed the human thirst for awe.
"People turn to books, to movies, to plays because they want to hear stories that would capture their awe. Anyone can be a storyteller, but the writers, the really great ones, are those who possess the deepest insights into the human condition. They are the ones who can capture human awe and immortalize it for the future," says Eunice, an ardent follower of CS Lewis, Harper Lee, Jane Austen, and TS Elliot.
XELLO, which Eunice heads, had organized Sugid Kabataan during the Xavier Festival Days 2016, an event that told solely Mindanaoan and Filipino stories to children through puppet shows, short plays, and big book readings.
"We have a responsibility to tell our stories. Because if the Filipino people remain blinded of the richness of own literature, we remain blinded of own stories, and remain blinded of own condition," the XELLO president says.
Literature makes us more human.
"I discovered the glories of Art and how it makes us human," she says. "And I think that whatever course or profession you will end up in, that is the calling and responsibility for everyone — to be more human."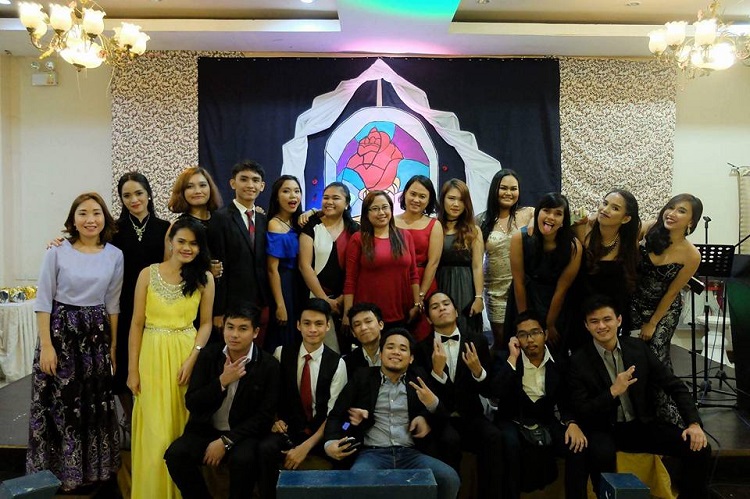 XELLO. Xavier English Language and Literature Organization SY 2016-2017. Supplied photo.
Creative spaces
Besides XELLO and Xavier Philharmonia, Eunice also belongs to the army of creatives of The Crusader Yearbook 2017, in which she had never thought of learning how to strike a pose for the Open Season subscription campaign.
"I never thought I would fit in. Many of my workmates were extroverts!" she begins. "They knew a lot of fashion, a lot of modern music, and I couldn't relate to the TV series they talk about in the office."
Miss Baliong serves as one of the copyeditors of the entry-level profiles for the yearbook. The text and features team is also concocting a 14-chapter literary piece for The Crusader Yearbook 2017.
She admits that her biggest challenge in college was to maintain her high academic standing while being so involved in many organizations and activities. Many have dared to ask her this question: How does she manage her time?
"It helped that I was super, super organized. I scheduled my daily activities and ordered them down to the last minute and second, ticking off boxes as I went through each of them," she answers.
On top of her months, February, in line with the National Arts Month celebration, was her busiest, packed with rehearsals, event organizing, and submission of academic requirements. "If you can see my planner, February is super messy and colorful," she says.
But she thanks Xavier University for these challenges that helped in forming who she is now.
"Xavier is exciting. It is home because this is where I discovered myself. This is where I gradually understood who I was and the responsibility that I have," Eunice says.
"Xavier gave me an identity."
A pause.
"Whenever I get the urge to write something, I go to my favorite spot at XU, the benches along Haggerty House. There I can stare at the sky openly and write," Eunice shares.
An impulse.
In the success story of Miss Eunice Soriano Baliong, a child of Camiguin and Cagayan de Oro City, she had spent countless times staring at the horizon as it changes colors and if you pay close attention, she says, it creates images of its own. It has become a habit for this heroine of her own narrative to daydream, to stare at the sky as she thinks of what to do next, where to go, and why is she here right at this very moment of time.
Camiguin raised her to love the environment, Cagayan de Oro offered her a journey to self-discovery, and Xavier has become her home where she can celebrate creativity.
Now, Eunice looks up once again, to explore the realm of law school, and this time, she is more determined to achieve her goals, she is stronger in her faith, and she dreams bigger as dreamers dream on.∎
RELATED READS
The priestly devotion of Emmanuel Sumayang by Angelo Lorenzo
Jay Nelson Corbita defies odds in the name of his dreams by Alex Belen