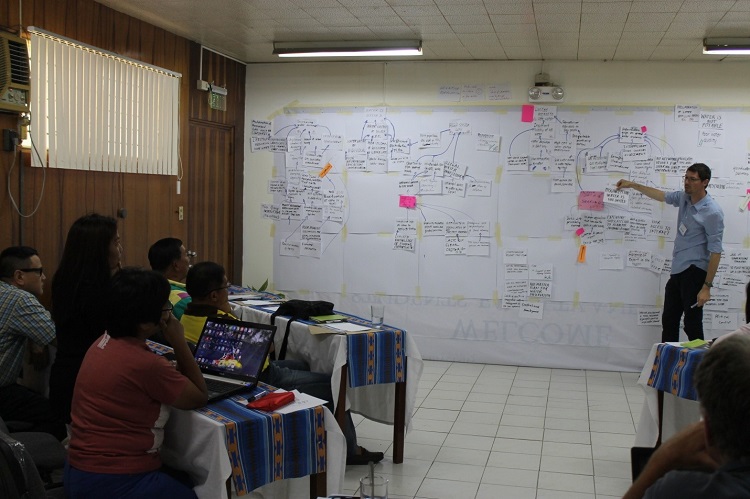 IDENTIFYING THE ROOT CAUSES. During the mission formulation, Prof David Cammaerts of the Académie de Recherche et d'Enseignement Supérieur (ARES) facilitates the session on getting to the root causes of water-related problems in the locality.

Text by Tat Gualberto
Photos by Friday Atilano
Xavier University - Ateneo de Cagayan, University of Namur, Universite Catholique de Louvaine (UCL), and Académie de Recherche et d'Enseignement Supérieur (ARES) are working together for a project called "Building up an Integrated Methodology for Water Resources Assessment and Management in Urban Coastal Area (BIMWAM)" to empower Philippine universities and communities in the field of water sciences.
The said project aims to use their capacities and expertise in water sciences to collaborate with the country's water stakeholders and leaders. It is intended to assess water resources, evaluate public water policies, and help water stakeholders to build their own vision of local sustainable development.
The XU-BIMWAM project team is composed of project coordinator (for the south) Dr Guadalupe D Calalang, McKeough Marine Center (MMC) director Fr Mars P Tan SJ, Southeast Asia Rural Social Leadership Institute (SEARSOLIN) director Fr Roberto EN Rivera SJ, Office of International Cooperation and Networking (OICN) director Elisabeth B Enerio, MMC administrative officer Friday G Atilano, and SEARSOLIN program officer Xyla Mercedita E Gualberto.
The project stakeholders, including the Belgian partners Prof Vincent Hallet (University of Namur), project coordinator for the north, Prof Ignace Adant (UCL), and Prof David Cammaerts (ARES) met the representatives from the partner water cooperatives in Misamis Oriental, namely the Medina Rural Water and Sanitation Cooperative and Lugait Water Service Cooperative, in an intensive four-day assessment and plan formulation, held from July 5 to 8 at SEARSOLIN.
The participants underwent a rigorous process of extracting the root causes of water-related issues, needs, and challenges.
A participatory methodology was employed to ensure the project's relevance and efficiency in its target communities.
BIMWAM aims to investigate the socioeconomic impacts of changes in water operations in Medina and Lugait. This project is set to roll out this September. ∎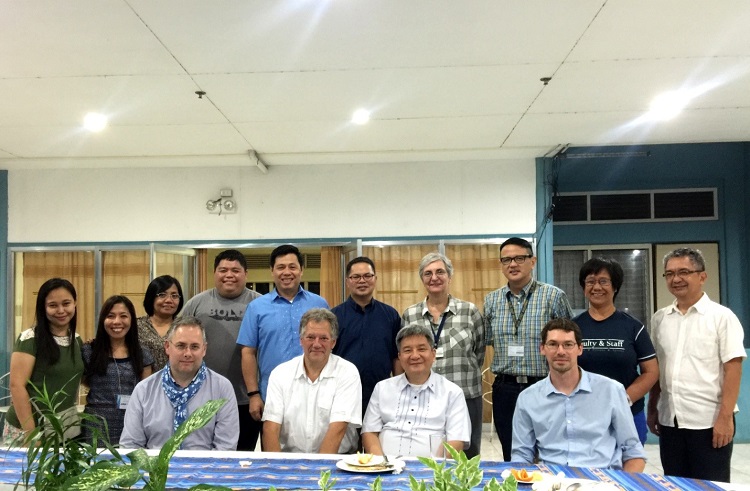 PROJECT LEADERS. XU administrators with the BIMWAM project team L-R FRONT: Prof Ignace Adant of UCL, Prof Vincent Hallet of UN, Fr Roberto C Yap SJ of XU, Prof David Cammaerts of ARES; Back: Joy Parenas of MERWASCO, Prof Ana Rosa Carmona of University of St La Salle, dean Ma Rosario Mosqueda PhD of the XU College of Agriculture, MMC admin officer Friday G Atilano, MMC director Mars Tan SJ, XU academic vice-president Fr Rene Tacastacas, OICN director Elisabeth Enerio, SEARSOLIN director Fr Roberto EN Rivera SJ, Dr Guadalupe Calalang of XU Agricultural Engineering department, and XU social development vice-president Roel R Ravanera.