Xavier Atenean among 12 fellows at UST National Writers' Workshop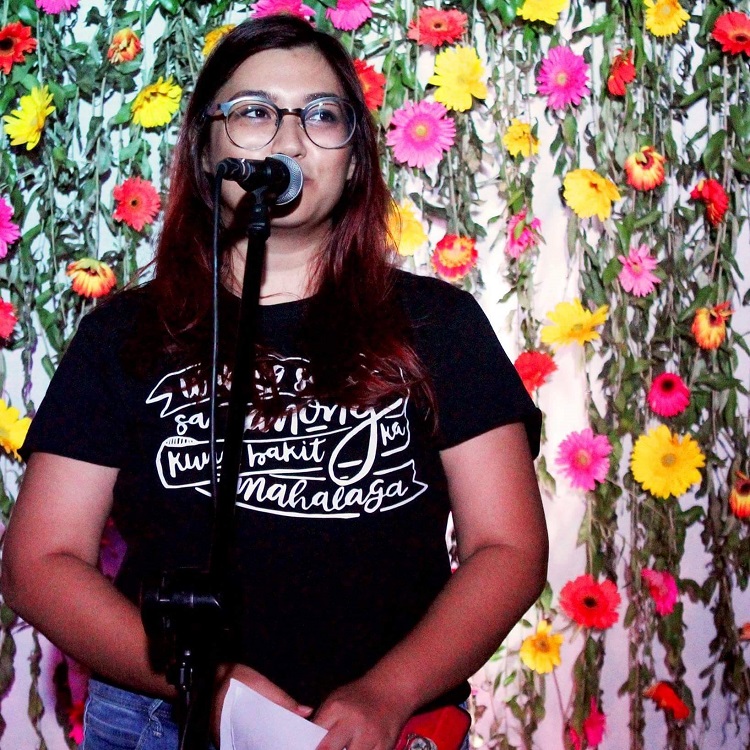 XAVIER ATENEAN WRITER. Abigail "Abby" C James is among the 12 writing fellows of the 2017 University of Santo Tomas National Writers' Workshop. Contributed file photo.
By Stephen J Pedroza
"Her writing is a dangerous cocktail of women, inner turmoil, and love," reads her bionote in the Nagkahiusang Magsusulat sa Cagayan de Oro, otherwise known as NAGMAC, where she serves as a senior fellow for fiction and essay.
Abigail "Abby" C James, a magna cum laude AB English graduate of Xavier Ateneo in 2014, is an emerging fictionist, feminist, teacher, and now she is named among the 12 writing fellows of the 2017 University of Santo Tomas (UST) National Writers' Workshop in Baguio City from July 23 to 29.
"When I got my acceptance email last week I was screaming. This really is my Pia Wurtzbach story," shares Abby in an online post on the 14th night of June. "I had already been 'rejected' by two other workshops this year and I kept thinking well: 'She did it after her third try. Who knows?' Honestly, I had been expecting it more to be three actual years."
'Transformative experience'
She submitted works written in prose, which is the type she has had the most experience. These works put the problems of identity and relationships of the young people or in today's parlance "the millennials" on the spotlight.
"It's about time that more Mindanaoan voices are heard," Abby continues. "I'm just privileged enough to be one of them. Of course, ad majorem Dei gloriam! This is quite a victory."
A brainchild of UST's Center for Creative Writing and Literary Studies (CCWLS), the said workshop seeks to hone writers (21 years and older) in fiction, creative non-fiction, poetry, and playwriting.
"During the workshop, 12 fellows will have their works critiqued by premier members of the Philippine literary scene, with most of the panelists coming for the UST Center of Creative Writing. There the works will be given comments on how to refine each after valuable input from all the panelists," Abby says.
Her works have been published in Dagmay Literary Journal, The Carayan Journal, Bulawan Literary Zine of Northern Mindanao (where she is the fiction editor), and Veritas Art and Literary Folio, among others. She was a fellow for fiction at the 2014 Davao Writers Workshop where she has been mentored by Palanca-awardee Macario Tiu.
"Being accepted into workshops is always a transformative experience for any writer, because it exposes you to the different techniques and aesthetics prescribed by each institution. I'm hoping after this, I'll be able to pass on what I've learned to the members of NAGMAC, and those from Northern Mindanao, where there are so many young writers who are looking to refine their skills," Abby adds.
According to the announcement of CCWLS, the senior guest panelists of this year's workshop are literary giants Gémino H Abad (UP Professor Emeritus), Bernardo Bernardo (playwright, director, and veteran stage, and film actor), and Victor Emmanuel Carmelo Nadera Jr (director of the Philippine High School for the Arts and founder of the annual USTetika Awards).
Professor Emeritus and UST-CCWLS director Cristina Pantoja Hidalgo serves as this year's workshop director.
Dark turns and bright hopes
Abby, 23, who is currently pursuing her MA English Language degree at Xavier University – Ateneo de Cagayan, says that as a grad student, "it will be interesting to look into the different stylistics used by young writers in their literary works."
Some of the projects that Abby and NAGMAC organized with Xavier Ateneo included the 1st CDO Writers Workshop (with the XU Department of English Language and Literature), CDO Writers Clinic (with the Xavier Center for Culture and the Arts), and 1st Veritas Writers Workshop (with The Crusader Publication). NAGMAC and XCCA will present the Kausaban Forum on Creative Writing next month.
Her other works are also set to appear in the "Mindanao Odysseys: Anthology of Travel Essays" and "Bukambibig Poetry Folio of Spoken Word Philippines."
As a feminist, writer, and, as she confesses, "somewhat a hopeless romantic," her writing is deeply intertwined in the colorful stories of women, inner turmoil, and the trappings of love. She continually examines the toils and labors of a person with the self, with the beautiful and ugly facets of society, and with the in-betweens of human relationships.
As Abby puts it: "A lot of my works often take a dark turn, perhaps to reflect the instability of the self. But even in darkness, there is hope of understanding which is the goal I wish to instill in readers."∎

READ TWO OF HER WORKS HERE:
A Permanence of Nothing (Fiction; The Carayan Journal Vol 1 - No 1, December 2015)
Ga Ulan sa Sulod ug sa Gawas (Poetry; Dagmay Literary Journal, July 2015)