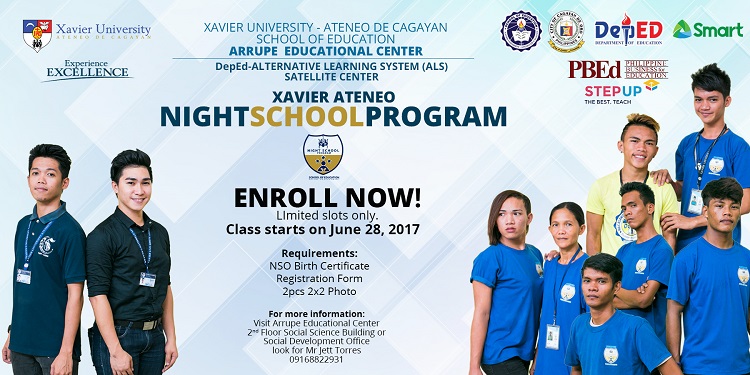 The Xavier Ateneo Night School Program of the School of Education's Arrupe Educational Center (AEC) opens anew with a call for applications for a new batch of learners.
The XU Night School Program is intended for out-of-school youth and street children who are in the elementary and high school level desiring to take the Department of Education (DepEd) Acceleration and Equivalency Test.
The program orientation will be on June 28 and 30. This year's formal class will start on July 3. The class schedule is every Monday, Wednesday, and Friday, 6:30-8:30PM at XU Gymnasium.

The program is supported by the Cagayan de Oro City Local School Board and is made possible in partnership with DepEd Region X, SMART Communications, XU Athletics Office, Philippine Business for Education (PBed), and Step Up Philippines.

The goal of this program is to promote literacy, numeracy, and values formation to the out-of-school youth and street children in Cagayan de Oro City and to prepare them for the ALS test, with the aim of getting a 100% passing rate.
The learners are expected to undergo a twelve-month intensive learning (DepEd-ALS modules) through the assistance of the licensed mobile teacher.
The tutorial sessions, values formation, and counseling will be handled by the volunteer-teachers from the Xavier Ateneo's School of Education - Arrupe Educational Center.

Interested learners are required to submit NSO birth certificate, a filled-out registration form, and two pieces of 2x2 pictures.∎
For more information, kindly visit the Arrupe Educational Center (2/F Social Science building) or the Social Development Office (G/F Aggie building). Look for XU formator Jett Torres (This email address is being protected from spambots. You need JavaScript enabled to view it.) or contact him via 0916-8822-931.