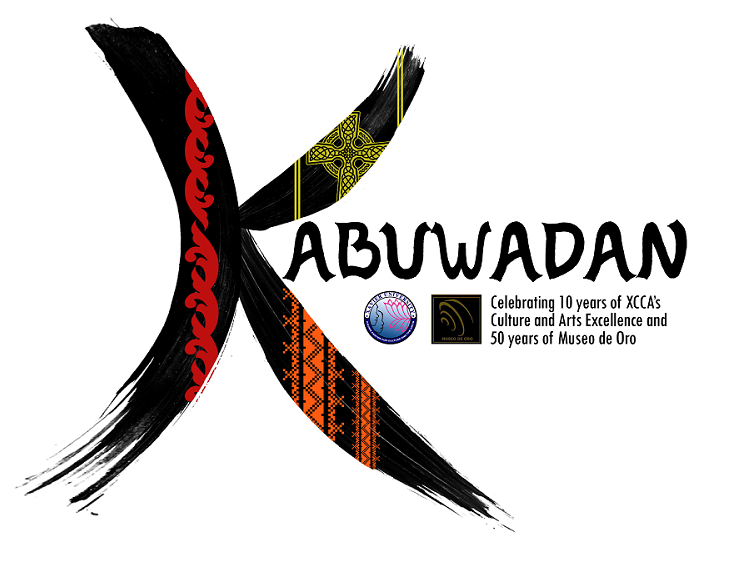 Xavier Center for Culture and the Arts (XCCA) opens its 10th cultural season this June, highlighting the wealth of Filipino heritage, history, and tradition through the KABUWADAN 10: A North - Central Mindanao Culture, Heritage, and the Arts Festival 2017.
The country's first folkloric museum, Museo de Oro, is also set to celebrate its 50th anniversary this year. Museo de Oro is not an abode of dead things. It is, by all means, bursting with life, clad with vivid imagination and rich history. Through the artifacts and works of art displayed in its three exhibit rooms, rediscovering the 49-year-old "Museum of the South" promises a worthwhile and creative experience for the literati, artists, and museum-goers alike. Read more here.
XCCA lined up cultural education programs, art exhibitions, performances, festivals, and cultural advocacy-based programs for the celebration of their 10th year of existence in the university.
The center is also grateful for the support of the various institutions such as the National Commission for Culture and the Arts, Cultural Center of the Philippines, Film Development Council of the Philippines, Goethe Institut, City Government of Cagayan de Oro, SM City CDO, Centrio Mall, and Business Week Mindanao.

KABUWADAN: Celebrating 10 years of XCCA's Culture and Arts Excellence and 50 years of Museo de Oro
| | | |
| --- | --- | --- |
| Title of Project | Program | Date |
Angat sa Sining: Cultural Engagements of Xavier University

Cultural Education and

Artistic Excellence

June 2, 2017

118th Philippine Independence Day Celebration

Cultural Education and

Artistic Excellence

June 9, 2017

Museo de Oro Open House

Museo de Oro

Cultural Education

June 9 – 19, 2017

The Xavier Stage's

New Yorker sa Burgos

Artisitc Excellence

June 16 – 17, 2017

SULYAP KULTURA: a Culture and Arts Awareness Lecture for SHS

Cultural Education

July 12, 15 and 19, 2017

PAC Org Trip Performances

XP

XUGC

XUCDT

DA

TXS

Artistic Excellence

July 19-26, 2017

July 19, 2017

July 20, 2017

July 21, 2017

July 22, 2017

July 25-26, 2017

Ride Into the World of Innocence

One-Man Art Exhibition

Museo de Oro

Artistic Excellence

August 16, 2017

50 Years of Museo de Oro and the Demetrio SJ Symposium and Launching of the 'Center for Indigenous People's Studies'

Museo de Oro

Cultural Education

August 19, 2017

Dulaang Atenista's 1st production

Artistic Excellence

August 2017

Cagayan de Oro People's Gala II

Artistic Excellence

August 30, 2017

ArteKultura 10

– Disaster Proof Architecture: Construction and Rehabilitation

Cultural Education

September 9, 2017

The Xavier Stage's A Respectable Wedding

Artistic Excellence

September 20-30, 2017
Title of the Project

Program

Date

Art Exhibit by Leonardo Cariño

Museo de Oro

Artistic Excellence

October 4, 2017

YAMUG 10 : The Mindanao Historical Injustice

Cultural Education

October 7, 2017

SULAT DULA 4 – Playwriting Workshop in Mindanao

Artistic Excellence

October 19-21, 2017

Culture-Based Education Teaching and Learning Lecture Series

Cultural Education

October 27-28, 2017
Xavier Philharmonia's Concert

Artistic Excellence

November 15, 2017

Dulaang Atenista's 2nd Production

Artistic Excellence

November 20-25, 2017

BANTAWAN MINDANAW –

PASUNDAYAG PARA SA KALINAW

Artistic Excellence

November 18/25, 2017

Science Film Festival 2017

Cultural Education

November 15-18, 2017

XU Festival Days

Artistic Excellence

November 29- December 2, 2017

Circulo de Arte's Group Art Exhibit

Museo de Oro

December 2, 2017

Xavier University Glee Club's Concert

Artistic Excellence

December 9, 2017

The Xavier Stage's Panunuluyan

Artistic Excellence

December 15 – 16, 2017

CINEMAGIS – 10th Digital Short Film Festival in Northern Mindanao

Artistic Excellence

January 24-27, 2018

Panaghugpong 10 – Xavier Arts Festival

Artistic Excellence

January 31- February 28, 2018

Art Exhibit

Museo de Oro

Artistic Excellence

January 31 2018
| | | |
| --- | --- | --- |
| Title of the Project | Program | Date |
| Dulaang Atenista's 3rd Production | Artistic Excellence | February 1 – 7, 2018 |
| Xavier University Glee Club | Artistic Excellence | February 10, 2018 |
| XCCA Artists' Disney Love | Artistic Excellence | February 12 – 13, 2018 |
| Xavier Philharmonia's Concert | Artistic Excellence | February 14, 2018 |
| Xavier University Cultural Dance Troupe's Sulyap Sayaw | Artistic Excellence | February 17, 2018 |
| KATATAU 2 – Mindanao Studies Conference | Cultural Education | February 17, 2018 |
| The Xavier Stage's Dalawa sa Dalawang Gabi | Artistic Excellence | February 21-28, 2018 |
| TXS' Pasyon ni Hesukristo | Artistic Excellence | March 29 – 30, 2018 |
| Sining sa Tag-araw | Museo de Oro | April 2018 |
| Kabuwadan – National Heritage Month Celebration | Artistic Excellence | May 2018 |