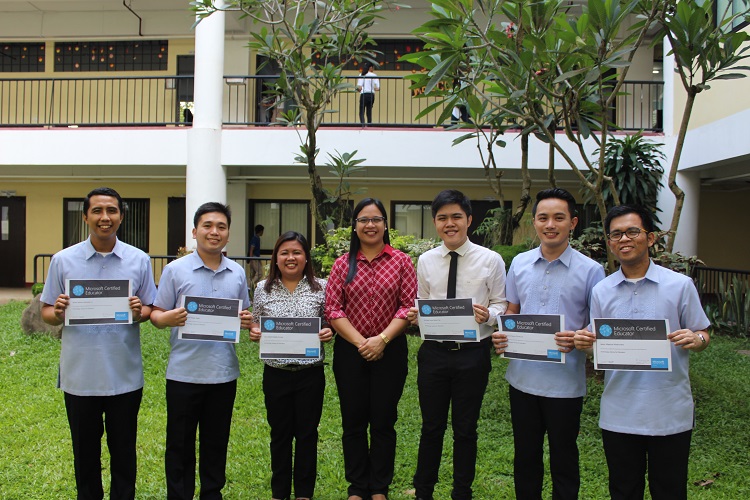 XAVIER ATENEO MCEs. Proudly showing their certificates, new Xavier Ateneo JHS Microsoft Certified Educators strike a pose with school principal Dr Pamela Pajente (center).
By Anito Librando Jr
Microsoft recently confirmed six faculty members of Xavier University - Ateneo de Cagayan Junior High School as Microsoft Certified Educators (MCEs).
XUJHS assistant principal for academics Lea Lilibeth Emata, instructional technology specialist Michael Dave Tan, Renan Agad (Mathematics teacher), Anito Librando Jr (English teacher), Jason Madronero (Science teacher), and Juanito Oliveria II (English teacher) passed the online examination as part of the institution's commitment to improving teaching and learning experience as a Microsoft Showcase School.
As one of the country's participants to this year's International Society for Technology in Education conference in San Antonio, Texas, USA, Emata was able to take and pass her examination in the said confab, while the rest of the team took the same online examination at the University of Mindanao, Matina Campus in Davao City, one of Microsoft's accredited testing centers.
"Having experienced first-hand amazing demonstrations on the latest tools, learned from passionate technology experts, and interacted with EdTech enthusiasts, I am inspired to empower students' voices, encourage 'making' so that our XUJHS graduates will be prepared to thrive in this digitally-connected world," Emata said.
"As MCEs, we are all challenged to be active in the global network of Microsoft Educator Community by taking professional development courses and sharing best practices in doing innovative teaching strategies in the classrooms," she added.
The exam was meant to assess if educators have a thorough understanding of how to use technology in six different areas outlined by the United Nations Educational, Scientific and Cultural Organization (UNESCO) Information and Communication Technology Competency Framework for Teachers: (a) Education Policy, (b) Curriculum and Assessment, (c) Pedagogy, (d) ICT and Technology Tools, (e) Organization, and (f) Administration Professional Development.
According to another MCE, Michael Dave Tan, XUJHS instructional technology specialist, teaching in the 21st century is "a challenge as we are empowering students who are 'digital natives'."
For him, educators also need to step up to the needs of digital native learners. "Having MCEs in school help other teachers become competent in using and applying technology tools and strategies in the context of teaching and learning, hoping to provide a richer learning experience for students," he shared.
The MCE certification validates the global educator technology literacy competencies of Xavier Ateneo Junior HS educators needed to provide a rich and custom-learning experience.
The MCE program also provides robust tools that help educators drive best-in-class integration of information and communication technology into classroom instruction.∎