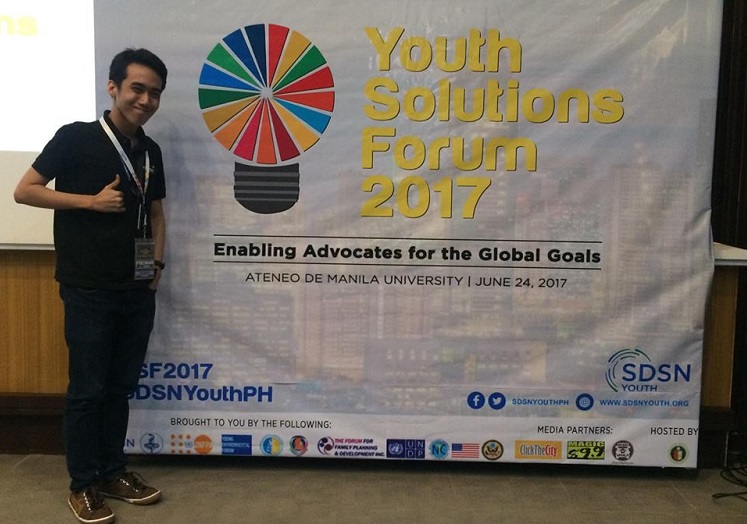 YOUTH IN THE UN GLOBAL GOALS. Education student Fredmar Gemino was chosen as one of the official Sustainable Development Goals youth advocates in the country. Contributed photo.
Fredmar Gemino, a student from Xavier University - Ateneo de Cagayan's School of Education formed part of the first set of student leaders in the Philippines to have been accepted and participated in the inaugural Youth Solutions forum held at the Ateneo de Manila University on June 29.
Spearheaded by the United Nations Sustainable Development Solutions Network (SDSN) Youth - Philippines, young leaders and Sustainable Development Goals (SDGs) advocates across the country gathered to strengthen the ongoing initiatives on SDGs and to expand network strategies in achieving the global goals.
SDSN Youth - Philippines is the official youth initiative of the UN Secretary General for the Sustainable Development Goals.
Gemino, together with other participants, underwent interactive learning sessions and goal-oriented workshops on the SDGs, its history, and its importance to the development of the Philippines.
They were introduced to the current initiatives of the SDSN network and were asked to promote SDSN Youth as the prime youth network advocating for the SDGs in the Philippines.
The event was also aimed at training and empowering youth leaders who will form active advocacy teams to expand and actualize the vision of the SDGs for a more sustainable and inclusive nation; creating concrete, actionable, and sustainable roadmaps the youth can actively participate in to achieve and realize goals; and strengthening the partnerships among SDSN Youth - Philippines and its partners from the academe, the government, national and international NGOs, and the private sector.
Gemino was the sole student leader who came from Mindanao for the national forum. He plans to conduct a lecture-seminar and form an advocacy team at Xavier Ateneo on the global goals, in coordination with the Social Development cluster of the university, particularly the Arrupe Educational Center.∎