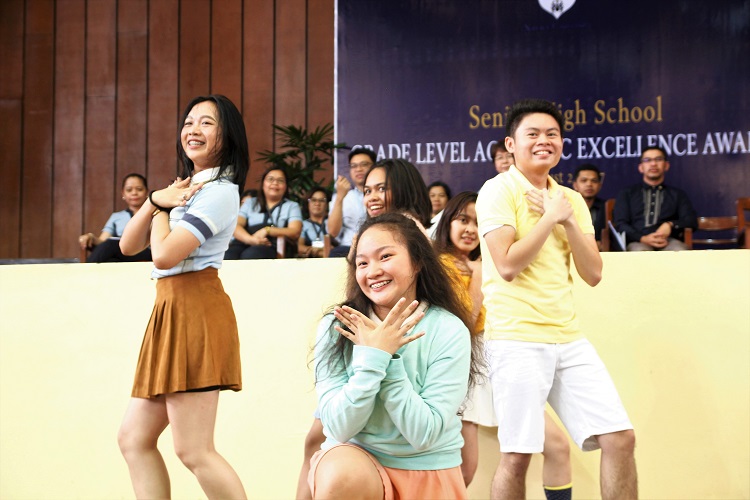 EXPERIENCE EXCELLENCE. Honor students were recognized at the first Xavier Ateneo Senior High School convocation. Contributed photo.
The first Xavier Ateneo Senior High School Academic Excellence Convocation was held in session on Wednesday, August 2 at the XU Gymnasium.
School administrators, faculty, staff, student body, along with the proud parents of the honor students were there to witness this milestone.
A total of 257 honor students paraded on stage: 108 of which were from the ABM strand, 8 from GAS, 21 from HUMSS, and 117 from STEM.
The perseverance and hard work of the students from different academic tracks for the academic year 2016-2017 were acknowledged as a showcase of Xavier University's Experience Excellence.
Lawyer Ernesto Baconga Neri, an XU alumnus, graced the event with an inspiring speech for the students on embodying a sense of wisdom while reminding them to live in the spirit of magis (doing things with depth) and genuine love.
"We live in a world where people say to temper your feelings, to not fall in love, never invest, and having no commitments, but as far as what Ignatius has shown us, and what Xavier has taught me, for one to prosper in this world and to set it on fire, it is basically to fall in love. Stay in love, because it will decide everything," Neri said.
RELATED READ: A millennial lawyer's perspective on 'Experience Excellence'
The event was made livelier with the performances of XU talents, World Championship of Performing Arts (WCOPA) multi-medalist Emilor James Cabanos and dance group XUnified.
The program was formally closed by Xavier Ateneo Senior High School principal Dr Rogelio L Gawahan, followed by the singing of "The Crusaders."∎
You may download the Xavier Ateneo Senior High School List of Honors (AY 2016-2017) here!