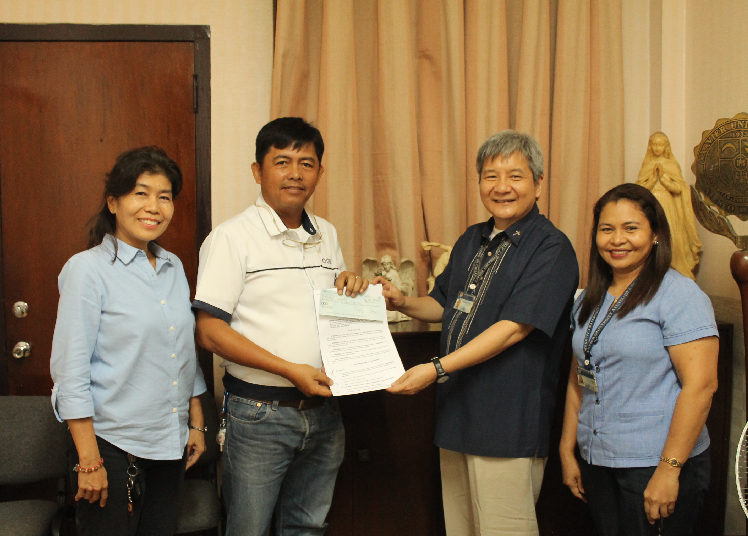 OBGI SCHOLARSHIP PROGRAM. From left to right: Oro Geometric Builders Inc manager Daisy Cortejos, company president Engr Rolando Montalban Cortejos, Xavier Ateneo president Fr Roberto C Yap SJ, and Office of Scholarships and Financial Aid director Glenda Orlanes after the signing of the memorandum of agreement creating the OGBI Scholarship Program at XU.
Xavier University - Ateneo de Cagayan and Oro Geometric Builders Inc (OGBI) have officially signed a memorandum of agreement (MOA) for the creation of the OGBI Scholarship Program on Tuesday, September 5.
On behalf of Xavier Ateneo, university president Fr Roberto "Bobby" C Yap SJ was pleased to sign into an agreement with OGBI, represented by company president Engr Rolando Montalban Cortejos and wife Daisy (also the company's manager), who were both scholars of the university back in their college years.
"I appreciate this a lot," said Yap. "This would help our scholars to continue their education here."
Opol-based OGBI has been giving scholarships for a number of school years already, but it was only this time that they formalized their engagement with XU through a MOA.
"It's a dream come true," said Daisy Cortejos. "We started with our scholarships around six years ago in silence. Our first scholars were the children of our carpenters and builders, and they have graduated already," she added.
During the signing, Rolando also reminisced his days in college as a scholar at XU. One highlight that he shared was his encounters with then-student Fr Antonio Moreno SJ (now the president of the Jesuit Conference of Asia Pacific) as his classmate who beat him in chess.
Based on the signed MOA, OGBI will screen the applicants and grant full scholarships to four bonafide students enrolled at XU starting SY 2016-2017, covering their tuition and school fees.
The university, through the Office of Scholarships and Financial Aid (OSFA) as represented by director Glenda Orlanes, is assigned to process the scholarship grant under this program, consolidate progress reports of the scholars for OGBI, and recommend the scholars to the next level based on their performance.
Both parties have agreed to develop and manage this scholarship program to be able to help more academically-competent but financially-challenged students who are determined to finish their college education at Xavier Ateneo.∎