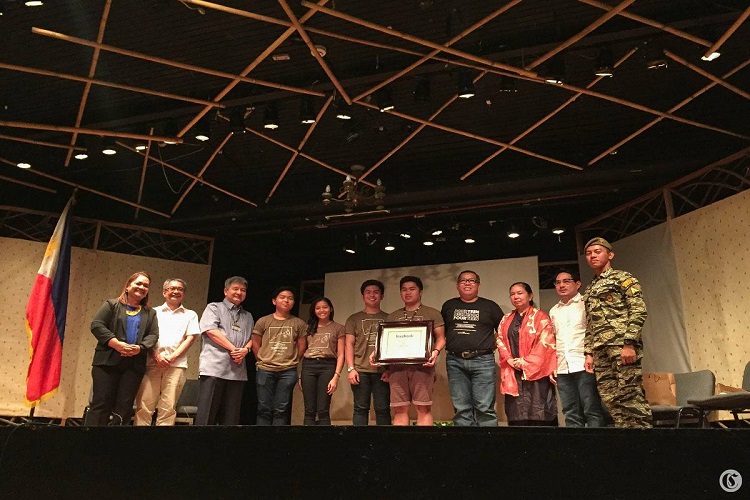 MARAWI IN OUR HEARTS. Forum on countering violent extremism and Islamophobia held at Xavier Ateneo. Photo by Kurt Chan/The Crusader Publication.

CAGAYAN DE ORO CITY, Philippines — Xavier University - Ateneo de Cagayan's Social Development office, "I Am Mindanao" Movement, and Siraj Muslim Religious Organization joined forces to conduct a forum on countering violent extremism and Islamophobia, held on September 20 at the XU Little Theater.
Xavier Ateneo president Fr Roberto C Yap SJ, in his message to the participants, reiterated the university's commitment to helping in rebuilding and rehabilitating the war-ravaged Marawi.
"Marawi is truly in our minds and hearts," Yap said.
XU has initiated #TabangMarawi relief operations for the benefit of the internally displaced persons (IDPs) due to the ongoing skirmish between the government forces and the ISIS-inspired Maute Group that erupted on May 24.
Sociologist Dr Jowel Canuday of Ateneo de Manila University, one of the lecturers at the forum, said social justice must be upheld first and translated into concrete solutions against violent extremism and Islamophobia.
Lanao del Sur 1st District Assemblyman Zia Alonto Adiong, for his part, told the crowd that the emergence of Dawlah Islamiyah or Maute Group has been anchored on either political or religious ideologies.
For Adiong, Islamophobia is not the solution to the issue, rather it further deepens the rift between Muslims and the rest of the Filipinos.
"You are as guilty as them [extremists] if you treat Muslims that way," he said.
XU Social Development cluster's Dr Chona Echavez also shared on her reflections from the short play, "Muslims vs Christians."
Echavez said that the play's ending reaffirmed that "good will always conquer evil."
She added that rehabilitation authorities must partner with locals on the ground to hasten their operations and serve those who were displaced by this war.
Siraj-MRO president Bin Khalifa Pansar urged his fellow youth to be engaged towards fostering a culture of peace and encouraging the public to continue sending help and praying for Marawi.
Philippine Special Forces 1st Lieutenant Randy Villarosa also underscored that we, Filipinos, must change our perspective on Mindanao and the disparity between Christians and Muslims.
"With the correct mentality, change can be realized. If you want something to change, then change the way you think about it," Villarosa said.∎