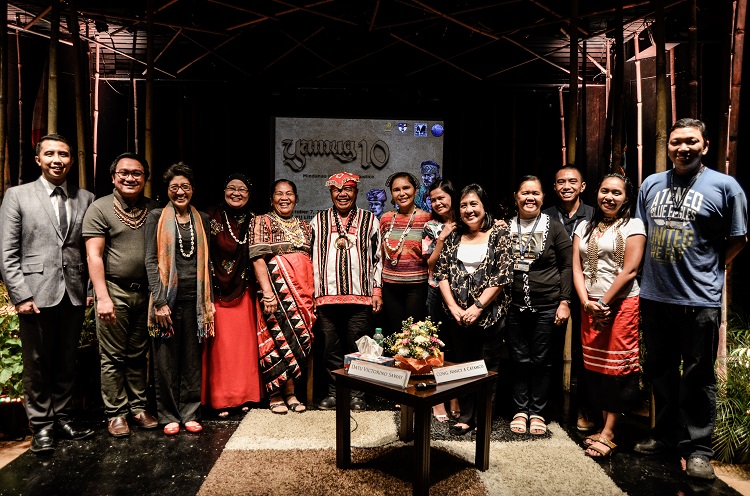 YAMUG 10. This year's Yamug forum, sponsored by the National Commission for Culture and the Arts (NCCA), zeroed in on historical injustices with topics shared by leaders of Lumad communities and representatives from Muslim and Christian academic institutions.
Text by Angelo Lorenzo
Photos by Marco Villanueva
In light of the National Indigenous Peoples' Month celebration, Xavier Ateneo's Xavier Center for Culture and the Arts (XCCA) conducted the Yamug Intercultural Forum at the Xavier Little Theater on October 07, 2017.
In its 10th year now, the same milestone that the XCCA has reached since it began opening productions in the university in 2007, Yamug (which originates from the native term hamug, meaning "morning mist") has opened doors of opportunity for intercultural discussion and lectures given by respectable representatives of IP communities in Mindanao.
This year's forum was sponsored and funded by the National Commission for Culture and the Arts (NCCA), and it tackled historical injustices with topics shared by leaders of indigenous peoples' communities and representatives from Muslim and Christian academic institutions.
"We know for a fact that there are so many things that happen in the country, in our cultural communities," stated XCCA director Hobart Savior. "It is important to discuss the historical injustices and to celebrate the triumphs over these."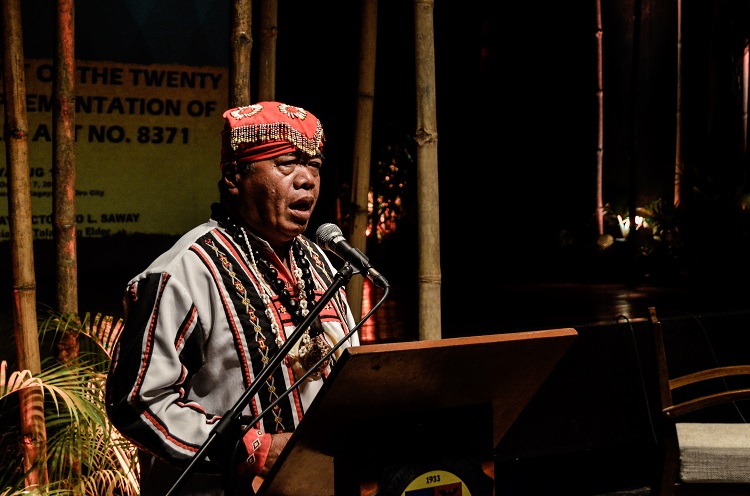 Datu Victorino Saway, chieftain of the Talaandig Cultural Community
IPRA assessment 20 years hence
The whole-day dialogue was separated into two parts. In the morning session, the Indigenous Peoples' Rights Act of 1997 was assessed by North Cotabato 2nd District Representative Congresswoman Nancy Catamco and Talaandig Cultural Community chief Datu Victorino Saway in front of a crowd composed of students, academics, and NGO employees from the provinces of Bukidnon and Misamis Oriental, and the cities of Iligan, Cagayan de Oro, and Marawi.
"Twenty years since IPRA was passed, only 5, 110, 393.12 hectares of land – of the estimated 13 million hectares – were given," said Catamco, keynote speaker of the dialogue. "This represents less than 50% of the ICC's impending claims."
As the current chairperson of the House Committee on the Indigenous Cultural Communities and Indigenous Peoples, she expressed the grievances of the Lumads caused by historical injustices when their lands had been stolen from them by the land ownership system introduced by the Spaniards during the colonization period.
These grievances were echoed by Datu Saway (respectfully known as Datu Vic) who stated that historical injustice an s injustice against people. "It is an injustice against [our] identity, culture, and humanity," he said.
The founder and head of the Talaandig Community Inc in Lantapad, Bukidnon, Datu Vic relayed his dismay about the continuing struggle of the IPs to reclaim and establish ownership over their ancestral domains despite IPRA's existence for 20 years.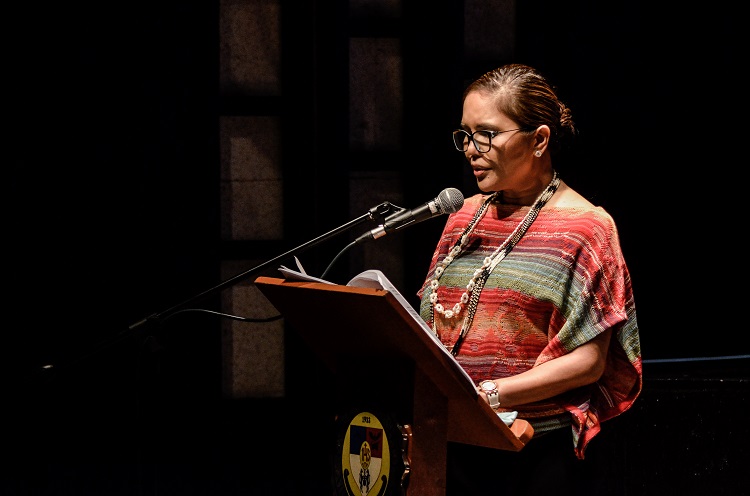 North Cotabato 2nd District Representative Congresswoman Nancy Catamco
To date, private corporations – although with legal documents to justify their land titles in the domain of the IPs in provinces – continue to operate without acknowledging and following the necessary requisites for the ICCs. Paramilitary groups massacred advocates and innocents in their communities just as loggers and mining companies ripped their trees and scraped their mountains – their beliefs' most sacred places.
However, he cited that the tribes want no conflict to bear their wishes. "Marching on the streets to protest against the government's failures is not our attitude," Datu Vic said. "Why should we do that when we can tend our land and plant our crops to feed our people?"
For Catamco, who belongs to the Manobo tribe, proper education in their communities is a step towards their progress. "As a congresswoman, I push for the Department of Indigenous People so the gargantuan problems we face will be immediately addressed."
She went on to emphasize that the value of their cultural identity exceeds their ownership over their ancestral domains. It recognizes them as the original inhabitants of the region and as a group that continually hold onto their pride and dignity despite their long-time struggles.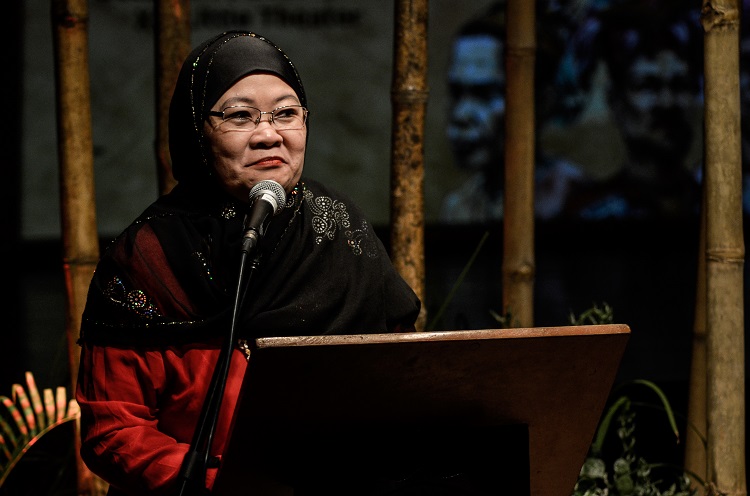 Mindanao State University – Iligan Institute of Technology History Department Head Dr Rohane Derogongan
Unbreakable bond between Muslims and Christians
In the afternoon, the dialogue transitioned towards the identity and struggles of Muslim Filipinos as proud but misunderstood people due to false misrepresentation in the height of terrorism proliferated by radical ideology.
Exploring issues and considering the opportunities to address them, Mindanao State University – Iligan Institute of Technology History Department head Dr Rohane Derogongan implied that she has been grateful for engagements by organizations to advocate for peace and settle the rifts of the regions' diverse groups.
"Engagements like this are so inspiring and challenging," she said.
Derogongan further enumerated the historical injustices her people had struggled for many decades. "It is manifested in the enforced displacement, land grabbing, forced integration into the Philippine political system, and replacing [our] traditional justice system with structures [in the present system] that are highly vulnerable to corruption."
"Although the Meranaws are culturally rich and resilient," she addressed, "reparations are intended to help reconstruct a political community that has been broken by civil conflict or scarred by historical injustice."
But despite efforts to repair these crimes, the peace process has often been delayed or neglected entirely from one administration to another. Since 2014, the Bangsamoro Basic Law has yet to reach its passage this year.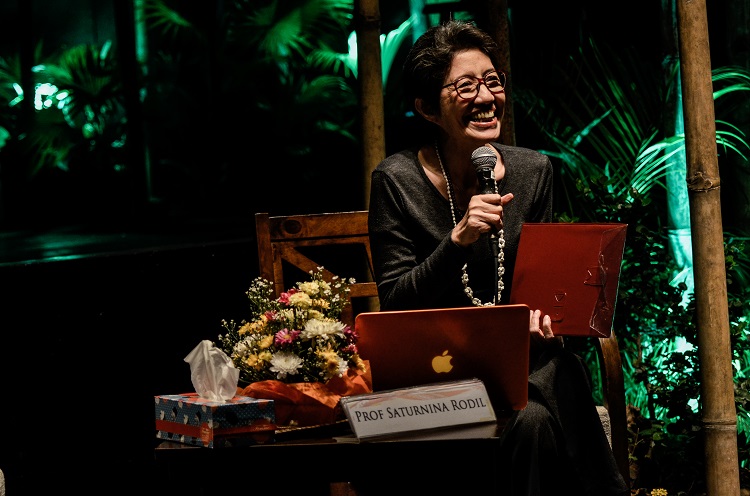 MSU-IIT English Department Faculty Member Prof Saturnina Rodil
This problem, worsened by historical injustice, has prolonged the conflicts in the regions with false ideology feeding on frustration.
To address extremism, according to MSU-IIT English Department faculty member Prof Saturnina Rodil, whose lecture seeks to promote social cohesion in the bond between Christians and Muslims amidst the raging war in Marawi, is to uphold and further practice interfaith and intercultural dialogues.
"At the core, all religions are grounded in love," she remarked. "It is the layers that need to be discussed. These layers include the beliefs, traditions, and culture."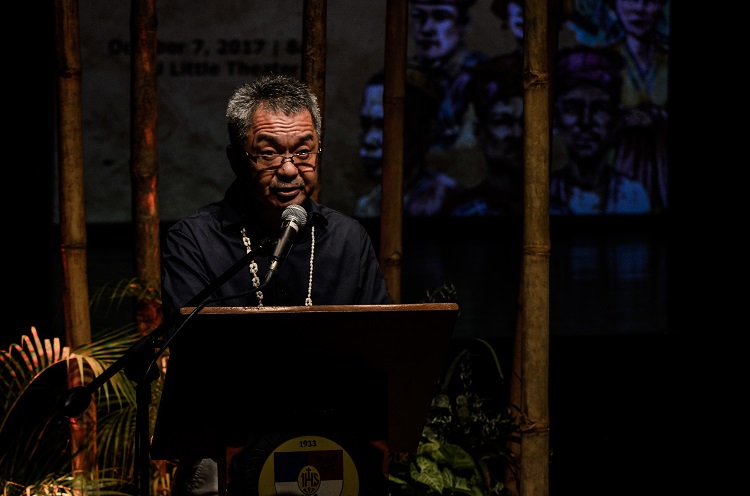 Xavier Ateneo Vice-president for Social Development Roel Ravanera
Grounded on shared cultural and spiritual values
In his speech to welcome the speakers, Xavier Ateneo vice-president for social development Roel Ravanera envisioned for a genuine reconciliation that would mark a lasting peace in Mindanao.
"For Xavier Ateneo, we are guided by the Jesuit Provincial Road Map in our social engagement," Ravanera said. "We are tasked to direct greater apostolic preference in Mindanao, particularly the continuing poverty and marginalization of peoples and the regions' pervasive conflicts."
XCCA director Savior shares the same vision. "We aspire for a better future for all of us here in Mindanao," he noted.
For a decade now, Xavier Center for Culture and the Arts has been working towards this vision by spearheading programs and projects that bring people of diverse backgrounds into one memorable event. The Yamug Intercultural Forum is one of them.∎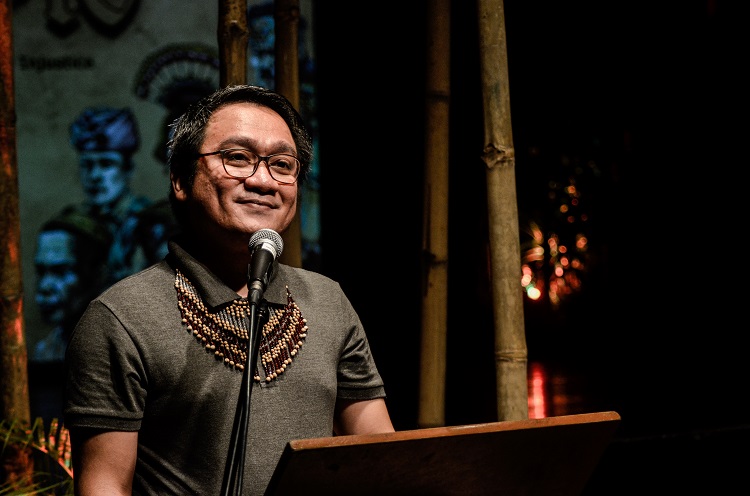 Xavier Center for Culture and the Arts Director Hobart Savior