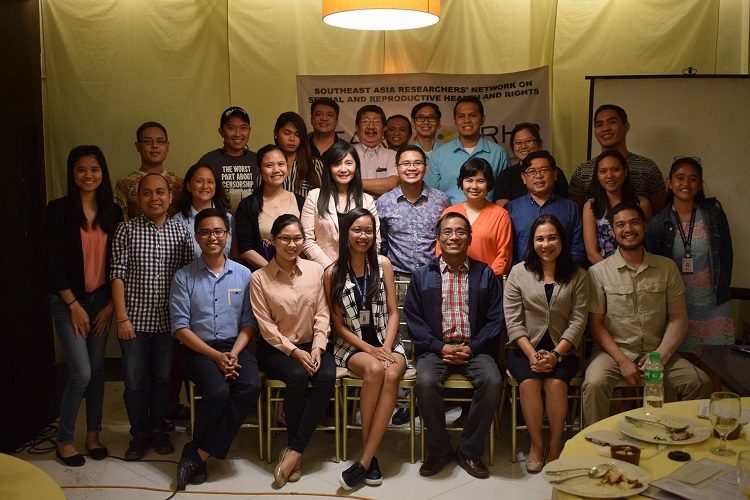 SEARN-SRHR-CDO PROJECT. Pictured here are Dr Loyd Brendan P Norella, SEARN project coordinator of Hivos South East Asia Hub (first row, center), together with his team that includes Xavier Ateneo's Dr Joey Jegonia (second from right), and participants from Department of Health personnel and faculty members from academic institutions in Cagayan de Oro City. Contributed photo.
CAGAYAN DE ORO CITY, Philippines — Xavier Ateneo junior Psychology students and alumni shared their studies with Hivos and South East Asia Researchers' Network on Sexual and Reproductive Health and Rights (SEARN-SRHR) during the launching of its local namesake project on Thursday, October 19.
The SEARN-SRHR-CDO project aims to support researchers working on sexual and reproductive health and rights-related subjects and to provide solutions to issues and opportunities for collaborations in the field.
Three papers were presented at the said gathering last week.
Experimental Psychology students from Xavier University - Ateneo de Cagayan, led by Irish Jane Patica and Lasseny Noynay, shared the outcome of their research titled "The Effect of Intimate LGBT Videos to the Tolerance Level of the Xavier University Engineering Students towards Same-sex Relationship." They were accompanied by their research mentor Rogelio A Lee Jr, assistant professor of the Xavier Ateneo Department of Psychology.
According to the said study, exposure to LGBT-themed videos can affect one's judgment, feelings, and behavior, as it revealed a "decreased tolerance level" among the male participants after watching an intimate LGBT video. The treatment (video presentation) created a negative attitude towards homosexual relationships. It also showed that males are "more favorable" to lesbians than gay couples. The study added that culture, religious beliefs, and personal values are major influences on one's attitudes towards a same-sex relationship.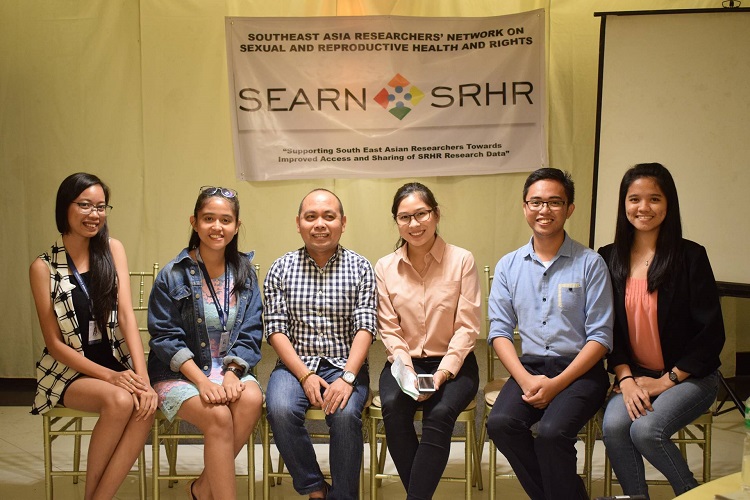 XAVIER ATENEO. Left to right: Xavier Ateneo Psychology junior student-researchers Lasseny Noynay and Irish Jane Patica, their research mentor Rogelio A Lee Jr, Psych alumni Ima Junia Yamut, Jason Ang, and Maureen Marie Avila. Contributed photo.
Psychology alumni group, composed of Jason Ang, Ima Junia Yamut, and Maureen Marie Avila, also presented their undergraduate thesis, a qualitative study on "The Lived Experiences of People Living with HIV." Their mentor was Jhoanna Marie Mocorro, also the current chairwoman of the XU Psych Dept.
In the above study, three phases were found out: labeled as (a) struggle phase, (b) transformation phase, and (c) transition phase.
The struggle phase has started when the subjects were diagnosed with a seropositive HIV status and had the struggle of disclosing their serostatus to the society, most especially to their significant others as they have feared the ongoing stigma.
The second phase encompasses the transformation phase of the subjects in which they have to alter life-changing effects of HIV. In the said phase, the subjects gradually disclosed their seropositive status not just to their loved ones but also to some people.
In the third phase or the transition, the subjects involved themselves to advocating awareness on HIV. The subjects tend to embrace their new identity as people living with HIV as they have come with full acceptance of their situation.
Lastly, a study from the Department of Health Region 10, "RAMOS Reproductive Age Mortality Survey" was also showed in the forum.
Besides the paper presentations, the CDO group plans to construct a website that will provide researchers an avenue to upload their studies and build a network.
The launching was headed by Dr Loyd Brendan P Norella, SEARN project coordinator of Hivos South East Asia Hub which aims to support local researchers towards an improved access and sharing of SRHR research data and information.∎